Zusammenfassung
Im Rahmen des Projektes ECVision hatte ein transnationales Expert/innen-Team den Auftrag, für die Professionen Supervision und Coaching auf europäischer Ebene eine Basis für Vergleichbarkeit und Transparenz zu schaffen. Das Europäische Glossar für Supervision und Coaching beschreibt, wie der Mainstream der aktuellen professionellen Diskurse in Europa die Begriffe Supervision und Coaching verwendet, und hat dafür eine Struktur entwickelt. Das Europäische Kompetenzprofil für Supervision und Coaching bietet kompetenzorientierte Beschreibungen des beobachtbaren Verhaltens, das eine Person zeigen muss, um als qualifizierte/r Supervisor/in gelten zu können. Die inhaltliche Struktur des Kompetenzprofils folgt den beiden Kompetenzsträngen professionelle Identität sowie professionelles Verhalten. Der generelle Geltungsbereich der ECVision-Produkte fokussiert auf die Interaktion von Personen, beruflicher Anforderung und Organisation.
Abstract
Within the Project ECVision, a transnational team of experts underwent the task of providing instruments in order to assure the comparability and transparency of supervisory and coaching competences. The ECVision glossary offers a mainstream description of how today's professional discourses in Europe use the terms supervision and coaching. In addition, it provides a structure for a common terminology. The European Competence Framework provides a description of learning competence outcomes in supervision and coaching, observable in the distinct behaviours of supervisors /coaches. The structure emphasis professional identity and professional conduct. The general domain of the ECVision-products focusses on the interaction of persons, professional tasks and organisations.
This is a preview of subscription content, log in to check access.
Access options
Buy single article
Instant access to the full article PDF.
US$ 39.95
Price includes VAT for USA
Subscribe to journal
Immediate online access to all issues from 2019. Subscription will auto renew annually.
US$ 99
This is the net price. Taxes to be calculated in checkout.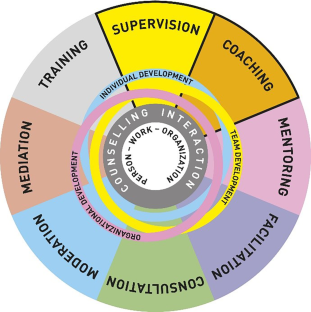 Literatur
Bloom, B. S. (Hrsg.). (1972). Taxonomie von Lernzielen im kognitiven Bereich. Weinheim: Beltz. Originaltitel: Taxonomy of educational objectives. The classification of educational goals. Handbook I: cognitive domain. New York: David McKay. 1956

Heyse, V. (2007). Kompetenzmanagement: Methoden, Vorgehen. KODE® und KODE®X im Praxistest. Münster: Waxmann.

Heyse, V. (2017). KODE® und KODE®X – Kompetenzen erkennen, um Kompetenzen zu entwickeln und zu bestärken. In J. Erpenbeck, L. v. Rosenstiel, S. Grote & W. Sauter (Hrsg.), Handbuch Kompetenzmessung. Erkennen, verstehen und bewerten von Kompetenzen in der betrieblichen, pädagogischen und psychologischen Praxis (3. Aufl. S. 245–273). Stuttgart: Schäffer-Poeschel.

Judy, M., & Knopf, W. (Hrsg.). (2015). ECVision. Supervision and coaching in Europe: concepts and competences. Wien: Die Wiener Volkshochschulen. www.anse.eu/ecvision.start.html. Zugegriffen: 02.04.2014

Judy, M., & Knopf, W. (Hrsg.). (2016). Im Spiegel der Kompetenzen. In the Mirror of Compentences: Supervision und Coaching in Europa. Supervision and Coaching in Europe. Wien: Facultas

Lehr, B. (2012). Der Einblick ins Systemische. http://www.asys.ac.at/step/zpapers/german/STEP%20text_lehr.pdf. Zugegriffen: 02.04.2014
ECVision. Ein Europäisches System der Vergleichbarkeit und Validierung supervisorischer Kompetenzen,
gefördert von der europäischen Kommission im Rahmen von LEONARDO.
ECVision-Partner:
Die Wiener Volkshochschulen GmbH (Austria); ANSE – Association of National Organizations for Supervision in Europe (Österreich/EU); EUROCADRES – The Council of European Professional and Managerial Staff (Belgien); TOPS München-Berlin e. V. (Deutschland); Universität Göteborg (Schweden); Universität Zagreb (Kroatien); CoachKwadraat (Niederlande).
Projektteam:
Marina Ajdukovic, Lilja Cajvert, Michaela Judy, Wolfgang Knopf, Hubert Kuhn, Krisztina Madai, Mieke Voogd.
About this article
Cite this article
Judy, M., Knopf, W. ECVision – ein Europäisches Kompetenzprofil für Supervision und Coaching. Organisationsberat Superv Coach 25, 525–533 (2018). https://doi.org/10.1007/s11613-018-0575-z
Schlüsselwörter
ECVision

Qualitätssicherung

Professionalisierung

Kompetenz
Keywords
ECVision

Quality assurance

Professionalisation

Competence