Zusammenfassung
Triadische Karriereberatung geht davon aus, dass Probleme der Klienten das Produkt des Zusammenwirkens von drei Einflussgrößen sind: Laufbahn, Lebensgeschichte und professionellem Werdegang. Sowohl die Geschichte des Begriffs und der wissenschaftlichen Beschäftigung mit Karriere als auch neue praktische Erfahrungen rechtfertigen dieses Vorgehen. Der Artikel erläutert diesen Ansatz.
Abstract
Triadic career counseling assumes that clients' problems are the product of the interaction of three influencing variables: career, life history and professional development. Both the history of the concept and the scientific employment with career as well as new practical experiences justify this procedure. The article explains this approach
This is a preview of subscription content, log in to check access.
Access options
Buy single article
Instant access to the full article PDF.
US$ 39.95
Price includes VAT for USA
Subscribe to journal
Immediate online access to all issues from 2019. Subscription will auto renew annually.
US$ 99
This is the net price. Taxes to be calculated in checkout.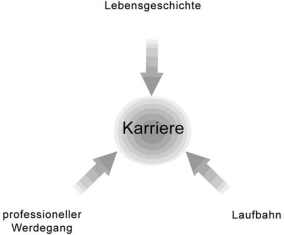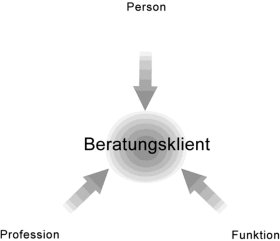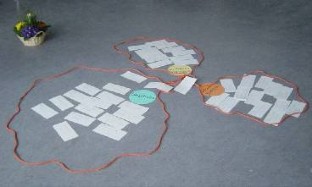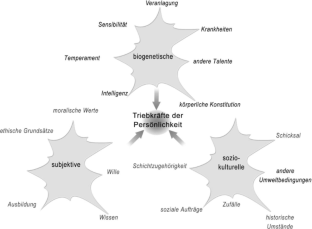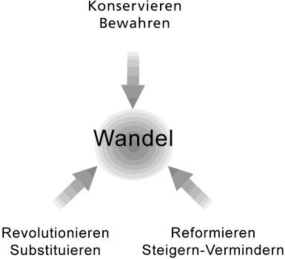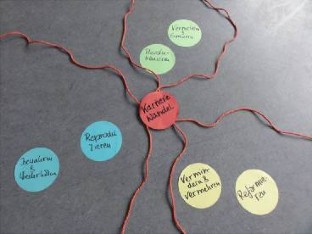 Notes
1.

Eine detaillierte Darstellung des Vorgehens und Fotos von erstellten Triaden findet man auf www.rappe-giesecke.de unter: Triadische Karriereberatung im Unterpunkt: Anleitungen zur beruflichen Standortbestimmung. Ein empirisches Beispiel aus der Beratungspraxis findet sich in Rappe-Giesecke und Kantelberg (2017).
Literatur
Arthur, M. B. (2009). Rapprochement at last? In A. Collin & W. Patton (Hrsg.), Vocational psychological and organisational perspectives on career – towards a multidisciplinary dialogue. Career developement series, Bd. 3. Rotterdam: Sense Publishers.

Conversations-Lexikon zum Handgebrauch oder enzyklopädisches Realwörterbuch aller Wissenschaften, Künste und Gewerbe (1846). 4. Aufl. Leipzig: August Wichardt.

Giesecke, M. (2007). Die Entdeckung der Kommunikativen Welt. Studien zu einer kulturvergleichenden Mediengeschichte. Frankfurt/M: Suhrkamp.

Giesecke, M., & Rappe-Giesecke, K. (2017). Triadisches Denken. www.triadisches-denken.de. Zugegriffen: 15.09.2017

Kohli, M. (1994). Institutionalisierung und Individualisierung der Erwerbsbiographie. In U. Beck & E. Beck-Gernsheim (Hrsg.), Riskante Freiheiten. Individualisierung in modernen Gesellschaften (S. 219–244). Frankfurt/M: Suhrkamp.

Pongratz, H. J. (2001). Arbeitskraftunternehmer als neuer Leittypus? Flexibilisierung der Arbeit und Patchwork-Biographien. Zeitschrift für Erwachsenenbildung, 8(1), 24–26.

Rappe-Giesecke, K. (2008). Triadische Karriereberatung – Die Begleitung von Führungskräften, Professionals und Selbständigen. Bergisch Gladbach: EHP.

Rappe-Giesecke, K. (2014). Den Wandel von Personen und Organisationen verstehen und begleiten. Abschiedsvorlesung an der Fakultät V der Hochschule Hannover. www.rappe-giesecke.de unter Publikationen und Vorträge.

Rappe-Giesecke, K., & Kantelberg, K. (2017). Triadische Karriereberatung – wenn Coaching zu kurz greift. Wirtschaft und Weiterbildung, 8–9(17), 48–53.

Schein, E. H. (1978). Career dynamics: matching individual and organizational needs. Reading: Addison-Wesley.

Schein, E. H. (1992). Karriereanker – die verborgenen Muster Ihrer beruflichen Entwicklung. Darmstadt/München: Lanzenberger, Looss und Stadelmann. amerikan. Orig.1985
About this article
Cite this article
Rappe-Giesecke, K. Triadische Karriereberatung. Organisationsberat Superv Coach 24, 379–395 (2017). https://doi.org/10.1007/s11613-017-0521-5
Schlüsselwörter
Karriere

Karrieretheorie

Karriereberatung

Triadisches Denken
Keywords
Career

Theory of Career

Career-Counseling

Triadic Thinking