Zusammenfassung
Dieser Beitrag der Zeitschrift Gruppe. Interaktion. Organisation (GIO) befasst sich mit der Gestaltung internetbasierter kollaborativer Team- und Projektarbeit. Um die Team- und Projektarbeit in Unternehmen zu unterstützten, werden verstärkt internetbasierte kollaborative Anwendungen eingesetzt. Diese ermöglichen es, Mitarbeitende im Unternehmen und über Standorte hinweg zu vernetzen, Wissen und Daten zu teilen und Projekte zu organisieren. Ob diese Vorteile tatsächlich genutzt werden können, hängt davon ab, wie der Einsatz der Werkzeuge gestaltet wird. Als Orientierung für eine effektive Nutzung kollaborativer Anwendungen wird im vorliegenden Beitrag ein Gestaltungsmodell für räumlich verteilte kollaborative Arbeit vorgestellt, das sich an soziotechnischer Systemgestaltung orientiert. Die Tauglichkeit des Modells wird anhand eines Praxisbeispiels demonstriert. Exemplarisch werden an einem Praxisbeispiel Gestaltungsaktivitäten aber auch Probleme bei der Nutzung der Anwendungen aufgezeigt und im Modell auf den Ebenen Strategie, Methoden und Technik verortet. Trotz einer hohen technischen Affinität und vielfältiger Gestaltungsmaßnahmen werden im Praxisbeispiel fünf zentrale Problemfeldern erkennbar: (1) parallele Nutzung von Anwendungen, (2) die Transparenz im Hinblick auf Veränderungen, (3) die hohe Taktzahl virtueller Meetings, (4) der Onboardingprozess, (5) die Spannung zwischen dem Tagesgeschäft und der Umsetzung interner IT-Projekte. Die exemplarische Prüfung des entwickelten Gestaltungsmodells ergibt, dass es Führungskräften und Arbeitsgestaltern eine Orientierung für die integrierte Gestaltung kollaborativer Anwendungen bieten kann.
Abstract
In order to support team and project work in companies, Internet-based collaboration software tools are increasingly being used. These software tools enable employees located within and outside the organization to communicate, share knowledge and data, and organize projects. Whether these benefits can be actualized depends on how the collaboration software is designed. As an orientation for the effective use of collaboration software tools, the present paper presents a design model for spatially distributed collaborative work and demonstrates its suitability based on a practical example. Therefore, we exemplarily show design activities and problems of the practical example and locate them within the model. Despite an extensive technical acumen and diverse design work, we identify problems with the use of collaboration tools. They focus on five problem areas: (1) parallel use of collaboration software tools, (2) transparency in terms of change, (3) the high rate of virtual meetings, (4) the onboarding process, and (5) the dilemma between the daily business and the implementation of internal IT projects.
This is a preview of subscription content, log in to check access.
Access options
Buy single article
Instant access to the full article PDF.
US$ 39.95
Price includes VAT for USA
Subscribe to journal
Immediate online access to all issues from 2019. Subscription will auto renew annually.
US$ 99
This is the net price. Taxes to be calculated in checkout.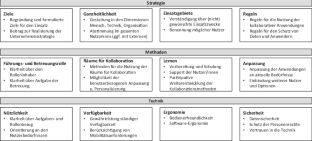 Notes
1.

Das Forschungs- und Entwicklungsprojekt CollaboTeam wird im Rahmen des Programms "Zukunft der Arbeit" (Förderkennzeichen 02L15A060) vom Bundesministeriums für Bildung und Forschung (BMBF) und dem Europäischen Sozialfonds (ESF) gefördert und vom Projektträger Karlsruhe (PTKA) betreut. Die Verantwortung für den Inhalt dieser Veröffentlichung liegt bei den Autoren und der Autorin.

2.

Die Interviews wurden im Rahmen des Verbundprojektes CollaboTeam durchgeführt und dienen einer Bestandaufnahme zur Nutzung kollaborativer Anwendungen im Unternehmen.
Literatur
Boos, M., Hardwig, T., & Riethmüller, M. (2015). Führen und Arbeiten 2.0 – Neue Anforderungen an Führungskräfte. In K. Schuchow & J. Gutmann (Hrsg.), Personalentwicklung – mit Special Demografie-Management 2015 (S. 133–146). Freiburg: Haufe-Lexware.

Boos, M., Hardwig, T., & Riethmüller, M. (2017). Führung und Zusammenarbeit in verteilten Teams (1. Aufl.). Göttingen: Hogrefe.

Clegg, C. W. (2000). Sociotechnical principles for system design. Applied Ergonomics, 31(5), 463–477.

Dirkmorfeld, N. (2015). Determinants of employees' willingness of knowledge sharing intention through enterprise social software. A qualitative and quantitative comparison of pre-implementation and post-implementation relationships. Paderborn: Universität Paderborn (Dissertation).

Gibson, C. B., & Cohen, S. G. (2003). Virtual teams that work. Creating conditions for virtual team effectiveness (1. Aufl.). The Jossey-Bass business & management series. San Francisco: Jossey-Bass.

Greeven, C. S., & Williams, S. P. (2017). Enterprise collaboration systems: adressing adoption challenges and the shaping of sociatechnical systems. International Journal of Information Systems and Project Management, 5(1), 5–23.

Hackman, R. J. (2002). Leading Teams. Setting the stage for great perfromances. Boston: Harvard Business School Press.

Hiller, A., Schneider, M., & Wagner, A. C. (2014). Social Collaboration Workplace. Das neue Intranet erfolgreich einführen (E-Collaboration). Glückstadt: Hülsbusch.

Hughes, C., & Chapel, A. (2013). Connect, communicate, collaborate and create. Implementing an enterprise-wide social collaboration platform at KPMG. Business Information Review, 30(3), 140–143. https://doi.org/10.1177/0266382113507378.

Raeth, P., Urbach, N., Smolnik, S., Butler, B. S., & Königs, P. (2010). The adoption of web 2.0 in corporations: a process perspective. Proceedings of the sixteenth Americas Conference on Information Systems. Lima: AMCIS.

Schubert, P., & Williams, S. P. (2015). Social Business Readiness Studie 2014, Koblenz: CEIR Forschungsbericht, Nr. 01/2015. Koblenz-Landau: Universität Koblenz-Landau.

Sprenger, S. (2016). Enterprise Collaboration Software. Eine empirische Studie zum Einsatz von Kollaborationsplattformen. In A. Rossmann, G. Stei & M. Besch (Hrsg.), Enterprise Social Networks. Erfolgsfaktoren für die Einführung und Nutzung – Grundlagen, Praxislösungen, Fallbeispiele. Wiesbaden: Springer Gabler.

Stoller-Schai, D. (2003). E-Collaboration: Die Gestaltung internetgestützer kollaborativer Handlungsfelder. Bamberg: Difo-Druck.

Ulbricht, C. (2016). Rechtliche Implikationen und Handlungsempfehlungen für Enterprise Social Networks. In A. Rossmann, G. Stei & M. Besch (Hrsg.), Enterprise Social Networks. Erfolgsfaktoren für die Einführung und Nutzung – Grundlagen, Praxislösungen, Fallbeispiele (S. 143–153). Wiesbaden: Springer Gabler.

Ulich, E. (2011). Arbeitspsychologie (7. Aufl.). Zürich: vdf.
About this article
Cite this article
Klötzer, S., Hardwig, T. & Boos, M. Gestaltung internetbasierter kollaborativer Team- und Projektarbeit. Gr Interakt Org 48, 293–303 (2017). https://doi.org/10.1007/s11612-017-0385-3
Schlüsselwörter
Internetbasierte kollaborative Anwendungen

Teamarbeit

Arbeitsgestaltung

Praxisbeispiel

Herausforderungen

Soziotechnische Systemgestaltung
Keywords
Collaboration software tools

Teamwork

Work design

Practical example

Challenges

Sociotechnical system