Zusammenfassung
In Zeiten, in denen Veränderungen zur täglichen Unternehmensrealität gehören, internationalisierte Märkte den Wettbewerb befeuern und der demografische Wandel Personalressourcen verknappt, erfährt in Unternehmen der "Mensch" als zentraler Erfolgsfaktor eine neue Aufmerksamkeit. Größer denn je ist das Interesse, die Wirkungszusammenhänge von Emotionen, Bedürfnissen und Verhaltensweisen mit strategischen Handlungsfeldern in Unternehmen (Personalgewinnung, -bindung, Kundenzufriedenheit, Wettbewerbsfähigkeit, etc.) zu verstehen und zu steuern. In Verbindung mit einer wachsenden Verfügbarkeit von Daten durch IT-gestützte Unternehmensprozesse und neuen Datenquellen (z. B. mobile Daten, Social Media-Daten) entsteht ein neuer Praxisbereich, "People Analytics". Dieses noch junge Gebiet der Datenanalysen zu Mitarbeiterthemen birgt zahlreiche thematische und methodische Überschneidungen zur empirischen Sozialforschung vergangener Jahrzehnte und bietet der Organisationspsychologie eine einmalige Chance, Forschungsvorhaben mit Blick auf unternehmerische Fragestellungen ins Auge zu fassen.
Abstract
In times where change is a natural part of our daily corporate reality, global markets push international competition and demographic changes make it difficult to find qualified employees, the "human" as a major factor for organizational success receives raised attention. Companies have a great interest to know and to leverage the causal impact of emotions, needs and behaviors on strategic business areas (e. g. employee recruiting, employee commitment, customer satisfaction, competitive advantage). With a growing volume and variety of data made available by IT-supported processes and new data sources such as mobile data or corporate social media data, a new field of practice emerges: people analytics. This growing area of data analyses on all kinds of different questions relating to employee issues and leadership in organizations overlaps in many ways with the empirical psychological research of the last decades. People analytics yields a unique chance for organizational psychologists to delve into corporate waters and contribute their expertise to corporate research projects.
This is a preview of subscription content, log in to check access.
Access options
Buy single article
Instant access to the full article PDF.
US$ 39.95
Tax calculation will be finalised during checkout.
Subscribe to journal
Immediate online access to all issues from 2019. Subscription will auto renew annually.
US$ 99
Tax calculation will be finalised during checkout.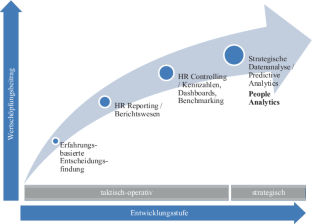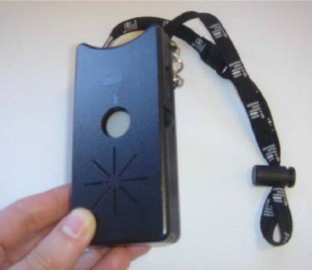 Literatur
Armutat, S. (2014). Steuerungsimpulse für die Personalarbeit. Personalcontrolling und HR-Kennzahlen. Personalführung, 5, 18–24.

Boudreau, J. W., & Jesuthasan, R. (2011). Transformative HR: how great companies use evidence-based change for sustainable advantage. San Francisco: Jossey-Bass.

Chhinzer, N., & Ghatehorde, G. (2009). Challenging relationships: HR metrics and organizational financial performance. the journal of business. Inquiry, 8(1), 37–48.

Davenport, T. (2014). Big Data @ Work: Chancen erkennen, Risiken verstehen. München: Vahlen.

DGFP e. V. (2014). "Bauchgefühl hat Grenzen". Rüdiger Kabst über Evidenzbasiertes Management und die Chancen für HR bei der Organisatonsentwicklung. Personalführung, 5, 44–49.

Dräger, J. (2016). Talent statt Titel. Human Resources Manager, Februar/März 2016, 14–15.

Edwards, J. R. (2007). The relationship between person-environment fit and outcomes: an integrative theoretical framework. In C. Ostroff, & T. A. Judge (Hrsg.), Perspectives on organizational fit (S. 209–258). New York: LEA/Taylor & Francis Group.

Fischbach, K., Peter, A., Gloor, P. A., Lassenius, C., Olguín, D. O., Pentland, A., Putzke, J., & Schoder, C. (2010). Analyzing the flow of knowledge with sociometric badges. Procedia Social and Behavioral Sciences, 2, 6389–6397.

Franks, B. (2014). The analytics revolution: how to improve your business by making analytics operational in the big data era. Hoboken, NJ: Wiley.

Garvin, D. A. (2013). How Google Sold Its Engineers on Management. Harvard Business Review, December 2013. https://hbr.org/2013/12/how-google-sold-its-engineers-on-management. Zugegriffen: 10. April 2016

Gola, P. (2015). HR Intelligence und Analytics: Datenschutzrechtliche Grenzziehungen. In S. Strohmeier, & F. Piazza (Hrsg.), Human Resource Intelligence und Analytics: Grundlagen, Anbieter, Erfahrungen und Trends (S. 127–160). Wiesbaden: Springer Gabler.

Kaiser, S. (2014). Roboter statt Recruiter? Personalmagazin, 08, 12–15.

Kaiser, S., & Kraus, H. (2014). Big Data im Personalmanagement: Erste Anwendungen und ein Blick in die Zukunft. Zfo - Zeitschrift Führung + Organisation, 83(6), 379–385.

Neuner, R., & Neuner, S. (2014). Routinedaten effizient nutzen. Personalmagazin, 08, 38–40.

Olguín, D. O., Waber, B. N., Kim, T., Mohan, A., Ara, K., & Pentland, A. (2009). Sensible organizations: technology and methodology for automatically measuring organizational behavior. Systems, Man, and Cybernetics, Part B: Cybernetics, IEEE Transactions, 39(1), 43–55.

Rasmussen, T., & Ulrich, D. (2015). Learning  from  practice: How  HR  analytics avoids  being  a  management  fad. Organizational  Dynamics, 44, 236–242.

Smith, T. (2013). HR Analytics: The What, Why, How. CreateSpace Independent Publishing Platform.
About this article
Cite this article
Reindl, C.U. People Analytics: Datengestützte Mitarbeiterführung als Chance für die Organisationspsychologie. Gr Interakt Org 47, 193–197 (2016). https://doi.org/10.1007/s11612-016-0325-7
Schlüsselwörter
People Analytics

HR Analytics

Big Data

Personalmanagement

Evidenzbasiertes Management
Keywords
People Analytics

HR Analytics

Big Data

Human resource management

Evidence-based management