Abstract
Background
Health systems are screening patients for health-related social needs (HRSN) but the optimal approach is unknown.
Objective
To describe the variation in responding to an HRSN questionnaire delivered via patient portal, and whether referral to and resources provided by social workers differed by response status.
Design
Retrospective observational study.
Participants
Primary care patients with a visit between June 2020 and January 2022.
Intervention
HRSN questionnaire
Main Measures
We identified each patient's index visit (e.g., date of their first questionnaire response for responders or their first visit within the study period for non-responders). Through the EHR, we identified patients' demographic characteristics. We linked the area deprivation index (ADI) to each patient and grouped patients into quintiles. We used multilevel logistic regressions to identify characteristics associated with responding to the questionnaire and, for responders, reporting a need. We also determined if responder status was associated with receiving a social worker referral or receiving a resource. We included patient demographics and ADI quintile as fixed variables and practice site as a random variable.
Key Results
Our study included 386,997 patients, of which 51% completed at least one HRSN questionnaire question. Patients with Medicaid insurance (AOR: 0.62, 95%CI: 0.61, 0.64) and those who lived in higher ADI neighborhoods had lower adjusted odds of responding (AOR: 0.76, 95% CI: 0.75, 0.78 comparing quintile 5 to quintile 1). Of responders, having Medicaid insurance (versus private) increased the adjusted odds of reporting each of the HRSN needs by two- to eightfold (p < 0.01). Patients who completed a questionnaire (versus non-responders) had similar adjusted odds of receiving a referral (AOR: 0.91, 95% CI: 0.80, 1.02) and receiving a resource from a SW (AOR: AOR: 1.18, 95%CI: 0.79, 1.77).
Conclusion
HRSN questionnaire responses may not accurately represent the needs of patients, especially when delivered solely via patient portal.
Access options
Buy single article
Instant access to the full article PDF.
USD 39.95
Price excludes VAT (USA)
Tax calculation will be finalised during checkout.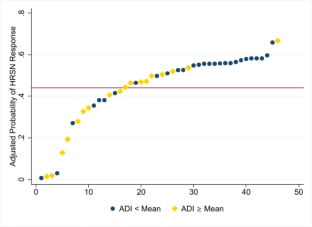 References
Ruiz Escobar E, Pathak S, Blanchard CM. Screening and Referral Care Delivery Services and Unmet Health-Related Social Needs: A Systematic Review. Prev Chronic Dis. 2021;18:E78. doi:https://doi.org/10.5888/pcd18.200569

Heller CG, Rehm CD, Parsons AH, Chambers EC, Hollingsworth NH, Fiori KP. The association between social needs and chronic conditions in a large, urban primary care population. Prev Med. 2021;153:106752. doi:https://doi.org/10.1016/j.ypmed.2021.106752

Berkowitz SA, Hulberg AC, Standish S, Reznor G, Atlas SJ. Addressing Unmet Basic Resource Needs as Part of Chronic Cardiometabolic Disease Management. JAMA Intern Med. 2017;177(2):244-252. doi:https://doi.org/10.1001/jamainternmed.2016.7691

Pruitt Z, Emechebe N, Quast T, Taylor P, Bryant K. Expenditure Reductions Associated with a Social Service Referral Program. Popul Health Manag. 2018;21(6):469-476. doi:https://doi.org/10.1089/pop.2017.0199

McIver DL. CMS Framework for Health Equity 2022–2032.

Fraze TK, Brewster AL, Lewis VA, Beidler LB, Murray GF, Colla CH. Prevalence of Screening for Food Insecurity, Housing Instability, Utility Needs, Transportation Needs, and Interpersonal Violence by US Physician Practices and Hospitals. JAMA Netw Open. 2019;2(9):e1911514. doi:https://doi.org/10.1001/jamanetworkopen.2019.11514

Buitron de la Vega P, Losi S, Sprague Martinez L, et al. Implementing an EHR-based Screening and Referral System to Address Social Determinants of Health in Primary Care. Med Care. 2019;57 Suppl 6 Suppl 2:S133-S139. doi:https://doi.org/10.1097/MLR.0000000000001029

Joynt KE, De Lew N, Sheingold SH, Conway PH, Goodrich K, Epstein AM. Should Medicare Value-Based Purchasing Take Social Risk into Account? N Engl J Med. 2017;376(6):510-513. doi:https://doi.org/10.1056/NEJMp1616278

De Marchis EH, Ettinger de Cuba SA, Chang L, et al. Screening Discordance and Characteristics of Patients With Housing-Related Social Risks. Am J Prev Med. 2021;61(1):e1-e12. doi:https://doi.org/10.1016/j.amepre.2021.01.027

Fiori KP, Heller CG, Flattau A, et al. Scaling-up social needs screening in practice: a retrospective, cross-sectional analysis of data from electronic health records from Bronx county, New York, USA. BMJ Open. 2021;11(9):e053633. doi:https://doi.org/10.1136/bmjopen-2021-053633

Rogers AJ, Hamity C, Sharp AL, Jackson AH, Schickedanz AB. Patients' attitudes and perceptions regarding social needs screening and navigation: Multi-site survey in a large integrated health system. J Gen Intern Med. 2020;35(5):1389–1395

Patel K, Ballouz T, Tang A, et al. Barriers to social determinants of health screening and low socioeconomic status reinforce the patient-provider power differential. Pediatrics. 2022;149(1 Meeting Abstracts February 2022):49–49

O'Loughlin K, Shadowen HM, Haley AD, et al. Patient preferences for discussing and acting on health-related needs in primary care. J Prim Care Community Health. 2022;13:21501319221115946

Meirte J, Hellemans N, Anthonissen M, et al. Benefits and Disadvantages of Electronic Patient-reported Outcome Measures: Systematic Review. JMIR Perioper Med. 2020;3(1):e15588. doi:https://doi.org/10.2196/15588

Gottlieb L, Hessler D, Long D, Amaya A, Adler N. A Randomized Trial on Screening for Social Determinants of Health: the iScreen Study. Pediatrics. 2014;134(6):e1611-e1618. doi:https://doi.org/10.1542/peds.2014-1439

Lyles CR, Wachter RM, Sarkar U. Focusing on Digital Health Equity. JAMA. 2021;326(18):1795. doi:https://doi.org/10.1001/jama.2021.18459

Rodriguez JA, Shachar C, Bates DW. Digital Inclusion as Health Care - Supporting Health Care Equity with Digital-Infrastructure Initiatives. N Engl J Med. 2022;386(12):1101-1103. doi:https://doi.org/10.1056/NEJMp2115646

Antonio MG, Petrovskaya O, Lau F. Is research on patient portals attuned to health equity? A scoping review. J Am Med Inform Assoc. 2019;26(8-9):871-883. doi:https://doi.org/10.1093/jamia/ocz054

Neighborhood Atlas - Home. Accessed May 17, 2022. https://www.neighborhoodatlas.medicine.wisc.edu/

Greenwood-Ericksen M, DeJonckheere M, Syed F, Choudhury N, Cohen AJ, Tipirneni R. Implementation of Health-Related Social Needs Screening at Michigan Health Centers: A Qualitative Study. Ann Fam Med. 2021;19(4):310-317. doi:https://doi.org/10.1370/afm.2690

Berkowitz RL, Bui L, Shen Z, et al. Evaluation of a social determinants of health screening questionnaire and workflow pilot within an adult ambulatory clinic. BMC Fam Pract. 2021;22(1):256. doi:https://doi.org/10.1186/s12875-021-01598-3

McLeod MR, Vasudevan A, Warnick S, Wolfson JA. Screening for Food Insecurity in the Primary Care Setting: Type of Visit Matters. J Gen Intern Med. 2021;36(12):3907-3909. doi:https://doi.org/10.1007/s11606-020-06474-x

Ray KN, Gitz KM, Hu A, Davis AA, Miller E. Nonresponse to Health-Related Social Needs Screening Questions. Pediatrics. 2020;146(3):e20200174. doi:https://doi.org/10.1542/peds.2020-0174

Cottrell EK, Hendricks M, Dambrun K, et al. Comparison of Community-Level and Patient-Level Social Risk Data in a Network of Community Health Centers. JAMA Netw Open. 2020;3(10):e2016852. doi:https://doi.org/10.1001/jamanetworkopen.2020.16852

Vest JR, Wu W, Mendonca EA. Sensitivity and Specificity of Real-World Social Factor Screening Approaches. J Med Syst. 2021;45(12):111. doi:https://doi.org/10.1007/s10916-021-01788-7

Chen A, Ghosh A, Gwynn KB, et al. Society of General Internal Medicine Position Statement on Social Risk and Equity in Medicare's Mandatory Value-Based Payment Programs. J Gen Intern Med. 2022;37(12):3178-3187. doi:https://doi.org/10.1007/s11606-022-07698-9

O'Toole TP, Johnson EE, Aiello R, Kane V, Pape L. Tailoring Care to Vulnerable Populations by Incorporating Social Determinants of Health: the Veterans Health Administration's "Homeless Patient Aligned Care Team" Program. Prev Chronic Dis. 2016;13:E44. doi:https://doi.org/10.5888/pcd13.150567
Funding
Dr. Pfoh's time is supported by a KL2 grant from NCATS to Dr. Dweik (2KL2TR002547).
Ethics declarations
Conflict of Interest
The authors declare that they do not have a conflict of interest.
Additional information
Publisher's Note
Springer Nature remains neutral with regard to jurisdictional claims in published maps and institutional affiliations.
Rights and permissions
Springer Nature or its licensor (e.g. a society or other partner) holds exclusive rights to this article under a publishing agreement with the author(s) or other rightsholder(s); author self-archiving of the accepted manuscript version of this article is solely governed by the terms of such publishing agreement and applicable law.
About this article
Cite this article
Bharmal, N., Rennick, A., Shideler, A. et al. Health-Related Social Needs: Which Patients Respond to Screening and Who Receives Resources?. J GEN INTERN MED (2023). https://doi.org/10.1007/s11606-023-08135-1
Received:

Accepted:

Published:

DOI: https://doi.org/10.1007/s11606-023-08135-1