Abstract
Background
Physician time is a valuable yet finite resource. Whether such time is apportioned equitably among population subgroups, and how the provision of that time has changed in recent decades, is unclear.
Objective
To investigate trends and racial/ethnic disparities in the receipt of annual face time with physicians in the USA.
Design
Repeated cross-sectional.
Setting
National Ambulatory Medical Care Survey, 1979–1981, 1985, 1989–2016, 2018.
Participants
Office-based physicians.
Measures
Exposures included race/ethnicity (White, Black, and Hispanic); age (<18, 18–64, and 65+); and survey year. Our main outcome was patients' annual visit face time with a physician; secondary outcomes include annual visit rates and mean visit duration.
Results
Our sample included n=1,108,835 patient visits. From 1979 to 2018, annual outpatient physician face time per capita rose from 40.0 to 60.4 min, an increase driven by a rise in mean visit length and not in the number of visits. However, since 2005, mean annual face time with a primary care physician has fallen, a decline offset by rising time with specialists. Face time provided per physician changed little given growth in the physician workforce. A racial/ethnic gap in physician visit time present at the beginning of the study period widened over time. In 2014–2018, White individuals received 70.0 min of physician face time per year, vs. 52.4 among Black and 53.0 among Hispanic individuals. This disparity was driven by differences in visit rates, not mean visit length, and in the provision of specialist but not primary care.
Limitation
Self-reported visit length.
Conclusion
Americans' annual face time with office-based physicians rose for three decades after 1979, yet is still allocated inequitably, particularly by specialists; meanwhile, time spent by Americans with primary care physicians is falling. These trends and disparities may adversely affect patient outcomes. Policy change is needed to assure better allocation of this resource.
Access options
Buy single article
Instant access to the full article PDF.
USD 39.95
Price excludes VAT (USA)
Tax calculation will be finalised during checkout.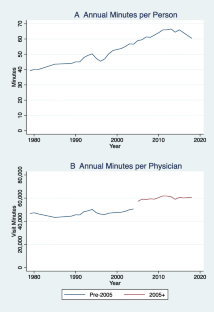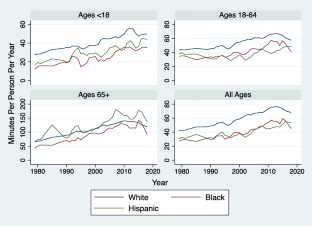 References
Hart JT. Two paths for medical practice. The Lancet. 1992;340(8822):772–5.

Mechanic D, McAlpine DD, Rosenthal M. Are Patients' Office Visits with Physicians Getting Shorter? N Engl J Med. 2001;344(3):198–204.

Shaw MK, Davis SA, Fleischer AB, Feldman SR. The Duration of Office Visits in the United States, 1993 to 2010. Am J Manag Care [Internet]. 2014 Oct 16 [cited 2021 Aug 30];20(10). Available from: https://www.ajmc.com/view/the-duration-of-office-visits-in-the-united-states-1993-to-2010

Rao A, Shi Z, Ray KN, Mehrotra A, Ganguli I. National Trends in Primary Care Visit Use and Practice Capabilities, 2008-2015. Ann Fam Med. 2019;17(6):538–44.

Chen LM, Farwell WR, Jha AK. Primary Care Visit Duration and Quality: Does Good Care Take Longer? Arch Intern Med. 2009;169(20):1866–72.

Dieleman JL, Chen C, Crosby SW, Liu A, McCracken D, Pollock IA, et al. US Health Care Spending by Race and Ethnicity, 2002-2016. JAMA. 2021;326(7):649–59.

Cai C, Gaffney A, McGregor A, Woolhandler S, Himmelstein DU, McCormick D, et al. Racial and Ethnic Disparities in Outpatient Visit Rates Across 29 Specialties. JAMA Intern Med. 2021;181(11):1525–7.

Olfson M, Cherry DK, Lewis-Fernández R. Racial differences in visit duration of outpatient psychiatric visits. Arch Gen Psychiatry. 2009;66(2):214–21.

Muntner P, Hardy ST, Fine LJ, Jaeger BC, Wozniak G, Levitan EB, et al. Trends in Blood Pressure Control Among US Adults With Hypertension, 1999-2000 to 2017-2018. JAMA. 2020;324(12):1190–200.

Fang M, Wang D, Coresh J, Selvin E. Trends in Diabetes Treatment and Control in U.S. Adults, 1999–2018. N Engl J Med. 2021;384(23):2219–28.

Hsueh L, Wu W, Hirsh AT, de Groot M, Mather KJ, Stewart JC. Undiagnosed diabetes among immigrant and racial/ethnic minority adults in the United States: National Health and Nutrition Examination Survey 2011-2018. Ann Epidemiol. 2020;51:14–9.

Boonyasai R, Azam I, Hahn C, Bonnett D, Goldstein E, Gyawali S, et al. 2021 National Healthcare Quality and Disparities Report. 316.

Center for Disease control and Prevention. 2018 NAMCS Micro-Data File Documentation. [cited 2021 Dec 29]; Available from: https://ftp.cdc.gov/pub/Health_Statistics/NCHS/Dataset_Documentation/NAMCS/doc2018-508.pdf

Flood S, King M, Rodgers R, Ruggles JR. Integrated Public Use Microdata Series, Current Population Survey: Version 7.0 [dataset] [Internet]. Minneapolis, MN: IPUMS; 2020. Available from: https://doi.org/10.18128/D030.V7.0

Centers for Disease Control and Prevention. Sample National Ambulatory Medical Care Survey 2019 Patient Record. [cited 2021 Dec 29]; Available from: https://www.cdc.gov/nchs/data/namcs/2019_NAMCS_patient_record_sample_blank-508.pdf

2018 NAMCS MICRO-DATA FILE DOCUMENTATION. Available from: https://www.cdc.gov/nchs/ahcd/datasets_documentation_related.htm

OECD Statistics: Health Care Resources [Internet]. [cited 2022 Jan 25]. Available from: https://stats.oecd.org/Index.aspx?ThemeTreeId=9

Causino N, Chang Y, Culpepper L, Marder W, Saglam D, Stafford R, et al. The Duration of Ambulatory Visits to Physicians. J Fam Pract. 1999;48(4):264–71.

Ganguli I, Shi Z, Orav EJ, Rao A, Ray KN, Mehrotra A. Declining Use of Primary Care Among Commercially Insured Adults in the United States, 2008–2016. Ann Intern Med. 2020;172(4):240–7.

Ganguli I, Lee TH, Mehrotra A. Evidence and Implications Behind a National Decline in Primary Care Visits. J Gen Intern Med. 2019;34(10):2260–3.

Gornick ME, Eggers PW, Reilly TW, Mentnech RM, Fitterman LK, Kucken LE, et al. Effects of Race and Income on Mortality and Use of Services among Medicare Beneficiaries. N Engl J Med. 1996;335(11):791–9.

Cai C, Gaffney A, McGregor A, Woolhandler S, Himmelstein DU, McCormick D, et al. Racial and Ethnic Disparities in Outpatient Visit Rates Across 29 Specialties. JAMA Intern Med. 2021 Jul 19;

Himmelstein J, Himmelstein DU, Woolhandler S, Bor DH, Gaffney A, Zallman L, et al. Health Care Spending And Use Among Hispanic Adults With And Without Limited English Proficiency, 1999–2018. Health Aff (Millwood). 2021;40(7):1126–34.

Dickman SL, Woolhandler S, Bor J, McCormick D, Bor DH, Himmelstein DU. Health spending for low-, middle-, and high-income americans, 1963–2012. Health Aff Millwood. 2016;35(7):1189–96.

Ray KN, Chari AV, Engberg J, Bertolet M, Mehrotra A. Disparities in Time Spent Seeking Medical Care in the United States. JAMA Intern Med. 2015;175(12):1983–6.

Cohen RA. Health insurance coverage: Early release of estimates from the National Health Interview Survey, 2020. 2020;23.

Brown EJ, Polsky D, Barbu CM, Seymour JW, Grande D. Racial Disparities In Geographic Access To Primary Care In Philadelphia. Health Aff (Millwood). 2016;35(8):1374–81.

Tsui J, Hirsch JA, Bayer FJ, Quinn JW, Cahill J, Siscovick D, et al. Patterns in Geographic Access to Health Care Facilities Across Neighborhoods in the United States Based on Data From the National Establishment Time-Series Between 2000 and 2014. JAMA Netw Open. 2020;3(5):e205105.

Musa D, Schulz R, Harris R, Silverman M, Thomas SB. Trust in the Health Care System and the Use of Preventive Health Services by Older Black and White Adults. Am J Public Health. 2009;99(7):1293–9.

Alsan M, Wanamaker M, Hardeman RR. The Tuskegee Study of Untreated Syphilis: A Case Study in Peripheral Trauma with Implications for Health Professionals. J Gen Intern Med. 2020;35(1):322–5.

Rogers DE, Blendon RJ. The changing american health scene: Sometimes things get better. JAMA. 1977;237(16):1710–4.

Link CR, Long SH, Settle RF. Equity and the utilization of health care services by the medicare elderly. J Hum Resour. 1982;17(2):195–212.

Gaffney A, McCormick D, Bor D, Woolhandler S, Himmelstein D. Coverage Expansions and Utilization of Physician Care: Evidence From the 2014 Affordable Care Act and 1966 Medicare/Medicaid Expansions. Am J Public Health. 2019 17;e1–8.

Wallace J, Jiang K, Goldsmith-Pinkham P, Song Z. Changes in Racial and Ethnic Disparities in Access to Care and Health Among US Adults at Age 65 Years. JAMA Intern Med. 2021;181(9):1207–15.

Neprash HT, Zink A, Sheridan B, Hempstead K. The Effect of Medicaid Expansion on Medicaid Participation, Payer Mix, and Labor Supply in Primary Care. J Health Econ. 2021 12;102541.

Glied S, Hong K. Health care in a multi-payer system: Spillovers of health care service demand among adults under 65 on utilization and outcomes in medicare. J Health Econ. 2018;60:165–76.

McInerney M, Mellor JM, Sabik LM. The Effects of State Medicaid Expansions for Working-Age Adults on Senior Medicare Beneficiaries. Am Econ J Econ Policy. 2017;9(3):408–38.

Gaffney A, Himmelstein DU, Woolhandler S, Kahn JG. Pricing Universal Health Care: How Much Would The Use Of Medical Care Rise? Health Aff (Millwood). 2021;40(1):105–12.

Gaffney A, Woolhandler S, Himmelstein D. The Effect of Large-scale Health Coverage Expansions in Wealthy Nations on Society-Wide Healthcare Utilization. J Gen Intern Med. 2019 Nov 19;

Coco A, Mainous AG. Relation of Time Spent in an Encounter With the Use of Antibiotics in Pediatric Office Visits for Viral Respiratory Infections. Arch Pediatr Adolesc Med. 2005;159(12):1145–9.

Ma J, Stafford RS. Quality of US Outpatient Care: Temporal Changes and Racial/Ethnic Disparities. Arch Intern Med. 2005;165(12):1354–61.

Gilchrist VJ, Stange KC, Flocke SA, McCord G, Bourguet C. A Comparison of the National Ambulatory Medical Care Survey (NAMCS) Measurement Approach With Direct Observation of Outpatient Visits. Med Care. 2004;42(3):276–80.

Basu S, Berkowitz SA, Phillips RL, Bitton A, Landon BE, Phillips RS. Association of Primary Care Physician Supply With Population Mortality in the United States, 2005-2015. JAMA Intern Med. 2019;179(4):506–14.

James H. The Wings of the Dove. Scribner; 1937. 336 p.
Ethics declarations
Conflict of Interest
Adam Gaffney, David Himmelstein, Steffie Woolhandler, Chris Cai, and Danny McCormick are, or have served as, leaders of Physicians for a National Health Program (PNHP), a non-profit organization that favors coverage expansion through a single payer program; however, none of them receive any compensation from that group, although some of Dr. Gaffney's travel on behalf of the organization has been reimbursed by it. The spouse of Adam Gaffney is an employee of Treatment Action Group (TAG), a non-profit research and policy think tank focused on HIV, TB, and Hepatitis C treatment. In 2020, Chris Cai worked as a paid policy intern to US Representative Pramila Jayapal.
Additional information
Publisher's Note
Springer Nature remains neutral with regard to jurisdictional claims in published maps and institutional affiliations.
Supplementary information
About this article
Cite this article
Gaffney, A., Himmelstein, D.U., Dickman, S. et al. Trends and Disparities in the Distribution of Outpatient Physicians' Annual Face Time with Patients, 1979–2018. J GEN INTERN MED 38, 434–441 (2023). https://doi.org/10.1007/s11606-022-07688-x
Received:

Accepted:

Published:

Issue Date:

DOI: https://doi.org/10.1007/s11606-022-07688-x