ABSTRACT
Background
The internal medicine (IM) subinternship (also referred to as acting internship) plays a crucial part in preparing medical students for residency. The roles, responsibilities, and support provided to subinternship directors have not been described.
Objective
We sought to describe the current role of IM subinternship directors with respect to their responsibilities, salary support, and reporting structure.
Design
Nationally representative, annually recurring thematic survey of IM core clerkship directors with membership in an academic professional association as of September 2017.
Participants
A total of 129 core clinical medicine clerkship directors at Liaison Committee on Medical Education fully accredited U.S./U.S.-territory-based medical schools.
Main Measures
Responsibilities, salary support, and reporting structure of subinternship directors.
Key Results
The survey response rate was 83.0% (107/129 medical schools). Fifty-one percent (54/107) of respondents reported overseeing both core clerkship inpatient experiences and/or one or more subinternships. For oversight, 49.1% (28/53) of subinternship directors also reported that they were the clerkship director, 26.4% (14/53) that another faculty member directed all medicine subinternships, and 18.9% (10/53) that each subinternship had its own director. The most frequently reported responsibilities for the subinternship directors were administration, including scheduling, and logistics of student schedules (83.0%, 44/53), course evaluation (81.1%, 43/53), and setting grades 79.2% (42/53). The modal response for estimated FTE per course was 10–20% FTE, with 33.3% (16/48) reporting this level of support and 29.2% (14/54) reporting no FTE support.
Conclusions
The role of the IM subinternship director has become increasingly complex. Since the IM subinternship is critical to preparing students for residency, IM subinternship directors require standard expectations and adequate support. Future studies are needed to determine the appropriate level of support for subinternship directors and to define essential roles and responsibilities.
Access options
Buy single article
Instant access to the full article PDF.
US$ 39.95
Tax calculation will be finalised during checkout.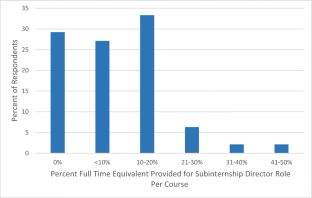 REFERENCES
1.

Fagan MJ, Curry RH, Gallagher SJ. The evolving role of the acting internship in the medical school curriculum. Am J Med. 1998;104(5):409.

2.

Elnicki DM, Gallagher S, Willett L, et al. Course offerings in the fourth year of medical school: how US medical schools are preparing students for internship. Acad Med. 2015;90(10):1324-1330.

3.

Pereira AG, Harrell HE, Weissman A, Smith CD, Dupras D, Kane GC. Important skills for internship and the fourth-year medical school courses to acquire them: a national survey of internal medicine residents. Acad Med. 2016;91(6):821-826.

4.

Sidlow R. The structure and content of the medical subinternship: a national survey. J Gen Intern Med. 2001;16(8):550-553.

5.

Lyss-Lerman P, Teherani A, Aagaard E, Loeser H, Cooke M, Harper GM. What training is needed in the fourth year of medical school? Views of residency program directors. Acad Med. 2009;84(7):823-829.

6.

Vu TR, Ferris AH, Sweet ML, et al. The New Internal Medicine Subinternship Curriculum Guide: a Report from the Alliance for Academic Internal Medicine. J Gen Intern Med. 2019;34(7):1342-1347.

7.

Vu TR, Angus SV, Aronowitz PB, et al. The Internal Medicine Subinternship—Now More Important than Ever. J Gen Intern Med. 2015;30(9):1369-1375.

8.

Garber AM, Ryan MS, Santen SA, Goldberg SR. Redefining the Acting Internship in the Era of Entrustment: One Institution's Approach to Reforming the Acting Internship. Med Sci Educ. 2019;29(2):583-591.

9.

Pawelczak M, Barilla-Labarca M-L, Pearlman REB, Brenner J, Farina G. Formative EPA Assessment: a Tool to Guide Skill Development During MS4 Acting Internships. Med Sci Educ. 2016;26(3):449-452.

10.

Lacy M, Noronha L. High-value care for senior medical students. Clin Teach. 2020;17(6):711-715.

11.

Garber AM. Flipping Out! Utilizing an Online Micro-lecture for Asynchronous Learning Within the Acting Internship. Med Sci Educ. 2019;30:91-96.

12.

Pangaro L, Bachicha J, Brodkey A, et al. Expectations of and for clerkship directors: a collaborative statement from the Alliance for Clinical Education. Teach Learn Med. 2003;15(3):217-222.

13.

Aiyer M, Appel J, Fischer M, et al. The role of the internal medicine subinternship director in the 21st century. Am J Med. 2008;121(8):733-737.

14.

Glod SA, Alexandraki I, Jasti H, et al. Clerkship Roles and Responsibilities in a Rapidly Changing Landscape: a National Survey of Internal Medicine Clerkship Directors. J Gen Intern Med. 2020; 35(5):1375-1381.

15.

Angus SV, Vu TR, Willett LL, Call S, Halvorsen AJ, Chaudhry S. Internal Medicine Residency Program Directors' Views of the Core Entrustable Professional Activities for Entering Residency: An Opportunity to Enhance Communication of Competency Along the Continuum. Acad Med. 2017;92(6):785-791.

16.

Coalition for Physician Accountability. Initial Summary Report and Preliminary Recommendations of the UGRC. 2021; https://physicianaccountability.org/wp-content/uploads/2021/04/UGRC-Initial-Summary-Report-and-Preliminary-Recommendations-1.pdf. Accessed 4 Aug 2021.

17.

Lin GL, Nwora C, Warton L. Pass/fail score reporting for USMLE Step 1: An opportunity to redefine the transition to residency together. Acad Med. 2020;95(9):1308-1311.

18.

Hernandez CA, Daroowalla F, LaRochelle JS, et al. Determining grades in the internal medicine clerkship: Results of a national survey of clerkship directors. Acad Med. 2021;96(2):249-255.

19.

Santen SA, Seidelman JL, Miller CS, et al. Milestones for Internal Medicine Sub-interns. Am J Med. 2015;128(7):790-798.e792.

20.

Moeller JJ, Warren JB, Crowe RM, et al. Developing an Entrustment Process: Insights from the AAMC CoreEPA Pilot. Med Sci Educ. 2020;30(1):395-401.

21.

Liaison Committee on Medical Education. Functions and Structure of a Medical School 2021; https://www.lcme.org/publications. Accessed 6 April 2021.

22.

Jackson JS, Bond M, Love JN, Hegarty C. Emergency Medicine Standardized Letter of Evaluation (SLOE): Findings From the New Electronic SLOE Format. J Grad Med Educ. 2019;11(2):182-186.

23.

Alliance for Academic Internal Medicine. AAIM Guidelines for DOM Standardized Letters of Evaluation. 2020; https://www.im.org/resources/ume-gme-program-resources/resources-guidelines-dom-eval. Accessed 12 Feb 2021.

24.

McConville JF, Woodruff JN. A Shared Evaluation Platform for Medical Training. New Eng J Med. 2021;384:491-493
Acknowledgements
The authors would like to thank the CDIM Survey and Scholarship Committee, CDIM Council members, and all CDIM clerkship directors who completed the survey upon which this research was based.
Ethics declarations
Conflict of Interest
The authors declare that they do not have a conflict of interest.
Additional information
Publisher's Note
Springer Nature remains neutral with regard to jurisdictional claims in published maps and institutional affiliations.
Supplementary Information
About this article
Cite this article
Duca, N.S., Lai, C.J., Ratcliffe, T.A. et al. Roles and Responsibilities of Medicine Subinternship Directors. J GEN INTERN MED (2021). https://doi.org/10.1007/s11606-021-07128-2
Received:

Accepted:

Published:
KEY WORDS
subinternship

acting internship

internal medicine

undergraduate medical education