Abstract
Introduction
Engaging patients and frontline clinicians in re-designing clinical care is essential for improving care delivery in a complex clinical environment. This study sought to assess an innovative user-centered design approach to improving clinical care quality, focusing on the use cases of de-intensifying non-beneficial care within the following areas: (1) de-intensifying diabetes treatment in high-risk patients; (2) stopping screening for carotid artery stenosis in asymptomatic patients; and (3) stopping colorectal cancer screening in average-risk, older adults.
Methods
The user-centered design approach, consisting of patient and patient-clinician charrettes (defined as intensive workshops where key stakeholders collaborate to develop creative solutions to a specific problem) and participant surveys, has been described previously. Following the charrettes, we used inductive coding to identify and categorize themes emerging from the de-intensification ideas prioritized by participants as well as facilitator notes and audio recordings from the charrettes.
Results
Thirty-five patients participated in the patient design charrettes, generating 134 unique de-intensification ideas and prioritizing 32, which were then distilled into six patient-generated principles of de-intensification by the study team. These principles provided a starting point for a subsequent patient-clinician charrette. In this follow-up charrette, 9 patients who had participated in an earlier patient design charrette collaborated with 7 clinicians to generate 63 potential de-intensification solutions. Six of these potential solutions were developed into multi-faceted, fully operationalized de-intensification strategies.
Discussion
The de-intensification strategies that patients and clinicians prioritized and operationalized during the co-design charrette process were detailed and multi-faceted. Each component of a strategy had a rationale based on feasibility, practical considerations, and ways of overcoming barriers. The charrette-based process may be a useful way to engage clinicians and patients in developing the complex and multi-faceted strategies needed to improve care delivery.
Access options
Buy single article
Instant access to the full article PDF.
US$ 39.95
Tax calculation will be finalised during checkout.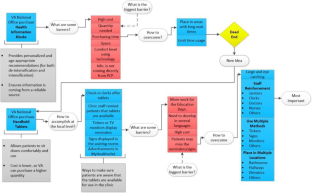 References
1.

The ABIM Foundation. Choosing Wisely website. Updated 2020. Accessed on December 14, 2020. https://www.choosingwisely.org/

2.

Grimshaw JM, Patey AM, Kirkham KR, et al. De-Implementing wisely: developing the evidence base to reduce low-value care. BMJ Quality and Safety. 2020;0: 1-9.

3.

Morgan DJ, Brownlee S, Leppin AL, et al. Setting a research agenda for medical overuse. BMJ. 2015;351:h4534.

4.

Prusaczyk B, Swindle T, Curran G. Defining and conceptualizing outcomes for de-implementation: key distinctions for implementation outcomes. Implement Sci Commun. 2020;1(43).

5.

Norton WE, Chambers DA. Unpacking the complexities of de-implementing inappropriate health interventions. Implement Sci. 2020;15(2).

6.

Rogal SS, Yakovchenko V, Waltz TJ, et al. Longitudinal assessment of the association between implementation strategy use and the uptake of hepatitis C treatment: Year 2. Implement Sci. 2019;14(36).

7.

Chapman E, Haby MM, Toma TS, et al. Knowledge translation strategies for dissemination with a focus on healthcare recipients: and overview of systematic reviews. Implement Sci. 2020;15(14).

8.

Altman M, Huang TT, Breland JY. Design thinking in health care. Prev Chronic Dis. 2018;15:E117

9.

Klamerus ML, Damschroder LJ, Sparks JB, et al. Developing Strategies to Reduce Unnecessary Services in Primary Care: Protocol for User-Centered Design Charrettes. JMIR Res Protoc. 2019;8(11):e15618.

10.

Dopp AR, Parisi KE, Munson SA, Lyon AR. A glossary of user-centered design strategies for implementation experts. Transl Behav Med. 2018. https://doi.org/10.1093/tbm/iby119 [Medline: 30535343]

11.

Martin B, Hanington BM. Universal Methods of Design: 100 Ways to Research Complex Problems, Develop Innovative Ideas, and Design Effective Solutions. Beverly, MA: Rockport Publishers; 2012.

12.

Lennertz B, Lutzenhiser A. The Charrette Handbook: The Essential Guide for Accelerated, Collaborative Community Planning. Chicago, IL: APA/Planners Press; 2006.

13.

Kerr EA, Klamerus ML, Markovitz AA, et al. Identifying Recommendations for Stopping or Scaling Back Unnecessary Routine Services in Primary Care. JAMA Intern Med. 2020;180(11):1500-1508.

14.

Fitch K, Bernstein S, Aguillar M, et al. The RAND/UCLA Appropriateness Method User's Manual. Santa Monica, CA: RAND; 2001.

15.

Colla CH, Mainor AJ, Hargreaves C, Sequist T, Morden N. Interventions aimed at reducing use of low-value health services: a systematic review. Med Care Res Rev. 2017;74(5):507–50.

16.

Powell BJ, Waltz TJ, Chinman MJ, et al. A refined compilation of implementation strategies: results from the Expert Recommendations for Implementing Change (ERIC) project. Implement Sci. 2015;10(21). https://doi.org/10.1186/s13012-015-0209-1

17.

Waltz TJ, Powell BJ, Chinman MJ, et al. Expert Recommendations for Implementing Change (ERIC): protocol for a mixed methods study. Implement Sci. 2014;9:1-12

18.

Montori V. Why we revolt: A patient revolution for careful and kind care. The Patient Revolution. 2017.

19.

Liu J, Hou S, Evans R, Xia C, Xia W, Ma J. What Do Patients Complain About Online: A Systematic Review and Taxonomy Framework Based on Patient Centeredness. J Med Internet Res. 2019;21(8):e14634. DOI: https://doi.org/10.2196/14634

20.

Rotenstein LS, Torre M, Ramos MA, et al. Prevalence of burnout among physicians: a systematic review. JAMA. 2018;320(11):1131-1150.

21.

Rotenstein LS, Johnson AK. Taking Back Control – Can Quality Improvement Enhance the Physician Experience? Health Affairs Blog. 2020; doi.https://doi.org/10.1377/HBLOG20200110.543513

22.

Damschroder LJ, Knighton AJ, Griese E, et al. Recommendations for strengthening the role of embedded researchers to accelerate implementation in health systems: Findings from a state-of-the-art (SOTA) conference workgroup. Healthc (Amst). 2021;8 Suppl 1(Supple 1):100455.

23.

Ryfe DM. Does Deliberative Democracy Work? Annu Rev Polit Sci. 2005;8:49-71.

24.

Safaei J. Deliberative democracy in health care: current challenges and future prospects. J Healthc Leadersh. 2015;7:123-136.
Funding
This study was funded by the Department of Veterans Affairs Health Services Research and Development IIR 15-131. Dr. Caverly is supported by a career development award from the VA HSR&D (CDA 16-151).
Ethics declarations
Conflict of Interest
Dr. Caverly, Ms. Skurla, Ms. Klamerus, and Ms. Damschroder have nothing to disclose; Ms. Sparks and Mr. Reed report grants from Department of Veterans Affairs, during the conduct of the study; Dr. Hofer reports grants from VA HSR&D, during the conduct of the study; Dr. Kerr reports grants from VA HSR&D, during the conduct of the study; past personal fees from BIND as a member of the Clinical Advisory Board, outside the submitted work; and Dr. Kerr serves on the Advisory Board for the NIH-funded US Deprescribing Network.
Additional information
Publisher's Note
Springer Nature remains neutral with regard to jurisdictional claims in published maps and institutional affiliations.
Prior Presentation:
This data was previously presented at the 2019 Academy Health Annual Research Meeting.
Supplementary Information
About this article
Cite this article
Caverly, T.J., Skurla, S.E., Klamerus, M.L. et al. Applying User-Centered Design to Develop Practical Strategies that Address Overuse in Primary Care. J GEN INTERN MED (2021). https://doi.org/10.1007/s11606-021-07124-6
Received:

Accepted:

Published:
KEY WORDS
user-centered design

Veterans

overuse

de-intensification