Abstract
Background
Medication for opioid use disorder, including buprenorphine and methadone, is considered the gold standard treatment for opioid use disorder (OUD). As the number of patients receiving buprenorphine has grown, clinicians increasingly care for patients prescribed buprenorphine who present for surgery and require management of perioperative pain.
Objective
To describe practice patterns of perioperative and post-surgical use of buprenorphine among patients prescribed buprenorphine for OUD who experience major surgery.
Design
Retrospective cohort study utilizing data from the VA Corporate Data Warehouse (CDW), a national repository of patient-level data. Data not accessible in CDW, including clinical instructions to patients to modify buprenorphine dose, were accessed via chart review.
Participants
National sample of patients receiving care through the Veterans Health Administration.
Main Measures
We report descriptive statistics on the incidence of buprenorphine dose hold prior to, during, and immediately following surgery, as well as post-surgical outcomes. Multivariable logistic regression identified socio-demographic and clinical characteristics associated with perioperative hold.
Key Results
Our final sample comprised 183 patients, the majority of whom were white and male. Most patients (66%) experienced a perioperative buprenorphine dose hold: during the pre-operative, day of surgery, and post-operative periods, 40%, 62%, and 55% of patients had buprenorphine held. Buprenorphine dose hold was less likely for patients who had experienced homelessness/housing insecurity in the year prior to surgery (aOR = 0.25; 95% CI 0.10–0.61) as well as patients residing in rural areas (aOR=0.29; 0.12–0.68). Within the 12-month period following surgery, 122 patients (67%) were retained on buprenorphine, 10 patients (5.5%) had experienced an overdose, and 15 (8.2%) had died.
Conclusions
We identified high rates of perioperative buprenorphine dose holds. As holding buprenorphine perioperatively does not align with emerging clinical recommendations and carries significant risks, educational campaigns or other provider-targeted interventions may be needed to ensure patients with OUD receive recommended care.
Access options
Buy single article
Instant access to the full article PDF.
US$ 39.95
Tax calculation will be finalised during checkout.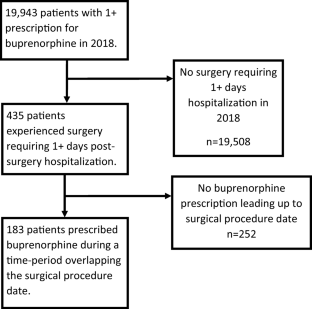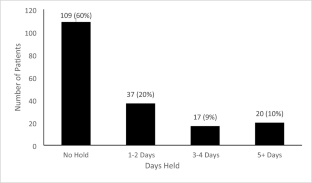 References
1.

Wyse JJ, Gordon AJ, Dobscha SK, et al. Medications for opioid use disorder in the Department of Veterans Affairs (VA) health care system: historical perspective, lessons learned, and next steps. Subst Abuse. 2018;39(2):139-144. https://doi.org/10.1080/08897077.2018.1452327

2.

Turner L, Kruszewski SP, Alexander GC. Trends in the use of buprenorphine by office-based physicians in the United States, 2003–2013. Am J Addict. 2015;24(1):24-29. https://doi.org/10.1111/ajad.12174

3.

Olfson M, Zhang VS, Schoenbaum M, King M. Trends in buprenorphine treatment in the United States, 2009-2018. JAMA. 2020;323(3):276-277. https://doi.org/10.1001/jama.2019.18913

4.

Goel A, Azargive S, Lamba W, et al. The perioperative patient on buprenorphine: a systematic review of perioperative management strategies and patient outcomes. Can J Anaesth. 2019;66(2):201-217. https://doi.org/10.1007/s12630-018-1255-3

5.

Li AH, Schmiesing C, Aggarwal AK. Evidence for continuing buprenorphine in the perioperative period. Clin J Pain. 2020;36(10):764-774. https://doi.org/10.1097/AJP.0000000000000858

6.

Alford DP, Compton P, Samet JH. Acute pain management for patients receiving maintenance methadone or buprenorphine therapy. Ann Intern Med. 2006;144(2):127-134. https://doi.org/10.7326/0003-4819-144-2-200601170-00010

7.

Anderson TA, Quaye ANA, Ward EN, Wilens TE, Hilliard PE, Brummett CM. To stop or not, that is the question. Anesthesiology. 2017;126(6):1180-1186. https://doi.org/10.1097/ALN.0000000000001633

8.

Buresh M, Ratner J, Zgierska A, Gordin V, Alvanzo A. Treating perioperative and acute pain in patients on buprenorphine: narrative literature review and practice recommendations. J Gen Intern Med. 35(12):3635-3643. https://doi.org/10.1007/s11606-020-06115-3

9.

Veazie S, Mackey K, Bourne MD, Peterson K. Evidence brief: managing acute pain in patients with opioid use disorder on medication-assisted treatment supplementary materials. Published online 2019. Available at: https://www.ncbi.nlm.nih.gov/books/NBK549201/.

10.

Childers JW, Arnold RM. Treatment of pain in patients taking buprenorphine for opioid addiction # 221. J Palliat Med. 2012;15(5):613-614. https://doi.org/10.1089/jpm.2012.9591

11.

Jonan A, Kaye A, Urman R. Buprenorphine formulations: clinical best practice strategies recommendations for perioperative management of patients undergoing surgical or interventional pain procedures. Pain Physician. 2018;21(1):E1-E12. https://doi.org/10.36076/ppj.2018.1.e1

12.

Sen S, Arulkumar S, Cornett EM, et al. New pain management options for the surgical patient on methadone and buprenorphine. Curr Pain Headache Rep. 2016;20(3):16. https://doi.org/10.1007/s11916-016-0549-9

13.

Acampora GA, Nisavic M, Zhang Y. Perioperative buprenorphine continuous maintenance and administration simultaneous with full opioid agonist: patient priority at the interface between medical disciplines. J Clin Psychiatry. 2020;81(1):19. https://doi.org/10.4088/JCP.19com12810

14.

Perioperative Pain Management Guidance for Patients on Chronic Buprenorphine Therapy for Opioid Use Disorder Undergoing Elective or Emergent Procedures. Washington, DC: VA Pharmacy Benefits Management Services, Medical Advisory Panel and VISN Pharmacist Executives, Veterans Health Administration, Department of Veterans Affairs; March 2019.

15.

Goel A, Azargive S, Weissman JS, et al. Perioperative Pain and Addiction Interdisciplinary Network (PAIN): protocol of a practice advisory for the perioperative management of buprenorphine using a modified Delphi process. BMJ Open. 2019;9(5):e027374. https://doi.org/10.1136/bmjopen-2018-027374

16.

Vincent BM, Wiitala WL, Burns JA, Iwashyna TJ, Prescott HC. Using veterans affairs corporate data warehouse to identify 30-day hospital readmissions. Health Serv Outcomes Res Methodol. 2018;18(3):143-154. https://doi.org/10.1007/s10742-018-0178-3

17.

Lovejoy T, Morasco B, Demidenko M, Meath T, Dobscha S. (453) Reasons for discontinuation of long-term opioid therapy in patients with and without substance use disorders. J Pain. 2016;17(4):S87-S88. https://doi.org/10.1016/j.jpain.2016.01.430

18.

Wyse JJ, Robbins JL, McGinnis KA, et al. Predictors of timely opioid agonist treatment initiation among veterans with and without HIV. Drug Alcohol Depend. 2019;198:70-75. https://doi.org/10.1016/j.drugalcdep.2019.01.038

19.

Finlay AK, Harris AHS, Rosenthal J, et al. Receipt of pharmacotherapy for opioid use disorder by justice-involved U.S. Veterans Health Administration patients. Drug Alcohol Depend. 2016;160:222-226. https://doi.org/10.1016/j.drugalcdep.2016.01.013

20.

Oliva EM, Harris AH, Trafton JA, Gordon AJ. Receipt of opioid agonist treatment in the Veterans Health Administration: facility and patient factors. Drug Alcohol Depend. 2012;122(3):241-246. https://doi.org/10.1016/j.drugalcdep.2011.10.004

21.

Dreifuss JA, Griffin ML, Frost K, et al. Patient characteristics associated with buprenorphine/naloxone treatment outcome for prescription opioid dependence: Results from a multisite study. Drug Alcohol Depend. 2013;131(1-2):112-118. https://doi.org/10.1016/j.drugalcdep.2012.12.010

22.

Sordo L, Barrio G, Bravo MJ, et al. Mortality risk during and after opioid substitution treatment: systematic review and meta-analysis of cohort studies. BMJ. 2017;357:j1550. https://doi.org/10.1136/bmj.j1550

23.

Larochelle MR, Bernson D, Land T, et al. Medication for opioid use disorder after nonfatal opioid overdose and association with mortality: a cohort study. Ann Intern Med. 2018;169(3):137-145. https://doi.org/10.7326/M17-3107

24.

Weiss RD, Potter JS, Fiellin DA, et al. Adjunctive counseling during brief and extended buprenorphine-naloxone treatment for prescription opioid dependence: a 2-Phase randomized controlled trial. Arch Gen Psychiatry. 2011;68(12):1238-1246. https://doi.org/10.1001/archgenpsychiatry.2011.121

25.

Manhapra A, Petrakis I, Rosenheck R. Three-year retention in buprenorphine treatment for opioid use disorder nationally in the Veterans Health Administration. Am J Addict. 2017;26(6):572-580. https://doi.org/10.1111/ajad.12553

26.

Substance Abuse Mental Health Services Administration (SAMHSA). Medications for Opioid Use Disorder: For Healthcare and Addiction Professionals, Policymakers, Patients and Families. Updated 2020. Published online 2020. https://store.samhsa.gov/sites/default/files/SAMHSA_Digital_Download/PEP20-02-01-006_508.pdf

27.

Button D, Hartley J, Robbins J, et al. Low-dose buprenorphine initiation in hospitalized adults with opioid use disorder: a retrospective cohort analysis. J Addict Med. 2021 May 17. Epub ahead of print. https://doi.org/10.1097/ADM.0000000000000864.
Funding
This work was supported by a VA CIVIC Pilot Award, VA HSR&D Center of Innovation, Career Development Award (IK2HX003007) from the US Department of Veterans Affairs Health Services Research and Development, and resources from the VA Health Services Research and Development–funded Center to Improve Veteran Involvement in Care at the VA Portland Health Care System (CIN 13-404). This work was also supported by F30 DA044700 (KP) from the National Institute on Drug Abuse (NIDA). The views expressed in this article are those of the authors and do not necessarily reflect the position or policy of the Department of Veterans Affairs or the United States government.
Ethics declarations
Conflict of Interest
The authors declare that they do not have a conflict of interest.
Additional information
Publisher's Note
Springer Nature remains neutral with regard to jurisdictional claims in published maps and institutional affiliations.
Prior presentations: This work has not been presented previously.
About this article
Cite this article
Wyse, J.J., Herreid-O'Neill, A., Dougherty, J. et al. Perioperative Management of Buprenorphine/Naloxone in a Large, National Health Care System: a Retrospective Cohort Study. J GEN INTERN MED (2021). https://doi.org/10.1007/s11606-021-07118-4
Received:

Accepted:

Published:
KEY WORDS
buprenorphine

perioperative period

opioid-related disorders

Veterans health