Abstract
Background
Urine drug testing (UDT) is a recommended risk mitigation strategy for patients prescribed opioids for chronic pain, but evidence that UDT supports identification of substance misuse is limited.
Objective
Identify the prevalence of UDT results that may identify substance misuse, including diversion, among patients prescribed opioids for chronic pain.
Design
Retrospective cohort study.
Subjects
Patients (n=638) receiving opioids for chronic pain who had one or more UDTs, examining up to eight substances per sample, during a one 1-year period.
Main Measures
Experts adjudicated the clinical concern that UDT results suggest substance misuse or diversion as not concerning, uncertain, or concerning.
Key Results
Of 638 patients, 48% were female and 49% were over age 55 years. Patients had a median of three UDTs during the intervention year. We identified 37% of patients (235/638) with ≥1 concerning UDT and a further 35% (222/638) having ≥1 uncertain UDT. We found concerning UDTs due to non-detection of a prescribed substance in 24% (156/638) of patients and detection of a non-prescribed substance in 23% (147/638). Compared to patients over 65 years, those aged 18–34 years were more likely to have concerning UDT results with an adjusted odds ratio (AOR) of 4.8 (95% confidence interval [CI] 1.9–12.5). Patients with mental health diagnoses (AOR 1.6 [95% CI 1.1–2.3]) and substance use diagnoses (AOR 2.3 [95% CI 1.5–3.7]) were more likely to have a concerning UDT result.
Conclusions
Expert adjudication of UDT results identified clinical concern for substance misuse in 37% of patients receiving opioids for chronic pain. Further research is needed to determine if UDTs impact clinical practice or patient-related outcomes.
Access options
Buy single article
Instant access to the full article PDF.
USD 39.95
Price includes VAT (USA)
Tax calculation will be finalised during checkout.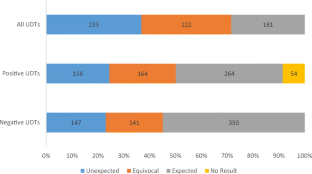 References
1.

Guy GP, Jr., Zhang K, Bohm MK, et al. Vital signs: changes in opioid prescribing in the United States, 2006-2015. MMWR Morb Mortal Wkly Rep. 2017;66(26):697-704.

2.

Schieber LZ, Guy GP, Seth P, Losby JL. Variation in adult outpatient opioid prescription dispensing by age and sex - United States, 2008-2018. MMWR Morbidity and mortality weekly report. 2020;69(11):298-302.

3.

Olfson M, Wang S, Wall MM, Blanco C. Trends in opioid prescribing and self-reported pain among US adults. Health Aff (Millwood). 2020;39(1):146-154.

4.

Chou R, Turner JA, Devine EB, et al. The effectiveness and risks of long-term opioid therapy for chronic pain: a systematic review for a National Institutes of Health Pathways to Prevention Workshop. Ann Intern Med. 2015;162(4):276-286.

5.

Dowell D, Haegerich TM, Chou R. Cdc guideline for prescribing opioids for chronic pain—united states, 2016. JAMA. 2016;315(15):1624-1645.

6.

Jarvis M, Williams J, Hurford M, et al. Appropriate use of drug testing in clinical addiction medicine. J Addict Med. 2017;11(3):163-173.

7.

VA/DoD Clinical Practice Guideline for Opioid Therapy for Chronic Pain. 2017; https://www.healthquality.va.gov/guidelines/Pain/cot/VADoDOTCPG022717.pdf. Accessed January 30, 2021.

8.

Starrels JL, Becker WC, Alford DP, Kapoor A, Williams AR, Turner BJ. Systematic review: treatment agreements and urine drug testing to reduce opioid misuse in patients with chronic pain. Ann Intern Med. 2010;152(11):712-720.

9.

Nuckols TK, Anderson L, Popescu I, et al. Opioid prescribing: a systematic review and critical appraisal of guidelines for chronic pain. Ann Intern Med. 2014;160(1):38-47.

10.

Reisfield GM, Bertholf R, Barkin RL, Webb F, Wilson G. Urine drug test interpretation: what do physicians know? J Opioid Manag. 2007;3(2):80-86.

11.

Starrels JL, Fox AD, Kunins HV, Cunningham CO. They don't know what they don't know: internal medicine residents' knowledge and confidence in urine drug test interpretation for patients with chronic pain. J Gen Intern Med. 2012;27(11):1521-1527.

12.

Argoff CE, Alford DP, Fudin J, et al. Rational urine drug monitoring in patients receiving opioids for chronic pain: consensus recommendations. Pain Med. 2018;19(1):97-117.

13.

Turner JA, Saunders K, Shortreed SM, et al. Chronic opioid therapy urine drug testing in primary care: prevalence and predictors of aberrant results. J Gen Intern Med. 2014;29(12):1663-1671.

14.

Matteliano D, Chang YP. Describing prescription opioid adherence among individuals with chronic pain using urine drug testing. Pain management nursing : official journal of the American Society of Pain Management Nurses. 2015;16(1):51-59.

15.

Michna E, Jamison RN, Pham LD, et al. Urine toxicology screening among chronic pain patients on opioid therapy: frequency and predictability of abnormal findings. The Clinical journal of pain. 2007;23(2):173-179.

16.

Ives TJ, Chelminski PR, Hammett-Stabler CA, et al. Predictors of opioid misuse in patients with chronic pain: a prospective cohort study. BMC Health Serv Res. 2006;6:46.

17.

Liebschutz JM, Xuan Z, Shanahan CW, et al. Improving adherence to long-term opioid therapy guidelines to reduce opioid misuse in primary care: a cluster-randomized clinical trial. JAMA Intern Med. 2017;177(9):1265-1272.

18.

Lasser KE, Shanahan C, Parker V, et al. A multicomponent intervention to improve primary care provider adherence to chronic opioid therapy guidelines and reduce opioid misuse: a cluster randomized controlled trial protocol. J Subst Abuse Treat. 2016;60:101-109.

19.

Liebschutz JM, Lange AV, Heymann OD, et al. Communication between nurse care managers and patients who take opioids for chronic pain: strategies for exploring aberrant behavior. J Opioid Manag. 2018;14(3):191-202.

20.

Rose AJ, Bernson D, Chui KKH, et al. Potentially inappropriate opioid prescribing, overdose, and mortality in Massachusetts, 2011-2015. J Gen Intern Med. 2018;33(9):1512-1519.

21.

Liebschutz JM, Saitz R, Weiss RD, et al. Clinical factors associated with prescription drug use disorder in urban primary care patients with chronic pain. J Pain. 2010;11(11):1047-1055.

22.

Volkow ND, McLellan AT. Opioid Abuse in chronic pain — misconceptions and mitigation strategies. New England Journal of Medicine. 2016;374(13):1253-1263.

23.

National Center for Injury Prevention and Control. CDC compilation of benzodiazepines, muscle relaxants, stimulants, zolpidem, and opioid analgesics with oral morphine milligram equivalent conversion factors, 2019 version. 2019; Available at https://www.cdc.gov/drugoverdose/resources/data.html.

24.

McHugh ML. Interrater reliability: the kappa statistic. Biochem Med (Zagreb). 2012;22(3):276-282.

25.

Ciccarone D. The triple wave epidemic: supply and demand drivers of the US opioid overdose crisis. Int J Drug Policy. 2019;71:183-188.

26.

Chua I, Petrides AK, Schiff GD, et al. Provider misinterpretation, documentation, and follow-up of definitive urine drug testing results. J Gen Intern Med. 2020;35(1):283-290.

27.

Merlin JS, Young SR, Starrels JL, et al. Managing concerning behaviors in patients prescribed opioids for chronic pain: a Delphi study. J Gen Intern Med. 2018;33(2):166-176.

28.

U.S. Department of Health and Human Services. HHS guide for clinicians on the appropriate dosage reduction or discontinuation of long-term opioid analgesics. 2019; Available at: https://www.hhs.gov/opioids/sites/default/files/2019-10/Dosage_Reduction_Discontinuation.pdf. Accessed March 16, 2021.

29.

Dowell D, Haegerich T, Chou R. No shortcuts to safer opioid prescribing. N Engl J Med. 2019;380(24):2285-2287.
Funding
This study was funded by the National Institutes of Health/National Institute on Drug Abuse K23DA042168.
Ethics declarations
Conflict of Interest
Dr. Larochelle reports receiving consulting funds paid to his institution by OptumLabs for opioid use disorder research outside the scope of the submitted work. Dr. Krebs reports receiving travel paid by the law firm representing the state of Oklahoma for expert witness services in support of the state's litigation against opioid manufacturers. Authors have no other conflicts of interest to report.
Additional information
Publisher's Note
Springer Nature remains neutral with regard to jurisdictional claims in published maps and institutional affiliations.
Supplementary Information
About this article
Cite this article
Larochelle, M.R., Cruz, R., Kosakowski, S. et al. Do Urine Drug Tests Reveal Substance Misuse Among Patients Prescribed Opioids for Chronic Pain?. J GEN INTERN MED (2021). https://doi.org/10.1007/s11606-021-07095-8
Received:

Accepted:

Published:
KEY WORDS
urine drug tests

opioid analgesics

chronic pain