Abstract
Background
Previous qualitative research has described that previous misdiagnoses may reduce patient and their families' trust in healthcare.
Objective
To quantify the associations between patients or family members' misdiagnosis experiences and trust in their physician.
Design
Cross-sectional study.
Participants
Adult Japanese people with non-communicable diseases (cancer, diabetes, depression, heart disease, and connective tissue disease), recruited using a web-based panel survey.
Main Measures
Surveys assessed the patient and the patient's family's experience with misdiagnosis. Trust in the respondent's current physician was measured using the Japanese version of the 11-item Trust in Physician Scale.
Key Results
Among 661 patients (response rate 30.1%), 23.2% had a personal history of misdiagnosis and 20.4% had a family history of misdiagnosis. In a multivariable-adjusted general linear model, patients or a family members' misdiagnosis experiences were associated with lower confidence in their current physician (mean difference −4.3, 95%CI −8.1 to −0.49 and −3.2, 95%CI −6.3 to −0.05, respectively). The impact of having a personal and a family member's experience of misdiagnosis on trust was additive, with no evidence of interaction (P for interaction = 0.494).
Conclusions
The patient's or family members' misdiagnosis experiences reduced trust in the patient's current physicians. Interventions specifically targeting misdiagnosed patients are needed to restore trust.
Access options
Buy single article
Instant access to the full article PDF.
USD 39.95
Price includes VAT (USA)
Tax calculation will be finalised during checkout.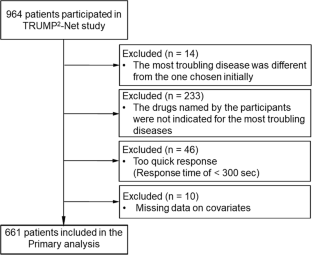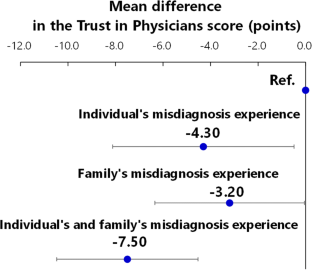 References
1.

Pearson SD, Raeke LH. Patients' trust in physicians: many theories, few measures, and little data. J Gen Intern Med. 2000;15(7):509-13. DOI:https://doi.org/10.1046/j.1525-1497.2000.11002.x

2.

Anderson LA, Dedrick RF. Development of the Trust in Physician scale: a measure to assess interpersonal trust in patient-physician relationships. Psychol Rep. 1990;67(3 Pt 2):1091-100. DOI:https://doi.org/10.2466/pr0.1990.67.3f.1091

3.

Barry MJ, Edgman-Levitan S. Shared decision making--pinnacle of patient-centered care. N Engl J Med. 2012;366(9):780-1. DOI:https://doi.org/10.1056/NEJMp1109283

4.

Cuffee YL, Hargraves JL, Rosal M, Briesacher BA, Schoenthaler A, Person S, et al. Reported racial discrimination, trust in physicians, and medication adherence among inner-city African Americans with hypertension. Am J Public Health. 2013;103(11):e55-62. DOI:https://doi.org/10.2105/ajph.2013.301554

5.

Elder K, Ramamonjiarivelo Z, Wiltshire J, Piper C, Horn WS, Gilbert KL, et al. Trust, medication adherence, and hypertension control in Southern African American men. Am J Public Health. 2012;102(12):2242-5. DOI:https://doi.org/10.2105/ajph.2012.300777

6.

Nguyen GC, LaVeist TA, Harris ML, Datta LW, Bayless TM, Brant SR. Patient trust-in-physician and race are predictors of adherence to medical management in inflammatory bowel disease. Inflamm Bowel Dis. 2009;15(8):1233-9. DOI:https://doi.org/10.1002/ibd.20883

7.

Safran DG, Taira DA, Rogers WH, Kosinski M, Ware JE, Tarlov AR. Linking primary care performance to outcomes of care. J Fam Pract. 1998;47(3):213-20.

8.

Thom DH, Ribisl KM, Stewart AL, Luke DA. Further Validation and Reliability Testing of the Trust in Physician Scale. The Stanford Trust Study Physicians. Med Care. 1999;37(5):510-7. DOI:https://doi.org/10.1097/00005650-199905000-00010

9.

Singh H, Meyer AN, Thomas EJ. The frequency of diagnostic errors in outpatient care: estimations from three large observational studies involving US adult populations. BMJ Qual Saf. 2014;23(9):727-31. DOI:https://doi.org/10.1136/bmjqs-2013-002627

10.

Hogan H, Healey F, Neale G, Thomson R, Vincent C, Black N. Preventable deaths due to problems in care in English acute hospitals: a retrospective case record review study. BMJ Qual Saf. 2012;21(9):737-45. DOI:https://doi.org/10.1136/bmjqs-2011-001159

11.

Watari T, Tokuda Y, Mitsuhashi S, Otuki K, Kono K, Nagai N, et al. Factors and impact of physicians' diagnostic errors in malpractice claims in Japan. PLoS One. 2020;15(8):e0237145. DOI:https://doi.org/10.1371/journal.pone.0237145

12.

Studdert DM, Mello MM, Gawande AA, Gandhi TK, Kachalia A, Yoon C, et al. Claims, errors, and compensation payments in medical malpractice litigation. N Engl J Med. 2006;354(19):2024-33. DOI:https://doi.org/10.1056/NEJMsa054479

13.

Elder NC, Jacobson CJ, Zink T, Hasse L. How experiencing preventable medical problems changed patients' interactions with primary health care. Ann Fam Med. 2005;3(6):537-44. DOI:https://doi.org/10.1370/afm.346

14.

Ottosen MJ, Sedlock EW, Aigbe AO, Bell SK, Gallagher TH, Thomas EJ. Long-Term Impacts Faced by Patients and Families After Harmful Healthcare Events. J Patient Saf. 2018. DOI:https://doi.org/10.1097/pts.0000000000000451

15.

Hall MA, Camacho F, Dugan E, Balkrishnan R. Trust in the medical profession: conceptual and measurement issues. Health Serv Res. 2002;37(5):1419-39. DOI:https://doi.org/10.1111/1475-6773.01070

16.

Berinsky AJ, Margolis MF, Sances MW. Separating the Shirkers from the Workers? Making Sure Respondents Pay Attention on Self-Administered Surveys. Am J Pol Sci. 2014;58:739-53. DOI:https://doi.org/10.1111/ajps.12081

17.

Meade AW, Craig SB. Identifying careless responses in survey data. Psychol Methods. 2012;17 3:437-55. DOI:https://doi.org/10.1037/a0028085

18.

Dugan E, Trachtenberg F, Hall MA. Development of abbreviated measures to assess patient trust in a physician, a health insurer, and the medical profession. BMC Health Serv Res. 2005;5(1):64. DOI:https://doi.org/10.1186/1472-6963-5-64

19.

Yamamoto T, Hashimoto M. Reliability and validity of a Japanese version of the trust in physician scale. J Jpn Soc Healthcare Adm. 2008;45(3):227-35 (in Japanese).

20.

Goto Y, Miura H, Son D, Arai H, Kriston L, Scholl I, et al. Psychometric Evaluation of the Japanese 9-Item Shared Decision-Making Questionnaire and Its Association with Decision Conflict and Patient Factors in Japanese Primary Care. JMA J. 2020;3(3):208-15. DOI:10.31662/jmaj.2019-0069

21.

Freburger JK, Callahan LF, Currey SS, Anderson LA. Use of the trust in physician scale in patients with rheumatic disease: Psychometric properties and correlates of trust in the rheumatologist. Arthritis Rheum. 2003;49(1):51-8. DOI:https://doi.org/10.1002/art.10925

22.

Fiscella K, Franks P, Clancy CM. Skepticism toward medical care and health care utilization. Med Care. 1998;36(2):180-9. DOI:https://doi.org/10.1097/00005650-199802000-00007

23.

Yamagishi T, Yamagishi M. Trust and commitment in the United States and Japan. Motiv Emot. 1994;18(2):129-66. DOI:https://doi.org/10.1007/BF02249397

24.

Thom DH, Kravitz RL, Bell RA, Krupat E, Azari R. Patient trust in the physician: relationship to patient requests. Fam Pract. 2002;19(5):476-83. DOI:https://doi.org/10.1093/fampra/19.5.476

25.

Costello AB, Osborne J. Best practices in exploratory factor analysis: four recommendations for getting the most from your analysis. Pract Assess Res Evaluation. 2005;10:7. DOI:https://doi.org/10.7275/jyj1-4868

26.

Dunn TJ, Baguley T, Brunsden V. From alpha to omega: A practical solution to the pervasive problem of internal consistency estimation. Br J Psychol. 2014;105(3):399-412. DOI:https://doi.org/10.1111/bjop.12046

27.

Cameron AC, Miller DL. A practitioner's guide to cluster-robust inference. J Hum Resour. 2015;50(2):317-72. DOI:https://doi.org/10.3368/jhr.50.2.317

28.

Croker JE, Swancutt DR, Roberts MJ, Abel GA, Roland M, Campbell JL. Factors affecting patients' trust and confidence in GPs: evidence from the English national GP patient survey. BMJ Open. 2013;3(5). DOI:10.1136/bmjopen-2013-002762

29.

de Mutsert R, de Jager DJ, Jager KJ, Zoccali C, Dekker FW. Interaction on an Additive Scale. Nephron Clin Pract. 2011;119(2):154-7. DOI:https://doi.org/10.1159/000327596

30.

Armstrong K, Ravenell KL, McMurphy S, Putt M. Racial/Ethnic Differences in Physician Distrust in the United States. Am J Public Health. 2007;97(7):1283-9. DOI:https://doi.org/10.2105/ajph.2005.080762

31.

Simon MA, Zhang M, Dong X. Trust in Physicians Among U.S. Chinese Older Adults. J Gerontol A Biol Sci Med Sci. 2014;69(Suppl_2):S46-S53. DOI:10.1093/gerona/glu174

32.

Iedema R, Sorensen R, Manias E, Tuckett A, Piper D, Mallock N, et al. Patients' and family members' experiences of open disclosure following adverse events. Int J Qual Health Care. 2008;20(6):421-32. DOI:https://doi.org/10.1093/intqhc/mzn043

33.

Singh H, Giardina TD, Meyer AND, Forjuoh SN, Reis MD, Thomas EJ. Types and Origins of Diagnostic Errors in Primary Care Settings. JAMA Intern Med. 2013;173(6):418-25. DOI:https://doi.org/10.1001/jamainternmed.2013.2777

34.

Rolfe A, Cash-Gibson L, Car J, Sheikh A, McKinstry B. Interventions for improving patients' trust in doctors and groups of doctors. Cochrane Database Syst Rev. 2014(3). DOI:https://doi.org/10.1002/14651858.CD004134.pub3
Acknowledgements
The abbreviated name of the study, "the TRUMP 2-Net (the Trust Measurement for Physicians and Patients - the Net survey)," was not derived from a specific individual; however, it was determined to suggest a trusted physician, through consideration of the fact that the word "trump" has an ancient meaning of "a dependable and exemplary person."
Funding
This study was supported by the JSPS KAKENHI (Grant Number: JP 19KT0021). The funders had no role in the study design, analysis, or interpretation of the data; writing of the manuscript; or the decision to submit it for publication.
Ethics declarations
Conflict of Interest
The authors declare that they do not have a conflict of interest.
Additional information
Publisher's Note
Springer Nature remains neutral with regard to jurisdictional claims in published maps and institutional affiliations.
About this article
Cite this article
Suzuki, R., Yajima, N., Sakurai, K. et al. Association of Patients' Past Misdiagnosis Experiences with Trust in Their Current Physician Among Japanese Adults. J GEN INTERN MED (2021). https://doi.org/10.1007/s11606-021-06950-y
Received:

Accepted:

Published:
KEY WORDS
misdiagnosis

patient trust

physician

family member

non-communicable disease