Abstract
Background
Given persistent gaps in coordination of care for medically complex primary care patients, efficient strategies are needed to promote better care coordination.
Objective
The Coordination Toolkit and Coaching project compared two toolkit-based strategies of differing intensity to improve care coordination at VA primary care clinics.
Design
Multi-site, cluster-randomized QI initiative.
Participants
Twelve VA primary care clinics matched in 6 pairs.
Interventions
We used a computer-generated allocation sequence to randomize clinics within each pair to two implementation strategies. Active control clinics received an online toolkit with evidence-based tools and QI coaching manual. Intervention clinics received the online toolkit plus weekly assistance from a distance coach for 12 months.
Main Measures
We quantified patient experience of general care coordination using the Health Care System Hassles Scale (primary outcome) mailed at baseline and 12-month follow-up to serial cross-sectional patient samples. We measured the difference-in-difference (DiD) in clinic-level-predicted mean counts of hassles between coached and non-coached clinics, adjusting for clustering and patient characteristics using zero-inflated negative binomial regression and bootstrapping to obtain 95% confidence intervals. Other measures included care coordination QI projects attempted, tools adopted, and patient-reported exposure to projects.
Key Results
N = 2,484 (49%) patients completed baseline surveys and 2,481 (48%) completed follow-ups. Six coached clinics versus five non-coached clinics attempted QI projects. All coached clinics versus two non-coached clinics attempted more than one project or projects that were multifaceted (i.e., involving multiple components addressing a common goal). Five coached versus three non-coached clinics used 1–2 toolkit tools. Both the coached and non-coached clinics experienced pre-post reductions in hassle counts over the study period (− 0.42 (− 0.76, − 0.08) non-coached; − 0.40 (− 0.75, − 0.06) coached). However, the DiD (0.02 (− 0.47, 0.50)) was not statistically significant; coaching did not improve patient experience of care coordination relative to the toolkit alone.
Conclusion
Although coached clinics attempted more or more complex QI projects and used more tools than non-coached clinics, coaching provided no additional benefit versus the online toolkit alone in patient-reported outcomes.
Trial Registration
ClinicalTrials.gov identifier: NCT03063294
Access options
Buy single article
Instant access to the full article PDF.
US$ 39.95
Tax calculation will be finalised during checkout.
Subscribe to journal
Immediate online access to all issues from 2019. Subscription will auto renew annually.
US$ 79
Tax calculation will be finalised during checkout.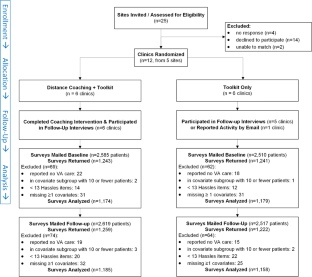 References
1.

Smith ML, Bergeron CD, Adler CH, et al. Factors associated with healthcare-related frustrations among adults with chronic conditions. Patient Educ Couns. 2017;100(6):1185-1193.

2.

Shrank WH, Rogstad TL, Parekh N. Waste in the US Health Care System: Estimated Costs and Potential for Savings. JAMA. 2019;322(15):1501-1509.

3.

Crabtree BF, Nutting PA, Miller WL, et al. Primary care practice transformation is hard work. Med Care. 2011;49 Suppl: S28-S35.

4.

Jackson GL, Powers BJ, Chatterjee R, et al. The patient-centered medical home: A systematic review. Ann Intern Med. 2013;158(3):169-178.

5.

Friedberg MW, Schneider EC, Rosenthal MB, et al. Association between participation in a multipayer medical home intervention and changes in quality, utilization, and costs of care. JAMA. 2014;311(18):815-825.

6.

Tung EL, Gao Y, Peek ME, et al. Patient experience of chronic illness care and medical home improvement in safety net clinics. Health Ser Res. 2018;53(1):469-488.

7.

Rosland AM, Nelson K, Sun H, et al. The patient-centered medical home in the Veterans Health Administration. Am J Manag Care. 2013 Jul 1;19(7):e263–272.

8.

Gellad WF. The Veterans Choice Act and dual health system use. J Gen Intern Med. 2016;31(2):153-154.

9.

Congressional Research Service. H.R. 5674 (115th): VA MISSION Act of 2018. Available at https://www.govtrack.us/congress/bills/115/hr5674/summary. Accessed April 18, 2021.

10.

Kilbourne AM, Hynes D, O'Toole T, et al. A research agenda for care coordination for chronic conditions: aligning implementation, technology, and policy strategies. Transl Behav Med. May 2018;8(3):515-521. https://academic.oup.com/tbm/article/8/3/515/5001942.

11.

Powell Davies G, Williams AM, Larsen K, Perkins D, Roland M, Harris MF. Coordinating primary health care: an analysis of the outcomes of a systematic review. Med J Aust. 2008;188(8 Suppl):S65–8.

12.

Hempel S, O'Hanlon C, Lim YW, Danz M, Larkin J, Rubenstein L. Spread tools: a systematic review of components, uptake, and effectiveness of quality improvement tools. Implement Sci. 2019;14:83. https://implementationscience.biomedcentral.com/articles/10.1186/s13012-019-0929-8.

13.

Yamada J, Shorkey A, Barwick M, Widger K, Stevens BJ. The effectiveness of toolkits as knowledge translation strategies for integrating evidence into clinical care: a systematic review. BMJ Open. 2015;5(4):e006808. https://bmjopen.bmj.com/content/5/4/e006808.

14.

Gold R, Bunce A, Cowburn S, et al. Does increased support improve community clinics' guideline concordant care? Results of a mixed methods, pragmatic comparative effectiveness trial. Implement Sci. 2019;14.100. https://link.springer.com/article/10.1186/s13012-019-0948-5.

15.

Mabachi NM, Cifuentes M, Barnard J, et al. Demonstration of the Health Literacy Universal Precautions Toolkit: Lessons for quality improvement. J Ambul Care Manage. 2016;39(3):199-208.

16.

Lemelin J, Hogg W, Baskerville NB. Evidence to action: a tailored multifaceted approach to changing family physician practice patterns and improving preventive care. CMAJ. 2001;164(6):757-63.

17.

Nagykaldi Z, Mold JW, Aspy CB. Practice facilitators: a review of the literature. Fam Med. 2005;37(8):581-588.

18.

Baskerville NB, Liddy C, Hogg W. Systematic review and meta-analysis of practice facilitation within primary care settings. Ann Fam Med. 2012;10:63-74.

19.

Cranley LA, Cummings GG, Profetto-McGrath J, Toth F, Estabrooks CA. Facilitation roles and characteristics associated with research use by healthcare professionals: a scoping review. BMJ Open. 2017;7(8):e014384. https://bmjopen.bmj.com/content/7/8/e014384.long.

20.

Wang A, Pollack T, Kadziel LA, et al. Impact of practice facilitation in primary care on chronic disease care processes and outcomes: a systematic review. J Gen Intern Med. 2018;33(11):1968-77.

21.

Bhat A., Bennett IM, Bauer AM, et al. Longitudinal Remote Coaching for Implementation of Perinatal Collaborative Care: A Mixed-Methods Analysis. Psychiatric Ser. 2020; 71:518–521. https://ps.psychiatryonline.org/doi/10.11176/appi.ps.201900341.

22.

Ganz DA, Barnard JM, Smith NZY, et al. Development of a web-based toolkit to support improvement of care coordination in primary care. Transl Behav Med. 2018;8(3):492-502. https://academic.oup.com/tbm/article/8/3/492/5001928.

23.

Noël PH, Barnard JM, Barry FM, et al. Patient experience of healthcare system hassles: Dual-system vs single-system users. Health Ser Res. 2020;55(4):548-555.

24.

United States Department of Agriculture. Rural-Urban Commuting Area Codes. Available from https://www.ers.usda.gov/data-products/rural-urban-commuting-area-codes.aspx. Accessed September 28, 2020.

25.

United States Census Bureau. Regions and Divisions with State FIPS Codes. Available from https://www2.census.gov/geo/docs/maps-data/maps/reg_div.txt. Accessed September 5, 2020.

26.

Nelson KM, Helfrich C, Sun H, et al. Implementation of the patient-centered medical home in the Veterans Health Administration: associations with patient satisfaction, quality of care, staff burnout, and hospital and emergency department use. JAMA Intern Med. 2014;174(8):1350-8.

27.

Olmos Ochoa TT, Bharath P, Ganz DA, et al. Pact a de-facto "Hub" for Care Coordination in VA: Staff perspectives from the Coordination Toolkit and Coaching (CTAC) Project. J Gen Intern Med. 2019;34(Suppl):82-9.

28.

The Coordination and Coaching Toolkit. Available at https://vaww.visn10.portal.va.gov/sites/Toolkits/toolkit/Pages/Tool-List.aspx. Accessed September 27, 2020.

29.

Doran GT. There's a S.M.A.R.T. way to write management's goals and objectives. Manage Rev. 1981;70(11):35–6.

30.

Parchman ML, Noël PH, Lee S. Primary care attributes, health care system hassles, and chronic illness. Med Care. 2005;43(11):1123–9.

31.

Zulman DM, Pal Chee C, Wagner TH, et al. Multimorbidity and healthcare utilization among high-cost patients in the US Veterans Affairs Health Care System. BMJ Open. 2015;5: e007771. https://bmjopen.bmj.com/content5/4/e007771.long.

32.

McDonald KM, Schultz E, Albin L, et al. Care Coordination Atlas, Version 4. AHRQ Publication No. 14-0037- EF. June 2014. Rockville, MD: Agency for Healthcare Research and Quality. June 2014. Available at https://www.ahrq.gov/sites/default/files/publications/files/ccm_atlas.pdf. Accessed September 28, 2020.

33.

Ware JE Jr. Sherbourne CD. The MOS 36-item Short-Form Health Survey (SF-36): I. Conceptual framework and item selection. Med Care. 1992;30(6):473-483.

34.

McCullagh P, Nelder JA. Generalized Linear Models. 2nd ed. London: Chapman and Hall; 1989.

35.

Neelon B, O'Malley AJ, Smith V. Modeling zero-count and semicontinuous data in health services research Part 1: background and overview. Stat Med. 2016;35(27):5070-5093.

36.

Stata 13 Base Reference Manual. College Station, Tx: Stata Press; 2013.

37.

Ryan AM, Kontopantelis E, Linden A, Burgess JF Jr. Now trending: Coping with non-parallel trends in difference-in-differences analysis. Stat Methods Med Res. 2019 Dec;28(12):3697-3711. doi: https://doi.org/10.1177/0962280218814570. Epub 2018 Nov 25.

38.

McDonnell MM, Elder NC, Stock R, Wolf M, Steeves-Reece A, Graham T. Project ECHO integrated within the Oregon Rural Practice-based Research Network (ORPRN). J Am Board Fam Med. 2020;33:789-795.
Acknowledgements
The authors would like to acknowledge technical assistance from Nicholas Jackson, PhD, and Frances Barry, MA.
Funding
This material is based on work supported by the Department of Veterans Affairs, Quality Enhancement Research Initiative through a grant to the Care Coordination QUERI Program (QUE 15-276). The views expressed in this article are those of the authors and do not necessarily reflect the position or policy of the Department of Veterans Affairs or the United States government. Additional support was provided by NIH National Center for Advancing Translational Science (NCATS) UCLA CTSI Grant Number UL1TR001881.
Ethics declarations
Conflict of Interest
All authors report support from one or more of the following during the conduct of the study: VA QUERI, VA HSR&D, National Institutes of Health, Patient-Centered Outcomes Research Institute, VA Office of Primary Care, Enhancing Tools and Resources to Improve Coordination of VA Primary Care: A Research to Impact for Veterans (RIVR) Project, Agency for Healthcare Research and Quality (AHRQ), Department of Defense, Administration on Community Living, and WellMed Charitable Foundation.
Supplementary Information
About this article
Cite this article
Noël, P.H., Barnard, J.M., Leng, M. et al. The Coordination Toolkit and Coaching Project: Cluster-Randomized Quality Improvement Initiative to Improve Patient Experience of Care Coordination. J GEN INTERN MED (2021). https://doi.org/10.1007/s11606-021-06926-y
Received:

Accepted:

Published:
KEY WORDS
primary care

care coordination

patient experience

Veteran

cluster-randomized controlled trial