Access options
Buy single article
Instant access to the full article PDF.
US$ 39.95
Tax calculation will be finalised during checkout.
Subscribe to journal
Immediate online access to all issues from 2019. Subscription will auto renew annually.
US$ 79
Tax calculation will be finalised during checkout.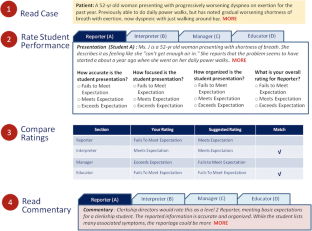 References
1.

Bullock JL, Lai CJ, Lockspeiser T, et al. In Pursuit of Honors: a Multi-Institutional Study of Students' Perceptions of Clerkship Evaluation and Grading. Acad Med. 2019;94(11S Association of American Medical Colleges Learn Serve Lead: Proceedings of the 58th Annual Research in Medical Education Sessions):S48-S56.

2.

Duffield KE, Spencer JA. A survey of medical students' views about the purposes and fairness of assessment. Med Educ. 2002;36(9):879-886.

3.

de Jonge LPJWM, Timmerman AA, Govaerts MJB, et al. Stakeholder perspectives on workplace-based performance assessment: towards a better understanding of assessor behaviour. Adv Health Sci Educ. 2017;22(5):1213-1243.

4.

Roch SG, Woehr DJ, Mishra V, Kieszczynska U. Rater training revisited: An updated meta-analytic review of frame-of-reference training. J Occup Organ Psychol. 2012;85(2):370-395.

5.

Newman LR, Brodsky D, Jones RN, Schwartzstein RM, Atkins KM, Roberts DH. Frame-of-reference training: establishing reliable assessment of teaching effectiveness. J Contin Educ Health Prof. 2016;36(3):206-210.

6.

Pangaro L. A new vocabulary and other innovations for improving descriptive in-training evaluations. Acad Med. 1999;74(11):1203-1207.
Ethics declarations
Conflict of Interest
None.
Additional information
Publisher's Note
Springer Nature remains neutral with regard to jurisdictional claims in published maps and institutional affiliations.
Prior presentations: none
About this article
Cite this article
Kim, S., Copeland, L., Cohen, E. et al. Frame-of-Reference Training for Students: Promoting a Shared Mental Model for Clerkship Performance with an Online, Interactive Training Module. J GEN INTERN MED (2021). https://doi.org/10.1007/s11606-021-06827-0
Received:

Accepted:

Published: