Abstract
Background
Interventions to support patients with complex needs have proliferated in recent years, but the question of how to identify patients with complex needs has received relatively little attention. There are innumerable ways to structure inclusion and exclusion criteria for complex care interventions, and little is known about the implications of choices made in designing patient selection criteria.
Objective
To provide insights into the design of patient selection criteria for interventions, by implementing criteria sets within a large health plan member population and comparing the characteristics of the resulting complex patient cohorts.
Design
Retrospective observational descriptive study.
Subjects
Patients identified as having complex needs, within the membership population of Kaiser Permanente Southern California, a large, population-based health plan with more than 4 million members. We characterize five commonly used archetypes of complex needs: high-cost patients, patients with multiple chronic conditions, frail elders, emergency department high-utilizers, and inpatient high-utilizers.
Measures
We selected an initial set of criteria for identifying patients in each of the archetypical complex populations, based on available administrative data. We then tested multiple variants of each definition. We compared the resulting patient cohorts using univariate and bivariate descriptive statistics.
Key Results
Overall, 32.7% of the 3,112,797 adults in our population-based sample were selected by at least one of the 25 definitions of complexity we tested. Across definitions the total number of patients identified as complex ranged from 622,560 to 1583 and complex patient cohorts varied widely in demographic characteristics, chronic conditions, healthcare utilization, spending, and survival.
Conclusions
Choice of patient population is critical to the design of complex care programs. Exploratory analyses of population criteria can provide useful information for program planning in the setting of limited resources for interventions. Data such as these should be generated as a key step in program design.
Access options
Buy single article
Instant access to the full article PDF.
US$ 39.95
Tax calculation will be finalised during checkout.
Subscribe to journal
Immediate online access to all issues from 2019. Subscription will auto renew annually.
US$ 79
Tax calculation will be finalised during checkout.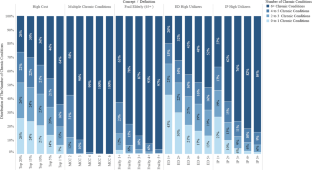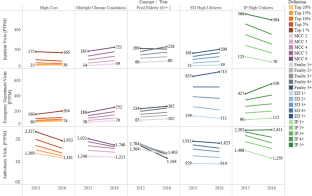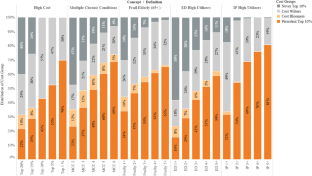 References
1.

Blumenthal D, Anderson G, Burke S, Fulmer T, Jha AK, Long P. Tailoring complex-care management, coordination, and integration for high-need, high-cost patients: A vital direction for health and health care. NAM Perspectives. 2016.

2.

The Better Care Playbook [Available from: https://www.bettercareplaybook.org/.

3.

Long P, Abrams M, Milstein A, Anderson G, Lewis Apton K, Lund Dahlberg M, et al. Effective Care for High-Need Patients: Opportunities for Improving Outcomes, Value, and Health. Washington, DC: National Academy of Medicine; 2017.

4.

Shah T, Lewis C, Tsega M, Abrams M. Quick Reference Guide to Promising Care Models for Patients with Complex Needs. . The Commonwealth Fund; 2019.

5.

Goodwin A, Henschen BL, O'Dwyer LC, Nichols N, O'Leary KJ. Interventions for Frequently Hospitalized Patients and Their Effect on Outcomes: A Systematic Review. Journal of hospital medicine. 2018;13(12):853-9.

6.

DuBard CA, Jackson CT. Active Redesign of a Medicaid Care Management Strategy for Greater Return on Investment: Predicting Impactability. Popul Health Manag. 2018;21(2):102-9.

7.

Davis AC, Osuji TA, Chen J, Lyons LJL, Gould MK. Identifying Populations with Complex Needs: Variation in Approaches Used to Select Complex Patient Populations. Population Health Management. 2020; Epub ahead of print.

8.

Koebnick C, Langer-Gould AM, Gould MK, Chao CR, Iyer RL, Smith N, et al. Sociodemographic characteristics of members of a large, integrated health care system: comparison with US Census Bureau data. Perm J. 2012;16(3):37-41.

9.

Stanton MW, Rutherford M. The high concentration of US health care expenditures: Agency for Healthcare Research and Quality Rockville (MD); 2006.

10.

Joynt KE, Figueroa JF, Beaulieu N, Wild RC, Orav EJ, Jha AK. Segmenting high-cost Medicare patients into potentially actionable cohorts. Healthc (Amst). 2017;5(1-2):62-7.

11.

Locker TE, Baston S, Mason SM, Nicholl J. Defining frequent use of an urban emergency department. Emerg Med J. 2007;24(6):398-401.

12.

Newman RJ, Bikowski R, Nakayama K, Cunningham T, Acker P, Bradshaw D. Outcomes of Embedded Care Management in a Family Medicine Residency Patient-Centered Medical Home. Fam Med. 2017;49(1):46-51.

13.

Tamang S, Milstein A, Sorensen HT, Pedersen L, Mackey L, Betterton JR, et al. Predicting patient 'cost blooms' in Denmark: a longitudinal population-based study. BMJ Open. 2017;7(1):e011580.

14.

Fleishman JA, Cohen JW. Using information on clinical conditions to predict high-cost patients. Health Serv Res. 2010;45(2):532-52.

15.

Bates D, Saria S, Ohno-Machado L, Shah A, Escobar G. Big Data In Health Care: Using Analytics To Identify And Manage High-Risk And High-Cost Patients. Health Affairs. 2014;33(7):1123-31.

16.

Sundar KR. Universal screening for social needs in a primary care clinic: a quality improvement approach using the your current life situation survey. The Permanente Journal. 2018;22.

17.

Cantor MN, Thorpe L. Integrating data on social determinants of health into electronic health records. Health Affairs. 2018;37(4):585-90.

18.

LaForge K, Gold R, Cottrell E, Bunce AE, Proser M, Hollombe C, et al. How 6 organizations developed tools and processes for social determinants of health screening in primary care: an overview. The Journal of ambulatory care management. 2018;41(1):2.

19.

Shadmi E, Freund T. Targeting patients for multimorbid care management interventions: the case for equity in high-risk patient identification. International journal for equity in health. 2013;12(1):1-4.
Acknowledgements
All contributors to this manuscript met the criteria for authorship. The authors wish to thank the leaders of the Kaiser Permanente CORAL Initiative and the Kaiser Permanente Care Management Institute's Care for Complex Needs Program.
Funding
This project was supported by a grant from Kaiser Permanente's Garfield Memorial Fund, under its Complex Care Collaboration: Research, Operations and Leadership (CORAL) portfolio.
Ethics declarations
Conflict of Interest
The co-authors have no conflicts of interest to disclose.
Additional information
Publisher's Note
Springer Nature remains neutral with regard to jurisdictional claims in published maps and institutional affiliations.
Prior Presentations
An abstract related to this work was selected for oral presentation at the 2020 AcademyHealth Annual Research Meeting; the abstract was published as part of meeting proceedings although the meeting was moved to a virtual format.
Supplementary Information
About this article
Cite this article
Davis, A.C., Chen, A., Osuji, T.A. et al. Defining Complex Patient Populations: Implications for Population Size, Composition, Utilization, and Costs. J GEN INTERN MED (2021). https://doi.org/10.1007/s11606-021-06815-4
Received:

Accepted:

Published:
KEY WORDS
high cost

high needs

criteria

specifications

population selection criteria

population characteristics