Abstract
Background
Residents and fellows receive little feedback on their clinical reasoning documentation. Barriers include lack of a shared mental model and variability in the reliability and validity of existing assessment tools. Of the existing tools, the IDEA assessment tool includes a robust assessment of clinical reasoning documentation focusing on four elements (interpretive summary, differential diagnosis, explanation of reasoning for lead and alternative diagnoses) but lacks descriptive anchors threatening its reliability.
Objective
Our goal was to develop a valid and reliable assessment tool for clinical reasoning documentation building off the IDEA assessment tool.
Design, Participants, and Main Measures
The Revised-IDEA assessment tool was developed by four clinician educators through iterative review of admission notes written by medicine residents and fellows and subsequently piloted with additional faculty to ensure response process validity. A random sample of 252 notes from July 2014 to June 2017 written by 30 trainees across several chief complaints was rated. Three raters rated 20% of the notes to demonstrate internal structure validity. A quality cut-off score was determined using Hofstee standard setting.
Key Results
The Revised-IDEA assessment tool includes the same four domains as the IDEA assessment tool with more detailed descriptive prompts, new Likert scale anchors, and a score range of 0–10. Intraclass correlation was high for the notes rated by three raters, 0.84 (95% CI 0.74–0.90). Scores ≥6 were determined to demonstrate high-quality clinical reasoning documentation. Only 53% of notes (134/252) were high-quality.
Conclusions
The Revised-IDEA assessment tool is reliable and easy to use for feedback on clinical reasoning documentation in resident and fellow admission notes with descriptive anchors that facilitate a shared mental model for feedback.
Access options
Buy single article
Instant access to the full article PDF.
US$ 39.95
Tax calculation will be finalised during checkout.
Subscribe to journal
Immediate online access to all issues from 2019. Subscription will auto renew annually.
US$ 79
Tax calculation will be finalised during checkout.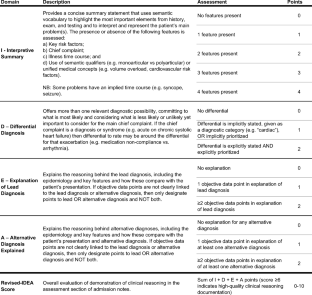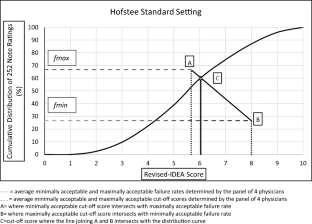 References
1.

Accreditation Council for Graduate Medical Education. ACGME common program requirements. Available at: http://www.acgme.org/Portals/0/PFAssets/ProgramRequirements/CPRs_2017-07-01.pdf.Revised July 1. Accessed January 17, 2020.

2.

Young M, Thomas A, Lubarsky S, et al. Drawing boundaries: the difficulty in defining clinical reasoning. Acad Med. 2018;93(7):990-995.

3.

Daniel M, Rencic J, Durning SJ, et al. Clinical reasoning assessment methods: a scoping review and practical guidance. Acad Med. 2019;94(6):902-912.

4.

Bowen JL. Educational strategies to promote clinical diagnostic reasoning. N Engl J Med. 2006;355(21):2217-2225.

5.

Accreditation Council for Graduate Medical Education. ACGME core program requirements. Available at: http://www.acgme.org/portals/0/pdfs/milestones/internalmedicinemilestones.pdf. Accessed January 17, 2020.

6.

March CA, Scholl G, Dversdal RK, et al. Use of electronic health record simulation to understand the accuracy of intern progress notes. J Grad Med Educ. 2016;8(2):237-40.

7.

Colicchio TK, Cimino JJ. Clinicians' reasoning as reflected in electronic clinical note-entry and reading/retrieval: a systematic review and qualitative synthesis. J Am Med Inform Assoc. 2019;26(2):172-184.

8.

Bierman JA, Hufmeyer KK, Liss DT, Weaver AC, Heiman HL. Promoting responsible electronic documentation: validity evidence for a checklist to assess progress notes in the electronic health record. Teach Learn Med. 2017;29(4):420-432.

9.

Tierney MJ, Pageler NM, Kahana M, Pantaleoni JL, Longhurst CA. Medical education in the electronic medical record (EMR) era: benefits, challenges, and future directions. Acad Med. 2013;88(6):748-52.

10.

Lessing JN, Rendón P, Durning SJ, Roesch JJ. Approaches to clinical reasoning assessment. Acad Med. 2020;95(8):1285.

11.

Middleman AB, Sunder PK, Yen AG. Reliability of the history and physical assessment (HAPA) form. Clin Teach. 2011;8(3):192-5.

12.

Habboush Y, Hoyt R, Beidas S. Electronic health records as an educational tool: viewpoint. JMIR Med Educ. 2018;4(2):e10306.

13.

Varpio L, Day K, Elliot-Miller P, et al. The impact of adopting EHRs: how losing connectivity affects clinical reasoning. Med Educ. 2015;49(5):476-86.

14.

Berndt M, Fischer MR. The role of electronic health records in clinical reasoning. Ann NY Acad Sci. 2018;1434(1):109-114.

15.

Atwater AR, Rudd M, Brown A, et al. Developing teaching strategies in the EHR era: a survey of GME experts. J Grad Med Educ. 2016;8(4):581-586.

16.

Schenarts PJ, Schenarts KD. Educational impact of the electronic medical record. J Surg Educ. 2012;69(1):105-12.

17.

Pageler NM, Friedman CP, Longhurst CA. Refocusing medical education in the EMR era. JAMA. 2013;310(21):2249-50.

18.

Burke HB, Hoang A, Becher D, et al. QNOTE: an instrument for measuring the quality of EHR clinical notes. J Am Med Inform Assoc. 2014;21(5):910-6.

19.

Stetson PD, Bakken S, Wrenn JO, Siegler EL. Assessing electronic note quality using the physician documentation quality instrument (PDQI-9). Appl Clin Inform. 2012;3(2):164-174.

20.

Baker EA, Ledford CH, Fogg L, Way DP, Park YS. The IDEA assessment tool: assessing the reporting, diagnostic reasoning, and decision-making skills demonstrated in medical students' hospital admission notes. Teach Learn Med. 2015;27(2):163-73.

21.

King MA, Phillipi CA, Buchanan PM, Lewin LO. Developing validity evidence for the written pediatric history and physical exam evaluation rubric. Acad Pediatr. 2017;17(1):68-73.

22.

Kotwal S, Klimpl D, Tackett S, Kauffman R, Wright S. Documentation of clinical reasoning in admission notes of hospitalists: validation of the CRANAPL assessment rubric. J Hosp Med. 2019;14:E1-e8.

23.

Cook DA, Beckman TJ. Current concepts in validity and reliability for psychometric instruments: theory and application. Am J Med. 2006;119(2):166.e7-16.

24.

Schaye V, Janjigian M, Hauck K, et al. A workshop to train medicine faculty to teach clinical reasoning. Diagn. 2019;6(2):109-113.

25.

Schaye V, Eliasz KL, Janjigian M, Stern DT. Theory-guided teaching: implementation of a clinical reasoning curriculum in residents. Med Teach. 2019;41(10):1192-1199.

26.

Horlick M, Miller L, Cocks P, Bui L, Schwartz M, Dembitzer A. Calling it like you see it: three-hour workshop improves hospitalists observation and feedback skills. Abstracts from the 38th annual meeting of the society of general internal medicine. J Gen Intern Med. 2015;30(Suppl 2):45-551.

27.

Thammasitboon S, Rencic JJ, Trowbridge RL, Olson AP, Sur M, Dhaliwal G. The assessment of reasoning tool (ART): structuring the conversation between teachers and learners. Diagn. 2018;5(4):197-203.

28.

Bandaranayake RC. Setting and maintaining standards in multiple choice examinations: AMEE Guide No. 37. Med Teach. 2008;30(9-10):836-845.

29.

Olson A, Rencic J, Cosby K, et al. Competencies for improving diagnosis: an interprofessional framework for education and training in health care. Diagn. 2019;6(4):335-341.

30.

Ende J. Feedback in clinical medical education. JAMA. 1983;250(6):777-781.
Contributors
There are no additional contributors who do not meet the criteria for authorship.
Funding
This work was supported by internal grant funding at the NYU Grossman School of Medicine with a grant from the Program for Medical Education Innovations and Research.
Ethics declarations
Conflict of Interest
The authors declare that they do not have a conflict of interest.
Additional information
Publisher's Note
Springer Nature remains neutral with regard to jurisdictional claims in published maps and institutional affiliations.
About this article
Cite this article
Schaye, V., Miller, L., Kudlowitz, D. et al. Development of a Clinical Reasoning Documentation Assessment Tool for Resident and Fellow Admission Notes: a Shared Mental Model for Feedback. J GEN INTERN MED (2021). https://doi.org/10.1007/s11606-021-06805-6
Received:

Accepted:

Published:
KEY WORDS
clinical reasoning

documentation

assessment

feedback