Access options
Buy single article
Instant access to the full article PDF.
USD 39.95
Price includes VAT (USA)
Tax calculation will be finalised during checkout.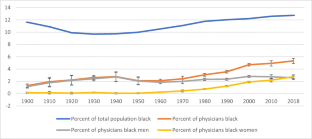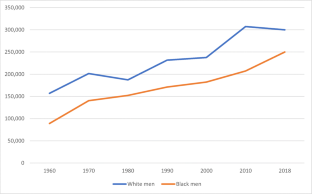 References
1.

Alsan M, Garrick O, Graziani G. Does diversity matter for health? Experimental evidence from Oakland. Am Econ Rev 2019; 109: 4071-4111.

2.

Association of American Medical Colleges. Diversity in medicine: Facts and figures 2019. 2019. https://www.aamc.org/data-reports/workforce/report/diversity-medicine-facts-and-figures-2019. Accessed February 4, 2021.

3.

Ly DP, Seabury SA, Jena AB. Differences in incomes of physicians in the United States by race and sex: observational study. BMJ 2016; 353: i2923.

4.

Griffin DH, Love SP, Obenski SM. Can the American Community Survey replace the Census Long Form? http://www.asasrms.org/Proceedings/y2003/Files/JSM2003-000596.pdf. Accessed February 4, 2021.

5.

IPUMS USA. Select samples. https://usa.ipums.org/usa-action/samples. Accessed February 4, 2021.

6.

Campbell KM, Corral I, Infante Linares JL, Tumin D. Projected estimates of African American medical graduates of closed historically black medical schools. JAMA Netw Open 2020; 3: e2015220.
Acknowledgements
The author wishes to thank Atheendar Venkataramani, Alice Ndikumana, Amanda Kreider, Pragya Kakani, and Samantha Burn for helpful comments on the paper.
Ethics declarations
Conflict of Interest
The author declares that he does not have a conflict of interest.
Disclaimer
The views expressed in this manuscript are those of the author and do not necessarily represent the views of the US Department of Veterans Affairs or the US government.
Additional information
Publisher's Note
Springer Nature remains neutral with regard to jurisdictional claims in published maps and institutional affiliations.
About this article
Cite this article
Ly, D.P. Historical Trends in the Representativeness and Incomes of Black Physicians, 1900–2018. J GEN INTERN MED (2021). https://doi.org/10.1007/s11606-021-06745-1
Received:

Accepted:

Published: