Abstract
Background
In an effort to foster patient engagement, some healthcare systems provide their patients with open notes, enabling them to access their clinical notes online. In January 2013, the Veterans Health Administration (VA) implemented online access to clinical notes ("VA Notes") through the Blue Button feature of its patient portal.
Objective
To measure the association of online patient access to clinical notes with changes in healthcare utilization and clinician documentation behaviors.
Design
A retrospective cohort study.
Patients
Patients accessing My HealtheVet (MHV), the VA's online patient portal, between July 2011 and January 2015.
Main Measures
Use of healthcare services (primary care clinic visits and online electronic secure messaging), and characteristics of physician clinical documentation (readability of notes).
Key Results
Among 882,575 unique portal users, those who accessed clinical notes (16.2%; N = 122,972) were younger, more racially homogenous (white), and less likely to be financially vulnerable. Compared with non-users, Notes users more frequently used the secure messaging feature on the portal (mean of 2.6 messages (SD 7.0) v. 0.87 messages (SD 3.3) in January–July 2013), but their higher use of secure messaging began prior to VA Notes implementation, and thus was not temporally related to the implementation. When comparing clinic visit rates pre- and post-implementation, Notes users had a small but significant increase in rate of 0.36 primary care clinic visits (2012 v. 2013) compared to portal users who did not view their Notes (p = 0.01). At baseline, the mean reading ease of primary care clinical notes was 53.8 (SD 10.1) and did not improve after implementation of VA Notes.
Conclusions
VA Notes users were different than patients with portal access who did not view their notes online, and they had higher rates of healthcare service use prior to and after VA Notes implementation. Opportunities exist to improve clinical note access and readability.
Access options
Buy single article
Instant access to the full article PDF.
US$ 39.95
Tax calculation will be finalised during checkout.
Subscribe to journal
Immediate online access to all issues from 2019. Subscription will auto renew annually.
US$ 79
Tax calculation will be finalised during checkout.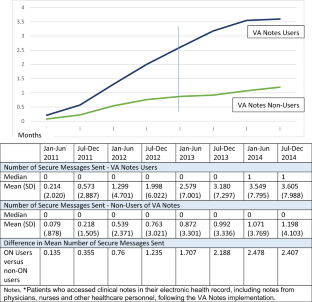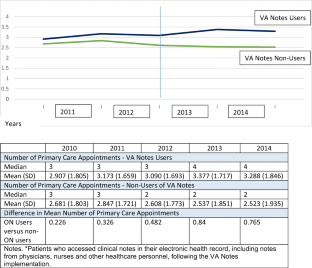 References
1.

Bodenheimer T, Chen E, Bennett HD. Confronting the growing burden of chronic disease: can the US health care workforce do the job? Health Affairs. 2009; 28(1): 64-74.

2.

Coleman K, et al. Evidence on the chronic care model in the new millennium. Health Affairs. 2009; 28(1): 75-85.

3.

Center for Medicaid and Medicare Services. Medicare and Medicaid programs; electronic health record incentive program. Final rule. Federal register, 2010. 75(144): 44313.

4.

Vydra TP, et al. Diffusion and Use of Tethered Personal Health Records in Primary Care. Perspect Health Inf Manag. 2015; 12: 1c.

5.

Department of Health and Human Services. 2016 Report to Congress on Health IT Progress: Examining the HITECH Era and the Future of Health IT. 2016.

6.

Nazi KM, et al. Consumer health informatics: engaging and empowering patients and families, in Clinical Informatics Study Guide. 2016; Springer. p. 459-500.

7.

Xerox Healthcare Services, S.O, Annual Xerox EHR Survey: Americans Open to Viewing Test Results, Handling Healthcare Online. 2014

8.

Families NPFWA. New Survey: Patients Increasingly Value Electronic Health Records; Eager for More Access and Features. 2014.

9.

Nazi KM, et al. Evaluating patient access to Electronic Health Records: results from a survey of veterans. Med Care. 2013; 51(3 Suppl 1): p. S52-6.

10.

Woods SS, et al. Patient experiences with full electronic access to health records and clinical notes through the My HealtheVet Personal Health Record Pilot: qualitative study. J Med Internet Res. 2013; 15(3): e65.

11.

Leveille SG, et al. Evaluating the impact of patients' online access to doctors' visit notes: designing and executing the OpenNotes project. BMC medical informatics and decision making. 2012; 12(1): p. 1.

12.

Delbanco T, et al., Open notes: doctors and patients signing on. Ann Intern Med. 2010; 153(2): 121-5.

13.

Delbanco T, et al. Inviting patients to read their doctors' notes: a quasi-experimental study and a look ahead. Ann Intern Med. 2012; 157(7): 461-70.

14.

OpenNotes. Our history: Fifty years in the making. 2019; Available from: https://www.opennotes.org/history/. 17 Aug. 2020.

15.

Nazi KM, et al. VA OpenNotes: exploring the experiences of early patient adopters with access to clinical notes. Journal of the American Medical Informatics Association. 2014: amiajnl-2014-003144.

16.

My HealtheVet. Learn more about My HealtheVet notes. 2019; Available from: https://www.myhealth.va.gov/mhv-portal-web/my-healthevet-va-notes-learn-more. 17 Aug. 2020.

17.

Olenick M., Flowers M, Diaz VJ. US veterans and their unique issues: enhancing health care professional awareness. Adv Med Educ Pract. 2015; 6: 635-9.

18.

Kazis LE, et al. Measurement comparisons of the medical outcomes study and veterans SF-36 health survey. Health Care Financ Rev. 2004; 25(4): 43-58.

19.

Yu W, et al. Prevalence and costs of chronic conditions in the VA health care system. Med Care Res Rev. 2003; 60(3 Suppl): 146S-167S.

20.

Lee TA, et al. Mortality rate in veterans with multiple chronic conditions. J Gen Intern Med. 2007; 22 Suppl 3: 403-7.

21.

Cohen BE, et al. Association of cardiovascular risk factors with mental health diagnoses in Iraq and Afghanistan war veterans using VA health care. JAMA; 2009. 302(5): 489-92.

22.

Nazi KM, et al. VA OpenNotes: exploring the experiences of early patient adopters with access to clinical notes. J Am Med Inform Assoc. 2015; 22(2): 380-9.

23.

Veterans Health Administration. 2020 August 10, 2020]; Available from: https://www.va.gov/health/. 17 Aug. 2020.

24.

Ancker, J.S., B. Hafeez, and R. Kaushal, Socioeconomic disparities in adoption of personal health records over time. The American journal of managed care, 2016. 22(8): p. 539.

25.

Mafi JN, et al. Patients learning to read their doctors' notes: the importance of reminders. Journal of the American Medical Informatics Association, 2016: ocv167.

26.

Gerard M, et al. The Importance of Visit Notes on Patient Portals for Engaging Less Educated or Nonwhite Patients: Survey Study. J Med Internet Res. 2018. 20(5): e191.

27.

Walker J, et al. OpenNotes After 7 Years: Patient Experiences With Ongoing Access to Their Clinicians' Outpatient Visit Notes. J Med Internet Res. 2019; 21(5): e13876.

28.

Ammenwerth E, Schnell-Inderst P, Hoerbst A. The impact of electronic patient portals on patient care: a systematic review of controlled trials. J Med Internet Res. 2012; 14(6): p. e162.

29.

Ross SE, et al. Providing a web-based online medical record with electronic communication capabilities to patients with congestive heart failure: randomized trial. J Med Internet Res. 2004; 6(2): e12.

30.

Palen, T.E., et al., Association of online patient access to clinicians and medical records with use of clinical services. JAMA. 2012; 308(19): 2012-9.

31.

Choudhry AJ, et al. Readability of discharge summaries: with what level of information are we dismissing our patients? Am J Surg. 2016; 211(3): 631-6.

32.

Flesch R. A new readability yardstick. J Appl Psychol. 1948; 32(3): 221-33.

33.

Edmunds MR, Barry RJ, Denniston AK. Readability assessment of online ophthalmic patient information. JAMA Ophthalmol. 2013; 131(12): 1610-6.

34.

Ancker JS, et al. Use of an electronic patient portal among disadvantaged populations. J Gen Intern Med. 2011; 26(10): 1117-23.

35.

Shimada SL, et al. Personal health record reach in the Veterans Health Administration: a cross-sectional analysis. Journal of medical Internet research. 2014; 16(12): e272.

36.

Kontos E, et al. Predictors of eHealth usage: insights on the digital divide from the Health Information National Trends Survey 2012. J Med Internet Res, 2014. 16(7): e172.

37.

Zickuhr K, Madden M. Older Adults and Internet Use. 2012 [cited 2017 March 10, 2017]; Available from: http://www.pewinternet.org/2012/06/06/older-adults-and-internet-use/. 17 Aug. 2020.

38.

Esch T, et al. Engaging patients through open notes: an evaluation using mixed methods. BMJ Open. 2016; 6(1): e010034.

39.

Jackson SL, et al. Patients who share transparent visit notes with others: characteristics, risks, and benefits. J Med Internet Res. 2014; 16(11): e247.

40.

Safeer RS, Keenan J. Health literacy: the gap between physicians and patients. Am Fam Physician. 2005; 72(3): 463-8.

41.

Dobscha SK, et al. Impacts of a Web-Based Course on Mental Health Clinicians' Attitudes and Communication Behaviors Related to Use of OpenNotes. Psychiatr Serv. 2019; 70(6): 474-479.

42.

Chen J, et al. A natural language processing system that links medical terms in electronic health record notes to lay definitions: system development using physician reviews. Journal of medical Internet research. 2018; 20(1): e26.

43.

Federal Resgister. 21st Century Cures Act: Interoperability, information blocking and the ONC Health IT certification Program. 2020; Available from: https://www.federalregister.gov/documents/2020/05/01/2020-07419/21st-century-cures-act-interoperability-information-blocking-and-the-onc-health-it-certification. 17 Aug. 2020.

44.

Polepalli Ramesh B, et al. Improving patients' electronic health record comprehension with NoteAid. Stud Health Technol Inform. 2013; 192: 714-8.
Funding
This study was funded by the Department of Veteran Affairs (grant VA241-12-D-0224).
Ethics declarations
This study was reviewed and approved by the Edith Nourse Rogers Memorial Veterans Hospital and the University of Massachusetts Medical School Institutional Review Boards.
Conflict of Interest
The authors declare that they do not have a conflict of interest.
Additional information
Publisher's Note
Springer Nature remains neutral with regard to jurisdictional claims in published maps and institutional affiliations.
There were no prior presentations of this work.
About this article
Cite this article
Blok, A.C., Amante, D.J., Hogan, T.P. et al. Impact of Patient Access to Online VA Notes on Healthcare Utilization and Clinician Documentation: a Retrospective Cohort Study. J GEN INTERN MED (2021). https://doi.org/10.1007/s11606-020-06304-0
Received:

Accepted:

Published: