Abstract
Background
High clinical variation has been linked to decreased quality of care, increased costs, and decreased patient satisfaction. We present the implementation and analysis of a peer comparison intervention to reduce clinical variation within a large primary care network.
Objective
Evaluate existing variation in radiology ordering within a primary care network and determine whether peer comparison feedback reduces variation or changes practice patterns.
Design
Radiology ordering data was analyzed to evaluate baseline variation in imaging rates. A utilization dashboard was shared monthly with providers for a year, and imaging rates pre- and post-intervention were retrospectively analyzed.
Participants
Providers within the primary care network spanning 1,358,644 outpatient encounters and 159 providers over a 3-year period.
Interventions
The inclusion of radiology utilization data as part of a provider's monthly quality and productivity dashboards. This information allows providers to compare their practice patterns with those of their colleagues.
Main Measures
We measured provider imaging rates, stratified by modality, as well as order variation over time.
Key Results
We observed significant variation in imaging rates among providers in the network, with the top decile ordering an average of 4.2 times more than the lowest decile in the two years prior to intervention. Provider experience and training were not significantly associated with imaging utilization. In the first year after sharing utilization data with providers, we saw a 17.3% decrease in median imaging rate (p < 0.001) and a 21.4% reduction in provider variation between top and bottom deciles. Median ordering rate for more costly cross-sectional imaging, including CT, MRI, and nuclear medicine studies, decreased by 30.4% (p < 0.001), 20.2% (p = 0.008), and 41.8% (p = 0.002), respectively.
Conclusions
Peer comparison feedback can shape provider imaging behavior even in the absence of targets or financial incentives. Peer comparison is a low-touch, low-cost intervention for influencing provider ordering and may have applicability in other clinical areas.
Access options
Buy single article
Instant access to the full article PDF.
US$ 39.95
Tax calculation will be finalised during checkout.
Subscribe to journal
Immediate online access to all issues from 2019. Subscription will auto renew annually.
US$ 79
Tax calculation will be finalised during checkout.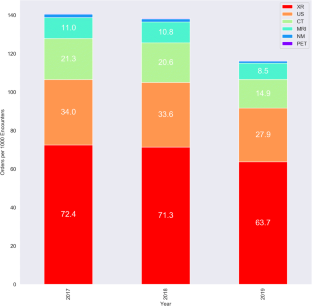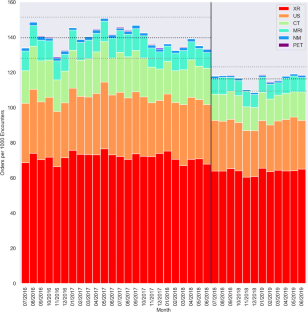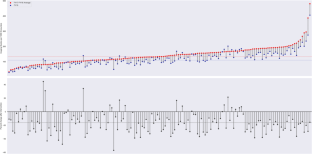 References
1.

Corallo AN, et al. A systematic review of medical practice variation in OECD countries. Health Policy. 2014;114(1): p. 5-14.

2.

Fisher ES, et al. The implications of regional variations in Medicare spending. Part 1: The content, quality, and accessibility of care. Ann Intern Med. 2003;138(4):273-I36.

3.

Fisher ES et al. The implications of regional variations in Medicare spending. Part 2: Health outcomes and satisfaction with care. Ann Intern Med. 2003;138(4):288-I49.

4.

Iglehart JK. Health Insurers and Medical-Imaging Policy — A Work in Progress. N Engl J Med. 2009;360(10):1030-1037.

5.

Ip IK, et al. Use of Public Data to Target Variation in Providers' Use of CT and MR Imaging among Medicare Beneficiaries. Radiology. 2015;275(3):718-24.

6.

Parker L, et al. Geographic variation in the utilization of noninvasive diagnostic imaging: national medicare data, 1998-2007. AJR Am J Roentgenol. 2010;194(4):1034-9.

7.

Iglehart JK. The New Era of Medical Imaging — Progress and Pitfalls. N Engl J Med. 2006;354(26):2822-2828.

8.

Bernardy M, et al. Strategies for Managing Imaging Utilization. J Am Coll Radiol. 2009;6(12):844-850.

9.

Thrall JH. Appropriateness and Imaging Utilization: Computerized Provider Order Entry and Decision Support. Acad Radiol. 2014;21(9):1083-1087.

10.

Levin DC, Rao VM. Reducing Inappropriate Use of Diagnostic Imaging Through the Choosing Wisely Initiative. J Am Coll Radiol. 2017;14(9):1245-1252.

11.

Garg AX, et al. Effects of Computerized Clinical Decision Support Systems on Practitioner Performance and Patient OutcomesA Systematic Review. JAMA. 2005;293(10):1223-1238.

12.

Hussey PS, et al. Appropriateness of Advanced Diagnostic Imaging Ordering Before and After Implementation of Clinical Decision Support Systems. JAMA. 2015;313(21):2181-2182.

13.

Blackmore CC, Mecklenburg RS, Kaplan GS. Effectiveness of Clinical Decision Support in Controlling Inappropriate Imaging. J Am Coll Radiol. 2011;8(1):19-25.

14.

Cassel CK, Guest JA., Choosing Wisely: Helping Physicians and Patients Make Smart Decisions About Their Care. JAMA. 2012;307(17):1801-1802.

15.

Curry L, Reed MH. Electronic decision support for diagnostic imaging in a primary care setting. J Am Med Inform Assoc. 2011;18(3):267-270.

16.

Festinger L. A Theory of Social Comparison Processes. Hum Relat. 1954;7(2):117-140.

17.

Garcia SM, Tor A, Gonzalez R. Ranks and Rivals: A Theory of Competition. Personal Soc Psychol Bull. 2006;32(7):970-982.

18.

Brown B, et al. Clinical Performance Feedback Intervention Theory (CP-FIT): a new theory for designing, implementing, and evaluating feedback in health care based on a systematic review and meta-synthesis of qualitative research. Implement Sci. 2019;14(1):40.

19.

Huang Y-S, et al. The effect of peer influence on the use of CT by emergency physicians for patients with headaches. Am J Emerg Med. 2019;37(4):710-714.
Ethics declarations
Conflict of Interest
The authors declare that they do not have a conflict of interest.
Additional information
Publisher's Note
Springer Nature remains neutral with regard to jurisdictional claims in published maps and institutional affiliations.
David J. Halpern and Adrian Clark-Randall are co-first authors.
Electronic Supplementary Material
About this article
Cite this article
Halpern, D.J., Clark-Randall, A., Woodall, J. et al. Reducing Imaging Utilization in Primary Care Through Implementation of a Peer Comparison Dashboard. J GEN INTERN MED 36, 108–113 (2021). https://doi.org/10.1007/s11606-020-06164-8
Received:

Accepted:

Published:

Issue Date: