Abstract
Background
Collaborative models for depression have not been widely adopted throughout the USA, possibly because there are no successful roadmaps for implementing these types of models.
Objective
To provide such a roadmap through a case study of the institutionalization of a depression care management (DCM) initiative for adult depression in a large healthcare system serving over 300,000 adults with depression.
Design
A retrospective observational program evaluation. Program evaluation results are presented for those patients enrolled in the initiative from January 1, 2015, to December 31, 2018.
Participants
Over a 4-year period, 17,052 patients were treated in the DCM program. In general, participants were women (76%), were Hispanic (47%), spoke English (84%), and were 51.1 ± 18.3 years old, the majority of whom were 30–64 years old (57%).
Intervention
The collaborative care portion of the DCM initiative (DCM program) was implemented by a collaborative care team containing a treatment specialist, an assessment specialist, administrative staff, a primary care physician, and a psychiatry physician.
Main Measures
The main outcome measures were total score on the 9-item Patient Health Questionnaire (PHQ-9). Outcomes were improvement (defined as at least 50% reduction in symptoms) and remission (defined as a PHQ-9 less than 5) of depression symptoms. Follow-up of depression symptoms was also collected at 6 months following discharge.
Key Results
The average course of treatment in 2018, after full implementation, was 4.6 ± 3.0 months; 62% of patients experienced improvement in symptoms, and 45% experienced remission of their depression at the time of discharge. These rates were maintained at the 6-month follow-up.
Conclusions
Collaborative care for depression can be institutionalized in large healthcare systems and be sustained with a specific, detailed roadmap that includes workflows, training, treatment guidelines, and clear documentation standards that are linked to performance metrics. Extensive stakeholder engagement at every level is also critical for success.
Access options
Buy single article
Instant access to the full article PDF.
US$ 39.95
Tax calculation will be finalised during checkout.
Subscribe to journal
Immediate online access to all issues from 2019. Subscription will auto renew annually.
US$ 79
Tax calculation will be finalised during checkout.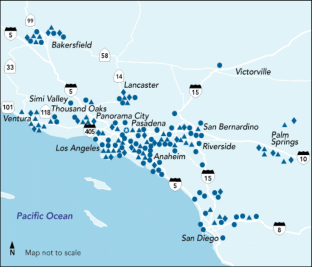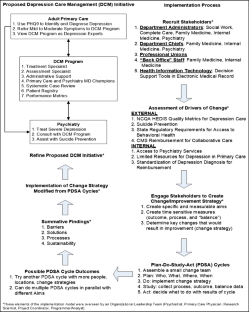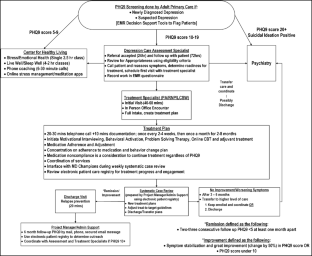 References
1.

Katzelnick DJ, Von Korff M, Chung H, Provost LP, Wagner EH. Applying depression-specific change concepts in a collaborative breakthrough series. Joint Commiss J Qual Patient Safety/Joint Commiss Resour 2005;31:386-97.

2.

Gilbody S, Bower P, Fletcher J, Richards D, Sutton AJ. Collaborative care for depression: a cumulative meta-analysis and review of longer-term outcomes. Arch Intern Med 2006;166:2314-21.

3.

Williams JW, Jr., Gerrity M, Holsinger T, Dobscha S, Gaynes B, Dietrich A. Systematic review of multifaceted interventions to improve depression care. Gen Hosp Psychiatry 2007;29:91-116.

4.

Glied S, Herzog K, Frank R. Review: the net benefits of depression management in primary care. Med Care Res Rev 2010;67:251-74.

5.

Alexopoulos GS, Reynolds CF, Bruce ML, et al. Reducing suicidal ideation and depression in older primary care patients: 24-month outcomes of the PROSPECT study. Am J Psychiatry 2009;166:882-90.

6.

Klinkman MS, Bauroth S, Fedewa S, et al. Long-term clinical outcomes of care management for chronically depressed primary care patients: a report from the depression in primary care project. Ann Fam Med 2010;8:387-96.

7.

Unutzer J, Katon WJ, Fan MY, et al. Long-term cost effects of collaborative care for late-life depression. Am J Manag Care 2008;14:95-100.

8.

Katon WJ, Seelig M. Population-based care of depression: team care approaches to improving outcomes. J Occup Environ Med 2008;50:459-67.

9.

Thota AB, Sipe TA, Byard GJ, et al. Collaborative care to improve the management of depressive disorders: a community guide systematic review and meta-analysis. Am J Prev Med 2012;42:525-38.

10.

Reiss-Brennan B, Briot PC, Savitz LA, Cannon W, Staheli R. Cost and quality impact of Intermountain's mental health integration program. J Healthc Manag 2010;55:97-113.

11.

Rubenstein LV, Chaney EF, Ober S, et al. Using evidence-based quality improvement methods for translating depression collaborative care research into practice. Fam Syst Health 2010;28:91-113.

12.

Korsen N, Pietruszewski P. Translating evidence to practice: Two stories from the field. J Clin Psychol Med Settings 2009;16:47-57.

13.

Solberg LI, Glasgow RE, Unutzer J, et al. Partnership research: A practical trial design for evaluation of a natural experiment to improve depression care. Med Care 2010;48:576-82.

14.

Unutzer J, Chan YF, Hafer E, et al. Quality improvement with pay-for-performance incentives in integrated behavioral health care. Am J Public Health 2012;102:e41-5.

15.

Solberg LI, Crain AL, Maciosek MV, et al. A stepped-wedge evaluation of an initiative to spread the collaborative care model for depression in primary care. Ann Fam Med 2015;13:412-20.

16.

Smith JL, Williams JW, Jr., Owen RR, Rubenstein LV, Chaney E. Developing a national dissemination plan for collaborative care for depression: QUERI Series. Implement Sci 2008;3:59.

17.

Unutzer J, Katon W, Callahan CM, et al. Collaborative care management of late-life depression in the primary care setting: A randomized controlled trial. JAMA. 2002;288:2836-2845.

18.

Coleman KJ, Magnan S, Neely C, Solberg L, Beck A, Trevis J, Heim C, Williams M, Katzelnick D, Unützer J, Pollock B, Hafer E, Ferguson R, Williams S. The COMPASS initiative: description of a nationwide collaborative approach to the care of patients with depression and diabetes and/or cardiovascular disease. Gen Hosp Psychiatry 2017;44:69-76.

19.

Rossom RC, Solberg LI, Magnan S, Crain AL, Beck A, Coleman KJ, Katzelnick D, Williams MD, Neely C, Ohnsorg K, Whitebird R, Brandenfels E, Pollock B, Ferguson R, Williams S, Unützer J. Impact of a national collaborative care initiative for patients with depression and diabetes or cardiovascular disease. Gen Hosp Psychiatry 2017;44:77-85.

20.

Centers for Medicare and Medicaid. Healthcare Innovation Awards. https://innovation.cms.gov/initiatives/Health-Care-Innovation-Awards/. Accessed on 9/3/19.

21.

Beck A, Boggs JM, Alem A, Coleman KJ, Rossom RC, Neely C, Williams MD, Ferguson R, Solberg LI. Large-Scale Implementation of Collaborative Care Management for Depression and Diabetes and/or Cardiovascular Disease. J Am Board Fam Med 2018;31:702-711.

22.

Bion J, Richardson A, Hibbert P, Beer J, Abrusci T, McCutcheon M, et al. 'Matching Michigan': a 2-year stepped interventional programme to minimise central venous catheter-blood stream infections in intensive care units in England. BMJ Qual Saf 2013;22:110-23.

23.

Dixon-Woods M, Leslie M, Tarrant C and Bion J. Explaining Matching Michigan: an ethnographic study of a patient safety program. Implement Sci 2013;8:70.

24.

Pronovost P, Needham D, Berenholtz S, Sinopoli D, Chu H, Cosgrove S, et al. An intervention to decrease catheter-related bloodstream infections in the ICU. N Engl J Med 2006;355:2725-32.

25.

Pronovost PJ, Goeschel CA, Colantuoni E, Watson S, Lubomski LH, Berenholtz SM, et al. Sustaining reductions in catheter related bloodstream infections in Michigan intensive care units: observational study. BMJ 2010;340:c309.

26.

National Committee for Quality Assurance (NCQA). HEDIS Depression Measures Specified for Electronic Clinical Data Systems. https://www.ncqa.org/hedis/the-future-of-hedis/hedis-depression-measures-specified-for-electronic-clinical-data/. Accessed on 9/3/2019.

27.

Kroenke K, Spitzer RL, Williams JBW. The PHQ-9: Validity of a brief depression severity measure. J Gen Intern Med 2001;16:606-613.

28.

Stetler CB, Mittman BS, Francis J: Overview of the VA Quality Enhancement Research Initiative (QUERI) and QUERI theme articles: QUERI Series. Implement Sci 2008;3:8.

29.

Stetler CB, McQueen L, Demakis J, Mittman BS: An organizational framework and strategic implementation for system-level change to enhance research-based practice: QUERI Series. Implement Sci 2008;3:30.

30.

Berwick DM: A primer on leading the improvement of systems. BMJ. 1996;312:619–622.

31.

Langley GJ, Moen R, Nolan KM, Nolan TW, Norman CL, Provost LP: The Improvement Guide: A Practical Approach to Enhancing Organizational Performance. 2nd edition. San Francisco: Jossey-Bass; 2009.

32.

Damschroder LJ, Aron DC, Keith RE, Kirsh SR, Alexander JA, Lowery JC. Fostering implementation of health services research findings into practice: A consolidated framework for advancing implementation science. Implement Sci 2009;4:50-65.

33.

University of Nebraska Medical Center. "SIG-E-CAPS". https://www.unmc.edu/media/intmed/geriatrics/reynolds/pearlcards/depression/sigecaps.htm. Accessed on 9/3/2019.

34.

National Institute for Care and Health Excellence (NICE). Depression in Adults: Recognition and Management. https://www.nice.org.uk/guidance/CG90/uptake. Accessed on 9/3/2019.

35.

Eack SM, Greeno CG, Bong-Jae L. Limitations of the patient health questionnaire in identifying anxiety and depression: Many cases are undetected. Res Soc Work Pract 2006; 16:625-631.
Acknowledgments
Parts of this evaluation were presented at the National American Heart Association scientific sessions in Anaheim, CA, on November 12, 2017, and at the National Kaiser Permanente Quality Conference in Oakland, CA, on June 20, 2018.
Funding
Funding for this study was provided by the Southern California Permanente Medical Group.
Ethics declarations
Conflict of Interest
The authors declare that they do not have a conflict of interest.
Additional information
Publisher's Note
Springer Nature remains neutral with regard to jurisdictional claims in published maps and institutional affiliations.
About this article
Cite this article
Coleman, K.J., Dreskin, M., Hackett, D.L. et al. A Roadmap for Institutionalizing Collaborative Care for Depression in a Large Integrated Healthcare System. J GEN INTERN MED 35, 839–848 (2020). https://doi.org/10.1007/s11606-020-06102-8
Received:

Accepted:

Published:

Issue Date: