ABSTRACT
Background
eConsult programs have been instituted to increase access to specialty expertise. Opt-in choice eConsult programs maintain primary care physician (PCP) autonomy to decide whether to utilize eConsults versus traditional specialty referrals, but little is known about how this intervention may impact PCP eConsult adoption and traditional referral demand.
Objective
We assessed the feasibility of implementing an opt-in choice eConsult program and examined whether this intervention reduces demand for in-person visits for primary care patients requiring specialty expertise.
Design
Stepped-wedge, cluster randomized trial conducted from July 2018 to June 2019.
Participants
Sixteen primary care practices in a large, urban academic health care system.
Intervention
Our intervention was an opt-in choice eConsult available in addition to traditional specialty referral; our implementation strategy included in-person training, audit and feedback, and incentive payments.
Main measures
Our implementation outcome measure was the eConsult rate: weekly proportion of eConsults per PCP visit at each site. Our intervention outcome measure was traditional referral rate: weekly proportion of referrals per PCP visit at each site. We also assessed PCP experiences with questionnaires.
Key results
Of 305,915 in-person PCP visits, there were 31,510 traditional referrals to specialties participating in the eConsult program, and 679 eConsults. All but one primary care site utilized the opt-in choice eConsult program, with a weekly rate of 0.05 eConsults per 100 PCP visits by the end of the study period. The weekly rate of traditional referrals was 11 per 100 PCP visits at the end of the study period; this represents a significant increase in traditional referral rate after implementation of eConsults. PCPs were generally satisfied with the eConsult program and valued prompt provider-to-provider communication.
Conclusions
Implementation of an opt-in choice eConsult program resulted in widespread PCP adoption; however, this did not decrease the demand for traditional referrals. Future studies should evaluate different strategies to incentivize and increase eConsult utilization while maintaining PCP choice.
Access options
Buy single article
Instant access to the full article PDF.
US$ 39.95
Tax calculation will be finalised during checkout.
Subscribe to journal
Immediate online access to all issues from 2019. Subscription will auto renew annually.
US$ 79
Tax calculation will be finalised during checkout.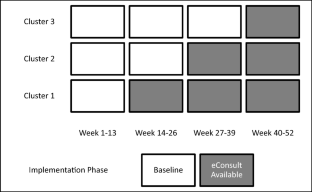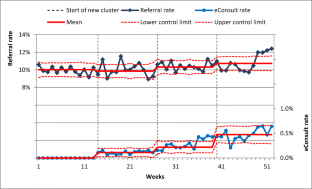 REFERENCES
1.

Chen AH, Murphy EJ, Yee HF Jr. eReferral--a new model for integrated care. N Engl J Med. 2013;368(26):2450-2453.

2.

Tuot DS, Liddy C, Vimalananda VG, et al. Evaluating diverse electronic consultation programs with a common framework. BMC Health Serv Res. 2018;18(1):814.

3.

Gleason N, Ackerman S, Shipman SA. Econsult—transforming primary care or exacerbating clinician burnout? JAMA Intern Med. 2018;178(6):790-791.

4.

Volpp KG, Asch DA. Make the healthy choice the easy choice: using behavioral economics to advance a culture of health. QJM. 2017;110(5):271-275.

5.

Barnett ML, Yee HF Jr, Mehrotra A, Giboney P. Los Angeles Safety-Net Program eConsult System Was Rapidly Adopted And Decreased Wait Times To See Specialists. Health Aff (Millwood). 2017;36(3):492-499.

6.

Rea CJ, Wenren LM, Tran KD, et al. Shared Care: Using an Electronic Consult Form to Facilitate Primary Care Provider-Specialty Care Coordination. Acad Pediatr. 2018;18(7):797-804.

7.

Liddy C, Drosinis P, Keely E. Electronic consultation systems: worldwide prevalence and their impact on patient care-a systematic review. Fam Pract. 2016;33(3):274-285.

8.

Gleason N, Prasad PA, Ackerman S, et al. Adoption and impact of an eConsult system in a fee-for-service setting. Healthc (Amst). 2017;5(1-2):40-45.

9.

Liddy C, Maranger J, Afkham A, Keely E. Ten steps to establishing an e-consultation service to improve access to specialist care. Telemed J E Health. 2013;19(12):982-990.

10.

Tuot DS, Leeds K, Murphy EJ, et al. Facilitators and barriers to implementing electronic referral and/or consultation systems: a qualitative study of 16 health organizations. BMC Health Serv Res. 2015;15(1):568.

11.

Barnett ML, Mehrotra A, Frolkis JP, et al. Implementation Science Workshop: Implementation of an Electronic Referral System in a Large Academic Medical Center. J Gen Intern Med. 2016;31(3):343-352.

12.

Gupte G, Vimalananda V, Simon SR, DeVito K, Clark J, Orlander JD. Disruptive Innovation: Implementation of Electronic Consultations in a Veterans Affairs Health Care System. JMIR Med Inform. 2016;4(1):e6.

13.

Vimalananda VG, Gupte G, Seraj SM, Orlander J, Berlowitz D, Fincke BG. Electronic consultations (e-consults) to improve access to specialty care: A systematic review and narrative synthesis. J Telemed Telecare. 2015;21.

14.

Kwok J, Olayiwola JN, Knox M, Murphy EJ, Tuot DS. Electronic consultation system demonstrates educational benefit for primary care providers. J Telemed Telecare. 2018;24(7):465-472.

15.

Liddy C, Afkham A, Drosinis P, Joschko J, Keely E. Impact of and Satisfaction with a New eConsult Service: A Mixed Methods Study of Primary Care Providers. J Am Board Fam Med. 2015;28(3):394-403.

16.

Deeds SA, Dowdell KJ, Chew LD, Ackerman SL. Implementing an Opt-in eConsult Program at Seven Academic Medical Centers: a Qualitative Analysis of Primary Care Provider Experiences. J Gen Intern Med. 2019;34(8):1427-1433.

17.

Kim Y, Chen AH, Keith E, Yee HF, Kushel MB. Not perfect, but better: primary care providers' experiences with electronic referrals in a safety net health system. J Gen Intern Med. 2009;24.

18.

Lee MS, Ray KN, Mehrotra A, et al. Primary care practitioners' perceptions of electronic consult systems: A qualitative analysis. JAMA Intern Med. 2018;178(6):782-789.
ACKNOWLEDGMENTS
We would like to thank the primary care physicians who participated in focus group sessions and specialty eConsultant physicians who participated in developing the eConsult program.
The eConsult pilot program was funded by the Montefiore Department of Medicine. Funding for the expansion of the program was supported by the Medicaid Delivery System Reform Incentive Payments (DSRIP) Innovation Fund Program. Bronx Partners for Healthy Communities established the Innovation Fund Program to encourage and promote member organizations to take on innovative and new interventions and programs to address certain gaps in care and missing links in the care support structure in and among member organizations.
Ethics declarations
Conflict of interest
SR and DL report support from Bronx Partners for Healthy Communities: Innovation Fund Program, during the conduct of the study. YT reports grants from Juvenile Diabetes Research Foundation (JDRF) and Pfizer, outside the submitted work. CZ, JD, EE, and JA do not report any conflicts of interest with this work.
Additional information
Publisher's Note
Springer Nature remains neutral with regard to jurisdictional claims in published maps and institutional affiliations.
About this article
Cite this article
Rikin, S., Zhang, C., Lipsey, D. et al. Impact of an Opt-In eConsult Program on Primary Care Demand for Specialty Visits: Stepped-Wedge Cluster Randomized Implementation Study. J GEN INTERN MED 35, 832–838 (2020). https://doi.org/10.1007/s11606-020-06101-9
Received:

Accepted:

Published:

Issue Date:
Key Words
eConsult

primary care

health care utilization

referral and consultation

access to care