Abstract
Background
Patient engagement is a key tenet of patient-centered care and is associated with many positive health outcomes. To improve resources for patient engagement, we created a web-based, interactive patient engagement toolkit to improve patient engagement in primary care across the Veterans Health Administration (VHA).
Objective
To use the knowledge translation (KT) framework to evaluate the dissemination and implementation of a patient engagement toolkit at facilities across one region in the VHA.
Design
Using a mixed-methods approach, this process evaluation involved phone monitoring via semi-structured interviews and group meetings, during which we explored barriers and facilitators to KT. Outcomes were assessed using a structured rubric and existing patient satisfaction measures.
Participants
We enlisted implementers at 40 VHA facilities primarily serving Pennsylvania, New Jersey, and Delaware to implement patient engagement practices at their sites. Sites were randomly assigned into a high or low coaching group to assess whether external support influenced implementation.
Key Results
Sites with high rubric scores employed and possessed several elements across the KT trajectory from identification of the problem to sustainment of knowledge use. Key factors for successful implementation and dissemination included implementer engagement, organizational support, and strong collaborators. The most frequently cited barriers included short staffing, time availability, lack of buy-in, and issues with leadership. Successful implementers experienced just as many barriers, but leveraged facilitators to overcome obstacles. While sites that received more coaching did not have different outcomes, they were more likely to revisit the toolkit and indicated that they felt more accountable to local personnel.
Conclusions
Because leveraging available resources is a key component of successful implementation, future toolkits should highlight the type of facilitators necessary for successful implementation of toolkit content in healthcare settings. The ability to tailor interventions to local context is critical for overcoming barriers faced in most healthcare settings.
Access options
Buy single article
Instant access to the full article PDF.
US$ 39.95
Tax calculation will be finalised during checkout.
Subscribe to journal
Immediate online access to all issues from 2019. Subscription will auto renew annually.
US$ 79
Tax calculation will be finalised during checkout.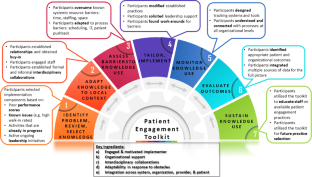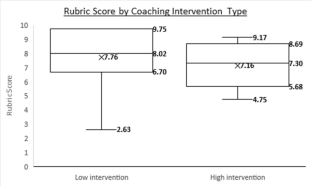 References
1.

Frampton SB, Guastello S, Hoy L, Naylor M, Sheridan S, Johnston-Fleece M. Harnessing evidence and experience to change culture: A guiding framework for patient and family engaged care. Natl Acad Med. 2017:1–38.

2.

Reid RJ, Coleman K, Johnson EA, et al. The group health medical home at year two: cost savings, higher patient satisfaction, and less burnout for providers. Health aff. 2010;29(5):835-843.

3.

Frosch D, Dardess P., Baade S, CarmanK. Moving from mandate to reality: A roadmap for patient and family engagement. Health Affairs Blog website. http://healthaffairs.org/blog/2015/01/20/moving-from-mandate-to-reality-a-roadmap-for-patient-and-family-engagement. Published January 20 2015.

4.

Keddem S, Agha AZ, Long JA, Werner RM, Shea JA. Creating a toolkit to reduce disparities in patient engagement. Med Care. 2017;55:S59-S69.

5.

Dykes PC, Stade D, Chang F, et al. Participatory design and development of a patient-centered toolkit to engage hospitalized patients and care partners in their plan of care. Paper presented at: AMIA Annual Symposium Proceedings. 2014.

6.

Yamada J, Shorkey A, Barwick M, Widger K, Stevens BJ. The effectiveness of toolkits as knowledge translation strategies for integrating evidence into clinical care: a systematic review. BMJ Open. 2015;5(4):e006808.

7.

Ward V, House A, Hamer S. Developing a framework for transferring knowledge into action: a thematic analysis of the literature. J Health Serv Res Policy. 2009;14(3):156-164.

8.

Ward V, Smith S, House A, Hamer S. Exploring knowledge exchange: a useful framework for practice and policy. Soc Sci Med. 2012;74(3):297-304.

9.

Graham ID, Logan J, Harrison MB, et al. Lost in knowledge translation: time for a map? J Contin Educ Health Prof. 2006;26(1):13-24.

10.

Dyer N, Sorra JS, Smith SA, Cleary PD, Hays RD. Psychometric properties of the Consumer Assessment of Healthcare Providers and Systems (CAHPS(R)) Clinician and Group Adult Visit Survey. Med Care. 2012;50 Suppl:S28-34.

11.

Scholle SH, Vuong O, Ding L, et al. Development of and field test results for the CAHPS PCMH Survey. Med Care. 2012;50 Suppl:S2-10.

12.

Nvivo Qualitative Data Analysis Software [computer program]. Version Version 12: QSR International Pty. Ltd.; 2018.

13.

Guest G, MacQueen KM, Namey EE. Applied thematic analysis. Sage Publications; 2011.

14.

Patient-Centered Medical Home Assessment (PCMH-A). Available at: www.safetynetmedicalhome.org/change-concepts. Accessed August 15, 2019.

15.

Barello S, Graffigna G, Vegni E. Patient engagement as an emerging challenge for healthcare services: mapping the literature. Nurs Res Pract. 2012;2012:905934.

16.

Agha AZ, Werner RM, Keddem S, Huseman TL, Long JA, Shea JA. Improving Patient-centered Care: How Clinical Staff Overcome Barriers to Patient Engagement at the VHA. Med Care. 2018;56(12):1009-1017.

17.

LaRocca R, Yost J, Dobbins M, Ciliska D, Butt M. The effectiveness of knowledge translation strategies used in public health: a systematic review. BMC Public Health. 2012;12:751.

18.

Ritchie MJ, Dollar KM, Kearney LK, Kirchner JE. Research and services partnerships: responding to needs of clinical operations partners: transferring implementation facilitation knowledge and skills. Psychiatr Serv. 2014;65(2):141-143.

19.

Stetler CB, Legro MW, Rycroft-Malone J, et al. Role of" external facilitation" in implementation of research findings: a qualitative evaluation of facilitation experiences in the Veterans Health Administration. Implement Sci. 2006;1(1):23.

20.

Batbaatar E, Dorjdagva J, Luvsannyam A, Savino MM, Amenta P. Determinants of patient satisfaction: a systematic review. Perspect Public Health. 2017;137(2):89-101.
Funding
The VISN 4 Center for Evaluation of PACT (CEPACT) Demonstration Laboratory is funded by the VA Office of Patient Care Services.
Ethics declarations
This project was reviewed by the Corporal Michael J. Crescenz VA Medical Center internal review board and considered a quality improvement project.
Conflict of Interest
The authors declare that they do not have a conflict of interest.
Disclaimer
The views expressed here are those of the authors and do not represent those of the Department of Veterans Affairs or the United States Government.
Additional information
Publisher's Note
Springer Nature remains neutral with regard to jurisdictional claims in published maps and institutional affiliations.
About this article
Cite this article
Keddem, S., Agha, A.Z., Long, J.A. et al. The Gears of Knowledge Translation: Process Evaluation of the Dissemination and Implementation of a Patient Engagement Toolkit. J GEN INTERN MED 35, 808–814 (2020). https://doi.org/10.1007/s11606-020-06099-0
Received:

Accepted:

Published:

Issue Date:
KEY WORDS
toolkit

patient engagement

knowledge translation

Veterans

primary care

implementation

frameworks

process evaluation

dissemination