Abstract
Background
Patients actively involved in their care demonstrate better health outcomes. Using secure internet portals, clinicians are increasingly offering patients access to their narrative visit notes (open notes), but we know little about their understanding of notes written by clinicians.
Objective
We examined patients' views on the clarity, accuracy, and thoroughness of notes, their suggestions for improvement, and associations between their perceptions and willingness to recommend clinicians to others.
Design
We conducted an online survey of patients in 3 large health systems, June–October 2017. We performed a mixed methods analysis of survey responses regarding a self-selected note.
Participants
Respondents were 21,664 patients aged 18 years or older who had read at least 1 open note in the previous 12 months.
Main Measures
We asked to what degree the patient recalled understanding the note, whether it described the visit accurately, whether anything important was missing, for suggestions to improve the note, and whether they would recommend the authoring clinician to others.
Key Results
Nearly all patients (96%) reported they understood all or nearly all of the self-selected note, with few differences by clinician type or specialty. Overall, 93% agreed or somewhat agreed the note accurately described the visit, and 6% reported something important missing from the note. The most common suggestions for improvement related to structure and content, jargon, and accuracy. Patients who reported understanding only some or very little of the note, or found inaccuracies or omissions, were much less likely to recommend the clinician to family and friends.
Conclusions
Patients overwhelmingly report understanding their visit notes and usually find them accurate, with few disparities according to sociodemographic or health characteristics. They have many suggestions for improving their quality, and if they understand a note poorly or find inaccuracies, they often have less confidence in their clinicians.
Access options
Buy single article
Instant access to the full article PDF.
US$ 39.95
Tax calculation will be finalised during checkout.
Subscribe to journal
Immediate online access to all issues from 2019. Subscription will auto renew annually.
US$ 79
Tax calculation will be finalised during checkout.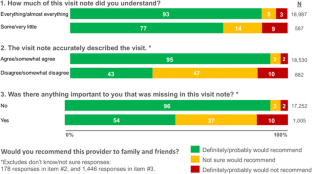 Data Availability
The datasets generated and/or analyzed during the current study are not available.
References
1.

Greene J, Hibbard JH. Why does patient activation matter? An examination of the relationships between patient activation and health-related outcomes. J Gen Intern Med. 2012;27(5):520-526. https://doi.org/10.1007/s11606-011-1931-2

2.

Hibbard JH. Patient activation and the use of information to support informed health decisions. Patient Educ Couns. 2017;100(1):5-7. https://doi.org/10.1016/j.pec.2016.07.006

3.

OpenNotes®. OpenNotes Homepage. OpenNotes. https://www.opennotes.org/. Accessed November 26, 2019.

4.

Delbanco T, Walker J, Bell SK, et al. Inviting patients to read their doctors' notes: A quasi-experimental study and a look ahead. Ann Intern Med. 2012;157(7):461-470. https://doi.org/10.7326/0003-4819-157-7-201210020-00002

5.

Walker J, Leveille S, Bell S, et al. OpenNotes After 7 Years: Patient Experiences With Ongoing Access to Their Clinicians' Outpatient Visit Notes. JMIR. 2019;21(5):e13876. https://doi.org/10.2196/13876

6.

DesRoches CM, Bell SK, Dong Z, et al. Patients Managing Medications and Reading Their Visit Notes: A Survey of OpenNotes Participants. Ann Intern Med. May 2019. https://doi.org/10.7326/M18-3197

7.

Mishra V, Hoyt R, Wolver S, Yoshihashi A, Banas C. Qualitative and Quantitative Analysis of Patients' Perceptions of the Patient Portal Experience with OpenNotes. Appl Clin Inform. 2019;10(01):010-018. https://doi.org/10.1055/s-0038-1676588

8.

Nazi KM, Turvey CL, Klein DM, Hogan TP, Woods SS. VA OpenNotes: exploring the experiences of early patient adopters with access to clinical notes. J Am Med Informatics Assoc. 2015;22(2):380-389. https://doi.org/10.1136/amiajnl-2014-003144

9.

Jackson SL, DesRoches CM, Frosch DL, Peacock S, Oster N V., Elmore JG. Will use of patient portals help to educate and communicate with patients with diabetes? Patient Educ Couns. 2018;101(5):956-959. https://doi.org/10.1016/j.pec.2017.11.004

10.

Bell SK, Mejilla R, Anselmo M, et al. When doctors share visit notes with patients: a study of patient and doctor perceptions of documentation errors, safety opportunities and the patient-doctor relationship. BMJ Qual Saf. 2017;26:1-9. https://doi.org/10.1136/bmjqs-2015-004697

11.

Fan W, Yan Z. Factors affecting response rates of the web survey: A systematic review. Comput Human Behav. 2009;26:132-139. https://doi.org/10.1016/j.chb.2009.10.015

12.

Glasheen W, Cordier T, Gumpina R, Haugh G, Davis J, Renda A. Charlson Comborbidity Index: ICD-9 Update and ICD-10 Translation. Vol 12.; 2019.

13.

Benjamin EJ, Paul Muntner C, Chair Alvaro Alonso V, et al. Heart Disease and Stroke Statistics 2019 Update: A Report From the American Heart Association. Circulation. 2019;139:56-528. https://doi.org/10.1161/CIR.0000000000000659

14.

Chen G, Khan N, Walker R, Quan H. Validating ICD coding algorithms for diabetes mellitus from administrative data. Diabetes Res Clin Pract. 2010;89(2):189-195. https://doi.org/10.1016/j.diabres.2010.03.007

15.

Braun V, Clarke V. Thematic Analysis. In: Cooper H, ed. APA Handbook of Research Methods in Psychology. American Psychological Association; 2012.

16.

L. Fleiss J. Statistical Methods for Rates and Proportions. 2nd ed. New York, NY: John Wiley & Sons, Ltd; 1981.

17.

Platonova EA, Kennedy KN, Shewchuk RM. Understanding Patient Satisfaction, Trust, and Loyalty to Primary Care Physicians. Med Care Res Rev. 2008;65:696-712. https://doi.org/10.1177/1077558708322863

18.

Irizarry T, DeVito Dabbs A, Curran CR. Patient Portals and Patient Engagement: A State of the Science Review. J Med Internet Res. 2015;17(6):e148. https://doi.org/10.2196/jmir.4255

19.

U.S. Department of Health and Human Services. 21st Century Cures Act: Interoperability, Information Blocking, and the ONC Health IT Certification Program.; 2019. https://www.govinfo.gov/content/pkg/FR-2019-03-04/pdf/2019-02224.pdf.

20.

Huang JS, Yueh R, Ma S, Cruz R, Bauman L, Choi LJ. Adolescents' and Young Adults' Satisfaction with and Understanding of Medical Notes from a Pediatric Gastroenterology Practice: A Cross-Sectional Cohort Study. J Pediatr. 2019;215:264-266. https://doi.org/10.1016/j.jpeds.2019.06.052

21.

Belyeu BM, Klein JW, Reisch LM, et al. Patients' perceptions of their doctors' notes and after-visit summaries: A mixed methods study of patients at safety-net clinics. Heal Expect. 2018;21(2):485-493. https://doi.org/10.1111/hex.12641

22.

NORC. Methodology Report: 2014-2015 Nationwide CAHPS Surveys of Adults Enrolled in Medicaid between October and December 2013.; 2015. https://www.medicaid.gov/medicaid/quality-of-care/downloads/performance-measurement/methodology-report.pdf.
Acknowledgments
The authors thank John Santa, MD, for his valuable suggestions and critique.
Ethics declarations
Conflict of Interest
The authors report funding from the Robert Wood Johnson Foundation, Gordon and Betty Moore Foundation, Peterson Center on Healthcare, and Cambia Health Foundation. The funders had no role in designing or conducting the study, analyzing the data, preparing the manuscript, or deciding to submit the manuscript for publication. Dr. Bell reports unrelated grant funding from the Agency for Healthcare Research and Quality within the past 36 months.
Additional information
Publisher's Note
Springer Nature remains neutral with regard to jurisdictional claims in published maps and institutional affiliations.
About this article
Cite this article
Leveille, S.G., Fitzgerald, P., Harcourt, K. et al. Patients Evaluate Visit Notes Written by Their Clinicians: a Mixed Methods Investigation. J GEN INTERN MED 35, 3510–3516 (2020). https://doi.org/10.1007/s11606-020-06014-7
Received:

Accepted:

Published:

Issue Date: