Abstract
Background
To date, 38 states have enacted dense breast notification (DBN) laws mandating that mammogram reports include language informing women of risks related to dense breast tissue.
Objective
Nationally representative survey to assess the association between residing in a state with a DBN law and women's awareness and knowledge about breast density, and breast cancer anxiety.
Design
Internet survey conducted in 2018 with participants in KnowledgePanel®, an online research panel.
Participants
English-speaking US women ages 40–59 years without a personal history of breast cancer who had received at least one screening mammogram (N = 1928; survey completion rate 68.2%).
Main Measures
(1) Reported history of increased breast density, (2) knowledge of the increased risk of breast cancer with dense breasts, (3) knowledge of the masking effect of dense breasts on mammography, and (4) breast cancer anxiety.
Key Results
Women residing in DBN states were more likely to report increased breast density (43.6%) compared with women residing in non-DBN states (32.7%, p < 0.01, adjusted odds ratio, 1.70, 95% CI,1.34–2.17). Interaction effect between DBN states and education status showed that the impact of DBN on women's reporting of dense breasts was significant for women with greater than high school education, but not among women with a high school education or less (p value = 0.01 for interaction). Only 23.0% of women overall knew that increased breast density was associated with a higher risk of breast cancer, and 68.0% of women understood that dense breasts decreased the sensitivity of mammography. There were no significant differences between women in DBN states and non-DBN states for these outcomes, or for breast cancer–related anxiety.
Conclusions
State DBN laws were not associated with increased understanding of the clinical implications of breast density. DBN laws were associated with a higher likelihood of women reporting increased breast density, though not among women with lower education.
This is a preview of subscription content, log in to check access.
Access options
Buy single article
Instant unlimited access to the full article PDF.
US$ 39.95
Price includes VAT for USA
Subscribe to journal
Immediate online access to all issues from 2019. Subscription will auto renew annually.
US$ 99
This is the net price. Taxes to be calculated in checkout.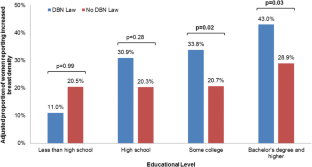 References
1.

Sprague BL, Gangnon RE, Burt V, et al. Prevalence of mammographically dense breasts in the United States. Journal of the National Cancer Institute. 2014;106(10).

2.

Nelson HD, Zakher B, Cantor A, et al. Risk factors for breast cancer for women aged 40 to 49 years: a systematic review and meta-analysis. Annals of Internal Medicine. 2012;156(9):635–648.

3.

Kerlikowske K, Hubbard RA, Miglioretti DL, et al. Comparative effectiveness of digital versus film-screen mammography in community practice in the United States: a cohort study. Annals of Internal Medicine. 2011;155(8):493–502.

4.

DenseBreast-info. https://densebreast-info.org/legislation.aspx. Accessed September 23, 2019.

5.

Haas JS, Kaplan CP. The divide between breast density notification laws and evidence-based guidelines for breast cancer screening: legislating practice. JAMA Internal Medicine. 2015;175(9):1439–1440.

6.

Slanetz PJ, Freer PE, Birdwell RL. Breast-density legislation—practical considerations. New England Journal of Medicine. 2015;372(7):593–595.

7.

Keating NL, Pace LE. New Federal Requirements to Inform Patients About Breast Density: Will They Help Patients? JAMA. 2019.

8.

Kressin NR, Gunn CM, Battaglia TA. Content, readability, and understandability of dense breast notifications by state. JAMA. 2016;315(16):1786–1788.

9.

Gunn CM, Battaglia TA, Paasche-Orlow MK, West AK, Kressin NR. Women's perceptions of dense breast notifications in a Massachusetts safety net hospital:"So what is that supposed to mean?". Patient education and counseling. 2018;101(6):1123–1129.

10.

Jemal A, Ward E, Henley J, et al. Cancer Mortality in the United States by Education Level and Race. Journal of the National Cancer Institute. 2007;99(18):1384–1394.

11.

Sprague BL, Trentham-Dietz A, Gangnon RE, et al. Socioeconomic status and survival after an invasive breast cancer diagnosis. Cancer. 2011;117(7):1542–1551.

12.

Food and Drug Administration. Mammography Quality Standards Act. 2019; https://www.federalregister.gov/documents/2019/03/28/2019-05803/mammography-quality-standards-act.

13.

Rhodes DJ, Breitkopf CR, Ziegenfuss JY, Jenkins SM, Vachon CM. Awareness of breast density and its impact on breast cancer detection and risk. Journal of Clinical Oncology. 2015;33(10):1143.

14.

Cappello NM, Richetelli D, Lee CI. The Impact of Breast Density Reporting Laws on Women's Awareness of Density-Associated Risks and Conversations Regarding Supplemental Screening With Providers. Journal of the American College of Radiology. 2019;16(2):139–146.

15.

Guterbock TM, Cohn WF, Rexrode DL, et al. What do women know about breast density? Results from a population survey of Virginia women. Journal of the American College of Radiology. 2017;14(1):34–44.

16.

Houssami N, Lee CI. The impact of legislation mandating breast density notification - Review of the evidence. Breast (Edinburgh, Scotland). 2018;42:102–112.

17.

Miles RC, Lehman C, Warner E, Tuttle A, Saksena M. Patient-Reported Breast Density Awareness and Knowledge after Breast Density Legislation Passage. Academic Radiology Jun 2019;26(6):726–731.

18.

Willis GB. Cognitive interviewing: A tool for improving questionnaire design. Sage Publications; Thousand Oaks 2004.

19.

Yeager DS, Krosnick JA, Chang L, et al. Comparing the accuracy of RDD telephone surveys and internet surveys conducted with probability and non-probability samples. Public Opinion Quarterly. 2011;75(4):709–747.

20.

Ipsos KnowledgePanel Overview. https://www.ipsos.com/sites/default/files/18-11-53_Overview_v3.pdf. Accessed April 1, 2019.

21.

Validity of the Survey of Health and Internet and Knowledge Network's Panel and Sampling. 2003; https://www.cdc.gov/PCD/issues/2004/oct/pdf/04_0004_01.pdf. Accessed April 1, 2019.

22.

Brodersen J, Thorsen H, Kreiner S. Validation of a condition-specific measure for women having an abnormal screening mammography. Value in health. 2007;10(4):294–304.

23.

Norton EC, Dowd BE, Maciejewski ML. Marginal Effects—Quantifying the Effect of Changes in Risk Factors in Logistic Regression Models. JAMA. 2019: 321:1304-1305

24.

Smetana GW, Elmore JG, Lee CI, Burns RB. Should This Woman With Dense Breasts Receive Supplemental Breast Cancer Screening?: Grand Rounds Discussion From Beth Israel Deaconess Medical Center. Annals of Internal Medicine. 2018;169(7):474–484.

25.

Kindig DA, Panzer AM, Nielsen-Bohlman L. Health literacy: a prescription to end confusion. National Academies Press; Washington, D. C. 2004.
Ethics declarations
The Yale University Institutional Review Board approved this study.
Conflict of Interest
Dr. Gross has received research funding through Yale from Johnson & Johnson and Pfizer. In addition, Dr. Gross has received compensation from Flatiron Health for travel and speaking. Dr. Richman has received research funding through NCATS (KL2 TR001862). No other disclosures are reported.
Additional information
Publisher's Note
Springer Nature remains neutral with regard to jurisdictional claims in published maps and institutional affiliations.
Electronic Supplementary Material
About this article
Cite this article
Kyanko, K.A., Hoag, J., Busch, S.H. et al. Dense Breast Notification Laws, Education, and Women's Awareness and Knowledge of Breast Density: a Nationally Representative Survey. J GEN INTERN MED (2020). https://doi.org/10.1007/s11606-019-05590-7
Received:

Revised:

Accepted:

Published:
KEY WORDS
breast cancer screening

legislation

education

awareness