Abstract
Background
Interest is growing in interventions to address social needs in clinical settings. However, little is known about patients' perceptions and experiences with these interventions.
Objective
To evaluate patients' experiences and patient-reported outcomes of a primary care-based intervention to help patients connect with community resources using trained volunteer advocates.
Design
Qualitative telephone interviews with patients who had worked with the volunteer advocates. Sample and recruitment targets were equally distributed between patients who had at least one reported success in meeting an identified need and those who had no reported needs met, based on the database used to document patient encounters.
Participants
One hundred two patients.
Interventions
Patients at the study clinic were periodically screened for social needs. If needs were identified, they were referred to a trained volunteer advocate who further assessed their needs, provided them with resource referrals, and followed up with them on whether their need was met.
Approach
Thematic analysis was used to code the data.
Key Results
Interviewed patients appreciated the services offered, especially the follow-up. Patients' ability to access the resource to which they were referred was enhanced by assistance with filling out forms, calling community resources, and other types of navigation. Patients also reported that interacting with the advocates made them feel listened to and cared for, which they perceived as noteworthy in their lives.
Conclusions
This patient-reported information provides key insights into a human-centered intervention in a clinical environment. Our findings highlight what works in clinical interventions addressing social needs and provide outcomes that are difficult to measure using existing quantitative metrics. Patients experienced the intervention as a therapeutic relationship/working alliance, a type of care that correlates with positive outcomes such as treatment adherence and quality of life. These insights will help design more patient-centered approaches to providing holistic patient care.
This is a preview of subscription content, log in to check access.
Access options
Buy single article
Instant access to the full article PDF.
US$ 39.95
Price includes VAT for USA
Subscribe to journal
Immediate online access to all issues from 2019. Subscription will auto renew annually.
US$ 99
This is the net price. Taxes to be calculated in checkout.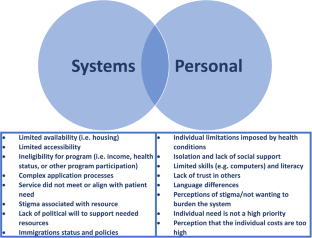 References
1.

Gottlieb LM, Wing H, Adler NE. A systematic review of interventions on patients' social and economic needs. Am J Prev Med 2017;53(5):719-29. doi:https://doi.org/10.1016/j.amepre.2017.05.011

2.

Tervalon M, Murray-Garcia J. Cultural humility versus cultural competence: a critical distinction in defining physician training outcomes in multicultural education. J Health Care Poor Underserved 1998;9(2):117-25.

3.

Burns ME, Galbraith AA, Ross-Degnan D, Balaban RB. Feasibility and evaluation of a pilot community health worker intervention to reduce hospital readmissions. Int J Qual Health Care 2014;26(4):358-65. doi:https://doi.org/10.1093/intqhc/mzu046

4.

Hsu CC, Lee CH, Wahlqvist ML, Huang HL, Chang HY, Chen L, et al. Poverty increases type 2 diabetes incidence and inequality of care despite universal health coverage. Diabetes Care 2012;35(11):2286-92. doi:https://doi.org/10.2337/dc11-2052

5.

Wennerstrom A, Bui T, Harden-Barrios J, Price-Haywood EG. Integrating community health workers into a patient-centered medical home to support disease self-management among vietnamese americans: lessons learned. Health Promot Pract 2015;16(1):72-83. doi:https://doi.org/10.1177/1524839914547760

6.

Anthony S, Gowler R, Hirsch G, Wilkinson G. Community health workers in Massachusetts: Improving health care and public health Boston, MA: Massachusetts Department of Public Health 2009.

7.

Lasser KE, Kenst KS, Quintiliani LM, Wiener RS, Murillo J, Pbert L, et al. Patient navigation to promote smoking cessation among low-income primary care patients: a pilot randomized controlled trial. J Ethn Subst Abus 2013;12(4):374-90. doi:https://doi.org/10.1080/15332640.2013.819311

8.

Thom DH, Ghorob A, Hessler D, De Vore D, Chen E, Bodenheimer TA. Impact of peer health coaching on glycemic control in low-income patients with diabetes: a randomized controlled trial. Ann Fam Med 2013;11(2):137-44. doi:https://doi.org/10.1370/afm.1443

9.

Collinsworth AW, Vulimiri M, Schmidt KL, Snead CA. Effectiveness of a community health worker-led diabetes self-management education program and implications for CHW involvement in care coordination strategies. Diabetes Educ 2013;39(6):792-9. doi:https://doi.org/10.1177/0145721713504470

10.

Matiz LA, Peretz PJ, Jacotin PG, Cruz C, Ramirez-Diaz E, Nieto AR. The impact of integrating community health workers into the patient-centered medical home. J Prim Care Community Health 2014;5(4):271-4. doi:https://doi.org/10.1177/2150131914540694

11.

Collinsworth A, Vulimiri M, Snead C, Walton J. Community health workers in primary care practice: redesigning health care delivery systems to extend and improve diabetes care in underserved populations. Health Promot Pract 2014;15(2 Suppl):51S-61S. doi:https://doi.org/10.1177/1524839914539961

12.

Margolius D, Bodenheimer T, Bennett H, Wong J, Ngo V, Padilla G, et al. Health coaching to improve hypertension treatment in a low-income, minority population. Ann Fam Med 2012;10(3):199-205. doi:https://doi.org/10.1370/afm.1369

13.

Otero-Sabogal R, Arretz D, Siebold S, Hallen E, Lee R, Ketchel A, et al. Physician-community health worker partnering to support diabetes self-management in primary care. Qual Prim Care 2010;18(6):363-72.

14.

Percac-Lima S, Ashburner JM, McCarthy AM, Piawah S, Atlas SJ. Patient navigation to improve follow-up of abnormal mammograms among disadvantaged women. J Women's Health (Larchmt) 2015;24(2):138-43. doi:https://doi.org/10.1089/jwh.2014.4954

15.

Waitzkin H, Getrich C, Heying S, Rodriguez L, Parmar A, Willging C, et al. Promotoras as mental health practitioners in primary care: a multi-method study of an intervention to address contextual sources of depression. J Community Health 2011;36(2):316-31. doi:https://doi.org/10.1007/s10900-010-9313-y

16.

Fisher EB, Strunk RC, Highstein GR, Kelley-Sykes R, Tarr KL, Trinkaus K, et al. A randomized controlled evaluation of the effect of community health workers on hospitalization for asthma: the asthma coach. Arch Pediatr Adolesc Med 2009;163(3):225-32. doi:https://doi.org/10.1001/archpediatrics.2008.577

17.

Adair R, Wholey DR, Christianson J, White KM, Britt H, Lee S. Improving chronic disease care by adding laypersons to the primary care team: a parallel randomized trial. Ann Intern Med 2013;159(3):176-84. doi:https://doi.org/10.7326/0003-4819-159-3-201308060-00007

18.

Green SR, Singh V, O'Byrne W. Hope for New Jersey's city hospitals: the Camden Initiative. Perspect Health Inf Manag. 2010;7:1d.

19.

Kangovi S, Mitra N, Grande D, Huo H, Smith RA, Long JA. Community health worker support for disadvantaged patients with multiple chronic diseases: a randomized clinical trial. Am J Public Health 2017;107(10):1660-7. doi:https://doi.org/10.2105/AJPH.2017.303985

20.

Kangovi S, Mitra N, Grande D, White ML, McCollum S, Sellman J, et al. Patient-centered community health worker intervention to improve posthospital outcomes: a randomized clinical trial. JAMA Intern Med 2014;174(4):535-43. doi:https://doi.org/10.1001/jamainternmed.2013.14327

21.

Felix HC, Mays GP, Stewart MK, Cottoms N, Olson M. The Care Span: Medicaid savings resulted when community health workers matched those with needs to home and community care. Health Aff (Millwood) 2011;30(7):1366-74. doi:https://doi.org/10.1377/hlthaff.2011.0150

22.

Battaglia TA, McCloskey L, Caron SE, Murrell SS, Bernstein E, Childs A, et al. Feasibility of chronic disease patient navigation in an urban primary care practice. J Ambul Care Manage 2012;35(1):38-49. doi:https://doi.org/10.1097/JAC.0b013e31822cbd7c

23.

Davis KL, O'Toole ML, Brownson CA, Llanos P, Fisher EB. Teaching how, not what: the contributions of community health workers to diabetes self-management. Diabetes Educ 2007;33 Suppl 6:208S-15S. doi:https://doi.org/10.1177/0145721707304133

24.

Berman PA, Gwatkin DR, Burger SE. Community-based health workers: head start or false start towards health for all? Soc Sci Med 1987;25(5):443-59.

25.

Gottlieb LM, Garcia K, Wing H, Manchanda R. Clinical interventions addressing nonmedical health determinants in Medicaid managed care. Am J Manag Care 2016;22(5):370-6.

26.

Fuertes JN, Mislowack A, Bennett J, Paul L, Gilbert TC, Fontan G, et al. The physician-patient working alliance. Patient Educ Couns 2007;66(1):29-36. doi:https://doi.org/10.1016/j.pec.2006.09.013

27.

Gelso CJ, Carter J. Components of the psychotherapy relationship: Their interaction and unfolding during treatment. J Couns Psychol 1994;41:296-306.

28.

Alexander LB, Coffey DS. Understanding the therapeutic relationship. . Curr Opin Psychiatry 1997;10(3):233-8.

29.

Horvath AO, Symonds BD. Relation between working alliance and outcome in psychotherapy: a meta-analysis. J Couns Psychol 1991;38:139-49.

30.

Martin DJ, Garske JP, Davis MK. Relation of the therapeutic alliance with outcome and other variables: a meta-analytic review. J Consult Clin Psychol 2000;68(3):438-50.

31.

McCabe R, Priebe S. The therapeutic relationship in the treatment of severe mental illness: a review of methods and findings. Int J Soc Psychiatry 2004;50(2):115-28. doi:https://doi.org/10.1177/0020764004040959

32.

Jaeger S, Weisshaupt S, Flammer E, Steinert T. Control beliefs, therapeutic relationship, and adherence in schizophrenia outpatients: a cross-sectional study. Am J Health Behav 2014;38(6):914-23. doi:https://doi.org/10.5993/AJHB.38.6.13

33.

Garg A, Jack B, Zuckerman B. Addressing the social determinants of health within the patient-centered medical home: lessons from pediatrics. JAMA. 2013;309(19):2001-2. doi:https://doi.org/10.1001/jama.2013.1471

34.

Health Leads. The Health Leads Screening Toolkit. In: Social Needs Screening Toolkit. Boston, MA. 2018. https://healthleadsusa.org/resources/the-health-leads-screening-toolkit/. Accessed June 19 2019.

35.

Gentles SJ, Charles C, Ploeg J, McKibbon K. Sampling in qualitative research: Insights from an overview of the methods literature. Qual Rep 2015;20(11):1772-89.

36.

Hwang S. Utilizing qualitative data analysis software: A review of Atlas.Ti. Soc Sci Comput Rev 2008;26(4):519-27.

37.

Muhr T. ATLAS.ti for Windows. 7.5. 2 ed. Berlin: Berlin Scientific Software Development; 2018.

38.

Deeds BG, Peralta L, Willard N, Ellen J, Straub DM, Castor J, et al. The role of community resource assessments in the development of 15 adolescent health community-researcher partnerships. Prog Community Health Partnersh 2008;2(1):31-9. doi:https://doi.org/10.1353/cpr.2008.0010

39.

La Flair LN, Fullerton CS, Cozza SJ, Herberman Mash HB, McCarroll JE, Ortiz CD, et al. Military families: Measurement of community resource adequacy. Psychol Rep 2015;117(1):133-43. doi:https://doi.org/10.2466/08.PR0.117c14z0

40.

Gelso CJ, Carter J. The relationship in counseling and psychotherapy: Components, consequences, and theoretical antecedents. Couns Psychol 1985;13:155-243.

41.

Zeber JE, Copeland LA, Good CB, Fine MJ, Bauer MS, Kilbourne AM. Therapeutic alliance perceptions and medication adherence in patients with bipolar disorder. J Affect Disord 2008;107(1-3):53-62. doi:https://doi.org/10.1016/j.jad.2007.07.026

42.

Ferreira PH, Ferreira ML, Maher CG, Refshauge KM, Latimer J, Adams RD. The therapeutic alliance between clinicians and patients predicts outcome in chronic low back pain. Phys Ther 2013;93(4):470-8. doi:https://doi.org/10.2522/ptj.20120137

43.

Fuentes J, Armijo-Olivo S, Funabashi M, Miciak M, Dick B, Warren S, et al. Enhanced therapeutic alliance modulates pain intensity and muscle pain sensitivity in patients with chronic low back pain: an experimental controlled study. Phys Ther 2014;94(4):477-89. doi:https://doi.org/10.2522/ptj.20130118

44.

Kinney M, Seider J, Beaty AF, Coughlin K, Dyal M, Clewley D. The impact of therapeutic alliance in physical therapy for chronic musculoskeletal pain: A systematic review of the literature. Physiother Theory Pract 2018:1-13. doi:https://doi.org/10.1080/09593985.2018.1516015
Acknowledgments
Contributors: We want to express our appreciation to all the patients that participated in the interviews for sharing their insights and experiences with us. We also acknowledge our colleagues at Contra Costa Health Services and Health Leads for their input into our data collection efforts and the development of this manuscript—Rohan Radhakrishna, MD; Concepcion Trevino James, MA; Tiombe F Mashama, HEd, MPA; Martin Lynch; Lisa Diemoz, MPH; Abigail Kroch, MPH PhD; Damon Francis, MD; and Sheena Nahm, PhD, MPH. We thank Chris Tachibana for providing technical editing for this manuscript.
Funding
The pilot and evaluation were funded by the Kaiser Foundation Health Plan, Inc.
Ethics declarations
This project was reviewed by the Kaiser Permanente Washington Health Research Institute Institutional Review Board and determined to be "not research."
Conflict of Interest
The authors declare that they do not have a conflict of interest.
Additional information
Publisher's Note
Springer Nature remains neutral with regard to jurisdictional claims in published maps and institutional affiliations.
Prior presentations
These data have not been present at any conferences prior to this submission.
Electronic supplementary material
About this article
Cite this article
Hsu, C., Cruz, S., Placzek, H. et al. Patient Perspectives on Addressing Social Needs in Primary Care Using a Screening and Resource Referral Intervention. J GEN INTERN MED 35, 481–489 (2020). https://doi.org/10.1007/s11606-019-05397-6
Received:

Accepted:

Published:

Issue Date: