Silicone Breast Implant Rupture in a 70-year-old Woman Presenting with Multiple Superficial Nodules
Clinical Practice: Clinical Images
KEY WORDS
case report 
dermatology 
radiology 
A 70-year-old female who had breast augmentation with silicone implants in 1988 presented with a 6-day history of new-onset multiple nodules over her abdominal wall, left groin, and arm after lifting a heavy crate. She was noted to have breast asymmetry with reduced left breast size on physical examination. Her superficial nodules were minimally erythematous, firm, and mildly tender without obvious fixation to the overlying skin or underlying tissue (Fig. 
1
).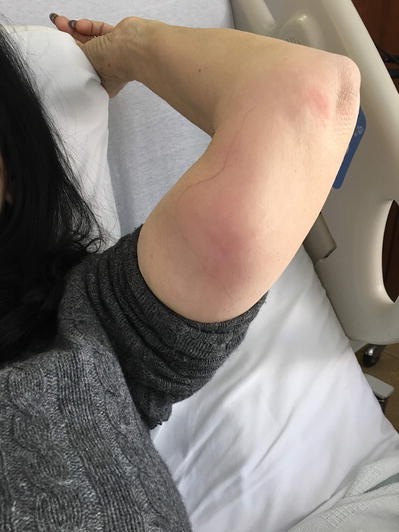 An ultrasound revealed a 7-m, heterogeneous, hypoechoic subcutaneous mass over her left arm. Computed tomography showed heterogeneous soft tissue masses containing calcified nodules representing extracapsular implant rupture with silicone leakage and tracking (Fig. 
2
).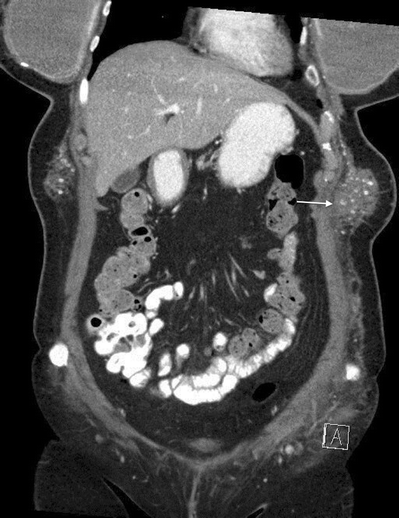 Silicone breast implants are commonly used for reconstruction and augmentation. Advances in breast implant technology have reduced the incidence of implant rupture and silicone leakage and accompanying local or widespread granulomatous inflammation.1
Various other health concerns have been raised surrounding breast augmentation including cancer (breast or other) and connective tissue disease although supporting evidence is lacking.2,3 As implant rupture can be clinically silent, the US Food and Drug Administration has recommended periodic MRI scans to screen for rupture, but this is not widely accepted.4
Notes
Compliance with Ethical Standards
Conflict of Interest
The authors declare that they do not have a conflict of interest to disclose.
Copyright information
© Society of General Internal Medicine 2016