ABSTRACT
OBJECTIVES
Shared medical appointments (SMAs) are an increasingly used system-redesign strategy for improving access to and quality of chronic illness care. We conducted a systematic review of the existing literature on SMA interventions for patients with diabetes in order to understand their impact on outcomes.
DATA SOURCES
MEDLINE, EMBASE, CINAHL, PsycINFO, and Web of Science from January 1996 through April 2012. PubMed search updated June 2013.
STUDY SELECTION
English-language peer-reviewed publications of randomized controlled trials (RCTs), nonrandomized cluster controlled trials, controlled before-and-after studies, or interrupted time-series designs conducted among adult patients with diabetes. Two independent reviewers used prespecified criteria to screen titles and abstracts for full text review.
STUDY APPRAISAL AND SYNTHESIS METHODS
Two different reviewers abstracted data and rated study quality and strength of evidence. When possible, we used random-effects models to synthesize the effects quantitatively, reporting by a weighted difference of the means when the same scale was used across studies, and a standardized mean difference when the scales differed. We measured heterogeneity in study effects using Forest Plots, Cochran's Q, and I2, and explored heterogeneity by using subgroup analyses for categorical variables and meta-regression analyses for continuous or discrete variables. Outcomes not suitable to meta-analysis were summarized qualitatively.
RESULTS
Twenty-five articles representing 17 unique studies compared SMA interventions with usual care. Among patients with diabetes, SMAs improved hemoglobin A1c (∆ = −0.55 percentage points [95 % CI, −0.11 to −0.99]); improved systolic blood pressure (∆ = −5.2 mmHg [95 % CI, −3.0 to −7.4]); and did not improve LDL cholesterol (∆ = −6.6 mg/dl [95 % CI, 2.8 to −16.1]). Nonbiophysical outcomes, including economic outcomes, were reported too infrequently to meta-analyze, or to draw conclusions from. The A1c result had significant heterogeneity among studies, likely secondary to the heterogeneity among included SMA interventions.
LIMITATION
Heterogeneity among the components of diabetes SMAs leads to uncertainty about what makes a particular SMA successful.
CONCLUSION
SMA interventions improve biophysical outcomes among patients with diabetes. There was inadequate literature to determine SMA effects on patient experience, utilization, and costs.
Access options
Buy single article
Instant access to the full article PDF.
USD 39.95
Price includes VAT (USA)
Tax calculation will be finalised during checkout.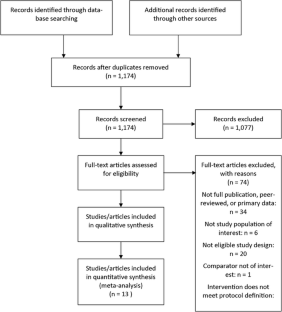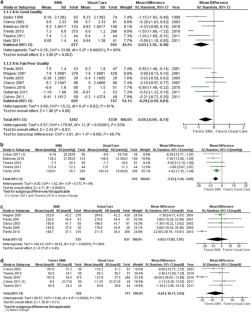 REFERENCES
1.

Noffsinger EB. Operational challenges to implementing a successful physicals shared Medical Appointment Program. Part 1: Choosing the right type of shared medical appointment. Group Pract J. 2002;51:24–34.

2.

Park A. Need to see the doctor? You may have company on your next visit. Time Magazine. August 7, 2013. Available at: http://healthland.time.com/2013/08/07/need-to-see-the-doctor-you-may-have-company-on-your-next-visit. Accessed July 14 2014.

3.

Gorman A. Group meetings turn doctor visits inside out. Los Angeles Times. September 16, 2013. Available at: http://axis.cdrewu.edu/axis_doc/functions/AXIS/group_meetings_turn_doctor_visits_inside_out-latimes.com.pdf. Accessed July 14 2014.

4.

Beck A, Scott J, Williams P, et al. A randomized trial of group outpatient visits for chronically ill older HMO members: the Cooperative Health Care Clinic. J Am Geriatr Soc. 1997;45:543–549.

5.

Levine MD, Ross TR, Balderson BH, Phelan EA. Implementing group medical visits for older adults at group health cooperative. J Am Geriatr Soc. 2010;58:168–172.

6.

Scott JC, Conner DA, Venohr I, et al. Effectiveness of a group outpatient visit model for chronically ill older health maintenance organization members: a 2-year randomized trial of the cooperative health care clinic. J Am Geriatr Soc. 2004;52:1463–1470.

7.

Coleman EA, Eilertsen TB, Kramer AM, Magid DJ, Beck A, Conner D. Reducing emergency visits in older adults with chronic illness. A randomized, controlled trial of group visits. Eff Clin Pract. 2001;4:49–57.

8.

Bray P, Thompson D, Wynn JD, Cummings DM, Whetstone L. Confronting disparities in diabetes care: the clinical effectiveness of redesigning care management for minority patients in rural primary care practices. J Rural Health. 2005;21:317–321.

9.

Clancy DE, Cope DW, Magruder KM, Huang P, Wolfman TE. Evaluating concordance to American Diabetes Association standards of care for type 2 diabetes through group visits in an uninsured or inadequately insured patient population. Diabetes Care. 2003;26:2032–2036.

10.

Clancy DE, Huang P, Okonofua E, Yeager D, Magruder KM. Group visits: promoting adherence to diabetes guidelines. J Gen Intern Med. 2007;22:620–624.

11.

Edelman D, Fredrickson SK, Melnyk SD, et al. Medical clinics versus usual care for patients with both diabetes and hypertension: a randomized trial. Ann Intern Med. 2010;152:689–696.

12.

Culhane-Pera K, Peterson KA, Crain AL, et al. Group visits for Hmong adults with type 2 diabetes mellitus: a pre-post analysis. J Health Care Poor Underserved. 2005;16:315–327.

13.

Gutierrez N, Gimple NE, Dallo FJ, Foster BM, Ohagi EJ. Shared medical appointments in a residency clinic: an exploratory study among Hispanics with diabetes. Am J Manag Care. 2011;17:e212–e214.

14.

Kirsh S, Watts S, Pascuzzi K, et al. Shared medical appointments based on the chronic care model: a quality improvement project to address the challenges of patients with diabetes with high cardiovascular risk. Qual Saf Health Care. 2007;16:349–353.

15.

Naik AD, Palmer N, Petersen NJ, et al. Comparative effectiveness of goal setting in diabetes mellitus group clinics: randomized clinical trial. Arch Intern Med. 2011;171:453–459.

16.

Sadur CN, Moline N, Costa M, et al. Diabetes management in a health maintenance organization. Efficacy of care management using cluster visits. Diabetes Care. 1999;22:2011–2017.

17.

Taveira TH, Friedmann PD, Cohen LB, et al. Pharmacist-led group medical appointment model in type 2 diabetes. Diabetes Educ. 2010;36:109–117.

18.

Trento M, Passera P, Tomalino M, et al. Group visits improve metabolic control in type 2 diabetes: a 2-year follow-up. Diabetes Care. 2001;24:995–1000.

19.

Trento M, Passera P, Borgo E, et al. A 3-year prospective randomized controlled clinical trial of group care in type 1 diabetes. Nutr Metab Cardiovasc Dis. 2005;15:293–301.

20.

Trento M, Gamba S, Gentile L, et al. Rethink Organization to iMprove Education and Outcomes (ROMEO): a multicenter randomized trial of lifestyle intervention by group care to manage type 2 diabetes. Diabetes Care. 2010;33:745–747.

21.

Krzywkowski-Mohn SM. Diabetic control and patient perception of the scheduled in group medical appointment at the Cincinnati Veterans Administration Medical Center. ProQuest Information & Learning; 2009.

22.

Edelman D, McDuffie JR, Oddone E, Gierisch JM, Nagi A, Williams JW. Shared medical appointments for chronic medical conditions: a systematic review. U.S. Veterans Affairs Evidence-based Synthesis Program, July 2012. Available at: www.hsrd.research.va.gov//publications/esp.

23.

Moher D, Liberati A, Tetzlaff J, Altman DG. Preferred reporting items for systematic reviews and meta-analyses: the PRISMA statement. PLoS Med. 2009;6:e1000097.

24.

Agency for Healthcare Research and Quality. Methods guide for effectiveness and comparative effectiveness reviews. Rockville, MD: Agency for Healthcare Research and Quality. Available at: http://www.effectivehealthcare.ahrq.gov/index.cfm/search-for-guides-reviews-and-reports/?pageaction=displayproduct&productid=318. Accessed July 14, 2014.

25.

Higgins JPT, Thompson SG. Quantifying heterogeneity in a meta-analysis. Statistics in Medicine 2002;1539–1558

26.

Taveira TH, Dooley AG, Cohen LB, Khatana SA, Wu WC. Pharmacist-led group medical appointments for the management of type 2 diabetes with comorbid depression in older adults. Ann Pharmacother. 2011;45:1346–1355.

27.

Wagner EH, Grothaus LC, Sandhu N, et al. Chronic care clinics for diabetes in primary care: a system-wide randomized trial. Diabetes Care. 2001;24:695–700.

28.

Cohen LB, Taveira TH, Khatana SA, Dooley AG, Pirraglia PA, Wu WC. Pharmacist-led shared medical appointments for multiple cardiovascular risk reduction in patients with type 2 diabetes. Diabetes Educ. 2011;37:801–812.

29.

Jessee BT, Rutledge CM. Effectiveness of nurse practitioner coordinated team group visits for type 2 diabetes in medically underserved Appalachia. J Am Acad Nurse Pract. 2012;24:735–743.

30.

Clancy DE, Dismuke CE, Magruder KM, Simpson KN, Bradford D. Do diabetes group visits lead to lower medical care charges? Am J Manag Care. 2008;14(1):39–44.

31.

Housden L, Wong ST, Dawes M. Effectiveness of group medical visits for improving diabetes care: a systematic review and meta-analysis. CMAJ. 2013;185(13):E635–E644.

32.

Fowler MJ. Diabetes treatment, part 2: Oral agents for glycemic management. Clin Diabetes. 2007;25(4):131–134.

33.

Cohen J. Statistical Power Analysis for the Behavioral Sciences. 2nd ed. Hillsdale: Lawrence Erlbaum Associates; 1988.

34.

Sehestedt T, Hansen TW, Li Y, et al. Are blood pressure and diabetes additive or synergistic risk factors? Outcome in 8494 subjects randomly recruited from 10 populations. Hypertens Res. 2011;34:714–721.
Acknowledgements
The authors thank Connie Schardt, MLS, for help with the literature search and retrieval, Avishek Nagi, MS, for organizational support, and Liz Wing, MA, for editorial assistance.
Conflict of Interest
No investigators have any affiliations or financial involvement (e.g., employment, consultancies, honoraria, stock ownership or options, expert testimony, grants or patents received or pending, or royalties) that conflict with material presented in the report.
Financial Support
U.S. Veterans Affairs Office of Research and Development, Quality Enhancement Research Initiative (VA-ESP Project 09-010;2012). The sponsor chose the topic and guided the key questions for the review, and provided access to peer review and edits for the original VA Evidence Report, but had no role in the design and conduct of the study; collection, management, analysis, and interpretation of the data; preparation, review, or approval of this manuscript; and decision to submit the manuscript for publication.
Electronic supplementary material
Below is the link to the electronic supplementary material.
About this article
Cite this article
Edelman, D., Gierisch, J.M., McDuffie, J.R. et al. Shared Medical Appointments for Patients with Diabetes Mellitus: A Systematic Review. J GEN INTERN MED 30, 99–106 (2015). https://doi.org/10.1007/s11606-014-2978-7
Received:

Revised:

Accepted:

Published:

Issue Date:
KEY WORDS
shared medical appointments

diabetes

chronic illness care