ABSTRACT
BACKGROUND
Novel nicotine delivery products, such as electronic cigarettes (e-cigarettes), have dramatically grown in popularity despite limited data on safety and benefit. In contrast, the similar U.S. Food and Drug Administration (FDA)-approved nicotine inhaler is rarely utilized by smokers. Understanding this paradox could be helpful to determine the potential for e-cigarettes as an alternative to tobacco smoking.
OBJECTIVE
To compare the e-cigarette with the nicotine inhaler in terms of perceived benefits, harms, appeal, and role in assisting with smoking cessation.
DESIGN
A cross-over trial was conducted from 2012 to 2013
PARTICIPANTS/INTERVENTIONS
Forty-one current smokers age 18 and older used the e-cigarette and nicotine inhaler each for 3 days, in random order, with a washout period in between. Thirty-eight participants provided data on product use, perceptions, and experiences.
MAIN MEASURES
The Modified Cigarette Evaluation Questionnaire (mCEQ) measured satisfaction, reward, and aversion. Subjects were also asked about each product's helpfulness, similarity to cigarettes, acceptability, image, and effectiveness in quitting smoking. Cigarette use was also recorded during the product-use periods.
KEY RESULTS
The e-cigarette had a higher total satisfaction score (13.9 vs. 6.8 [p < 0.001]; range for responses 3–21) and higher reward score (15.8 vs. 8.7 [p < 0.001]; range for responses 5–35) than the inhaler. The e-cigarette received higher ratings for helpfulness, acceptability, and "coolness." More subjects would use the e-cigarette to make a quit attempt (76 %) than the inhaler (24 %) (p < 0.001). Eighteen percent (7/38) of subjects abstained from smoking during the 3-day periods using the e-cigarette vs. 10 % (4/38) using the inhaler (p = 0.18).
CONCLUSION
The e-cigarette was more acceptable, provided more satisfaction, and had higher perceived benefit than the inhaler during this trial. E-cigarettes have the potential to be important nicotine delivery products owing to their high acceptance and perceived benefit, but more data are needed to evaluate their actual efficacy and safety. Providers should be aware of these issues, as patients will increasingly inquire about them.
This is a preview of subscription content,
to check access.
Access this article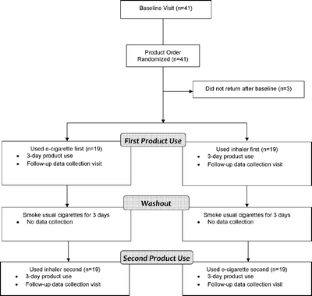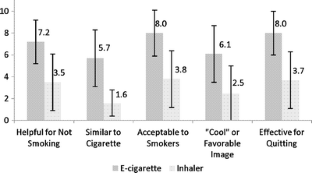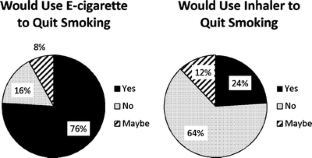 REFERENCES
Steinberg MB, Akincigil A, Delnevo CD, Crystal S, Carson JL. Gender and age disparities for tobacco dependence treatment: Results of the 2001–2002 National Ambulatory Medical Care Survey; Am J Prev Med. 2006;30:405–412.

Fiore MC, Jaén CR, Baker TB, et al. Treating Tobacco Use and Dependence: 2008 Update. Clinical Practice Guideline. Rockville: U.S. Department of Health and Human Services. Public Health Service; 2008.

Steinberg MB, Evans RM, Hughes JR, Leone FT, Lipsky M. Treatment of Tobacco Dependence; AMA Therapeutic Insights; 2011. Available at http://www.ama-assn.org/ama/pub/education-careers/continuing-medical-education/cme-credit-offerings/therapeutic-insights/treatment-tobacco-dependence.page (accessed 25 April 2014).

Regan AK, Promoff G, Dube SR, Arrazola R. Electronic nicotine delivery systems: adult use and awareness of the 'e-cigarette' in the USA. Tob Control. 2013;22(1):19–23.

King BA, Alam S, Promoff G, Arrazola R, Dube SR. Awareness and ever-use of electronic cigarettes among U.S. Adults, 2010–2011. Nicotine Tob Res. 2013;15:1623–1627.

Goniewicz ML, Knysak J, Gawron M, et al. Levels of selected carcinogens and toxicants in vapour from electronic cigarettes. Tob Control 2013; [Epub ahead of print].

Smith D. Health care consumers use and trust of health information sources. J Commun Healthc. 2011;4(3):200–210.

Pepper JK, McRee AL, Gilkey MB. Healthcare providers' beliefs and attitudes about electronic cigarettes and preventative counseling for adolescent patients. J Adolesc Health. 2013; [Epub ahead of print], doi: 10.1016/j.jadohealth.2013.10.001.

Etter JF, Bullen C. Electronic cigarette: users profile, utilization, satisfaction and perceived efficacy. Addiction. 2011;106:2017–2028.

Siegel MB, Tanwar KL, Wood KS. Electronic cigarettes as a smoking-cessation: tool results from an online survey. Am J Prev Med. 2011;40:472–475.

Foulds J, Veldheer S, Berg A. Electronic cigarettes (e-cigs): views of aficionados and clinical/public health perspectives. Int J Clin Pract. 2011;65:1037–1042.

Polosa R, Morjaria JB, Caponnetto P, et al. Effectiveness and tolerability of electronic cigarette in real-life: a 24-month prospective observational study. Int Emerg Med. 2013; [Epub ahead of print].

Caponnetto P, Campagna D, Cibella F, Morjaria JB, Caruso M, Russo C, Polosa R. EffiCiency and Safety of an eLectronic cigAreTte (ECLAT) as tobacco cigarettes substitute: a prospective 12-month randomized control design study. PLoS One. 2013;8(6):e66317.

Etter JF, Bullen C. A longitudinal study of electronic cigarette users. Addict Behav. 2014;39(2):491–494.

Bullen C, Howe C, Laugesen M, et al. Electronic cigarettes for smoking cessation: a randomized controlled trial. Lancet. 2013;382(9905):1629–1637.

Blu Cigs website, 2013. Disposable eCig Features, http://www.blucigs.com/disposables (accessed 25 April 2014).

Wells Fargo Securities, 2013. Tobacco—Nielsen C-Store Data Including E-Cigs. Equity Research.

Nicotrol Inhaler Website; 2014; https://www1.pfizerpro.com/hcp/nicotrol/nicotrol-Inhaler (accessed 25 April 2014).

Cappelleri JC, Bushmakin AG, Baker CL, Merikle E, Olufade AO, Gilbert DG. Confirmatory factor analyses and reliability of the modified cigarette evaluation questionnaire. Addict Behav. 2007;32:912–923.

Bullen C, McRobbie H, Thornley S, Glover M, Lin R, Laugesen M. Effect of an electronic nicotine delivery device (e cigarette) on desire to smoke and withdrawal, user preferences and nicotine delivery: randomised cross-over trial. Tob Control. 2010;2:98–103.

Choi K, Forster J. Characteristics associated with awareness, perceptions, and use of electronic nicotine delivery systems among young US Midwestern adults. Am J Public Health. 2013;103:556–561.

Cobb NK, Brookover J, Cobb CO. Forensic analysis of online marketing for electronic nicotine delivery systems. Tob Control 2013; [Epub ahead of print].

Li J, Bullen C, Newcombe R, Walker N, Walton D. The use and acceptability of electronic cigarettes among New Zealand smokers. N Z Med J. 2013;126:48–57.

Nides MA, Leischow SJ, Bhatter M, Simmons M.Nicotine blood levels and short-term smoking reduction with an electronic nicotine delivery system. Am J Health Behav. 2014;38:265–274.

Polosa R, Caponnetto P, Morjaria JB, Papale G, Campagna D, Russo C. Effect of an electronic nicotine delivery device (e-Cigarette) on smoking reduction and cessation: a prospective 6-month pilot study. B.M.C. Public Health. 2011;11:786.

Dawkins L, Corcoran O. Acute electronic cigarette use: nicotine delivery and subjective effects in regular users. Psychopharmacology. 2014;231(2):401–407.
Acknowledgements
This study was funded through a pilot grant from the Rutgers–Cancer Institute of New Jersey (P30CA072720).
Conflict of Interest
Michael B. Steinberg – none; Mia Hanos Zimmermann – none; M. Jane Lewis – none; Cristine D. Delnevo – none; Parth Shukla – none; Elliot Coups – none; Jonathan Foulds – primarily funded by National Institutes of Health grants: P50-DA-036107-01 & P50-DA-036105-01 and by Penn State Cancer Institute and Social Science Research Institute. He has done paid consulting for pharmaceutical companies involved in producing smoking cessation medications, including GSK, Pfizer, Novartis, J&J, and Cypress Bioscience.
About this article
Cite this article
Steinberg, M.B., Zimmermann, M.H., Delnevo, C.D. et al. E-Cigarette Versus Nicotine Inhaler: Comparing the Perceptions and Experiences of Inhaled Nicotine Devices. J GEN INTERN MED 29, 1444–1450 (2014). https://doi.org/10.1007/s11606-014-2889-7
Received:

Revised:

Accepted:

Published:

Issue Date:

DOI: https://doi.org/10.1007/s11606-014-2889-7
KEY WORDS