ABSTRACT
Entrustable Professional Activities (EPAs) and the Next Accreditation System reporting milestones reduce general competencies into smaller evaluable parts. However, some EPAs and reporting milestones may be too broad to use as direct assessment tools. We describe our internal medicine residency curriculum and assessment system, which uses entrustment and mapping of observable practice activities (OPAs) for resident assessment. We created discrete OPAs for each resident rotation and learning experience. In combination, these serve as curricular foundation and tools for assessment. OPA performance is measured via a 5-point entrustment scale, and mapped to milestones and EPAs. Entrustment ratings of OPAs provide an opportunity for immediate structured feedback of specific clinical skills, and mapping OPAs to milestones and EPAs can be used for longitudinal assessment, promotion decisions, and reporting. Direct assessment and demonstration of progressive entrustment of trainee skill over time are important goals for all training programs. Systems that use OPAs mapped to milestones and EPAs provide the opportunity for achieving both, but require validation.
Access options
Buy single article
Instant access to the full article PDF.
USD 39.95
Price excludes VAT (USA)
Tax calculation will be finalised during checkout.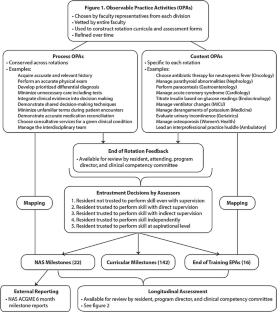 REFERENCES
Ende J. Feedback in clinical medical education. JAMA. 1983;250(6):777–781.

Swing SR. The ACGME outcome project: retrospective and prospective. Med Teach. 2007;29(7):648–654.

ten Cate O. Trust, competence, and the supervisor's role in postgraduate training. BMJ. 2006;333(7571):748–751.

ten Cate O, Scheele F. Competency-based postgraduate training: can we bridge the gap between theory and clinical practice? Acad Med. 2007;82(6):542–547.

ten Cate O, Snell L, Carraccio C. Medical competence: the interplay between individual ability and the health care environment. Med Teach. 2010;32(8):669–675.

Alliance for Academic Internal Medicine. Internal medicine end of training EPAs. http://www.im.org/AcademicAffairs/milestones/Pages/EndofTrainingEPAs.aspx. Accessed 2 Jan 2014.

Carraccio C, Burke AE. Beyond competencies and milestones: adding meaning through context. J Grad Med Educ. 2010;2(3):419–422.

Caverzagie KJ, Iobst WF, Aagaard EM, et al. The internal medicine reporting milestones and the next accreditation system. Ann Intern Med. 2013;158:557–559.

Nasca TJ, Philibert I, Brigham T, Flynn TC. The next GME accreditation system–rationale and benefits. N Engl J Med. 2012;366(11):1051–1056.

Mulder H, Ten Cate O, Daalder R, Berkvens J. Building a competency-based workplace curriculum around entrustable professional activities: the case of physician assistant training. Med Teach. 2010;32(10):e453–e459.

Hauer KE, Kohlwes J, Cornett P, et al. Identifying entrustable professional activities in internal medicine training. J Grad Med Educ. 2013;5:54–59.

Royal Australian and New Zealand College of Psychiatrists. https://www.ranzcp.org/Files/ranzcp-attachments/PreFellowship/2012-Fellowship-Program/EPA-Handbook.aspx. Accessed 2 Jan 2014.

Association of Pediatric Program Directors. Important points about "Entrustable professional activities(EPAs) https://www.appd.org/home/PDF/Newborn_EPA_mapped_to_MilestonesVignettes_for_APPDmembers.pdf. Accessed 2 Jan 2014.

University of Cincinnati Internal Medicine Residency. Curriculum 2012-13. http://intmed.uc.edu/Libraries/Documents/IM_Residency_Program_Curriculum_2012-2013.sflb.ashx. Accessed 2 Jan 2014.

University of Cincinnati Internal Medicine Residency. Curriculum 2013-14. http://intmed.uc.edu/Libraries/Documents/Curriculum_2013-2014_FINAL_8-29-13_1.sflb.ashx. Accessed 2 Jan 2014.

Accreditation Council for Graduate Medical Education. The internal medicine milestone project. http://www.acgme.org/acgmeweb/Portals/0/PDFs/Milestones/InternalMedicineMilestones.pdf. Accessed 2 Jan 2014.

Green ML, Aagaard EM, Caverzagie KJ, et al. Charting the road to competence: developmental milestones for internal medicine residency training. J Grad Med Educ. 2009;1(1):5–20.

Warm EJ, Schauer DP, Diers T, et al. The ambulatory long-block: an accreditation council for graduate medical education (ACGME) educational innovations project (EIP). J Gen Intern Med. 2008;23(7):921–926.

Warm EJ, Schauer D, Revis B, Boex JR. Multisource feedback in the ambulatory setting. J Grad Med Educ. 2010;2(2):269–277.
Acknowledgements
The authors would like to thank Alisa N. Strauss PhD. for assistance with preparation of the figures.
Conflict of Interest
The authors declare that they do not have a conflict of interest.
Funding
None.
About this article
Cite this article
Warm, E.J., Mathis, B.R., Held, J.D. et al. Entrustment and Mapping of Observable Practice Activities for Resident Assessment. J GEN INTERN MED 29, 1177–1182 (2014). https://doi.org/10.1007/s11606-014-2801-5
Received:

Revised:

Accepted:

Published:

Issue Date:

DOI: https://doi.org/10.1007/s11606-014-2801-5
KEY WORDS
resident assessment

milestones

entrustable professional activities

medical education