ABSTRACT
BACKGROUND
Clinicians caring for patients seeking alcohol detoxification face many challenges, including lack of evidence-based guidelines for treatment and high recidivism rates.
OBJECTIVES
To develop a standardized protocol for determining which alcohol dependent patients seeking detoxification need inpatient versus outpatient treatment, and to study the protocol's implementation.
DESIGN
Review of best evidence by ad hoc task force and subsequent creation of standardized protocol. Prospective observational evaluation of initial protocol implementation.
PARTICIPANTS
Patients presenting for alcohol detoxification.
INTERVENTION
Development and implementation of a protocol for evaluation and treatment of patients requesting alcohol detoxification.
MAIN MEASURES
Number of admissions per month with primary alcohol related diagnosis (DRG), 30-day readmission rate, and length of stay, all measured before and after protocol implementation.
RESULTS
We identified one randomized clinical trial and three cohort studies to inform the choice of inpatient versus outpatient detoxification, along with one prior protocol in this population, and combined that data with clinical experience to create an institutional protocol. After implementation, the average number of alcohol related admissions was 15.9 per month, compared with 18.9 per month before implementation (p = 0.037). There was no difference in readmission rate or length of stay.
CONCLUSIONS
Creation and utilization of a protocol led to standardization of care for patients requesting detoxification from alcohol. Initial evaluation of protocol implementation showed a decrease in number of admissions.
Access options
Buy single article
Instant access to the full article PDF.
US$ 39.95
Tax calculation will be finalised during checkout.
Subscribe to journal
Immediate online access to all issues from 2019. Subscription will auto renew annually.
US$ 79
Tax calculation will be finalised during checkout.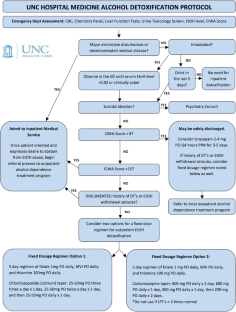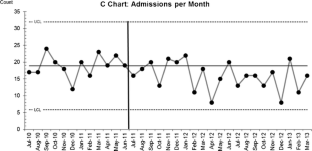 REFERENCES
1.

Hasin DS, Stinson FS, Ogburn E, Grant BF. Prevalence, correlates, disability, and comorbidity of DSM-IV alcohol abuse and dependence in the United States: results from the National Epidemiologic Survey on Alcohol and Related Conditions. Arch Gen Psychiatry. 2007;64(7):830–42. doi:10.1001/archpsyc.64.7.830.

2.

Alcohol related disease impact. Centers for Disease Control and Prevention, Atlanta. 2013. http://www.cdc.gov/alcohol/ardi.htm. Accessed December 12 2013.

3.

Hayashida M, Alterman AI, McLellan AT, O'Brien CP, Purtill JJ, Volpicelli JR, et al. Comparative effectiveness and costs of inpatient and outpatient detoxification of patients with mild-to-moderate alcohol withdrawal syndrome. New Engl J Med. 1989;320(6):358–65. doi:10.1056/NEJM198902093200605.

4.

Blondell RD. Ambulatory detoxification of patients with alcohol dependence. Am Fam Physician. 2005;71(3):495–502.

5.

Asplund CA, Aaronson JW, Aaronson HE. 3 regimens for alcohol withdrawal and detoxification. J Fam Pract. 2004;53(7):545–54.

6.

Ferguson JA, Suelzer CJ, Eckert GJ, Zhou XH, Dittus RS. Risk factors for delirium tremens development. J Gen Intern Med. 1996;11(7):410–4.

7.

Lee JH, Jang MK, Lee JY, Kim SM, Kim KH, Park JY, et al. Clinical predictors for delirium tremens in alcohol dependence. J Gastroenterol Hepatol. 2005;20(12):1833–7. doi:10.1111/j.1440-1746.2005.03932.x.

8.

Mayo-Smith MF. Pharmacological management of alcohol withdrawal. A meta-analysis and evidence-based practice guideline. American Society of Addiction Medicine Working Group on Pharmacological Management of Alcohol Withdrawal. JAMA. 1997;278(2):144–51.

9.

Provost LP, Murray SK. The Health Care Data Guide. San Francisco: Jossey-Bass; 2011.

10.

Palmstierna T. A model for predicting alcohol withdrawal delirium. Psychiatr Serv. 2001;52(6):820–3.

11.

Shaw JM, Kolesar GS, Sellers EM, Kaplan HL, Sandor P. Development of optimal treatment tactics for alcohol withdrawal. I. Assessment and effectiveness of supportive care. J Clin Psychopharmacol. 1981;1(6):382–89.

12.

Amato L, Minozzi S, Davoli M. Efficacy and safety of pharmacological interventions for the treatment of the Alcohol Withdrawal Syndrome. Cochrane database of systematic reviews. 2011;6, CD008537. doi:10.1002/14651858.CD008537.pub2.

13.

Malcolm R, Ballenger JC, Sturgis ET, Anton R. Double-blind controlled trial comparing carbamazepine to oxazepam treatment of alcohol withdrawal. Am J Psychiatr. 1989;146(5):617–21.

14.

Malcolm R, Myrick H, Roberts J, Wang W, Anton RF, Ballenger JC. The effects of carbamazepine and lorazepam on single versus multiple previous alcohol withdrawals in an outpatient randomized trial. J Gen Intern Med. 2002;17(5):349–55.

15.

Grant EL, Leavenworth RS. Statistical Quality Control. 7th ed: McGraw-Hill Higher Education; 1997.
Acknowledgements
Preliminary results from the project described in this manuscript were presented as a poster at the annual meeting of Society of Hospital Medicine in April 2012 and at the annual meeting of Society of General Internal Medicine in April 2012.
No authors have received any monetary support for work related to this project.
Conflicts of Interest
The authors declare that they do not have a conflict of interest.
About this article
Cite this article
Stephens, J.R., Liles, E.A., Dancel, R. et al. Who Needs Inpatient Detox? Development and Implementation of a Hospitalist Protocol for the Evaluation of Patients for Alcohol Detoxification. J GEN INTERN MED 29, 587–593 (2014). https://doi.org/10.1007/s11606-013-2751-3
Received:

Revised:

Accepted:

Published:

Issue Date:
KEY WORDS
alcohol detoxification

alcohol withdrawal

quality improvement

hospital medicine