ABSTRACT
INTRODUCTION
The information provided by pharmaceutical sales representatives has been shown to influence prescribing. To enable safe prescribing, medicines information must include harm as well as benefits. Regulation supports this aim, but relative effectiveness of different approaches is not known. The United States (US) and France directly regulate drug promotion; Canada relies on industry self-regulation. France has the strictest information standards.
METHODS
This is a prospective cohort study in Montreal, Vancouver, Sacramento and Toulouse. We recruited random samples of primary care physicians from May 2009 to June 2010 to report on consecutive sales visits. The primary outcome measure was "minimally adequate safety information" (mention of at least one indication, serious adverse event, common adverse event, and contraindication, and no unqualified safety claims or unapproved indications).
RESULTS
Two hundred and fifty-five physicians reported on 1,692 drug-specific promotions. "Minimally adequate safety information" did not differ: 1.7 % of promotions; range 0.9–3.0 % per site. Sales representatives provided some vs. no information on harm more often in Toulouse than in Montreal and Vancouver: 61 % vs. 34 %, OR = 4.0; 95 % CI 2.8–5.6, or Sacramento (39 %), OR = 2.4; 95 % CI 1.7–3.6. Serious adverse events were rarely mentioned (5–6 % of promotions in all four sites), although 45 % of promotions were for drugs with US Food and Drug Administration (FDA) "black box" warnings of serious risks. Nevertheless, physicians judged the quality of scientific information to be good or excellent in 901 (54 %) of promotions, and indicated readiness to prescribe 64 % of the time.
DISCUSSION
"Minimally adequate safety information" did not differ in the US and Canadian sites, despite regulatory differences. In Toulouse, consistent with stricter standards, more harm information was provided. However, in all sites, physicians were rarely informed about serious adverse events, raising questions about whether current approaches to regulation of sales representatives adequately protect patient health.
This is a preview of subscription content, log in to check access.
Access options
Buy single article
Instant access to the full article PDF.
US$ 39.95
Price includes VAT for USA
Subscribe to journal
Immediate online access to all issues from 2019. Subscription will auto renew annually.
US$ 99
This is the net price. Taxes to be calculated in checkout.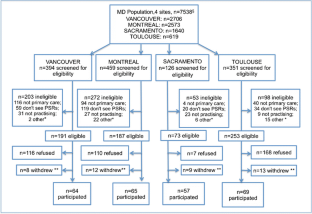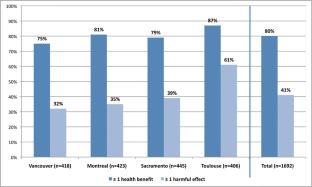 REFERENCES
1.

Gagnon MA, Lexchin J. The cost of pushing pills: a new estimate of pharmaceutical promotion expenditures in the United States. PLoS Med. 2008;5(1):e1. doi:10.1371/journal.pmed.0050001.

2.

Norris P, Herxheimer A, Lexchin J, Mansfield P. Drug Promotion: What We Know What We Have Yet to Learn. World Health Organisation and Health Action International. Geneva: 2005. Available at: http://apps.who.int/medicinedocs/pdf/s8109e/s8109e.pdf. Accessed January 24, 2013.

3.

Wazana A. Physicians and the pharmaceutical industry: is a gift ever just a gift? JAMA. 2000;283:373–380.

4.

Spurling GK, Mansfield PR, Montgomery BD, Lexchin J, Doust J, et al. Information from pharmaceutical companies and the quality, quantity, and cost of physicians' prescribing: a systematic review. PLoS Med. 2010;7(10):e1000352. doi:10.1371/journal.pmed.1000352.

5.

Anderson BL, Silverman GK, Loewenstein GF, Zinberg S, Schulkin J. Factors associated with physicians' reliance on pharmaceutical sales representatives. Acad Med. 2009;84:994–1002.

6.

Chalkley P. Targeting accessible physicians. Canadian Pharmaceutical Marketing. April 2009:29–30.

7.

Waxman HA. The lessons of Vioxx—drug safety and sales. N Engl J Med. 2005;352:2576–8.

8.

Lexchin J. What information do physicians receive from sales representatives? Can Fam Physician. 1997;43:941–945.

9.

Anon. 15 ans d'observervation et un constat: rien à attendre de la visite médicale pour mieux soigner. La Revue Prescrire. 2006;26(272):383–389.

10.

Government of Canada. Federal Food and Drugs Act and Regulations. Available at: http://www.hc-sc.gc.ca/fn-an/legislation/acts-lois/index-eng.php. Accessed January 24, 2013.

11.

Salant P, Dillman DA. How to conduct your own survey. New York: Wiley; 1994.

12.

Orthman N, Vitry AI, Roughead EE, Ismail SB, Omar K. Medicines information provided by pharmaceutical representatives: a comparative study in Australia and Malaysia. BMC Publ Health. 2010;10:743. doi:10.1186/1471-2458-10-743.

13.

Strang DG, Gagnon M, Molloy DW, Darzins P, Etchells E, Bédard M, Davidson W. Development of a standardized, comprehensive 'ideal drug detail'. Can J Clin Pharmacol. 2001;8(2):73–77.

14.

Cegedim Strategic Data - CSD – Global Promotion Database, 2009–2010. www.cegedim.com.

15.

Health Canada. Regulation of Health Product Advertising in Canada – Overview for Physicians. Ottawa: July 11, 2011. Available at: http://www.hc-sc.gc.ca/dhp-mps/advert-publicit/pol/overview-apercu-eng.php. Accessed January 24, 2013.

16.

US Food and Drug Administration (FDA). Truthful Prescription Drug Advertising and Promotion (Bad Ad Program). Updated July 18, 2012. Available at: http://www.fda.gov/Drugs/GuidanceComplianceRegulatoryInformation/Surveillance/DrugMarketingAdvertisingandCommunications/ucm209384.htm#RecognizeReport. Accessed January 24, 2013.

17.

Haute Autorité de la Santé (H.A.S.) Questions Réponses Rélatives à la Certification de la Visite Médicale. October 2009. Available at : http://www.has-sante.fr/portail/jcms/c_334342/referentiel-de-certification-de-la-visite-medicale. Accessed January 24, 2013.

18.

Fugh-Berman A, Ahari S. Following the script: how drug reps make friends and influence doctors. PLoS Med. 2007;4(4):e150. doi:10.1371/journal.pmed.0040150.

19.

Ziegler MG, Lew P, Singer BC. The accuracy of drug information from pharmaceutical sales representatives. JAMA. 1995;273:1296–8.

20.

Sernyak M, Rosenheck R. Experience of VA psychiatrists with pharmaceutical detailing of antipsychotic medications. Psychiatr Serv. 2007;58:1292–1296.
Author Contributions
BM had the primary responsibility for development of the study protocol and data collection tools, implemented the Vancouver study arm, oversaw data collection, wrote the plan for analysis, oversaw data cleaning, participated in data analysis, and drafted and revised the paper. She is the guarantor. JL was involved in protocol development and questionnaire design, plans for analysis, and drafting and revisions of the paper. JMS contributed to planning of data analysis, carried out statistical analysis, assisted in interpretation, and participated in drafting and revision of the manuscript. MD-B, MSW, GD and ER assisted in protocol development and instrument design, data interpretation and revisions of the manuscript; MD-B implemented the Montreal study arm; MSW the Sacramento study arm, and GD the Toulouse study arm. ER oversaw study administration in all four sites.
Barbara Mintzes had full access to all the data in the study and takes responsibility for the integrity of the data and accuracy of data analysis.
Acknowledgements: Contributors
We would like to thank the following people for their assistance with this study: Ken Bassett, Jim Wright, Alan Cassels, Aaron Tejani, Steve Morgan, Morris Barer, Florence Vandevelde, Line Guénette, Jean-Louis Montastruc, Les Toop, Dee Mangin, Libby Roughead, and Noordin Othman, for assistance with development of survey materials and study design; Theresa Lo, for her research on safety advisories; Chris Adlparvar for website development; Gisèle Foucault for translation; Aileen To and Jocelyne Gagne for administrative support; Lucy Lu, Kelp Watson, Amelia Daly, Neha Musini, Linda Lewis, Meghan Webb, Robert Renteria, Sara Pilote, Stacy Hayashi, Christine Dumolard, Marie Bounouh, Assia Meloua, Audrayanne Desjardins, and Jocelyne Bastien and Fabrice Amatulli, Union Régionale des Professionnels de Santé - Médecins Libéraux - Midi-Pyrénées, for assistance with recruitment of physicians; Anat Fisher, Herbert Fisher, Stephen Adams, Haithem Hamdi and Alexandra Laugerotte for coding of consistency with approved product information, and Pierre Biron for adjudication. Finally, we would like to extend our thanks to all of the physicians who participated in the study; without your help, this study would not have been possible.
Funders
This study was funded by the Institute of Health Services and Policy Research, Canadian Institutes of Health Research, and by Michael Smith Health Research Foundation. The funders had no involvement in the design or conduct of the study; in the collection, management, analysis, or interpretation of the data; or in preparation, review, or approval of the manuscript or decision to submit for publication.
Prior Presentation
Preliminary results of this study were presented in a poster at the 11th Annual International Society of Pharmacovigilance meeting in Istanbul, Turkey, in October 2011, and an oral presentation at the Canadian Cochrane Colloquium, Vancouver, B.C., February 2011.
Conflict of Interest
In 2010 Joel Lexchin was an expert witness for a law firm representing the family of a plaintiff who allegedly died from an adverse reaction from a product made by Allergan. He is currently on the Management Board of Healthy Skepticism Inc. Marie-Dominique Beaulieu is currently President of the College of Family Physicians of Canada (CFPC) (November 16 2012 to November 5 2013). She was not in this position when the study was conducted. None of the other authors have any conflicts of interest to declare.
About this article
Cite this article
Mintzes, B., Lexchin, J., Sutherland, J.M. et al. Pharmaceutical Sales Representatives and Patient Safety: A Comparative Prospective Study of Information Quality in Canada, France and the United States. J GEN INTERN MED 28, 1368–1375 (2013). https://doi.org/10.1007/s11606-013-2411-7
Received:

Revised:

Accepted:

Published:

Issue Date:
KEY WORDS
health policy

patient safety

primary care

health services research