ABSTRACT
BACKGROUND
Previous studies have reported that health literacy limitations are associated with poorer disease control for chronic conditions, but have not evaluated potential associations with medication adherence.
OBJECTIVE
To determine whether health literacy limitations are associated with poorer antidepressant medication adherence.
DESIGN
Observational new prescription cohort follow-up study.
PARTICIPANTS
Adults with type 2 diabetes who completed a survey in 2006 and received a new antidepressant prescription during 2006–2010 (N = 1,366) at Kaiser Permanente Northern California.
MAIN MEASURES
Validated three-item self-report scale measured health literacy. Discrete indices of adherence based on pharmacy dispensing data according to validated methods: primary non-adherence (medication never dispensed); early non-persistence (dispensed once, never refilled); non-persistence at 180 and 365 days; and new prescription medication gap (NPMG; proportion of time that the person is without medication during 12 months after the prescription date).
KEY RESULTS
Seventy-two percent of patients were classified as having health literacy limitations. After adjusting for sociodemographic and clinical covariates, patients with health literacy limitations had significantly poorer adherence compared to patients with no limitations, whether measured as early non-persistence (46 % versus 38 %, p < 0.05), non-persistence at 180 days (55 % versus 46 %, p < 0.05), or NPMG (41 % versus 36%, p < 0.01). There were no significant associations with primary adherence or non-persistence at 365 days.
CONCLUSIONS
Poorer antidepressant adherence among adults with diabetes and health literacy limitations may jeopardize the continuation and maintenance phases of depression pharmacotherapy. Findings underscore the importance of national efforts to address health literacy, simplify health communications regarding treatment options, improve public understanding of depression treatment, and monitor antidepressant adherence.
Access options
Buy single article
Instant access to the full article PDF.
US$ 39.95
Tax calculation will be finalised during checkout.
Subscribe to journal
Immediate online access to all issues from 2019. Subscription will auto renew annually.
US$ 79
Tax calculation will be finalised during checkout.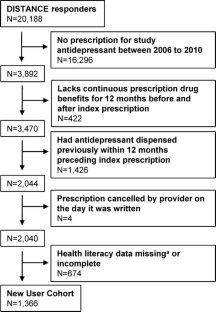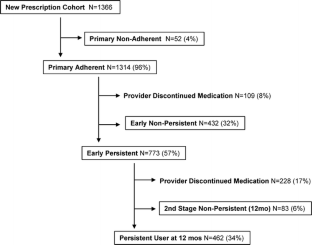 REFERENCES
1.

Nielsen-Bohlman L, Panzer AM, Kindig DA, eds. Health Literacy: A Prescription to End Confusion. Washington: National Academies Press; 2004.

2.

Kutner M, Greenberg E, Jin Y, Paulsen C. The health literacy of America's adults: Results from the 2003 National Assessment of Adult Literacy. Washington, DC: U.S. Department of Education. National Center for Education Statistics; 2006.

3.

Benjamin R. Health literacy improvement as a national priority. J Health Commun. 2010;15(Suppl 2):1–3.

4.

Macabasco-O'Connell A, DeWalt DA, Broucksou KA, et al. Relationship between literacy, knowledge, self-care behaviors, and heart failure-related quality of life among patients with heart failure. J Gen Intern Med. 2011;26(9):979–86.

5.

Osborn CY, Paasche-Orlow MK, Davis TC, Wolf MS. Health literacy: an overlooked factor in understanding HIV health disparities. Am J Prev Med. 2007;33(5):374–8.

6.

Osborn CY, Cavanaugh K, Wallston KA, et al. Health literacy explains racial disparities in diabetes medication adherence. J Health Commun. 2011;16(Suppl 3):268–78.

7.

Anderson RJ, Freedland KE, Clouse RE, Lustman PJ. The prevalence of comorbid depression in adults with diabetes: a meta-analysis. Diabetes Care. 2001;24(6):1069–78.

8.

de Groot M, Anderson R, Freedland KE, Clouse RE, Lustman PJ. Association of depression and diabetes complications: a meta-analysis. Psychosom Med. 2001;63(4):619–30.

9.

Lin EH, Katon W, Von Korff M, et al. Relationship of depression and diabetes self-care, medication adherence, and preventive care. Diabetes Care. 2004;27(9):2154–60.

10.

Katon WJ, Rutter C, Simon G, et al. The association of comorbid depression with mortality in patients with type 2 diabetes. Diabetes Care. 2005;28(11):2668–72.

11.

Katon W, Lyles CR, Parker MM, Karter AJ, Huang ES, Whitmer RA. Association of depression with increased risk of dementia in patients with type 2 diabetes: the diabetes and aging study. Arch Gen Psychiatry. 2012;69(4):410–7.

12.

Sullivan MD, O'Connor P, Feeney P, et al. Depression predicts all-cause mortality: epidemiological evaluation from the ACCORD HRQL substudy. Diabetes Care. 2012;35(8):1708–15.

13.

Katon WJ, Simon G, Russo J, et al. Quality of depression care in a population-based sample of patients with diabetes and major depression. Med Care. 2004;42(12):1222–9.

14.

Berkman ND, Sheridan SL, Donahue KE, Halpern DJ, Crotty K. Low health literacy and health outcomes: an updated systematic review. Ann Intern Med. 2011;155(2):97–107.

15.

Carter JS, Pugh JA, Monterrosa A. Non-insulin-dependent diabetes mellitus in minorities in the United States. Ann Intern Med. 1996;125(3):221–32.

16.

Zhang Q, Wang Y, Huang ES. Changes in racial/ethnic disparities in the prevalence of type 2 diabetes by obesity level among US adults. Ethn Health. 2009;14(5):439–57.

17.

Duru OK, Gerzoff RB, Selby JV, et al. Identifying risk factors for racial disparities in diabetes outcomes: the translating research into action for diabetes study. Med Care. 2009;47(6):700–6.

18.

American Psychiatric Association. Practice Guideline for the Treatment of Patients with Major Depressive Disorder. 3rd ed. Washington: American Psychiatric Association; 2010.

19.

Karter AJ, Ferrara A, Liu JY, Moffet HH, Ackerson LM, Selby JV. Ethnic disparities in diabetic complications in an insured population. JAMA. 2002;287(19):2519–27.

20.

Moffet HH, Adler N, Schillinger D, et al. Cohort profile: The Diabetes Study of Northern California (DISTANCE)—objectives and design of a survey follow-up study of social health disparities in a managed care population. Int J Epidemiol. 2009;38(1):38–47.

21.

Chew LD, Bradley KA, Boyko EJ. Brief questions to identify patients with inadequate health literacy. Fam Med. 2004;36(8):588–94.

22.

Chew LD, Griffin JM, Partin MR, et al. Validation of screening questions for limited health literacy in a large VA outpatient population. J Gen Intern Med. 2008;23(5):561–6.

23.

Sarkar U, Schillinger D, Lopez A, Sudore R. Validation of self-reported health literacy questions among diverse English and Spanish-speaking populations. J Gen Intern Med. 2011;26(3):265–71.

24.

Sarkar U, Karter AJ, Liu JY, et al. The literacy divide: health literacy and the use of an internet-based patient portal in an integrated health system—results from the diabetes study of northern California (DISTANCE). J Health Commun. 2010;15(Suppl 2):183–96.

25.

Karter AJ, Parker MM, Moffet HH, Ahmed AT, Schmittdiel JA, Selby JV. New prescription medication gaps: a comprehensive measure of adherence to new prescriptions. Health Serv Res. 2009;44(5 Pt 1):1640–61.

26.

Zou GY. A modified Poisson regression approach to prospective studies with binary data. Am J Epidemiol. 2004;159(7):702–6.

27.

Cheung YB. A modified least-squares regression approach to the estimation of risk difference. Am J Epidemiol. 2007;166(11):1337–44.

28.

Horvitz DG, Thompson DJ. A generalization of sampling without replacement from a finite universe. J Am Stat Assoc. 1952;47(260):663–85.

29.

Olfson M, Marcus SC, Tedeschi M, Wan GJ. Continuity of antidepressant treatment for adults with depression in the United States. Am J Psychiatry. 2006;163(1):101–8.

30.

Wu CH, Erickson SR, Piette JD, Balkrishnan R. The association of race, comorbid anxiety, and antidepressant adherence among Medicaid enrollees with major depressive disorder. Res Soc Adm Pharm. 2012;8(3):193–205.

31.

Katon WJ, Von Korff M, Lin EHB, et al. The Pathways Study: a randomized trial of collaborative care in patients with diabetes and depression. Arch Gen Psychiatry. 2004;61(10):1042–9.

32.

Katon WJ, Lin EH, Von Korff M, et al. Collaborative care for patients with depression and chronic illnesses. N Engl J Med. 2010;363(27):2611–20.

33.

Schillinger D, Bindman A, Wang F, Stewart A, Piette J. Functional health literacy and the quality of physician–patient communication among diabetes patients. Patient Educ Couns. 2004;52(3):315–23.

34.

Swenson SL, Rose M, Vittinghoff E, Stewart A, Schillinger D. The influence of depressive symptoms on clinician–patient communication among patients with type 2 diabetes. Med Care. 2008;46(3):257–65.

35.

Lin EH, Von Korff M, Ciechanowski P, et al. Treatment adjustment and medication adherence for complex patients with diabetes, heart disease, and depression: a randomized controlled trial. Ann Fam Med. 2012;10(1):6–14.

36.

Cooper LA, Gonzales JJ, Gallo JJ, et al. The acceptability of treatment for depression among African-American, Hispanic, and white primary care patients. Med Care. 2003;41(4):479–89.

37.

Givens JL, Houston TK, Van Voorhees BW, Ford DE, Cooper LA. Ethnicity and preferences for depression treatment. Gen Hosp Psychiatry. 2007;29(3):182–91.
Acknowledgements
This research was supported by funding from the National Institutes of Health (R01-DK080726, R01-DK081796, P30-DK092924, and NCATS Grant KL2 TR000421). This research reported in this manuscript was presented at the annual meeting of the Academy of Psychosomatic Medicine in Atlanta GA, November 2012.
Conflict of Interest
Dr. Katon has received honoraria for CME lectures from Pfizer, Forest, and Eli Lilly and is on the advisory board for Eli Lilly. The authors report no other potential conflicts of interest.
Electronic supplementary material
Below is the link to the electronic supplementary material.
Sensitivity analyses demonstrating the associations between health literacy limitations, race/ethnicity, and antidepressant medication adherence (DOCX 31 kb)
About this article
Cite this article
Bauer, A.M., Schillinger, D., Parker, M.M. et al. Health Literacy and Antidepressant Medication Adherence Among Adults with Diabetes: The Diabetes Study of Northern California (DISTANCE). J GEN INTERN MED 28, 1181–1187 (2013). https://doi.org/10.1007/s11606-013-2402-8
Received:

Revised:

Accepted:

Published:

Issue Date:
KEY WORDS
health literacy

medication adherence

antidepressive agents

diabetes mellitus

healthcare disparities