ABSTRACT
BACKGROUND
Empiric proton pump inhibitor use is common for gastroesophageal reflux disease (GERD), but initial proton pump inhibitor (PPI) prescription patterns in Veterans are unknown.
OBJECTIVE
The study aims were to determine initial PPI prescriptions in Veterans diagnosed with GERD, and to characterize subsequent PPI use over the 2 years following initial prescription.
DESIGN
We conducted a retrospective study using Veteran's Administration (VA) administrative data and chart review.
STUDY POPULATION
Patients diagnosed with GERD and provided an initial PPI prescription at Hines VA Hospital from 2003 to 2007, with 2 year follow-up for each patient (through 2009).
MEASURES and OUTCOMES
Initial PPI prescriptions were categorized as standard total daily dose or high total daily dose, and accuracy was confirmed by manual chart review. Descriptive statistics were calculated and bivariate analyses were used to assess for differences in demographics, prescriptions, and subsequent use by initial PPI dosage category.
RESULTS
Of the 1,621 patients included in the study, 378 (23.3 %) had high total daily dose initial PPI prescriptions and 1,243 (76.7 %) patients had standard total daily dose initial prescriptions. The majority of patients (65.8 %) received a 90-day or greater initial prescription. Over the 2 years following the initial PPI prescription, 13.0 % of patients with initial standard daily dose prescriptions had evidence of step-up therapy. Only 7.1 % of patients with initial high daily dose PPI prescriptions had evidence of step-down therapy. A large majority of patients (83.8 %) had at least one refill over 2 years, and the overall medication possession ratio was 0.86.
CONCLUSIONS
Many Veterans receive high total daily dose PPI prescriptions as initial therapy for a GERD diagnosis, and few patients have evidence for cessation or reduction of therapy. These results provide detailed data on prescribing and use of PPIs to help guide efforts for optimal PPI use in US Veterans.
Access options
Buy single article
Instant access to the full article PDF.
US$ 39.95
Tax calculation will be finalised during checkout.
Subscribe to journal
Immediate online access to all issues from 2019. Subscription will auto renew annually.
US$ 79
Tax calculation will be finalised during checkout.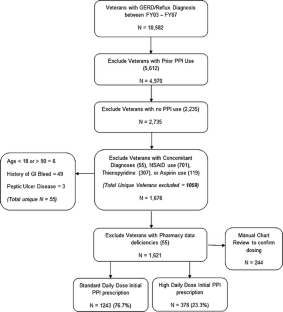 Abbreviations
GERD:

Gastroesophageal reflux disease

PPI:

Proton pump inhibitor

H2RA:

Histamine receptor 2 antagonists

VA:

Veteran's administration

NSAID:

Non-steroidal anti-inflammatory drug

DSS:

Decision support system

NDE:

National data extracts

MPR:

Medication possession ratio

CCR:

Computerized clinical reminders

ABIM:

American Board of Internal Medicine

AGA:

American Gastroenterology Association
REFERENCES
1.

Everhart JE, Ruhl CE. Burden of digestive diseases in the United States part I: overall and upper gastrointestinal diseases. Gastroenterol. 2009;136:376–386.

2.

Caro JJ, Salas M, Ward A. Healing and Relapse Rates in Gastroesophageal Reflux Disease Treated with the Newer Proton-Pump Inhibitors Lansoprazole, Rabeprazole, and Pantoprazole Compared with Omeprazole, Ranitidine, and Placebo: Evidence from Randomized Clinical Trials. Clin Ther. 2001;23:998–1017.

3.

Weijenborg PW, Cremonini F, Smout AJ, et al. PPI therapy is equally effective in well-defined non-erosive reflux disease and in reflux esophagitis: a meta-analysis. Neurogastroenterol Motil. 2012;24:747–57.

4.

Kahrilas PJ, Shaheen NJ, Vaezi MF, et al. American Gastroenterological Association Medical Position Statement on the management of gastroesophageal reflux disease. Gastroenterol. 2008;135:1383–1391.

5.

Heidelbaugh JJ, Goldberg KL, Inadomi JM, Suppl. Overutilization of proton pump inhibitors: a review of cost-effectiveness and risk [corrected]. Am J Gastroenterol. 2009;104(Suppl):S27–32.

6.

Naunton M, Peterson GM, Bleasel MD. Overuse of proton pump inhibitors. J Clin Pharm Ther. 2000;25:333–340.

7.

Heidelbaugh JJ, Goldberg KL, Inadomi JM. Magnitude and economic effect of overuse of antisecretory therapy in the ambulatory care setting. Am J Manag Care. 2010;16:e228–34.

8.

Linsky A, Gupta K, Lawler EV, et al. Proton pump inhibitors and risk for recurrent Clostridium difficile infection. Arch Intern Med. 2010;170:772–778.

9.

Howell MD, Novack V, Grgurich P, et al. Iatrogenic gastric acid suppression and the risk of nosocomial Clostridium difficile infection. Arch Intern Med. 2010;170:784–90.

10.

Gray SL, LaCroix AZ, Larson J, et al. Proton pump inhibitor use, hip fracture, and change in bone mineral density in postmenopausal women: results from the Women's Health Initiative. Arch Intern Med. 2010;170:765–771.

11.

Kahrilas P. Clinical practice. Gastroesophageal reflux disease. N Engl J Med. 2008;359:1700–1707.

12.

American Gastroenterological Association. Choosing Wisely: Five Things Physicians and Patients Should Question. 2012. Available at: http://www.choosingwisely.org/ [Accessed April 6, 2012].

13.

Pandolfino JE, Vela MF. Esophageal-reflux monitoring. Gastrointest Endosc. 2009;69:917–30. 930 e1.

14.

George CJ, Korc B, Ross JS. Appropriate proton pump inhibitor use among older adults: a retrospective chart review. Am J Geriatr Pharmacother. 2008;6:249–254.

15.

Heidelbaugh JJ, Inadomi JM. Magnitude and economic impact of inappropriate use of stress ulcer prophylaxis in non-ICU hospitalized patients. Am J Gastroenterol. 2006;101:2200–2205.

16.

Bradley MC, Fahey T, Cahir C, et al. Potentially inappropriate prescribing and cost outcomes for older people: a cross-sectional study using the Northern Ireland Enhanced Prescribing Database. Eur J Clin Pharmacol 2012.

17.

Hollingworth S, Duncan EL, Martin JH. Marked increase in proton pump inhibitors use in Australia. Pharmacoepidemiol Drug Saf. 2010;19:1019–1024.

18.

Gosselin A, Luo R, Lohoues H, et al. The impact of proton pump inhibitor compliance on health-care resource utilization and costs in patients with gastroesophageal reflux disease. Value Health. 2009;12:34–39.

19.

Hungin APS, Hill C, Molloy-Bland M, et al. Systematic review: Patterns of proton pump inhibitor use and adherence in gastroesophageal reflux disease. Clin Gastroenterol Hepatol. 2012;10:109–16.

20.

Pillans PI, Kubler PA, Radford JM, et al. Concordance between use of proton pump inhibitors and prescribing guidelines. Med J Aust. 2000;172:16–18.

21.

Abraham NS, Hartman C, Castillo D, et al. Effectiveness of national provider prescription of PPI gastroprotection among elderly NSAID users. Am J Gastroenterol. 2008;103:323–32.

22.

El-Serag HB, Wieman M, Richardson P. The use of acid-decreasing medication in veteran patients with gastro-oesophageal reflux disorder with and without Barrett's oesophagus. Aliment Pharmacol Ther. 2008;27:1293–1299.

23.

El-Serag HB. Temporal trends in new and recurrent esophageal strictures in Department of Veterans Affairs. Am J Gastroenterol. 2006;101:1727–33.

24.

Yang Y-X, Lewis JD, Epstein S, et al. Long-term proton pump inhibitor therapy and risk of hip fracture. JAMA. 2006;296:2947–53.

25.

Ngamruengphong S, Leontiadis GI, Radhi S, et al. Proton pump inhibitors and risk of fracture: a systematic review and meta-analysis of observational studies. Am J Gastroenterol. 2011;106:1209–18. quiz 1219.

26.

Abraham NS, El-Serag HB, Johnson ML, et al. National adherence to evidence-based guidelines for the prescription of nonsteroidal anti-inflammatory drugs. Gastroenterol. 2005;129:1171–1178.

27.

Gurbel PA, Tantry US. Antiplatelet therapy: Clopidogrel-PPI interaction, an ongoing controversy. Nat Rev Cardiol. 2011;8:7–8.

28.

Van Soest EM, Siersema PD, Dieleman JP, et al. Persistence and adherence to proton pump inhibitors in daily clinical practice. Aliment Pharmacol Ther. 2006;24:377–385.

29.

El-Serag HB, Fitzgerald S, Richardson P. The extent and determinants of prescribing and adherence with acid-reducing medications: a national claims database study. Am J Gastroenterol. 2009;104:2161–2167.

30.

Charlson ME, Pompei P, Ales KL, et al. A new method of classifying prognostic comorbidity in longitudinal studies: development and validation. J Chronic Dis. 1987;40:373–83.

31.

Gadzhanova SV, Roughead EE, Mackson JM. Initiation and duration of proton pump inhibitors in the Australian veteran population. Intern Med J 2010.

32.

Inadomi J, McIntyre L, Bernard L, et al. Step-down from multiple- to single-dose proton pump inhibitors (PPIs): a prospective study of patients with heartburn or acid regurgitation completely relieved with PPIs. Am J Gastroenterol. 2003;98:1940–1944.

33.

Ostini R, Jackson C, Hegney D, et al. How is medication prescribing ceased? A Systematic Review. Medical Care. 2011;49:24–36.

34.

Hershcovici T, Fass R. An algorithm for diagnosis and treatment of refractory GERD. Best Pract Res Clin Gastroenterol. 2010;24:923–936.

35.

Dickman R, Boaz M, Aizic S, et al. Comparison of clinical characteristics of patients with gastroesophageal reflux disease who failed proton pump inhibitor therapy versus those who fully responded. J Neurogastroenterol Motil. 2011;17:387–94.

36.

Kahrilas PJ, Shaheen NJ, Vaezi MF. American Gastroenterological Association Institute technical review on the management of gastroesophageal reflux disease. Gastroenterol. 2008;135:1392–1413.
Acknowledgements
We would like to acknowledge Dr. Elizabeth Tarlov, Ph.D. (VA Information Resource Center (VIReC), Edward Hines Jr. VA) for her assistance with defining measures from the VA pharmacy data set.
This work was directly funded by a VA HSR&D grant (LIP#42-131) provided through the Center for Management of Complex Chronic Care (co-PIs: Drs. Gawron and LaVela). Dr. Gawron is a National Research Service Award postdoctoral fellow at the Center for Healthcare studies under an institutional award from the Agency for Healthcare Research and Quality, T-32 HS 000078 (PI: Jane L. Holl, MD MPH).
Portions of this work were previously presented in abstract form (oral presentation) at Digestive Disease Week (May 2012, San Diego, CA).
Conflict of Interest
This material is based on work supported by the Office of Research and Development, Health Services Research and Development of the Department of Veterans Affairs. This paper reflects only the authors' opinions and does not necessarily reflect the official position of the Department of Veterans Affairs. Dr. Pandolfino serves as a consultant for Given, Sandhill, and Shire, and on the advisory board for Crospon. None of the authors have a financial or other relationship that might signify a direct conflict of interest.
About this article
Cite this article
Gawron, A.J., Pandolfino, J.E., Miskevics, S. et al. Proton Pump Inhibitor Prescriptions and Subsequent Use in US Veterans Diagnosed with Gastroesophageal Reflux Disease. J GEN INTERN MED 28, 930–937 (2013). https://doi.org/10.1007/s11606-013-2345-0
KEY WORDS
drug

GERD

prescriptions

Veteran Health Affairs