ABSTRACT
BACKGROUND
Nonmedical use of prescription psychostimulants such as methylphenidate and amphetamine salts for the purpose of cognitive enhancement is a growing trend, particularly in educational environments. To our knowledge, no recent studies have evaluated the use of these psychostimulants in a medical academic setting.
OBJECTIVE
To conduct an online census of psychostimulant use among medical students.
DESIGN
In 2011, we conducted a multi-institutional census using a 31–48 item online survey regarding use of prescription psychostimulants.
PARTICIPANTS
2,732 actively enrolled medical students at four private and public medical schools in the greater Chicago area.
MAIN MEASURES
Prevalence and correlates of psychostimulant use
KEY RESULTS
1,115 (41 %) of students responded to the web-based questionnaire (range 26–47 % among schools). On average, students were 25.1 years of age (SD = 2.7, range 20–49), and single (70 %). Overall, 18 % (198/1,115) of this medical student sample had used prescription psychostimulants at least once in their lifetime, with first use most often in college. Of these, 11 % (117/1,115) of students reported use during medical school (range 7–16 % among schools). Psychostimulant use was significantly correlated with use of barbiturates, ecstasy, and tranquilizers (Pearson's correlation r > 0.5, Student's t-test p < 0.01); male gender (21 % male versus 15 % female, Chi squared p = 0.007); and training at a medical school which by student self-report determined class rank (68 % versus 51 %, Chi-squared p = 0.018). Non-users were more likely to be first year students (Chi-squared p = 0.048) or to have grown up outside of the United States (Chi-squared p = 0.013).
CONCLUSIONS
Use of psychostimulants, including use without a prescription, is common among medical students. Further study of the side effects, medical implications, and use during post-graduate medical training and medical practice is needed to inform evidence-based policy.
Access options
Buy single article
Instant access to the full article PDF.
USD 39.95
Price includes VAT (USA)
Tax calculation will be finalised during checkout.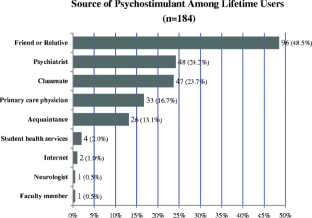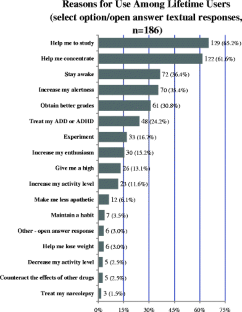 REFERENCES
1.

Butcher J. Cognitive enhancement raises ethical concerns. Academics urge pre-emptive debate on neurotechnologies. Lancet. 2003;362(9378):132–3.

2.

Prescription drug abuse: a fast-growing problem. NIH Medline Plus. 2011;6(3):21.

3.

Wilens TE, Adler LA, Adams J, et al. Misuse and diversion of stimulants prescribed for ADHD: a systematic review of the literature. J Am Acad Child Adolesc Psychiatry. 2008;47(1):21–31.

4.

Kollins SH. ADHD, substance use disorders, and psychostimulant treatment: current literature and treatment guidelines. J Atten Disord. 2008;12(2):115–25.

5.

American Academy of Family Physicians Conditions A to Z. Attention Deficit Hyperactivity Disorder (ADHD) and Attention Deficit Disorder (ADD) 2009.; http://online.statref.com/document.aspx?fxid=99&docid=11. Accessed Feburary 23, 2012.

6.

Ropper A, Brown R. Adams and Victor's Principles of Neurology. 8th ed. New York: The McGraw-Hill Publishing Company; 2005.

7.

Zeeuws I, Deroost N, Soetens E. Effect of an acute d-amphetamine administration on context information memory in healthy volunteers: evidence from a source memory task. Hum Psychopharmacol. 2010;25(4):326–34.

8.

Soetens E, Casaer S, D'Hooge R, Hueting JE. Effect of amphetamine on long-term retention of verbal material. Psychopharmacology. 1995;119(2):155–62.

9.

Zeeuws I, Soetens E. Verbal memory performance improved via an acute administration of D-amphetamine. Hum Psychopharmacol. 2007;22(5):279–87.

10.

Soetens E, D'Hooge R, Hueting JE. Amphetamine enhances human-memory consolidation. Neurosci Lett. 1993;161(1):9–12.

11.

Porter RS. The Merk Manual Home Health Handbook. In: Porter RS, ed. Amphetamines: Merk; 2011: http://www.merckmanuals.com/home/special_subjects/drug_use_and_abuse/amphetamines.html?qt=amphetamines&alt=sh. Accessed Feburary 23, 2012.

12.

Volkow ND, Fowler JS, Logan J, et al. Effects of modafinil on dopamine and dopamine transporters in the male human brain: clinical implications. JAMA. 2009;301(11):1148–54.

13.

United States Congress. U.S. Substances Control Act. Vol 84 Stat. 12421970.

14.

Teter CJ, McCabe SE, LaGrange K, Cranford JA, Boyd CJ. Illicit use of specific prescription stimulants among college students: prevalence, motives, and routes of administration. Pharmacotherapy. 2006;26(10):1501–10.

15.

Baldwin DC Jr, Hughes PH, Conard SE, Storr CL, Sheehan DV. Substance use among senior medical students. A survey of 23 medical schools. JAMA. 1991;265(16):2074–8.

16.

Croen LG, Woesner M, Herman M, Reichgott M. A longitudinal study of substance use and abuse in a single class of medical students. Acad Med. 1997;72(5):376–81.

17.

Flaherty JA, Richman JA. Substance use and addiction among medical students, residents, and physicians. Psychiatr Clin N Am. 1993;16(1):189–97.

18.

Rai D, Gaete J, Girotra S, Pal HR, Araya R. Substance use among medical students: time to reignite the debate? Nat Med J India. 2008;21(2):75–8.

19.

Kumar P, Basu D. Substance abuse by medical students and doctors. J Indian Med Assoc. 2000;98(8):447–52.

20.

Shyangwa PM, Joshi D, Lal R. Alcohols and other substance use/abuse among junior doctors and medical students in a teaching institute. JNMA. 2007;46(167):126–9.

21.

Newbury-Birch D, Walshaw D, Kamali F. Drink and drugs: from medical students to doctors. Drug Alcohol Depend. 2001;64(3):265–70.

22.

Harris S. "I Don't See It as a Problem": More Medical Students Taking Prescription Stimulants, Few See Cause for Concern. AAMC Reporter. 2009;June Edition.

23.

Johnston LD, O'Malley PM, Bachman JG, Schulenberg JE. Monitoring the future national survey results on drug use, 1975–2011. Annu Vol Trends Drug Use Relat Factors. 2012;2:314.

24.

Dutta AP, Pyles MA, Miederhoff PA. Stress in health professions students: myth or reality? A review of the existing literature. J Natl Black Nurses Assoc. 2005;16(1):63–8.

25.

Dyrbye LN, Thomas MR, Shanafelt TD. Systematic review of depression, anxiety, and other indicators of psychological distress among U.S. and Canadian medical students. Acad Med. 2006;81(4):354–73.

26.

Dyrbye LN, Thomas MR, Huntington JL, et al. Personal life events and medical student burnout: a multicenter study. Acad Med. 2006;81(4):374–84.

27.

Webb J, Thomas J, Valaseck M. Contemplating cognitive enhancement in medical students and residents. Perspect Biol Med. 2010;53(2):200–14.

28.

Goebert D. Depressive symptoms in medical students and residents: a multi-school study. Acad Med. 2009;84(2):236–41.

29.

Strine TW. Metropolitan and micropolitan statistical area estimates of depression and anxiety using the patient health questionaire-8 in the 2006 behavioral risk factor surveillance system. Int J Public Health. 2009;54(2):117–24.

30.

Smith ME, Farah MJ. Are prescription stimulants "smart pills"? The epidemiology and cognitive neuroscience of prescription stimulant use by normal healthy individuals. Psychol Bull. 2011;137(5):717–41.

31.

Greely H, Sahakian B, Harris J, et al. Towards responsible use of cognitive-enhancing drugs by the healthy. Nature. 2008;456(7223):702–5.

32.

Rose SH, Curry TB. Fatigue, countermeasures, and performance enhancement in resident physicians. Mayo Clin Proc. 2009;84(11):955–7.

33.

Marsden P, Wright J. Handbook of Survey Research. 2nd ed: Emerald Publishing Group Limited; 2010.
Acknowledgements
The authors wish to thank Marina Wolf, Ph.D., Department of Neuroscience, Rosalind Franklin University of Medicine and Science, for her contributions to the study conception and to manuscript preparation, and Holly Geyer, M.D., Department of Internal Medicine, Mayo Clinic, for her contributions to the study conception.
Funding was provided with support from Rosalind Franklin University of Medicine and Science.
Ethical approval has been granted for this study from Institutional Review Boards of all participating schools.
The contents of this article do not represent the views of the Department of Veterans Affairs or the United States Government.
Conflict of Interest
The authors declare that they do not have a conflict of interest.
Additional information
The contents of this article do not represent the views of the Department of Veterans Affairs or the United States Government. Funding for this project was provided through an educational development fund at Rosalind Franklin University of Medicine and Science.
About this article
Cite this article
Emanuel, R.M., Frellsen, S.L., Kashima, K.J. et al. Cognitive Enhancement Drug Use Among Future Physicians: Findings from a Multi-Institutional Census of Medical Students. J GEN INTERN MED 28, 1028–1034 (2013). https://doi.org/10.1007/s11606-012-2249-4
KEY WORDS
cognitive enhancement

nootropics

amphetamine salts

methylphenidate

medical students

drug use