ABSTRACT
BACKGROUND
Use of proton pump inhibitors (PPIs) is associated with community-acquired pneumonia (CAP), an association which may be confounded by unobserved patient and prescriber characteristics.
OBJECTIVE
We assessed for confounding in the association between PPI use and CAP by using a 'falsification approach,' which estimated whether PPI use is also implausibly associated with other common medical conditions for which no known pathophysiologic link exists.
DESIGN
Retrospective claims-based cohort study.
SETTING
Six private U.S. health plans.
SUBJECTS
Individuals who filled at least one prescription for a PPI (N = 26,436) and those who never did (N = 28,054) over 11 years.
INTERVENTIONS
Multivariate linear regression of the association between a filled prescription for a PPI and a diagnosis of CAP in each 3-month quarter. In falsification analyses, we tested for implausible associations between PPI use in each quarter and rates of osteoarthritis, chest pain, urinary tract infection (UTI), deep venous thrombosis (DVT), skin infection, and rheumatoid arthritis. Independent variables included an indicator for whether a prescription for a PPI was filled in a given quarter, and quarterly indicators for various co-morbidities, age, income, geographic location, and marital status.
KEY RESULTS
Compared to nonusers, those ever using a PPI had higher adjusted rates of CAP in quarters in which no prescription was filled (68 vs. 61 cases per 10,000 persons, p < 0.001). Similar associations were noted for all conditions (e.g. chest pain, 336 vs. 282 cases, p < 0.001; UTI, 151 vs. 139 cases, p < 0.001). Among those ever using a PPI, quarters in which a prescription was filled were associated with higher adjusted rates of CAP (111 vs. 68 cases per 10,000, p < 0.001) and all other conditions (e.g. chest pain, 597 vs. 336 cases, p < 0.001; UTI, 186 vs. 151 cases, p < 0.001), compared to quarters in which no prescription was filled.
CONCLUSION
PPI use is associated with CAP, but also implausibly associated with common medical conditions. Observed associations between PPI use and CAP may be confounded.
Access options
Buy single article
Instant access to the full article PDF.
US$ 39.95
Tax calculation will be finalised during checkout.
Subscribe to journal
Immediate online access to all issues from 2019. Subscription will auto renew annually.
US$ 79
Tax calculation will be finalised during checkout.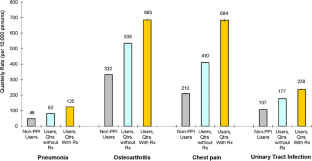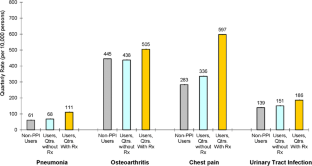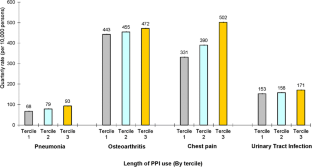 REFERENCES
1.

Laheij RJ, Sturkenboom MC, Hassing RJ, Dieleman J, Stricker BH, Jansen JB. Risk of community-acquired pneumonia and use of gastric acid-suppressive drugs. JAMA. 2004;292(16):1955–1960.

2.

Sarkar M, Hennessy S, Yang YX. Proton-pump inhibitor use and the risk for community-acquired pneumonia. Ann Intern Med. 2008;149(6):391–398.

3.

Gulmez SE, Holm A, Frederiksen H, Jensen TG, Pedersen C, Hallas J. Use of proton pump inhibitors and the risk of community-acquired pneumonia: a population-based case–control study. Arch Intern Med. 2007;167(9):950–955.

4.

Howden CW, Hunt RH. Relationship between gastric secretion and infection. Gut. 1987;28(1):96–107.

5.

Giannella RA, Broitman SA, Zamcheck N. Influence of gastric acidity on bacterial and parasitic enteric infections. A perspective. Ann Intern Med. 1973;78(2):271–276.

6.

Ruddell WS, Axon AT, Findlay JM, Bartholomew BA, Hill MJ. Effect of cimetidine on the gastric bacterial flora. Lancet. 1980;1(8170):672–674.

7.

IMS. Leading Therapy Classes in 2002 Global Pharmaceutical Sales. IMS World Review. Vol. 2010; 2010.

8.

Yang YX, Metz DC. Safety of proton pump inhibitor exposure. Gastroenterology. 2010;139(4):1115–1127.

9.

Logan IC, Sumukadas D, Witham MD. Gastric acid suppressants–too much of a good thing? Age and ageing. 2010;39(4):410–411.

10.

Lodato F, Azzaroli F, Turco L, et al. Adverse effects of proton pump inhibitors. Best Pract Res Clin Gastroenterol. 2010;24(2):193–201.

11.

Trifiro G, Gambassi G, Sen EF, et al. Association of community-acquired pneumonia with antipsychotic drug use in elderly patients: a nested case–control study. Ann Intern Med. 2010;152(7):418–25, W139-40.

12.

Popper KR. The Logic of Scientific Discovery Routledge; 2002.

13.

Heckman JJ, Hotz VJ. Choosing among alternative nonexperimental methods for estimating the impact of social programs: the case of manpower training. J Am Stat Assoc. 1989;84(408):862–874.

14.

Bertrand M, Duflo E, Mullainathan S. How much should We trust differences-in-differences estimates? Q J Econ. 2004;119(1):249–275.

15.

Joyce GF, Escarce JJ, Solomon MD, Goldman DP. Employer drug benefit plans and spending on prescription drugs. JAMA. 2002;288(14):1733–1739.

16.

Goldman DP, Joyce GF, Lawless G, Crown WH, Willey V. Benefit design and specialty drug use. Health Aff (Millwood). 2006;25(5):1319–1331.

17.

Goldman DP, Joyce GF, Escarce JJ, et al. Pharmacy benefits and the use of drugs by the chronically ill. JAMA. 2004;291(19):2344–2350.

18.

Solomon MD, Goldman DP, Joyce GF, Escarce JJ. Cost sharing and the initiation of drug therapy for the chronically ill. Arch Intern Med. 2009;169(8):740–748. discussion 748–9.

19.

Foxman B. Epidemiology of urinary tract infections: incidence, morbidity, and economic costs. Am J Med. 2002;113(Suppl 1A):5S–13S.

20.

Ellis Simonsen SM, van Orman ER, Hatch BE, et al. Cellulitis incidence in a defined population. Epidemiol Infect. 2006;134(2):293–299.

21.

United States Department of H, Human Services. Centers for Disease C, Prevention. National Center for Health S. National Ambulatory Medical Care Survey, 2009. Inter-university Consortium for Political and Social Research (ICPSR) [distributor]; 2011.

22.

Ware JH, Dockery DW, Louis TA, Xu XP, Ferris BG Jr, Speizer FE. Longitudinal and cross-sectional estimates of pulmonary function decline in never-smoking adults. Am J Epidemiol. 1990;132(4):685–700.

23.

Garcia Rodriguez LA, Ruigomez A. Gastric acid, acid-suppressing drugs, and bacterial gastroenteritis: how much of a risk? Epidemiology. 1997;8(5):571–574.

24.

Neal KR, Scott HM, Slack RC, Logan RF. Omeprazole as a risk factor for campylobacter gastroenteritis: case–control study. BMJ. 1996;312(7028):414–415.

25.

Dial S, Alrasadi K, Manoukian C, Huang A, Menzies D. Risk of clostridium difficile diarrhea among hospital inpatients prescribed proton pump inhibitors: cohort and case–control studies. CMAJ. 2004;171(1):33–38.

26.

Linsky A, Gupta K, Lawler EV, Fonda JR, Hermos JA. Proton pump inhibitors and risk for recurrent clostridium difficile infection. Arch Intern Med. 2010;170(9):772–778.

27.

Yang YX, Lewis JD, Epstein S, Metz DC. Long-term proton pump inhibitor therapy and risk of hip fracture. JAMA. 2006;296(24):2947–2953.

28.

Christakis NA, Fowler JH. The spread of obesity in a large social network over 32 years. N Engl J Med. 2007;357(4):370–379.

29.

Cohen-Cole E, Fletcher JM. Detecting implausible social network effects in acne, height, and headaches: longitudinal analysis. BMJ. 2008;337:a2533.
ACKNOWLEDGEMENTS
Contributors
All authors were involved in the study design and concept, interpretation of results and editing of manuscript. Drs. Jena and Sun analysed the data set and wrote the initial manuscript draft. Dr. Jena obtained ethical approval for the project. Dr. Goldman obtained funding. All authors had full access to all of the data (including statistical reports and tables) in the study and can take responsibility for the integrity of the data and the accuracy of the data analysis.
Funding
National Institute on Aging. The design, conduct, analysis, interpretation, and presentation of the data are the responsibility of the investigators, with no involvement from the funding sources.
Prior Presentations
None
Conflict of Interest
The authors declare that they do not have a conflict of interest.
Electronic supplementary material
Below is the link to the electronic supplementary material.
About this article
Cite this article
Jena, A.B., Sun, E. & Goldman, D.P. Confounding in the Association of Proton Pump Inhibitor Use With Risk of Community-Acquired Pneumonia. J GEN INTERN MED 28, 223–230 (2013). https://doi.org/10.1007/s11606-012-2211-5
Received:

Revised:

Accepted:

Published:

Issue Date:
KEY WORDS
proton pump inhibitors

pneumonia

falsification testing