ABSTRACT
In recent years, a newly recognized allergic disease has been uncovered, and seemingly idiopathic causes of anaphylaxis now have an explanation. Individuals bitten by the lone star tick may develop IgE antibodies to the carbohydrate galactose-α-1,3-galactose (alpha-gal). Upon exposure of sensitized subjects to mammalian meat containing alpha-gal on glycoproteins or glycolipids, delayed anaphylaxis may ensue, often three to six hours after ingestion.1 Many of these individuals have negative allergy skin prick tests to meat, further obscuring the diagnosis. With the recent development of IgE alpha-gal tests, the clinical diagnosis can be confirmed in the laboratory.
Access options
Buy single article
Instant access to the full article PDF.
USD 39.95
Price includes VAT (USA)
Tax calculation will be finalised during checkout.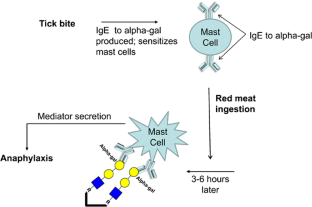 REFERENCES
1.

Commins SP, Satinover SM, Hosen J, et al. Delayed anaphylaxis, angioedema, or urticaria after consumption of red meat in patients with IgE antibodies specific for galactose-alpha-1,3-galactose. J Allergy Clin Immunol. 2009;123(2):426–33.

2.

Chung CH, Mirakhur B, Chan E, et al. Cetuximab-induced anaphylaxis and IgE specific for galactose-alpha-1,3-galactose. N Engl J Med. 2008;358(11):1109–17.

3.

Commins SP, James HR, Kelly LA, et al. The relevance of tick bites to the production of IgE antibodies to the mammalian oligosaccharide galactose-alpha-1,3-galactose. J Allergy Clin Immunol. 2011;127(5):1286,93.e6.

4.

Commins SP, Platts–Mills TA. Anaphylaxis syndromes related to a new mammalian cross-reactive carbohydrate determinant. J Allergy Clin Immunol. 2009;124(4):652–7.

5.

Qian J, Liu T, Yang L, Daus A, Crowley R, Zhou Q. Structural characterization of N-linked oligosaccharides on monoclonal antibody cetuximab by the combination of orthogonal matrix-assisted laser desorption/ionization hybrid quadrupole-quadrupole time-of-flight tandem mass spectrometry and sequential enzymatic digestion. Anal Biochem. 2007;364(1):8–18.

6.

O'Neil BH, Allen R, Spigel DR, et al. High incidence of cetuximab-related infusion reactions in Tennessee and North Carolina and the association with atopic history. J Clin Oncol. 2007;25(24):3644–8.

7.

Chiggers, HYG-2100-98 [Internet]. Columbus, Ohio: Ohio State University Extension; 2007 [updated October 08, 2007; cited 4/30/2012]. Available from: http://ohioline.osu.edu/hyg-fact/2000/2100.html.

8.

Commins SP, Platts–Mills TA. Allergenicity of carbohydrates and their role in anaphylactic events. Curr Allergy Asthma Rep. 2010;10(1):29–33.

9.

Nunez R, Carballada F, Gonzalez-Quintela A, Gomez-Rial J, Boquete M, Vidal C. Delayed mammalian meat-induced anaphylaxis due to galactose-alpha-1,3-galactose in 5 european patients. J Allergy Clin Immunol. 2011;128(5):1122,4.e1.
Conflict of Interest
The authors declare that they do not have a conflict of interest.
Additional information
Wolver and Sun contributed equally to this paper.
About this article
Cite this article
Wolver, S.E., Sun, D.R., Commins, S.P. et al. A Peculiar Cause of Anaphylaxis: No More steak?. J GEN INTERN MED 28, 322–325 (2013). https://doi.org/10.1007/s11606-012-2144-z
Received:

Revised:

Accepted:

Published:

Issue Date:
KEY WORDS
allergy

anaphylaxis

immunology

tick

meat