Abstract
Background
Health information exchange (HIE) is advocated as an approach to reduce unnecessary testing and improve quality of emergency department (ED) care, but little evidence supports its use. Headache is a specific condition for which HIE has theoretical benefits.
Objective
To determine whether health information exchange (HIE) reduces potentially unnecessary neuroimaging, increases adherence with evidence-based guidelines, and decreases costs in the emergency department (ED) evaluation of headache.
Design
Longitudinal data analysis
Subjects
All repeat patient-visits (N = 2,102) by all 1,252 adults presenting with headache to a Memphis metropolitan area ED two or more times between August 1, 2007 and July 31, 2009.
Intervention
Use of a regional HIE connecting the 15 major adult hospitals and two regional clinic systems by authorized ED personnel to access the patient's record during the time period in which the patient was being seen in the ED.
Main Measures
Diagnostic neuroimaging (CT, CT angiography, MRI or MRI angiography), evidence-based guideline adherence, and total patient-visit estimated cost.
Key Results
HIE data were accessed for 21.8 % of ED patient-visits for headache. 69.8 % received neuroimaging. HIE was associated with decreased odds of diagnostic neuroimaging (odds ratio [OR] 0.38, confidence interval [CI] 0.29–0.50) and increased adherence with evidence-based guidelines (OR 1.33, CI 1.02–1.73). Administrative/nursing staff HIE use (OR 0.24, CI 0.17–0.34) was also associated with decreased neuroimaging after adjustment for confounding factors. Overall HIE use was not associated with significant changes in costs.
Conclusions
HIE is associated with decreased diagnostic imaging and increased evidence-based guideline adherence in the emergency evaluation of headache, but was not associated with improvements in overall costs. Controlled trials are needed to test whether specific HIE enhancements to increase HIE use can further reduce potentially unnecessary diagnostic imaging and improve adherence with guidelines while decreasing costs of care.
This is a preview of subscription content, log in to check access.
Access options
Buy single article
Instant access to the full article PDF.
US$ 39.95
Tax calculation will be finalised during checkout.
Subscribe to journal
Immediate online access to all issues from 2019. Subscription will auto renew annually.
US$ 79
Tax calculation will be finalised during checkout.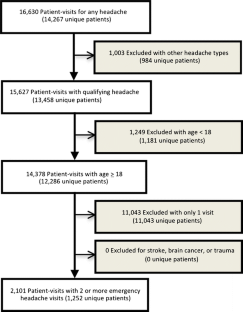 References
1.

Overhage JM, Evans L, Marchibroda J. Communities' readiness for health information exchange: the national landscape in 2004. J Am Med Inform Assoc: JAMIA. 2005;12:107–12.

2.

American College of Emergency Physicians. Health information technology. Ann Emerg Med. 2008;52:595.

3.

Walker J, Pan E, Johnston D, Adler-Milstein J, Bates DW, Middleton B. The value of health care information exchange and interoperability. Health Aff (Millwood). 2005;Suppl Web Exclusives:W5-10-W5-8.

4.

Overhage JM, Dexter PR, Perkins SM, et al. A randomized, controlled trial of clinical information shared from another institution. Ann Emerg Med. 2002;39:14–23.

5.

Frisse ME, Johnson KB, Nian H, et al. The financial impact of health information exchange on emergency department care. J Am Med Inform Assoc: JAMIA. 2011.

6.

Johnson KB, Unertl KM, Chen Q, et al. Health information exchange usage in emergency departments and clinics: the who, what, and why. J Am Med Inform Assoc: JAMIA. 2011;18:690–7.

7.

Lucado J, Paez K, Elixhauser A. Headaches in U.S. hospitals and emergency departments, 2008. In: Healthcare Cost and Utilization Project (HCUP) Statistical Brief. May 2011 ed. Rockville, MD: Agency for Healthcare Research and Quality; 2011.

8.

Goldstein JN, Camargo CA Jr, Pelletier AJ, Edlow JA. Headache in United States emergency departments: demographics, work-up and frequency of pathological diagnoses. Cephalalgia. 2006;26:684–90.

9.

Rasmussen BK, Jensen R, Schroll M, Olesen J. Epidemiology of headache in a general population–a prevalence study. J Clin Epidemiol. 1991;44:1147–57.

10.

Newman LC, Lipton RB. Emergency department evaluation of headache. Neurol Clin. 1998;16:285–303.

11.

Detsky ME, McDonald DR, Baerlocher MO, Tomlinson GA, McCrory DC, Booth CM. Does this patient with headache have a migraine or need neuroimaging? JAMA. 2006;296:1274–83.

12.

Ward TN, Levin M, Phillips JM. Evaluation and management of headache in the emergency department. Med Clin N Am. 2001;85:971–85.

13.

Edlow JA, Panagos PD, Godwin SA, Thomas TL, Decker WW. Clinical policy: critical issues in the evaluation and management of adult patients presenting to the emergency department with acute headache. Ann Emerg Med. 2008;52:407–36.

14.

Silberstein SD. Practice parameter: evidence-based guidelines for migraine headache (an evidence-based review): report of the Quality Standards Subcommittee of the American Academy of Neurology. Neurology. 2000;55:754–62.

15.

Broder J, Warshauer DM. Increasing utilization of computed tomography in the adult emergency department, 2000–2005. Emerg Radiol. 2006;13:25–30.

16.

Friedman BW, Serrano D, Reed M, Diamond M, Lipton RB. Use of the emergency department for severe headache. A population-based study. Headache. 2009;49:21–30.

17.

Brenner DJ, Hall EJ. Computed tomography–an increasing source of radiation exposure. N Engl J Med. 2007;357:2277–84.

18.

Frisse ME, King JK, Rice WB, et al. A regional health information exchange: architecture and implementation. AMIA Annu Symp Proc. 2008:212–6.

19.

Blumenthal HJ, Weisz MA, Kelly KM, Mayer RL, Blonsky J. Treatment of primary headache in the emergency department. Headache. 2003;43:1026–31.

20.

Quan H, Sundararajan V, Halfon P, et al. Coding algorithms for defining comorbidities in ICD-9-CM and ICD-10 administrative data. Med Care. 2005;43:1130–9.

21.

Quan H. ICD-9-CM enhanced Charlson SAS code. In: Winnepeg, Canada: Manitoba Centre for Health Policy; 2006.

22.

Dietemann JL, Botelho C, Nogueira T, et al. Imaging in acute toxic encephalopathy. J Neuroradiol. 2004;31:313–26.

23.

Weinstein MC, Siegel JE, Gold MR, Kamlet MS, Russell LB. Recommendations of the Panel on Cost-effectiveness in Health and Medicine. JAMA: J Am Med Assoc. 1996;276:1253–8.

24.

Liang KY, Zeger S. Longitudinal data analysis using generalized linear models. Biometrika. 1986;73:13–22.

25.

Beebe M, Dalton G, Duffy C, et al. Current Procedural Terminology CPT 2003: AMA Press; 2003.

26.

Vest JR, Jasperson S, Zhao H, Gamm LD, Ohsfeldt RL. Use of a health information exchange system in the emergency care of children. BMC Med Inform Decis Mak. 2011;11:78.

27.

Gadd CS, Ho YX, Cala CM, et al. User perspectives on the usability of a regional health information exchange. J Am Med Inform Assoc: JAMIA. 2011;18:711–16.

28.

Vest JR, Zhao H, Jasperson J, Gamm LD, Ohsfeldt RL. Factors motivating and affecting health information exchange usage. J Am Med Inform Assoc: JAMIA. 2011;18:143–9.

29.

Mettler FA Jr, Bhargavan M, Faulkner K, et al. Radiologic and nuclear medicine studies in the United States and worldwide: frequency, radiation dose, and comparison with other radiation sources–1950–2007. Radiology. 2009;253:520–31.

30.

Tsushima Y, Endo K. MR imaging in the evaluation of chronic or recurrent headache. Radiology. 2005;235:575–9.

31.

Frishberg BM. The utility of neuroimaging in the evaluation of headache in patients with normal neurologic examinations. Neurology. 1994;44:1191–7.

32.

Sodickson A, Baeyens PF, Andriole KP, et al. Recurrent CT, cumulative radiation exposure, and associated radiation-induced cancer risks from CT of adults. Radiology. 2009;251:175–84.

33.

New Choice Health Medical Cost Comparison. New Choice Health, Inc, 2011. (Accessed April 11, 2012, at http://www.newchoicehealth.com).

34.

Vest JR, Jasperson J. What should we measure? Conceptualizing usage in health information exchange. J Am Med Inform Assoc: JAMIA. 2010;17:302–7.
Acknowledgments
Portions of this work were funded through AHRQ Contract 290-04-0006, the State of Tennessee, and Vanderbilt University. This presentation has not been approved by the Agency for Healthcare Research and Quality. Dr. Bailey and Dr. Wan had full access to all of the data in the study and take responsibility for the integrity of the data and the accuracy of the data analysis. We gratefully acknowledge the assistance of Mr. Mike Nesbitt of Methodist Healthcare with cost estimation methodology, Dr. Kevin Johnson of Vanderbilt University with guidance regarding methodology and patterns of HIE use, Dr. Kevin Yang and Ms. Janet King of Vanderbilt University for assistance with data extraction from the MSeHA HIE, and Drs. Chanchai McDonald, Somchan Vuthipadadon, Teeradache Viangteeravat, and Naga Satya V Rao Nagisetty with the University of Tennessee Health Science Center Slim-Prim system team of the Clinical Translational Sciences Institute for assistance with data management. A preliminary version of the study findings were presented as a poster presentation at Society of General Internal Medicine Annual Meeting, Phoenix, AZ, May 4–7, 2011 as "Mabry L, Bailey JE, Wan JY, Landy SH, Pope RA, Waters TM. Health information exchange use improves adherence with evidence-based guidelines for neuroimaging in the emergency evaluation of headache"
Conflict of Interest
The authors declare that they do not have a conflict of interest.
Appendix
Appendix
About this article
Cite this article
Bailey, J.E., Wan, J.Y., Mabry, L.M. et al. Does Health Information Exchange Reduce Unnecessary Neuroimaging and Improve Quality of Headache Care in the Emergency Department?. J GEN INTERN MED 28, 176–183 (2013). https://doi.org/10.1007/s11606-012-2092-7
Received:

Revised:

Accepted:

Published:

Issue Date:
KEY WORDS
health information exchange

medical informatics

headache

headache disorders

migraine disorders

delivery of health care

emergency medicine

quality of health care

health services research