Abstract
Background
High-deductible health plans (HDHPs) are an increasingly common strategy to contain health care costs. Individuals with chronic conditions are at particular risk for increased out-of-pocket costs in HDHPs and resulting cost-related underuse of essential health care.
Objective
To evaluate whether families with chronic conditions in HDHPs have higher rates of delayed or forgone care due to cost, compared with those in traditional health insurance plans.
Design
This mail and phone survey used multiple logistic regression to compare family-level rates of reporting delayed/forgone care in HDHPs vs. traditional plans.
Participants
We selected families with children that had at least one member with a chronic condition. Families had employer-sponsored insurance in a Massachusetts health plan and >12 months of enrollment in an HDHP or a traditional plan.
Main Measures
The primary outcome was report of any delayed or forgone care due to cost (acute care, emergency department visits, chronic care, checkups, or tests) for adults or children during the prior 12 months.
Results
Respondents included 208 families in HDHPs and 370 in traditional plans. Membership in an HDHP and lower income were each independently associated with higher probability of delayed/forgone care due to cost. For adult family members, the predicted probability of delayed/forgone care due to cost was higher in HDHPs than in traditional plans [40.0% vs 15.1% among families with incomes <400% of the federal poverty level (FPL) and 16.0% vs 4.8% among those with incomes ≥400% FPL]. Similar associations were observed for children.
Conclusions
Among families with chronic conditions, reporting of delayed/forgone care due to cost is higher for both adults and children in HDHPs than in traditional plans. Families with lower incomes are also at higher risk for delayed/forgone care.
Access options
Buy single article
Instant access to the full article PDF.
US$ 39.95
Tax calculation will be finalised during checkout.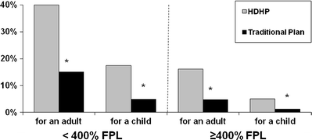 References
1.

Claxton G, DiJulio B, Whitmore H, et al. Job-based health insurance: costs climb at a moderate pace. Health Aff. 2009;28(6):w1002–1012.

2.

Kaiser Family Foundation. Summary of New Health Reform Law. 2010; http://www.kff.org/healthreform/upload/8061.pdf. Accessed Dec 13, 2011.

3.

Lee TH, Zapert K. Do high-deductible health plans threaten quality of care? N Engl J Med. 2005;353:1202–1204.

4.

Committee on Child Health Financing. High-deductible health plans and the new risks of consumer-driven health insurance products. Pediatrics. 2007;119(3):622–626.

5.

Cohen R. Impact of Type of Insurance Plan on Access and Utilization of Health Care Services for Adults Aged 18–64 Years With Private Health Insurance: United States, 2007–2008: NCHS Data Brief No. 28;2010.

6.

Fronstin P, Collins SR. Findings from the 2007 EBRI/Commonwealth Fund Consumerism in Health Survey. 2008. http://www.commonwealthfund.org/usr_doc/Fronstin_consumerism_survey_2007_issue_brief_FINAL.pdf?section=4039. Accessed Dec 13, 2011.

7.

Galbraith AA, Ross-Degnan D, Soumerai SB, Rosenthal MB, Gay C, Lieu TA. Nearly half of families in high-deductible health plans whose members have chronic conditions face substantial financial burden. Health Aff (Millwood). 2011;30(2):322–331.

8.

Dunbar L. Alternative Methods of Identifying Children with Special Health Care Needs: Implications for Medicaid Programs: University of Maryland; 2005.

9.

Bethell C, Read D, Stein R, Blumberg S, Wells N, Newacheck P. Identifying children with special health care needs: development and evaluation of a short screening instrument. Ambul Pediatr. 2002:38-48.

10.

Anderson GF. Physician, public, and policymaker perspectives on chronic conditions. Arch Intern Med. 2003;163(4):437–442.

11.

Gawande AA, Blendon R, Brodie M, Benson JM, Levitt L, Hugick L. Does dissatisfaction with health plans stem from having no choices? Health Aff (Millwood). 1998;17(5):184–194.

12.

Braitman LE, Rosenbaum PR. Rare outcomes, common treatments: analytic strategies using propensity scores. Ann Intern Med. 2002;137:693–695.

13.

Kurth T, Walker AM, Glynn RJ, et al. Results of multivariable logistic regression, propensity matching, propensity adjustment, and propensity-based weighting under conditions of nonuniform effect. Am J Epidemiol. 2006;163(3):262–270.

14.

Cherkin DC, Grothaus L, Wagner EH. Is magnitude of co-payment effect related to income? Using census data for health services research. Soc Sci Med. 1992;34(1):33–41.

15.

Hibbard JH, Greene J, Tusler M. Does enrollment in a CDHP stimulate cost-effective utilization? Med Care Res Rev. 2008;65(4):437–449.

16.

Newhouse JP and the Insurance Experiment Group. Free for All? Lessons from the RAND Health Insurance Experiment. Cambridge: Harvard University Press; 1993.

17.

Alexander G, Casalino L, Meltzer D. Patient-physician communication about out-of-pocket costs. JAMA. 2003;290(7):953–958.

18.

Lieu T, Solomon J, Sabin J, Kullgren J, Hinrichsen V, Galbraith A. Consumer awareness and strategies among families with high-deductible health plans. J Gen Intern Med. 2010;25(3).

19.

Claxton G, DiJulio B, Whitmore H, et al. Health benefits in 2010: premiums rise modestly, workers pay more toward coverage. Health Aff. 2010;29(10):1942–1950.

20.

McDonough JE, Rosman B, Butt M, Tucker L, Howe LK. Massachusetts health reform implementation: major progress and future challenges. Health Aff (Millwood). 2008;27(4):w285–297.

21.

Fendrick AM, Chernew ME. Value-based insurance design: a "clinically sensitive, fiscally responsible" approach to mitigate the adverse clinical effects of high-deductible consumer-directed health plans. J Gen Intern Med. 2007;22(6):890–891.

22.

Galbraith A, Ross-Degnan D, Soumerai S, et al. Use of well-child visits in high-deductible health plans. Am J Manag Care. 2010;16(11):833–840.

23.

Rowe JW, Brown-Stevenson T, Downey RL, Newhouse JP. The effect of consumer-directed health plans on the use of preventive and chronic illness services. Health Aff (Millwood). 2008;27(1):113–120.

24.

Wharam JF, Galbraith AA, Kleinman KP, Soumerai SB, Ross-Degnan D, Landon BE. Cancer screening before and after switching to a high-deductible health plan. Ann Intern Med. 2008;148(9):647–655.

25.

U.S. Department of Health & Human Services. Recommended Preventive Services. 2010; http://www.healthcare.gov/center/regulations/prevention/recommendations.html. Accessed Dec 13, 2011.

26.

Beeuwkes Buntin M, Haviland AM, McDevitt R, Sood N. Healthcare spending and preventive care in high-deductible and consumer-directed health plans. Am J Manag Care. 2011;17(3):222–230.

27.

Reed M, Fung V, Price M, et al. High-deductible health insurance plans: efforts to sharpen a blunt instrument. Health Aff. 2009;28(4):1145–1154.

28.

Cunningham PJ, Miller C, Cassil A. Living on the Edge: Health Care Expenses Strain Family Budgets. Research Brief No. 10: Center for Studying Health Systems Change; December 2008.

29.

Schoen C, Collins SR, Kriss JL, Doty MM. How many are underinsured? Trends among US adults, 2003 and 2007. Health Aff (Millwood). 2008;27(4):w298–309.

30.

Tu HT, Cohen G. Financial and Health Burdens of Chronic Conditions Grow. Tracking Report No. 24. 2009. http://www.hschange.org/CONTENT/1049/1049.pdf. Accessed Dec 13, 2011.
Contributors
The authors thank Christopher Forrest, Bruce Landon, and Carol Cosenza for guidance in the design of the survey instrument; Christopher Forrest and Linda Dunbar for making the Chronic Condition Checklist available and assisting with its use; Irina Miroshnik for help with data collection and interpretation; and the team of research assistants for their help in conducting the survey.
Funding
This study was supported by the Robert Wood Johnson Foundation's Changes in Health Care Financing and Organization (HCFO) Initiative. Additional support for the survey was provided by the Center for Child Health Care Studies, Department of Population Medicine, Harvard Pilgrim Health Care Institute and Harvard Medical School. Dr Galbraith's effort was supported in part by a K23 Mentored Career Development Award from NICHD (HD052742). Drs. Soumerai and Ross-Degnan are investigators in the HMO Research Network Center for Education and Research in Therapeutics and are supported by the Agency for Healthcare Research and Quality (grant no. U18HS010391). The content of this paper is solely the responsibility of the authors and does not necessarily represent the official views of the funders.
Prior Presentations
An abstract based on this research was presented at the 2010 Pediatric Academic Societies Meeting in Vancouver, British Columbia, and at the 2010 AcademyHealth Annual Research Meeting in Boston, MA, as a poster.
Conflict of Interest
Dr. Galbraith has received support for a separate research project from the Harvard Pilgrim Health Care Foundation through a Faculty Grant.
About this article
Cite this article
Galbraith, A.A., Soumerai, S.B., Ross-Degnan, D. et al. Delayed and Forgone Care for Families with Chronic Conditions in High-Deductible Health Plans. J GEN INTERN MED 27, 1105–1111 (2012). https://doi.org/10.1007/s11606-011-1970-8
Received:

Revised:

Accepted:

Published:

Issue Date:
KEY WORDS
health insurance

deductible

cost sharing

utilization

health policy