Abstract
Background
Latinos are less likely than non-Hispanic whites to be adequately treated for depression. Intimate partner violence (IPV) is strongly associated with depression. Less is known about how Latina IPV survivors understand depression.
Objective
To understand Latina women's beliefs, attitudes, and recommendations regarding depression and depression care, with a special focus on the impact of gender, ethnicity, violence, and social stressors.
Design
Focus group study.
Participants
Spanish-speaking Latina women with a lifetime history of IPV and moderate to severe depressive symptoms.
Approach
We used a community-based participatory research (CBPR) approach to conduct a thematic analysis using an inductive approach.
Results
Thirty-one women participated in five focus groups. Women felt depression is caused by "keeping things inside". They also felt that keeping things inside could lead to physical illness or an inability to function. Their inability to talk was fueled by issues such as stigma, fear, isolation, cultural norms, or simply "not having the words". They felt that the key to treating depression was finding a way to talk about the things that they had kept inside. They greatly valued information about depression and appreciated learning from providers that their physical symptoms were caused by depression. They wanted confidential depression care programs that not only helped them deal with their depression, but also addressed the violence in their lives, gave them practical skills, and attended to practical issues such as childcare. They had negative attitudes toward antidepressants, primarily due to experiences with side effects. Negative experiences with the health care system were primarily attributed to lack of good healthcare insurance.
Conclusions
The concept of "keeping things inside" was key to participants' understanding of the cause of depression and other health problems. Clinicians and depression care programs can potentially use such information to provide culturally-appropriate depression care to Latina women.
Access options
Buy single article
Instant access to the full article PDF.
US$ 39.95
Tax calculation will be finalised during checkout.
Subscribe to journal
Immediate online access to all issues from 2019. Subscription will auto renew annually.
US$ 79
Tax calculation will be finalised during checkout.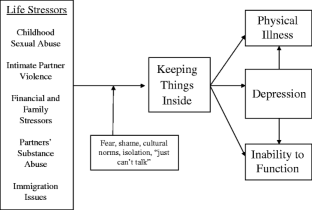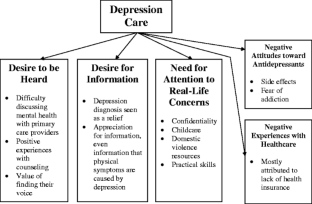 References
1.

Alegria M, Canino G, Rios R, et al. Mental Health Care for Latinos: Inequalities in Use of Specialty Mental Health Services Among Latinos, African Americans, and Non-Latino Whites. Psychiatr Serv. 2002;53(12):1547–55.

2.

Alegria M, Chatterji P, Wells K, et al. Disparity in Depression Treatment Among Racial and Ethnic Minority Populations in the United States. Psychiatr Serv. 2008;59(11):1264–72.

3.

Lagomasino IT, Dwight-Johnson M, Miranda J, et al. Disparities in depression treatment for Latinos and site of care. Psychiatr Serv. 2005;56(12):1517–23.

4.

Cabassa LJ, Hansen MC, Palinkas LA, Ell K. Azucar y nervios: explanatory models and treatment experiences of Hispanics with diabetes and depression. Soc Sci Med. 2008;66(12):2413–24.

5.

Cabassa LJ, Lester R, Zayas LH. "It's like being in a labyrinth:" Hispanic immigrants' perceptions of depression and attitudes toward treatments. J Immigr Minor Health. 2007;9(1):1–16.

6.

Heilemann MV, Coffey-Love M, Frutos L. Perceived reasons for depression among low income women of Mexican descent. Arch Psychiatr Nurs. 2004;18(5):185–92.

7.

Franks F, Faux SA. Depression, stress, mastery, and social resources in four ethnocultural women's groups. Res Nurs Health. 1990;13(5):282–92.

8.

Cabassa LJ, Zayas LH. Latino immigrants' intentions to seek depression care. Am J Orthopsychiatry. 2007;77(2):231–42.

9.

Martinez Pincay IE, Guarnaccia PJ. "It's like going through an earthquake": anthropological perspectives on depression among Latino immigrants. J Immigr Minor Health. 2007;9(1):17–28.

10.

Interian A, Martinez IE, Guarnaccia PJ, Vega WA, Escobar JI. A Qualitative Analysis of the Perception of Stigma Among Latinos Receiving Antidepressants. Psychiatr Serv. 2007;58(12):1591–4.

11.

Nadeem E, Lange JM, Miranda J. Perceived need for care among low-income immigrant and U.S.-born black and Latina women with depression. J Womens Health. 2009;18(3):369–75.

12.

Bonomi AE, Anderson ML, Cannon EA, Slesnick N, Rodriguez MA. Intimate partner violence in Latina and non-Latina women. Am J Prev Med. 2009;36(1):43–8.

13.

Golding JM. Intimate Partner Violence as a Risk Factor for Mental Disorders: A Meta-Analysis. J Fam Violence. 1999;14(2):99–132.

14.

Campbell JC, Kub J, Belknap RA, Templin TN. Predictors of Depression in Battered Women. Violence Against Women. 1997;3(3):271–93.

15.

Nicolaidis C, Curry M, McFarland B, Gerrity M. Violence, mental health, and physical symptoms in an academic internal medicine practice. J Gen Intern Med. 2004;19(8):819–27.

16.

Bauer H, Rodríguez M, Pérez-Stable E. Prevalence and determinants of intimate partner abuse among public hospital primary care patients. J Gen Intern Med. 2000;15(11):811–7.

17.

Dienemann J, Boyle E, Baker D, Resnick W, Wiederhorn N, Campbell J. Intimate partner abuse among women diagnosed with depression. Issues Ment Health Nurs. 2000;21(5):499–513.

18.

Fedovskiy K, Higgins S, Paranjape A. Intimate partner violence: how does it impact major depressive disorder and post traumatic stress disorder among immigrant Latinas? J Immigr Minor Health. 2008;10(1):45–51.

19.

Torres S, Han HR. Psychological distress in non-Hispanic white and Hispanic abused women. Arch Psychiatr Nurs. 2000;14(1):19–29.

20.

Nicolaidis C, McFarland B, Curry M, Gerrity M. Differences in physical and mental health symptoms and mental health utilization associated with intimate-partner violence versus childhood abuse. Psychosomatics. 2009;50(4):340–6.

21.

Scholle SH, Rost KM, Golding JM. Physical abuse among depressed women. J Gen Intern Med. 1998;13(9):607–13.

22.

Nicolaidis C, Timmons V, Thomas MJ, et al. "You Don't Go Tell White People Nothing": African American women's perspectives on the influence of violence and race on depression and depression care. Am J Public Health. 2010;100(8):1470–6.

23.

Kroenke K, Spitzer RL, Williams JB. The PHQ-9: validity of a brief depression severity measure. J Gen Intern Med. 2001;16(9):606–13.

24.

Smith PH, Earp JA, DeVellis R. Measuring battering: development of the Women's Experience with Battering (WEB) Scale. Womens Health. 1995;1(4):273–88.

25.

Braun V, Clarke V. Using thematic analysis in psychology. Qual Research Psychology. 2006;3:77–101.

26.

Nicolaidis C, Gregg J, Galian H, McFarland B, Curry M, Gerrity M. "You always end up feeling like you're some hypochondriac": intimate partner violence survivors' experiences addressing depression and pain. J Gen Intern Med. 2008;23(8):1157–63.

27.

Nicolaidis C. The Voices of Survivors documentary: using patient narrative to educate physicians about domestic violence. J Gen Intern Med. 2002;17(2):117–24.

28.

Nguyen HT, Clark M, Ruiz RJ. Effects of acculturation on the reporting of depressive symptoms among Hispanic pregnant women. Nurs Res. 2007;56(3):217–23.

29.

Duran DG. The impact of depression, psychological factors, cultural determinants, and the patient/care-provider relationship on somatic complaints of the distressed Latina: Dissertation Abstracts International Section A. Humanit Soc Sci. 1995;56(6-A):2428.

30.

Nadeem E, Lange JM, Edge D, Fongwa M, Belin T, Miranda J. Does stigma keep poor young immigrant and U.S.-born black and Latina women from seeking mental health care. Psychiatr Serv. 2007;58(12):1547–54.

31.

Cooper LA, Gonzales JJ, Gallo JJ, et al. The acceptability of treatment for depression among African-American, Hispanic, and white primary care patients. Med Care. 2003;41(4):479–89.

32.

Hodgkin D, Volpe-Vartanian J, Alegria M. Discontinuation of antidepressant medication among Latinos in the USA. J Behav Health Serv Res. 2007;34(3):329–42.

33.

Kantor GK, Asdigian NL. Gender differences in alcohol-related spousal aggression. Gender and alcohol: Individual and social perspectives. 1997;312–34.

34.

Kantor GK, Jasinski JL, Aldarondo E. Sociocultural Status and Incidence of Marital Violence in Hispanic Families. Violence Vict. 1994;9:207–22.
Acknowledgements
We would like to thank all of the women who participated in our focus groups, as well as the many community members who helped with recruitment efforts. We would also like to thank Kerth O'Brian, PhD, for leading the focus group facilitation training for the community partners, and Martha Gerrity, MD, PhD, Bentson McFarland, MD, PhD, and Mary Ann Curry, RN, DNSc, for providing mentorship and support to Dr. Nicolaidis.
This study was funded by the National Institute of Mental Health (K23MH073008; Nicolaidis) and the Northwest Health Foundation Kaiser Permanente Community Fund (10571; Nicolaidis).
We presented earlier versions of the manuscript as an oral abstract at the Annual Meeting of the Society of General Internal Medicine in Miami, in 2009 and as part of a workshop at the National Conference on Health and Domestic Violence in New Orleans, in 2009.
Conflicts of Interest
None disclosed.
About this article
Cite this article
Nicolaidis, C., Perez, M., Mejia, A. et al. "Guardarse Las Cosas Adentro" (Keeping Things Inside): Latina Violence Survivors' Perceptions of Depression. J GEN INTERN MED 26, 1131–1137 (2011). https://doi.org/10.1007/s11606-011-1747-0
Received:

Revised:

Accepted:

Published:

Issue Date:
KEY WORDS
Latinos

depression

violence

disparities

community-based participatory research