ABSTRACT
BACKGROUND
Due to a shortage of studies focusing on older adults, clinicians and policy makers frequently rely on clinical trials of the general population to provide supportive evidence for treating complex, older patients.
OBJECTIVES
To examine the inclusion and analysis of complex, older adults in randomized controlled trials.
REVIEW METHODS
A PubMed search identified phase III or IV randomized controlled trials published in 2007 in JAMA, NEJM, Lancet, Circulation, and BMJ. Therapeutic interventions that assessed major morbidity or mortality in adults were included. For each study, age eligibility, average age of study population, primary and secondary outcomes, exclusion criteria, and the frequency, characteristics, and methodology of age-specific subgroup analyses were reviewed.
RESULTS
Of the 109 clinical trials reviewed in full, 22 (20.2%) excluded patients above a specified age. Almost half (45.6%) of the remaining trials excluded individuals using criteria that could disproportionately impact older adults. Only one in four trials (26.6%) examined outcomes that are considered highly relevant to older adults, such as health status or quality of life. Of the 42 (38.5%) trials that performed an age-specific subgroup analysis, fewer than half examined potential confounders of differential treatment effects by age, such as comorbidities or risk of primary outcome. Trials with age-specific subgroup analyses were more likely than those without to be multicenter trials (97.6% vs. 79.1%, p < 0.01) and funded by industry (83.3% vs. 62.7%, p < 0.05). Differential benefit by age was found in seven trials (16.7%).
CONCLUSION
Clinical trial evidence guiding treatment of complex, older adults could be improved by eliminating upper age limits for study inclusion, by reducing the use of eligibility criteria that disproportionately affect multimorbid older patients, by evaluating outcomes that are highly relevant to older individuals, and by encouraging adherence to recommended analytic methods for evaluating differential treatment effects by age.
This is a preview of subscription content, log in to check access.
Access options
Buy single article
Instant access to the full article PDF.
US$ 39.95
Price includes VAT for USA
Subscribe to journal
Immediate online access to all issues from 2019. Subscription will auto renew annually.
US$ 99
This is the net price. Taxes to be calculated in checkout.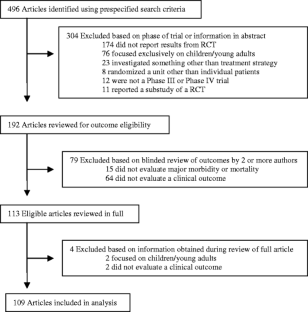 REFERENCES
1.

Hartman M, Catlin A, Lassman D, Cylus J, Heffler S. US health spending by age, selected years through 2004. Health Aff (Millwood). 2008;27(1):w1–w12.

2.

Machlin S. Trends in health care expenditures for the elderly age 65 and over: 2006 versus 1996. Statistical Brief #256. Rockville, MD. 2009.

3.

McMurdo MET, Witham MD, Gillespie ND. Including older people in clinical research—benefits shown in trials in younger people may not apply to older people. Br Med J. 2005;331(7524):1036–7.

4.

Besdine R, Boult C, Brangman S, et al. Caring for older Americans: the future of geriatric medicine. J Am Geriatr Soc. 2005;53(6 Suppl):S245–56.

5.

The ACCORD Study Group. Effects of intensive blood-pressure control in type 2 diabetes mellitus. N Engl J Med. 2010.

6.

Thiemann DR, Coresh J, Schulman SP, Gerstenblith G, Oetgen WJ, Powe NR. Lack of benefit for intravenous thrombolysis in patients with myocardial infarction who are older than 75 years. Circulation. 2000;101(19):2239–46.

7.

Scott IA, Guyatt GH. Cautionary tales in the interpretation of clinical studies involving older persons. Arch Intern Med. Apr 12;170(7):587-595.

8.

Hutchins LF, Unger JM, Crowley JJ, Coltman CA Jr, Albain KS. Underrepresentation of patients 65 years of age or older in cancer-treatment trials. N Engl J Med. 1999;341(27):2061–7.

9.

Lewis JH, Kilgore ML, Goldman DP, et al. Participation of patients 65 years of age or older in cancer clinical trials. J Clin Oncol. 2003;21(7):1383–9.

10.

Murthy VH, Krumholz HM, Gross CP. Participation in cancer clinical trials: race-, sex-, and age-based disparities. JAMA. 2004;291(22):2720–6.

11.

Lee PY, Alexander KP, Hammill BG, Pasquali SK, Peterson ED. Representation of elderly persons and women in published randomized trials of acute coronary syndromes. JAMA. 2001;286(6):708–13.

12.

O'Hare AM, Kaufman JS, Covinsky KE, Landefeld CS, McFarland LV, Larson EB. Current guidelines for using angiotensin-converting enzyme inhibitors and angiotensin II-receptor antagonists in chronic kidney disease: is the evidence base relevant to older adults? Ann Intern Med. 2009;150(10):717–24.

13.

Cigolle CT, Blaum CS, Halter JB. Diabetes and cardiovascular disease prevention in older adults. Clin Geriatr Med. 2009;25(4):607–41. vii-viii.

14.

Masoudi FA, Havranek EP, Wolfe P, et al. Most hospitalized older persons do not meet the enrollment criteria for clinical trials in heart failure. Am Heart J. 2003;146(2):250–7.

15.

Humphreys K, Weingardt KR, Horst D, Joshi AA, Finney JW. Prevalence and predictors of research participant eligibility criteria in alcohol treatment outcome studies, 1970–98. Addiction. 2005;100(9):1249–57.

16.

Agency for Healthcare Research and Quality. AHRQ Policy on the Inclusion of Priority Populations in Research: agency for healthcare research and quality, US Department of Health and Human Services. 2003.

17.

US Government Accountability Office. Prescription drugs: FDA guidance and regulations related to data on elderly persons in clinical drug trials (GAO-07-47R). Washington, D.C.2007.

18.

Heart Protection Study Collaborative Group. MRC/BHF Heart Protection Study of cholesterol lowering with simvastatin in 20,536 high-risk individuals: a randomised placebo-controlled trial. Lancet. 2002;360(9326):7–22.

19.

Moher D, Liberati A, Tetzlaff J, Altman DG. Preferred reporting items for systematic reviews and meta-analyses: the PRISMA statement. Ann Intern Med. 2009;151(4):264–9. W264.

20.

Wang R, Lagakos SW, Ware JH, Hunter DJ, Drazen JM. Statistics in medicine—reporting of subgroup analyses in clinical trials. N Engl J Med. 2007;357(21):2189–94.

21.

Rothwell PM. Treating Individuals 2—subgroup analysis in randomised controlled trials: importance, indications, and interpretation. Lancet. 2005;365(9454):176–86.

22.

Altman DG, Schulz KF, Moher D, et al. The revised CONSORT statement for reporting randomized trials: explanation and elaboration. Ann Intern Med. 2001;134(8):663–94.

23.

Van Spall HGC, Toren A, Kiss A, Fowler RA. Eligibility criteria of randomized controlled trials published in high-impact general medical journals—a systematic sampling review. JAMA. 2007;297(11):1233–40.

24.

Pocock SJ, Assmann SE, Enos LE, Kasten LE. Subgroup analysis, covariate adjustment and baseline comparisons in clinical trial reporting: current practice and problems. Stat Med. 2002;21(19):2917–30.

25.

Pocock SJ, Hughes MD, Lee RJ. Statistical problems in the reporting of clinical trials. A survey of three medical journals. N Engl J Med. 1987;317(7):426–32.

26.

Assmann SF, Pocock SJ, Enos LE, Kasten LE. Subgroup analysis and other (mis)uses of baseline data in clinical trials. Lancet. 2000;355(9209):1064–9.

27.

Yusuf S, Wittes J, Probstfield J, Tyroler HA. Analysis and interpretation of treatment effects in subgroups of patients in randomized clinical trials. JAMA. 1991;266(1):93–8.

28.

Parker AB, Naylor CD. Subgroups, treatment effects, and baseline risks: some lessons from major cardiovascular trials. Am Heart J. 2000;139(6):952–61.

29.

Brookes ST, Whitely E, Egger M, Smith GD, Mulheran PA, Peters TJ. Subgroup analyses in randomized trials: risks of subgroup-specific analyses; power and sample size for the interaction test. J Clin Epidemiol. 2004;57(3):229–36.

30.

Hernandez AV, Boersma E, Murray GD, Habbema JDF, Steyerberg EW. Subgroup analyses in therapeutic cardiovascular clinical trials: are most of them misleading? Am Heart J. 2006;151(2):257–64.

31.

Hayward RA, Kent DM, Vijan S, Hofer TP. Multivariable risk prediction can greatly enhance the statistical power of clinical trial subgroup analysis. BMC Med Res Methodol. 2006;6:18.

32.

Moher D, Schulz KF, Altman DG. The CONSORT statement: revised recommendations for improving the quality of reports of parallel-group randomised trials. Lancet. 2001;357(9263):1191–4.

33.

Royston P, Altman DG, Sauerbrei W. Dichotomizing continuous predictors in multiple regression: a bad idea. Stat Med. 2006;25(1):127–41.

34.

Sun X, Briel M, Walter SD, Guyatt GH. Is a subgroup effect believable? Updating criteria to evaluate the credibility of subgroup analyses. BMJ. 340:c117.

35.

Kent DM, Rothwell PM, Ioannidis JP, Altman DG, Hayward RA. Assessing and reporting heterogeneity in treatment effects in clinical trials: a proposal. Trials. 2010;11:85.

36.

Rothwell PM, Mehta Z, Howard SC, Gutnikov SA, Warlow CP. Treating individuals 3: from subgroups to individuals: general principles and the example of carotid endarterectomy. Lancet. 2005;365:256–65.
References for Appendix Table
Hudes G, Carducci M, Tomczak P, Dutcher J, Figlin R, Kapoor A, Staroslawska E, Sosman J, McDermott D, Bodrogi I, Kovacevic Z, Lesovoy V, Schmidt-Wolf IG, Barbarash O, Gokmen E, O'Toole T, Lustgarten S, Moore L. Trial. Temsirolimus, interferon alfa, or both for advanced renal-cell carcinoma. N Engl J Med. 2007;356(22):2271–81.

Konstam MA, Gheorghiade M, Burnett JC Jr, Grinfeld L, Maggioni AP, Swedberg K, Udelson JE, Zannad F, Cook T, Ouyang J, Zimmer C, Orlandi C. Efficacy of Vasopressin Antagonism in Heart Failure Outcome Study With Tolvaptan (EVEREST) Investigators. Effects of oral tolvaptan in patients hospitalized for worsening heart failure: the EVEREST Outcome Trial. JAMA. 2007;297(12):1319–31.

Miller K, Wang M, Gralow J, Dickler M, Cobleigh M, Perez EA, Shenkier T, Cella D, Davidson NE. Paclitaxel plus bevacizumab versus paclitaxel alone for metastatic breast cancer. N Engl J Med. 2007;357(26):2666–76.

Quasar Collaborative Group, Gray R, Barnwell J, McConkey C, Hills RK, Williams NS, Kerr DJ. Adjuvant chemotherapy versus observation in patients with colorectal cancer: a randomised study. Lancet. 2007;370(9604):2020–9.

Weinstein JN, Lurie JD, Tosteson TD, Hanscom B, Tosteson AN, Blood EA, Birkmeyer NJ, Hilibrand AS, Herkowitz H, Cammisa FP, Albert TJ, Emery SE, Lenke LG, Abdu WA, Longley M, Errico TJ, Hu SS. Surgical versus nonsurgical treatment for lumbar degenerative spondylolisthesis. N Engl J Med. 2007;356(22):2257–70.

Wiviott SD, Braunwald E, McCabe CH, Montalescot G, Ruzyllo W, Gottlieb S, Neumann FJ, Ardissino D, De Servi S, Murphy SA, Riesmeyer J, Weerakkody G, Gibson CM, Antman EM. TRITON-TIMI 38 investigators. Prasugrel versus clopidogrel in patients with acute coronary syndromes. N Engl J Med. 2007;357(20):2001–15.

Zacharski LR, Chow BK, Howes PS, Shamayeva G, Baron JA, Dalman RL, Malenka DJ, Ozaki CK, Lavori PW. Reduction of iron stores and cardiovascular outcomes in patients with peripheral arterial disease: a randomized controlled trial. JAMA. 2007;297(6):603–10.
Contributors
The authors would like to thank Gupreet K. Rana, Clinical Education Librarian at the University of Michigan Taubman Medical Library, for her assistance with the literature search for this manuscript.
Funders
Donna Zulman and Jeremy Sussman are supported by the Robert Wood Johnson Foundation Clinical Scholars Program and an associated VA Advanced Fellowship. This work was also supported by the Department of Veterans Affairs Health Services Research & Development Service (QUERI DIB), and utilized the Measurement Core of the Michigan Diabetes Research and Training Center funded by DK020572 from the NIDDK. Dr. Cigolle is supported by the NIH-NCRR K12 Mentored Clinical Scholars Program at the University of Michigan and the VA Ann Arbor Healthcare System's Geriatric Research Education and Clinical Center (GRECC).
Prior Presentations
None.
Conflict of Interest
None disclosed.
ONLINE APPENDIX TABLE
Below is the link to the electronic supplementary material.
About this article
Cite this article
Zulman, D.M., Sussman, J.B., Chen, X. et al. Examining the Evidence: A Systematic Review of the Inclusion and Analysis of Older Adults in Randomized Controlled Trials. J GEN INTERN MED 26, 783–790 (2011). https://doi.org/10.1007/s11606-010-1629-x
Received:

Revised:

Accepted:

Published:

Issue Date:
KEY WORDS
clinical trial methodology

exclusion criteria

subgroup analysis

comorbidities