Abstract
Background
Several disease-specific information exchanges now exist on Facebook and other online social networking sites. These new sources of knowledge, support, and engagement have become important for patients living with chronic disease, yet the quality and content of the information provided in these digital arenas are poorly understood.
Objective
To qualitatively evaluate the content of communication in Facebook communities dedicated to diabetes.
Design
We identified the 15 largest Facebook groups focused on diabetes management. For each group, we downloaded the 15 most recent "wall posts" and the 15 most recent discussion topics from the 10 largest groups.
Patients
Four hundred eighty unique users were identified in a series of 690 comments from wall posts and discussion topics.
Main Measures
Posts were abstracted and aggregated into a database. Two investigators evaluated the posts, developed a thematic coding scheme, and applied codes to the data.
Key Results
Patients with diabetes, family members, and their friends use Facebook to share personal clinical information, to request disease-specific guidance and feedback, and to receive emotional support. Approximately two-thirds of posts included unsolicited sharing of diabetes management strategies, over 13% of posts provided specific feedback to information requested by other users, and almost 29% of posts featured an effort by the poster to provide emotional support to others as members of a community. Approximately 27% of posts featured some type of promotional activity, generally presented as testimonials advertising non-FDA approved, "natural" products. Clinically inaccurate recommendations were infrequent, but were usually associated with promotion of a specific product or service. Thirteen percent of posts contained requests for personal information from Facebook participants.
Conclusions
Facebook provides a forum for reporting personal experiences, asking questions, and receiving direct feedback for people living with diabetes. However, promotional activity and personal data collection are also common, with no accountability or checks for authenticity.
Access options
Buy single article
Instant access to the full article PDF.
US$ 39.95
Tax calculation will be finalised during checkout.
Subscribe to journal
Immediate online access to all issues from 2019. Subscription will auto renew annually.
US$ 79
Tax calculation will be finalised during checkout.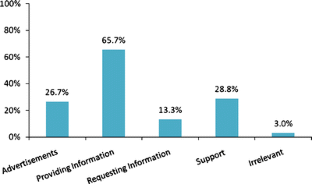 References
1.

Fox S JS. The social life of health information: Americans' pursuit of health takes place within a widening network of both online and offline sources. 2009. http://www.pewinternet.org/Reports/2009/8-The-Social-Life-of-Health-Information.aspx Accessed 16 Sep 2010.

2.

Elkin N. How America searches: Health and Wellness January 2008. iCrossing.http://www.icrossing.com/articles/How%20America%20Searches%20-%20Health%20and%20Wellness.pdf. Accessed 16 Sep 2010

3.

Hawn C. Take two aspirin and tweet me in the morning: how Twitter, Facebook, and other social media are reshaping health care. Health Aff (Millwood). Mar-Apr 2009;28(2):361–368.

4.

Ravert RD, Hancock MD, Ingersoll GM. Online forum messages posted by adolescents with type 1 diabetes. Diabetes Educ. Sep–Oct 2004;30(5):827–34.

5.

Farmer AD, Bruckner Holt CE, Cook MJ, Hearing SD. Social networking sites: a novel portal for communication. Postgrad Med J. Sep 2009; 85(1007):455–9.

6.

Christakis NA, Fowler JH. The collective dynamics of smoking in a large social network. N Engl J Med. May 22 2008;358(21):2249–2258.

7.

Christakis NA, Allison PD. Mortality after the hospitalization of a spouse. N Engl J Med. Feb 16 2006;354(7):719–730.

8.

Sayers SL, Riegel B, Pawlowski S, Coyne JC, Samaha FF. Social support and self-care of patients with heart failure. Ann Behav Med. Feb 2008;35(1):70–79.

9.

Press TA. Another Redesign For Facebook On 6th Birthday. National Public Radio. February 5, 2010.

10.

Shapiro J. Patients Turn To Online Community For Help Healing. National Public Radio. November 16, 2009.

11.

Sarasohn-Kahn J. The Wisdom of Patients: Health Care Meets Online Social Media Ihealth reports. 2008. http://www.chcf.org/topics/chronicdisease/index.cfm?itemID=133631. Accessed 16 Sep 2010.

12.

Willms DG, Best JA, Taylor DW, et al. A systematic approach for using qualitative methods in primary prevention research. Medical Anthropology Quarterly 1990; 4: 391–409.

13.

Microsoft Office Access 2007 [computer program]: Microsoft Corporation; 2006.

14.

Jain SH. Practicing medicine in the age of Facebook. N Engl J Med. Aug 13 2009;361(7):649–651.

15.

Thompson LA, Dawson K, Ferdig R, et al. The intersection of online social networking with medical professionalism. J Gen Intern Med. Jul 2008;23(7):954–957.

16.

Armstrong N, Powell J. Patient perspectives on health advice posted on Internet discussion boards: a qualitative study. Health Expect. Sep 2009; 12(3):313–20.

17.

Promotion of FDA-regulated medical products using the internet and social media tools, Part 15 public hearing, Thursday, November 12, 2009. US Department of Health and Human Services, Food and Drug Administration. Vol 2009.

18.

Olsen C. Year in Review: FDA Spotlights Social Media, But No Guidelines Yet. The Pink Sheet January 11, 2010 2010:26–27.
Acknowledgements
Contributors
All authors made significant contributions to the study. The authors retained independent and complete control over the design and implementation of the study as well as the analyses and writing of the manuscript.
Funders
This work is supported by a research grant from CVS Caremark and a career development award from the National Heart, Lung and Blood Institute (K23HL090505-01) for Dr. Shrank. The funders played no role in the design and conduct of the study; collection, management, analysis, and interpretation of the data; and preparation, review, or approval of the manuscript.
Conflict of interest
None
About this article
Cite this article
Greene, J.A., Choudhry, N.K., Kilabuk, E. et al. Online Social Networking by Patients with Diabetes: A Qualitative Evaluation of Communication with Facebook. J GEN INTERN MED 26, 287–292 (2011). https://doi.org/10.1007/s11606-010-1526-3
Received:

Accepted:

Published:

Issue Date:
KEY WORDS
social networks

online social media

information seeking behavior

Facebook

diabetes

disease management