ABSTRACT
BACKGROUND
N-of-1 trials test treatment effectiveness within an individual patient.
OBJECTIVE
To assess (i) the impact of three different N-of-1 trials on both clinical and economic outcomes over 12 months and (ii) whether the use of N-of-1 trials to target patients' access to high-cost drugs might be cost-effective in Australia.
DESIGN
Descriptive study of management change, persistence, and costs summarizing three N-of-1 trials.
PARTICIPANTS
Volunteer patients with osteoarthritis, chronic neuropathic pain or ADHD whose optimal choice of treatment was uncertain.
INTERVENTIONS
Double-blind cyclical alternative medications for the three conditions.
MEASURES
Detailed resource use, treatment and health outcomes (response) data collected by postal and telephone surveys immediately before and after the trial and at 3, 6 and 12 months. Estimated costs to the Australian healthcare system for the pre-trial vs. 12 months post-trial.
RESULTS
Participants persisting with the joint patient-doctor decision 12 months after trial completion were 32% for osteoarthritis, 45% for chronic neuropathic pain and 70% for the ADHD trials. Cost-offsets were obtained from reduced usage of non-optimal drugs, and reduced medical consultations. Drug costs increased for the chronic neuropathic pain and ADHD trials due to many patients being on either low-cost or no pharmaceuticals before the trial.
CONCLUSIONS
N-of-1 trials are an effective method to identify optimal treatment in patients in whom disease management is uncertain. Using this evidence-based approach, patients and doctors tend to persist with optimal treatment resulting in cost-savings. N-of-1 trials are clinically acceptable and may be an effective way of rationally prescribing some expensive long-term medicines.
This is a preview of subscription content,
to check access.
Access this article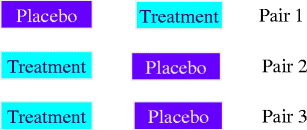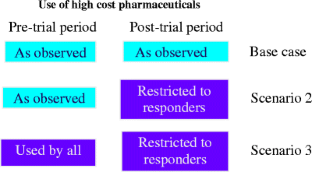 Abbreviations
ADHD:

attention-deficit hyperactivity disorder

BCa:

bias-corrected and accelerated

GP:

general practitioner i.e. family physician

IQR:

inter-quartile range

OA:

osteoarthritis

PBS:

pharmaceutical benefits scheme

RCT:

randomized controlled trial

SD:

standard deviation

SR:

slow-release

95% CI:

95% confidence interval
References
Centre for Disease Control and Prevention. The Burden of Chronic Diseases and their Risk Factors: National and State Perspectives 2004. 2004; www.cdc.gov/NCCDPHP/burdenbook2004/. Accessed March 8, 2010.

Chodick G, Heymann A, Wood F, Kokia E. The direct medical costs of diabetes in Isreal. Eur J Health Econ. 2005;6(2):166–171.

Guyatt G, Keller L, Jaeschke R, Rosenbloom D, Adachi J, Newhouse M. The N-of-1 randomized controlled trial: clinical usefulness. Our three-year experience. Ann Intern Med. 1990;112(4):293–299.

Guyatt G, Sackett D, Taylor D. Determining optimal therapy. Randomized trials in individual patients. N Engl J Med. 1986;314(14):889–892.

Kravitz R, Duan N, Niedzinski E, Hay M, Subramanian S, Weisner T. What ever happened to N-of-1 trials? Insiders' perspectives and a look to the future. Milbank Q. 2008;86(4):533–555.

Zucker D, Schmid C, McIntosh M, D'Agostino R, Selker H, Lau J. Combining single patient (N-of-1) trials to estimate population treatment effects and to evaluate individual patient responses to treatment. J Clin Epidemiol. 1997;50(4):401–410.

Scuffham P, Yelland M, Nikles C, Pietrzak E, Wilkinson D. Are N-of-1 trials an economically viable option to improve access to selected high cost medications? The Australian experience. Value Health. 2008;11(1):97–109.

Nikles C, Mitchell G, del Mar C, McNairn N, Clavarino Z. Long-term changes in management following n-of-1 trials of stimulants in attention-deficit/hyperactivity disorder. Eur J Clin Pharmacol. 2007;63(11):985–989.

Yelland M, Poulos C, Pillans P, et al. N-of-1 randomized trials to assess the efficacy of gabapentin for chronic neuropathic pain. Pain Med. 2009;10(4):754–761.

Yelland M, Nikles C, McNairn N, del Mar C, Schluter P, Brown R. Celecoxib compared with sustained-release paracetamol for osteoarthritis: a series of n-of-1 trials. Rheumatology. 2007;46:135–140.

Cramer J, Rosenheck R, Kirk G, Krol W, Krystal J, VA Naltrexone Study Group 425. Medication compliance feedback and monitoring in a clinical trial: predictors and outcomes. Value Health. 2003;6:566–573.

Department of Health and Ageing. Medicare Benefits Schedule. 2006; http://www.mbsonline.gov.au/internet/mbsonline/publishing.nsf/Content/MBSOnline-2006. Accessed March 9, 2010.

Department of Health and Ageing. Schedule of Pharmaceutical Benefits for Approved Paharmacists and Medical Practitioners. Canberra: Commonwealth of Australia; 2006.

Efron B, Tibshirani R. The Bootstrap Method for standard errors, confidence intervals, and other measures of statistical accuracy. Stat Sci. 1986;1(1):1–35.

Efron B, Tibshirani R. An Introduction to the Bootstrap. New York: Chapman Hall; 1993.

Nikles C, Yelland M, Glasziou P, del Mar C. Do individualized medication effectiveness tests (N-of-1 trials) change joint patient-doctor decisions about which drug to use for osteoarthritis and chronic pain? Am J Ther. 2005;12:92–97.

Nikles C, Clavarino Z, del Mar C. Using N-of-1 trials as a clinical tool to improve prescribing. Br J Gen Pract. 2005;55(512):175–180.

Huser M, Evans T, Berger V. Medication adherence trends with statins. Adv Ther. 2005;22:163–171.

Osterberg L, Blaschke T. Adherence to medication. N Engl J Med. 2005;353:487–497.

Tsapas A, Matthews D. Using N-of-1 trials in evidence-based clinical practice. JAMA. 2009;301(10):1022–1023.

Suri R. The use of human deoxyribonuclease (rhDNase) in the management of cystic fibrosis. BioDrugs. 2005;19(3):135–144.

Pocock S. Current issues in the design and interpretation of clinical trials. Br Med J. 1985;290:39–42.

Sheather-Reid R, Cohen M. Efficacy of analgesics in chronic pain: A series of N-of-one studies. J Pain Symptom Manage. 1998;15:244–252.

Guyatt G. Clinical care and clinical research: A false dichotomy. In: Daly J, ed. Ethical Intersections: Health Research, Methods and Research Responsibility. Sydney: Allen & Unwin; 1996:66–73.

Montori V, Guyatt G. Using N-of-1 trials in evidence-based clinical practice-Reply. JAMA. 2009;301(10):1023.

Tsapas A, Matthews D. N of 1 trials in diabetes: Making individual therapeutic decisions. Diabetologia. 2008;51(6):921–923.

Nikles C, Mitchell G, del Mar C, Clavarino Z, McNairn N. An N-of-1 trial service in clinical practice: Testing the effectiveness of stimulants for attention deficit hyperactivity disorder. Pediatrics. 2006;117(6):2040–2046.
Acknowledgments
Thanks to, Jonathan Chan, and Fraser Mackenzie from Princess Alexandra Hospital for their help in recruiting participants; Jo Sturtevant from Princess Alexandra Hospital and Nancy Fish from Port Kembla Hospital for estimates of costs and assistance with trials; staff from the Mater Children's Hospital, Brisbane for their help in implementing ADHD trials in the Mater Hospital; Eric Lee for technical advice and preparation of pharmaceuticals for the ADHD trial; the N-of-1 trial service staff for collecting the data; Virginia Priest for reviewing a previous draft of this manuscript and making valuable comments; and the doctors and participants who took part in the trials.
We did not receive any specific funding to write this article.
The Australian Health Ministers Advisory Council (http://www.ahmac.gov.au) provided funding but had no involvement in any facet of the research. For the celecoxib/acetominophen n-of-1 trial, GlaxoSmithKline Consumer Healthcare (http://www.gsk.com.au) supplied medication, placebos, some funding and invaluable support; participated in initial planning discussions; and viewed the manuscript prior to publication, but had no role in the conduct, collection, management, analysis or interpretation of data; preparation or approval of the manuscript or the decision to submit the final manuscript for publication. The Princess Alexandra Hospital (http://www.health.qld.gov.au/pahospital/) and the Port Kembla Hospital (http://www.sesiahs.health.nsw.gov.au/Hospitals/Port_Kembla_Hospital) contributed funding for the gabapentin N-of-1 trial. Apart from the investigators based at these hospitals, no other personnel had a role in study design, data collection and analysis, decision to publish, or preparation of the manuscript.
Paul Scuffham had full access to the economic data in the study and takes responsibility for the integrity of the data and the accuracy of the data analysis.
Conflict of interest statement
GlaxoSmithKline Consumer Healthcare provided funding that supported the salaries of Jane Nikles and Norma McNairn on the project. Michael Yelland has been paid by GlaxoSmithKline to present the results of aspects of this research at two conferences.
About this article
Cite this article
Scuffham, P.A., Nikles, J., Mitchell, G.K. et al. Using N-of-1 Trials to Improve Patient Management and Save Costs. J GEN INTERN MED 25, 906–913 (2010). https://doi.org/10.1007/s11606-010-1352-7
Received:

Revised:

Accepted:

Published:

Issue Date:

DOI: https://doi.org/10.1007/s11606-010-1352-7
KEY WORDS