Abstract
BACKGROUND
Diabetes may be an independent risk factor for atrial fibrillation. However, results from prior studies are in conflict, and no study has examined diabetes duration or glycemic control.
OBJECTIVE
To examine the association of diabetes with risk of atrial fibrillation and to describe risk according to diabetes duration and glycemic control.
DESIGN
A population-based case-control study.
PARTICIPANTS
Within a large, integrated healthcare delivery system, we identified 1,410 people with newly-recognized atrial fibrillation from ICD-9 codes and validated cases by review of medical records. 2,203 controls without atrial fibrillation were selected from enrollment lists, stratified on age, sex, hypertension, and calendar year.
MAIN MEASURES
Information on atrial fibrillation, diabetes and other characteristics came from medical records. Diabetes was defined based on physician diagnoses recorded in the medical record, and pharmacologically treated diabetes was defined as receiving antihyperglycemic medications. Information about hemoglobin A1c levels came from computerized laboratory data.
KEY RESULTS
Among people with atrial fibrillation, 252/1410 (17.9%) had pharmacologically treated diabetes compared to 311/2203 (14.1%) of controls. The adjusted OR for atrial fibrillation was 1.40 (95% CI 1.15-1.71) for people with treated diabetes compared to those without diabetes. Among those with treated diabetes, the risk of developing atrial fibrillation was 3% higher for each additional year of diabetes duration (95% CI 1-6%). Compared to people without diabetes, the adjusted OR for people with treated diabetes with average hemoglobin A1c ≤7 was 1.06 (95% CI 0.74-1.51); for A1c >7 but ≤8, 1.48 (1.09-2.01); for A1c >8 but ≤9, 1.46 (1.02-2.08); and for A1c >9, 1.96 (1.22–3.14).
CONCLUSIONS
Diabetes was associated with higher risk of developing atrial fibrillation, and risk was higher with longer duration of treated diabetes and worse glycemic control. Future research should identify and test approaches to reduce the risk of atrial fibrillation in people with diabetes.
Access options
Buy single article
Instant access to the full article PDF.
US$ 39.95
Tax calculation will be finalised during checkout.
Subscribe to journal
Immediate online access to all issues from 2019. Subscription will auto renew annually.
US$ 79
Tax calculation will be finalised during checkout.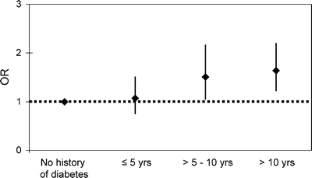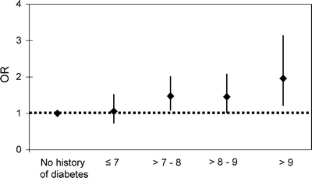 References
1.

Mainous AG 3rd, Baker R, Koopman RJ, et al. Impact of the population at risk of diabetes on projections of diabetes burden in the United States: an epidemic on the way. Diabetologia. 2007;50:934–40.

2.

Rutter MK, Parise H, Benjamin EJ, et al. Impact of glucose intolerance and insulin resistance on cardiac structure and function: sex-related differences in the Framingham Heart Study. Circulation. 2003;107:448–54.

3.

Aviles RJ, Martin DO, Apperson-Hansen C, et al. Inflammation as a risk factor for atrial fibrillation. Circulation. 2003;108:3006–10.

4.

Bluher M, Fasshauer M, Tonjes A, Kratzsch J, Schon MR, Paschke R. Association of interleukin-6, C-reactive protein, interleukin-10 and adiponectin plasma concentrations with measures of obesity, insulin sensitivity and glucose metabolism. Exp Clin Endocrinol Diabetes. 2005;113:534–7.

5.

Yuan G, Zhou L, Tang J, et al. Serum CRP levels are equally elevated in newly diagnosed type 2 diabetes and impaired glucose tolerance and related to adiponectin levels and insulin sensitivity. Diabetes Res Clin Pract. 2006;72:244–50.

6.

Putz DM, Goldner WS, Bar RS, Haynes WG, Sivitz WI. Adiponectin and C-reactive protein in obesity, type 2 diabetes, and monodrug therapy. Metabolism. 2004;53:1454–61.

7.

Chung MK, Martin DO, Sprecher D, et al. C-reactive protein elevation in patients with atrial arrhythmias: inflammatory mechanisms and persistence of atrial fibrillation. Circulation. 2001;104:2886–91.

8.

Tsang TS, Barnes ME, Bailey KR, et al. Left atrial volume: important risk marker of incident atrial fibrillation in 1655 older men and women. Mayo Clin Proc. 2001;76:467–75.

9.

Psaty BM, Manolio TA, Kuller LH, et al. Incidence of and risk factors for atrial fibrillation in older adults. Circulation. 1997;96:2455–61.

10.

Benjamin EJ, Wolf PA, D'Agostino RB, Silbershatz H, Kannel WB, Levy D. Impact of atrial fibrillation on the risk of death: the Framingham Heart Study. Circulation. 1998;98:946–52.

11.

Krahn AD, Manfreda J, Tate RB, Mathewson FA, Cuddy TE. The natural history of atrial fibrillation: incidence, risk factors, and prognosis in the Manitoba Follow-Up Study. Am J Med. 1995;98:476–84.

12.

Aksnes TA, Schmieder RE, Kjeldsen SE, Ghani S, Hua TA, Julius S. Impact of new-onset diabetes mellitus on development of atrial fibrillation and heart failure in high-risk hypertension (from the VALUE Trial). Am J Cardiol. 2008;101:634–8.

13.

Nichols GA, Reinier K, Chugh SS. Independent contribution of diabetes to increased prevalence and incidence of atrial fibrillation. Diabetes Care. 2009;32:1851–6.

14.

Benjamin EJ, Levy D, Vaziri SM, D'Agostino RB, Belanger AJ, Wolf PA. Independent risk factors for atrial fibrillation in a population-based cohort. The Framingham Heart Study. JAMA. 1994;271:840–4.

15.

Johansen OE, Brustad E, Enger S, Tveit A. Prevalence of abnormal glucose metabolism in atrial fibrillation: a case control study in 75-year old subjects. Cardiovasc Diabetol. 2008;7:28.

16.

Movahed MR, Hashemzadeh M, Jamal MM. Diabetes mellitus is a strong, independent risk for atrial fibrillation and flutter in addition to other cardiovascular disease. Int J Cardiol. 2005;105:315–18.

17.

Stewart S, Hart CL, Hole DJ, McMurray JJ. Population prevalence, incidence, and predictors of atrial fibrillation in the Renfrew/Paisley study. Heart. 2001;86:516–21.

18.

Watanabe H, Tanabe N, Watanabe T, et al. Metabolic syndrome and risk of development of atrial fibrillation: the Niigata preventive medicine study. Circulation. 2008;117:1255–60.

19.

Iguchi Y, Kimura K, Aoki J, et al. Prevalence of atrial fibrillation in community-dwelling Japanese aged 40 years or older in Japan: analysis of 41, 436 non-employee residents in Kurashiki-city. Circ J. 2008;72:909–13.

20.

Frost L, Hune LJ, Vestergaard P. Overweight and obesity as risk factors for atrial fibrillation or flutter: the Danish Diet, Cancer, and Health Study. Am J Med. 2005;118:489–95.

21.

Ostgren CJ, Merlo J, Råstam L, Lindblad U. Atrial fibrillation and its association with type 2 diabetes and hypertension in a Swedish community. Diabetes Obes Metabol. 2004;6:367–74.

22.

Ruigómez A, Johansson S, Wallander MA, Garcia Rodriguez LA. Predictors and prognosis of paroxysmal atrial fibrillation in general practice in the UK. BMC Cardiovasc Disord. 2005;5:20.

23.

Ruigómez A, Johansson S, Wallander MA, Garcia Rodriguez LA. Incidence of chronic atrial fibrillation in general practice and its treatment pattern. J Clin Epidemiol. 2002;55:358–63.

24.

Wilhelmsen L, Rosengren A, Lappas G. Hospitalizations for atrial fibrillation in the general male population: morbidity and risk factors. J Intern Med. 2001;250:382–9.

25.

Jeong JH. Prevalence of and risk factors for atrial fibrillation in Korean adults older than 40 years. J Korean Med Sci. 2005;20:26–30.

26.

Smith JG, Platonov PG, Hedblad B, Engström G, Melander O. Atrial fibrillation in the Malmö Diet and Cancer study: a study of occurrence, risk factors and diagnostic validity. Eur J Epidemiol. 2010;25:95–102.

27.

Zhou Z, Hu D. An epidemiological study on the prevalence of atrial fibrillation in the Chinese population of mainland China. J Epidemiol. 2008;18:209–16.

28.

Dublin S, French B, Glazer NL, et al. Risk of new-onset atrial fibrillation in relation to body mass index. Arch Intern Med. 2006;166:2322–8.

29.

Wang TJ, Parise H, Levy D, et al. Obesity and the risk of new-onset atrial fibrillation. JAMA. 2004;292:2471–7.

30.

Heckbert SR, Wiggins KL, Glazer NL, et al. Antihypertensive treatment with ACE inhibitors or beta-blockers and risk of incident atrial fibrillation in a general hypertensive population. Am J Hypertens. 2009;22:538–44.

31.

Psaty BM, Heckbert SR, Atkins D, et al. The risk of myocardial infarction associated with the combined use of estrogens and progestins in postmenopausal women. Arch Intern Med. 1994;154:1333–9.

32.

Psaty BM, Heckbert SR, Koepsell TD, et al. The risk of myocardial infarction associated with antihypertensive drug therapies. JAMA. 1995;274:620–5.

33.

Smith NL, Heckbert SR, Lemaitre RN, et al. Esterified estrogens and conjugated equine estrogens and the risk of venous thrombosis. JAMA. 2004;292:1581–7.

34.

Saunders KW, Davis RL, Stergachis A, Group Health Cooperative. In: Strom BL, ed. Pharmacoepidemiology. 4th ed. Chichester: John Wiley & Sons; 2005:234.

35.

Fuster V, Ryden LE, Cannom DS, et al. ACC/AHA/ESC 2006 guidelines for the management of patients with atrial fibrillation–executive summary: a report of the American College of Cardiology/American Heart Association Task Force on Practice Guidelines and the European Society of Cardiology Committee for Practice Guidelines (Writing Committee to Revise the 2001 Guidelines for the Management of Patients With Atrial Fibrillation). J Am Coll Cardiol. 2006;48:854–906.

36.

World Health Organization. Obesity: preventing and managing the global epidemic. Report of a WHO consultation. World Health Organ Tech Rep Ser. 2000;894:i-xii, 1-253.

37.

Lip GY, Varughese GI. Diabetes mellitus and atrial fibrillation: Perspectives on epidemiological and pathophysiological links. Int J Cardiol. 2005;105:319–21.

38.

Otake H, Suzuki H, Honda T, Maruyama Y. Influences of autonomic nervous system on atrial arrhythmogenic substrates and the incidence of atrial fibrillation in diabetic heart. Int Heart J. 2009;50:627–41.

39.

West SD, Nicoll DJ, Stradling JR. Prevalence of obstructive sleep apnoea in men with type 2 diabetes. Thorax. 2006;61:945–50.

40.

Gami AS, Hodge DO, Herges RM, et al. Obstructive sleep apnea, obesity, and the risk of incident atrial fibrillation. J Am Coll Cardiol. 2007;49:565–71.
Funding
This research was funded by grants HL 68986, HL 43201, HL 73410, and HL 68639 from the National Heart, Lung and Blood Institute. Dr. Dublin was funded through a Veterans' Affairs Health Services Research & Development fellowship, a Paul Beeson Career Development Award from the National Institute on Aging (K23AG028954), and Group Health Research Institute internal funds. The Beeson Award is also supported in part by the American Federation for Aging Research, the Hartford Foundation, the Atlantic Philanthropies and the Starr Foundation.
Prior presentations
This work was presented at the American Heart Association 47th Annual Conference on Cardiovascular Disease Epidemiology and Prevention in Orlando, Florida, on February 28, 2007 (poster), and the 13th Annual HMO Research Network Conference in Portland, Oregon, on March 21, 2007 (oral presentation).
Disclaimer
The views expressed in this article are those of the authors and do not necessarily reflect the position or policy of the Department of Veterans Affairs.
Conflict of interest statement
Dr. Dublin has received a Merck/American Geriatrics Society New Investigator Award. Dr. Page has consulted for Sanofi-Aventis and Astellas. Dr. Psaty has served as an unpaid consultant for AVIIR, a proteomics company, about its plans for an ancillary study within the MultiEthnic Study of Atherosclerosis. Other authors have no potential conflicts to disclose.
About this article
Cite this article
Dublin, S., Glazer, N.L., Smith, N.L. et al. Diabetes Mellitus, Glycemic Control, and Risk of Atrial Fibrillation. J GEN INTERN MED 25, 853–858 (2010). https://doi.org/10.1007/s11606-010-1340-y
Received:

Revised:

Accepted:

Published:

Issue Date:
KEY WORDS
arrhythmia

atrial fibrillation

diabetes mellitus

glycemic control

diabetes complications