Abstract
Background
This study was designed to determine risk factors and potential harm associated with medication errors at hospital admission.
Methods
Study pharmacist and hospital-physician medication histories were compared with medication orders to identify unexplained history and order discrepancies in 651 adult medicine service inpatients with 5,701 prescription medications. Discrepancies resulting in order changes were considered errors. Logistic regression was used to analyze the association of patient demographic and clinical characteristics including patients' number of pre-admission prescription medications, pharmacies, prescribing physicians and medication changes; and presentation of medication bottles or lists. These factors were tested after controlling for patient demographics, admitting service and severity of illness.
Results
Over one-third of study patients (35.9%) experienced 309 order errors; 85% of patients had errors originate in medication histories, and almost half were omissions. Cardiovascular agents were commonly in error (29.1%). If undetected, 52.4% of order errors were rated as potentially requiring increased monitoring or intervention to preclude harm; 11.7% were rated as potentially harmful. In logistic regression analysis, patient's age ≥65 [odds ratio (OR), 2.17; 95% confidence interval (CI), 1.09–4.30] and number of prescription medications (OR, 1.21; 95% CI, 1.14–1.29) were significantly associated with errors potentially requiring monitoring or causing harm. Presenting a medication list (OR, 0.35; 95% CI, 0.19–0.63) or bottles (OR, 0.55; 95% CI, 0.27–1.10) at admission was beneficial.
Conclusion
Over one-third of the patients in our study had a medication error at admission, and of these patients, 85% had errors originate in their medication histories. Attempts to improve the accuracy of medication histories should focus on older patients with a large number of medications. Primary care physicians and other clinicians should help patients utilize and maintain complete, accurate and understandable medication lists.
Access options
Buy single article
Instant access to the full article PDF.
US$ 39.95
Tax calculation will be finalised during checkout.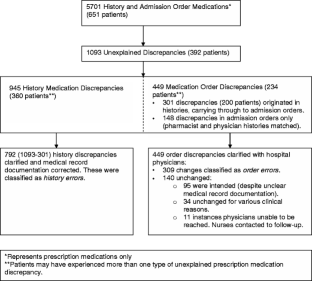 References
1.

Aspden P, Wolcott J, Bootman JL, Cronenwett LR, eds. Preventing medication errors: quality chasm series. Washington: National Academy Press; 2006.

2.

Vira T, Colquhoun M, Etchells E. Reconcilable differences: correcting medication errors at hospital admission and discharge. Qual. Saf. Health Care. 2006;15:122–126.

3.

Cornish PL, Knowles SR, Marchesano R, et al. Unintended medication discrepancies at the time of hospital admission. Arch Intern Med. 2005;165:424–429.

4.

Tam VC, Knowles SR, Cornish PL, Fine N, Marchesano R, Etchells EE. Frequency, type and clinical importance of medication history errors at admission to hospital: a systematic review. CMAJ. 2005;173:510–515.

5.

Gleason KM, Groszek JM, Sullivan C, Rooney D, Barnard C, Noskin GA. Reconciliation of discrepancies in medication histories and admission orders of newly hospitalized patients. Am J Health-Syst Pharm. 2004;61:1689–1695.

6.

Kaboli PJ, McClimon BJ, Hoth AB, Barnett MJ. Assessing the accuracy of computerized medication histories. Am J Manag Care. 2004;10(part2):872–877.

7.

Lau HS, Florax C, Porsius AJ, Boer A de. The completeness of medication histories in hospital medical records of patients admitted to general internal medicine wards. Br J Clin Pharmacol. 2000;49:597–603.

8.

Bedell SE, Jabbour S, Goldberg R, et al. Discrepancies in the use of medications: their extent and predictors in an outpatient practice. Arch Intern Med. 2000;160:2129–2134.

9.

Beers MH, Munekata M, Storrie M. The accuracy of medication histories in the hospital medical records of elderly persons. J Am Geriatr Soc. 1990;38:1183–1187.

10.

Leister KA, Edwards WA, Christensen DB, Clarke H. A comparison of patient drug regimens as viewed by the physician, pharmacist and patient. Med Care. 1981;19:658–64.

11.

Agency for Healthcare Research and Quality (AHRQ) WebM&M: Morbidity and Mortality Rounds on the Web. Medical Informatics Case and Commentary: "Electronic Err". October, 2005. http://webmm.ahrq.gov/case.aspx?caseID=79&searchStr=electronic+medication+lists. Accessed December 28, 2009.

12.

U.S. Pharmacopeia 8th Annual MEDMARX® Report Indicates Look-Alike/Sound-Alike Drugs Lead to Thousands of Medication Errors Nationwide. http://www.usp.org/aboutUSP/media/newsCenter.html?article=105435. Accessed December 28, 2009.

13.

Berkman ND, DeWalt DA, Pignone MP, et al. Literacy and Health Outcomes. Evidence Report/Technology Assessment No. 87 (Prepared by RTI International-University of North Carolina Evidence-based Practice Center under Contract No. 290-02-0016). AHRQ Publication No. 04-E007-2. Rockville, MD: Agency for Healthcare July 16, 2009.

14.

Baker DW, Gazmararian JA, Williams MV, et al. Functional health literacy and the risk of hospital admission among Medicare managed care enrollees. Am J Public Health. 2002;92:1278–1283.

15.

National Coordinating Council for Medication Error Reporting and Prevention. NCC MERP index for categorizing medication errors. http://www.nccmerp.org/medErrorCatIndex.html. Accessed December 28, 2009.

16.

Forrey RA, Pedersen CA, Schneider PJ. Interrater agreement with a standard scheme for classifying medication errors. Am J Health-Syst Pharm. 2007;64:175–181.

17.

MEDMARX®, U.S. Pharmacopeia. http://www.usp.org/hqi/patientSafety/medmarx/. Accessed December 28, 2009.

18.

Pippins JR, Gandhi TK, Hamann C, et al. Classifying and predicting errors of inpatient medication reconciliation. J Gen Intern Med. 2008;23:1414–1422.

19.

The Joint Commission. Medication reconciliation National Patient Safety Goal to be reviewed, refined. http://www.jointcommission.org/PatientSafety/NationalPatientSafetyGoals/npsg8_review.htm. Accessed December 28, 2009.

20.

Nester TM, Hale LS. Effectiveness of a pharmacist-acquired medication history in promoting patient safety. Am J Health-Syst Pharm. 2002;59:2221–2225.

21.

Lindquist LA, Gleason KM, McDaniel MR, Doeksen A, Liss D. Teaching medication reconciliation through simulation: a patient safety initiative for second year medical students. J Gen Intern Med. 2008;23:998–1001.

22.

Bates DW, Miller EB, Cullen DJ, et al. Patient risk factors for adverse drug events in hospitalized patients. ADE Prevention Study Group. Arch Intern Med. 1999;159:2553–2560.

23.

Poon EG, Blumenfeld B, Hamann C, et al. Design and implementation of an application and associated services to support interdisciplinary medication reconciliation efforts at an integrated healthcare delivery network. J Am Med Inform Assoc. 2006;13:581–592.

24.

Turchin A, Hamann C, Schnipper JL, et al. Evaluation of an inpatient computerized medication reconciliation system. J Am Med Inform Assoc. 2008;15:449–452.

25.

Forster AJ, Murff HJ, Peterson JF, Gandhi TK, Bates DW. The incidence and severity of adverse events affecting patients after discharge from the hospital. Ann Intern Med. 2003;138:161–167.

26.

Forster AJ, Clark HD, Menard A, et al. Adverse events among medical patients after discharge from hospital. CMAJ. 2004;170(3):345–349.

27.

Coleman EA, Smith JD, Raha D, Min SJ. Posthospital medication discrepancies: prevalence and contributing factors. Arch Intern Med. 2005;165:1842–1847.

28.

Society of Hospital Medicine. BOOSTing (Better Outcomes for Older adults through Safe Transitions) Care Transitions resource room. http://www.hospitalmedicine.org/ResourceRoomRedesign/RR_CareTransitions/CT_Home.cfm. Accessed December 28, 2009.
Acknowledgments
This study was supported, in part, by a grant from the Agency for Healthcare Research and Quality (AHRQ) number 5 U18 HS015886. The opinions expressed in this document are those of the authors and do not reflect the official position of AHRQ or the US Department of Health and Human Services. The funding source had no role in the design and conduct of the study; collection, management, analysis, and interpretation of the data; or preparation, review, or approval of the manuscript.
Portions of this work were presented at the 9th Annual National Patient Safety Foundation (NPSF) Patient Safety Congress May, 2007, and at the AHRQ 2007 Annual Conference.
Conflict of Interest
None Disclosed
About this article
Cite this article
Gleason, K.M., McDaniel, M.R., Feinglass, J. et al. Results of the Medications At Transitions and Clinical Handoffs (MATCH) Study: An Analysis of Medication Reconciliation Errors and Risk Factors at Hospital Admission. J GEN INTERN MED 25, 441–447 (2010). https://doi.org/10.1007/s11606-010-1256-6
Received:

Revised:

Accepted:

Published:

Issue Date:
KEY WORDS
medication reconciliation

medication errors

medication history taking