Abstract
Background
Partnership is integral to therapeutic relationships, yet few studies have examined partnership-fostering communication behaviors in the clinic setting. We conducted this study to better understand how statements in which physicians use the first person plural might foster partnership between patient and provider.
Methods
We audio-recorded encounters between 45 HIV providers and 418 patients in the Enhancing Communication and HIV Outcomes (ECHO) Study. We used the Roter Interaction Analysis System (RIAS) to code for statements made by the physician that used the first person plural to refer to themselves and their patient. Using multiple logistic regression, we examined the associations between the occurrence of one or more first person plural statements with patient ratings of provider communication. To better understand the meaning of first person plural statements, we conducted a qualitative analysis.
Main Results
Providers were mostly white (69%) and Asian (24%); 57% were female. Patients were black (60%), white (25%), and Hispanic (15%); 33% were female. One or more first person plural statements occurred in 92/418 (22%) of encounters. In adjusted analyses, encounters with first person plural statements were associated with younger patient age (OR 0.97, 95% CI 0.94–0.99), higher patient depression scores (highest tertile compared to lowest tertile: OR 1.89, 95% CI 1.01–3.51), the patient not being on anti-retroviral therapy (OR 0.53, 95% CI 0.29–0.93), and older provider age (OR 1.05, 95% CI 1.00–1.09). After adjustment, patients were less likely to highly rate their provider's communication style if first person plural statements were used (AOR 0.57, 95% CI 0.33–0.96). There were 167 first person plural statements made by physicians in the 418 encounters. Qualitative analysis revealed that many first person plural features had at least one negative feature such as being overtly persuasive ("That's going to be our goal"), indirect ("What can we do to improve your diet?"), or ambiguous ("Let's see what we can do"), although there were also positive statements that involved patients in the health-care process, contributed to a mutual understanding, and addressed the patients' goals.
Conclusions
Contrary to our hypotheses, use of first person plural was not associated with higher ratings of provider communication, probably because some of these statements were overtly persuasive, indirect, or ambiguous. Physicians should become aware of benefits and pitfalls of using the first person plural with patients. Further research is needed to determine the most effective methods through which providers can build alliances with patients.
Access options
Buy single article
Instant access to the full article PDF.
US$ 39.95
Tax calculation will be finalised during checkout.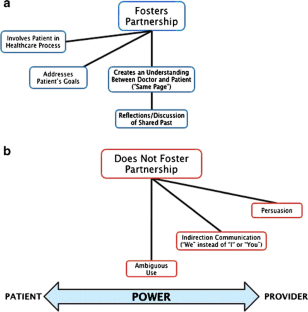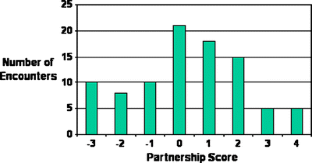 References
1.

Price R. A Whole New Life: An Illness and a Healing. New York: Scribner; 1982.

2.

Roter DL. Roter Interaction Analysis Manual. Johns Hopkins University Bloomberg School of Public Health; 1999.

3.

Mead N, Bower P. Patient-centredness: a conceptual framework and review of the empirical literature. Soc Sci Med. 2000;51:1087–1110.

4.

Skelton JR, Wearn AM, Hobbs FD. "I" and "we": a concordancing analysis of how doctors and patients use first person pronouns in primary care consultations. Fam Pract. 2002;19:484–488.

5.

Roter DL, Hall JA, Katz NR. Relations between physicians' behaviors and analogue patients' satisfaction, recall, and impressions. Med Care. 1987;25:437–451.

6.

Wissow LS, Roter DL, Wilson ME. Pediatrician interview style and mothers' disclosure of psychosocial issues. Pediatrics. 1994;93:289–295.

7.

Wissow LS, Roter D, Bauman LJ, et al. Patient-provider communication during the emergency department care of children with asthma. The National Cooperative Inner-City Asthma Study, National Institute of Allergy and Infectious Diseases, NIH, Bethesda, MD. Med Care. 1998;36:1439–1450.

8.

Roter DL, Stewart M, Putnam SM, Lipkin M Jr, Stiles W, Inui TS. Communication patterns of primary care physicians. JAMA. 1997;277:350–356.

9.

Turknett Leadership Group, Emotional Intelligence Quiz. 2009.

10.

HCSUS Baseline Questionnaire. Module 9: Social support and coping. Available at http://www.rand.org/health/projects/hcsus/Base/index.html; accessed October 29, 2009.

11.

Cacciola JS, Alterman AI, McLellan AT, Lin YT, Lynch KG. Initial evidence for the reliability and validity of a "Lite" version of the Addiction Severity Index. Drug Alcohol Depend. 2007;87:297–302.

12.

Andresen EM, Malmgren JA, Carter WB, Patrick DL. Screening for depression in well older adults: evaluation of a short form of the CES-D (Center for Epidemiologic Studies Depression Scale). Am J Prev Med. 1994;10:77–84.

13.

Stewart AL, Napoles-Springer A, Perez-Stable EJ. Interpersonal processes of care in diverse populations. Milbank Q. 1999;77:305–339. 274.

14.

Heisler M, Bouknight RR, Hayward RA, Smith DM, Kerr EA. The relative importance of physician communication, participatory decision making, and patient understanding in diabetes self-management. J Gen Intern Med. 2002;17:243–252.
Acknowledgements
This work was supported by the Johns Hopkins University Osler Center for Clinical Excellence and by AHRQ contract 290-01-0012. In addition, Dr. Beach's effort was supported by K08 HS013903-05, and Ms. Kinsman's effort was supported by the Predoctoral Clinical Research Training Program at Johns Hopkins (UL1-RR025005).
Conflict of Interest
None disclosed.
About this article
Cite this article
Kinsman, H., Roter, D., Berkenblit, G. et al. "We'll Do this Together": The Role of the First Person Plural in Fostering Partnership in Patient-physician Relationships. J GEN INTERN MED 25, 186–193 (2010). https://doi.org/10.1007/s11606-009-1178-3
Received:

Revised:

Accepted:

Published:

Issue Date:
KEY WORDS
patient-provider relations

patient-provider communication

patient-centered care

partnership

HIV/AIDS