Abstract
Background
Several small studies reported high risk of progression to high-grade dysplasia (HGD) and esophageal adenocarcinoma (EAC) in Barrett's esophagus (BE) patients who undergo solid organ transplantation (SOT) and implied that this may be due to immunosuppressant use. However, the major shortcoming of these studies was the lack of a control population. Therefore, we aimed to determine the rates of neoplastic progression in BE patients who underwent SOT and compare to that in controls and identify the predictors of progression.
Methods
This was a retrospective cohort study of BE patients seen in Cleveland Clinic and affiliated hospitals between January 2000 and August 2022. Demographics, endoscopic and histological findings, history of SOT and fundoplication, immunosuppressant use, and follow-up were abstracted.
Results
The study population consisted of 3466 patients with BE, of which 115 had SOT (lung 35, liver 34, kidney 32, heart 14, and pancreas 2) and 704 patients on chronic immunosuppressants but no history of SOT. During a median follow-up of 5.1 years, there was no difference in the annual risk of progression between the three groups (SOT=0.61%, no SOT but on immunosuppressants= 0.82%, and no SOT/no immunosuppressants= 0.94%, p=0.72). On multivariate analysis, immunosuppressant use (odds ratio (OR) 1.38, 95% confidence interval (CI) 1.04–1.82, p=0.025) but not SOT (OR 0.39, 95%CI 0.15–1.01, p=0.053) was associated with neoplastic progression in BE patients.
Conclusion
Immunosuppression is a risk factor for progression of BE to HGD/EAC. Therefore, close surveillance of BE patients on chronic immunosuppressants needs to be considered.
This is a preview of subscription content,
to check access.
Access this article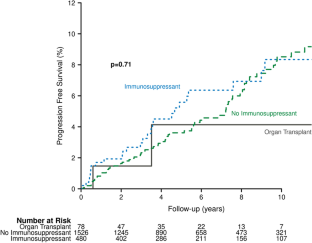 Abbreviations
ANOVA :

analysis of variance

BE :

Barrett's esophagus

BMI :

body mass index

CI :

confidence interval

DNA :

deoxyribonucleic acid

EAC :

esophageal adenocarcinoma

EGD :

esophagogastroduodenoscopy

EARs :

excess absolute risks

HR :

hazard ratio

HH :

hiatal hernia

HGD :

high-grade dysplasia

H/o :

history of

IND :

indefinite for dysplasia

IMAC :

intramucosal adenocarcinoma

LGD :

low-grade dysplasia

m-TOR :

mammalian target of rapamycin

NDBE :

non-dysplastic Barrett's esophagus

No. :

number

OR :

odds ratio

RR :

relative risk

SOT :

solid organ transplantation

SIRs :

standardized incidence ratios

TNF :

tumor necrosis factor
References
https://www.cancer.org/cancer/esophagus-cancer/detection-diagnosis-staging/survival-rates.html. Accessed 01 March 2023

Marques de Sá I, Marcos P, Sharma P, Dinis-Ribeiro M. The global prevalence of Barrett's esophagus: A systematic review of the published literature. United European Gastroenterol J. 2020; 8(9):1086-1105.

Desai M, Lieberman DA, Kennedy KF, Hamade N, Thota P, Parasa S, Gorrepati VS, Bansal A, Gupta N, Gaddam S, Young PE, Mathur S, Moawad FJ, Cash BD, Sampliner R, Vargo JJ, Falk GW, Sharma P. Increasing prevalence of high-grade dysplasia and adenocarcinoma on index endoscopy in Barrett's esophagus over the past 2 decades: data from a multicenter U.S. consortium. Gastrointest Endosc. 2019; 89(2):257-263.e3.

Kambhampati S, Tieu AH, Luber B, Wang H, Meltzer SJ. Risk Factors for Progression of Barrett's Esophagus to High Grade Dysplasia and Esophageal Adenocarcinoma. Sci Rep. 2020; 10(1):4899.

Kim IS, Lee H, Park JC, Shin SK, Lee SK, Lee YC. Increased incidence of endoscopic erosive esophagitis in solid organ transplant recipients. Gut Liver. 2012; 6(3):349-54.

Biswas Roy S, Banks P, Kunz M, Ipsen TR, Masuda T, Mittal SK, Smith MA, Bremner RM. Prevalence and Natural History of Barrett's Esophagus in Lung Transplant: A Single-Center Experience. Ann Thorac Surg. 2019; 107(4):1017-1023.

Walsh SM, Maphango N, Egan JJ, Reynolds JV. Successful surgical management of early esophageal cancer in a patient with cystic fibrosis post-bilateral lung transplantation. BMJ Case Rep. 2015; 2015:bcr2015210342.

Oezcelik A, Kaiser GM, Dechêne A, Treckmann JW, Sotiropoulos GC, Reinhardt R, Saner FH, Paul A. Progression to adenocarcinoma in Barrett's esophagus after liver transplantation. Transplantation. 2011; 91(11):1250-3.

Saleh W, Duranceau A, Martin J, Noiseux N, Poirier C, Ferraro P. Rapid progression of Barrett's esophagus into adenocarcinoma in a combined lung and kidney transplant recipient. J Thorac Cardiovasc Surg. 2010; 139(1):217-8.

S Nallapareddy, J Bagirathan, S Kamasani. Esophageal Cancer In A Post-Liver Transplant Patient. The Internet Journal of Gastroenterology. 2004;4, 1

Trotter JF, Brazer SR. Rapid progression to high-grade dysplasia in Barrett's esophagus after liver transplantation. Liver Transpl Surg. 1999; 5(4):332-3.

Tjon AS, Sint Nicolaas J, Kwekkeboom J, de Man RA, Kazemier G, Tilanus HW, Hansen BE, van der Laan LJ, Tha-In T, Metselaar HJ. Increased incidence of early de novo cancer in liver graft recipients treated with cyclosporine: an association with C2 monitoring and recipient age. Liver Transpl. 2010; 16(7):837-46.

André N, Roquelaure B, Conrath J. Molecular effects of cyclosporine and oncogenesis: a new model. Med Hypotheses. 2004; 63(4):647-52.

Durnian JM, Stewart RM, Tatham R, Batterbury M, Kaye SB. Cyclosporin-A associated malignancy. Clin Ophthalmol. 2007; 1(4):421-30.

Weischer M, Röcken M, Berneburg M. Calcineurin inhibitors and rapamycin: cancer protection or promotion? Exp Dermatol. 2007; 16(5):385-93.

Shaheen NJ, Falk GW, Iyer PG, Souza RF, Yadlapati RH, Sauer BG, Wani S. Diagnosis and Management of Barrett's Esophagus: An Updated ACG Guideline. Am J Gastroenterol. 2022; 117(4):559-587.

Spechler SJ, Sharma P, Souza RF, Inadomi JM, Shaheen NJ. American Gastroenterological Association medical position statement on the management of Barrett's esophagus. Gastroenterology. 2011; 140(3):1084-91.

Shaheen NJ, Falk GW, Iyer PG, Gerson LB; American College of Gastroenterology. ACG Clinical Guideline: Diagnosis and Management of Barrett's Esophagus. Am J Gastroenterol. 2016; 111(1):30-50; quiz 51.

Schlemper RJ, Riddell RH, Kato Y, Borchard F, Cooper HS, Dawsey SM, Dixon MF, Fenoglio-Preiser CM, Fléjou JF, Geboes K, Hattori T, Hirota T, Itabashi M, Iwafuchi M, Iwashita A, Kim YI, Kirchner T, Klimpfinger M, Koike M, Lauwers GY, Lewin KJ, Oberhuber G, Offner F, Price AB, Rubio CA, Shimizu M, Shimoda T, Sipponen P, Solcia E, Stolte M, Watanabe H, Yamabe H. The Vienna classification of gastrointestinal epithelial neoplasia. Gut. 2000;47(2):251-5.

Engels EA, Pfeiffer RM, Fraumeni JF Jr, Kasiske BL, Israni AK, Snyder JJ, Wolfe RA, Goodrich NP, Bayakly AR, Clarke CA, Copeland G, Finch JL, Fleissner ML, Goodman MT, Kahn A, Koch L, Lynch CF, Madeleine MM, Pawlish K, Rao C, Williams MA, Castenson D, Curry M, Parsons R, Fant G, Lin M. Spectrum of cancer risk among US solid organ transplant recipients. JAMA. 2011;306(17):1891-901.

Zwart ES, Yüksel E, Pannekoek A, de Vries R, Mebius RE, Kazemier G. De Novo Carcinoma after Solid Organ Transplantation to Give Insight into Carcinogenesis in General-A Systematic Review and Meta-Analysis. Cancers (Basel). 2021;13(5):1122.

Taborelli M, Piselli P, Ettorre GM, Lauro A, Galatioto L, Baccarani U, Rendina M, Shalaby S, Petrara R, Nudo F, Toti L, Sforza D, Fantola G, Cimaglia C, Agresta A, Vennarecci G, Pinna AD, Gruttadauria S, Risaliti A, Di Leo A, Burra P, Rossi M, Tisone G, Zamboni F, Serraino D; Italian Transplant & Cancer Cohort Study. Risk of virus and non-virus related malignancies following immunosuppression in a cohort of liver transplant recipients. Italy, 1985-2014. Int J Cancer. 2018;143(7):1588-1594.

Cao L, Tong H, Xu G, Liu P, Meng H, Wang J, Zhao X, Tang Y, Jin J. Systemic lupus erythematous and malignancy risk: a meta-analysis. PLoS One. 2015; 10(4):e0122964.

Hemminki K, Liu X, Ji J, Sundquist J, Sundquist K. Autoimmune disease and subsequent digestive tract cancer by histology. Ann Oncol. 2012;23(4):927-33.

Sprangers B, Nair V, Launay-Vacher V, Riella LV, Jhaveri KD. Risk factors associated with post-kidney transplant malignancies: an article from the Cancer-Kidney International Network. Clin Kidney J. 2018; 11(3):315-329.

Duncan MD, Wilkes DS. Transplant-related immunosuppression: a review of immunosuppression and pulmonary infections. Proc Am Thorac Soc. 2005; 2(5):449-55.

Chang EY, Morris CD, Seltman AK, O'Rourke RW, Chan BK, Hunter JG, Jobe BA. The effect of antireflux surgery on esophageal carcinogenesis in patients with barrett esophagus: a systematic review. Ann Surg. 2007;246(1):11-21.

Markar, Sheraz R. PhD∗; Arhi, Chanpreet MRCS∗; Leusink, Astrid MBBS∗; Vidal-Diez, Alberto PhD∗,†; Karthikesalingam, Alan PhD†; Darzi, Ara FRS∗; Lagergren, Jesper PhD‡,§; Hanna, George B. PhD∗. The Influence of Antireflux Surgery on Esophageal Cancer Risk in England: National Population-based Cohort Study. Annals of Surgery 268(5):p 861-867, November 2018.
Ethics declarations
Conflict of Interest
The authors declare no competing interests.
Additional information
Publisher's Note
Springer Nature remains neutral with regard to jurisdictional claims in published maps and institutional affiliations.
Patel, Vidhi, and Thota, Prashanthi N., were selected for lecture presentation during Digestive Disease Week® 2023 by SSAT Scientific Program Committee.
Rights and permissions
Springer Nature or its licensor (e.g. a society or other partner) holds exclusive rights to this article under a publishing agreement with the author(s) or other rightsholder(s); author self-archiving of the accepted manuscript version of this article is solely governed by the terms of such publishing agreement and applicable law.
About this article
Cite this article
Patel, V., Sanaka, M.R., Qin, Y. et al. Neoplastic Progression of Barrett's Esophagus Among Organ Transplant Recipients: a Retrospective Cohort Study. J Gastrointest Surg 27, 1785–1793 (2023). https://doi.org/10.1007/s11605-023-05722-9
Received:

Accepted:

Published:

Issue Date:

DOI: https://doi.org/10.1007/s11605-023-05722-9
Keywords