Abstract
Background
Esophageal perforations historically are associated with significant morbidity and mortality and generally require emergent intervention. The influence of improved diagnostic and therapeutic modalities available in recent years on management has not been examined. This study examined the surgical treatments and outcomes of a modern cohort.
Methods
Patients with esophageal perforation management in the 2005-2020 American College of Surgeons National Surgical Quality Improvement Program database were stratified into three eras (2005-2009, 2010-2014, and 2015-2020). Surgical management was classified as primary repair, resection, diversion, or drainage alone based on procedure codes. The distribution of procedure use, morbidity, and mortality across eras was examined.
Results
Surgical management of 378 identified patients was primary repair (n=193,51%), drainage (n=89,24%), resection (n=70,18%), and diversion (n=26,7%). Thirty-day mortality in the cohort was 9.5% (n=36/378) and 268 patients (71%) had at least one complication. The median length of stay was 15 days. Both morbidity (Era 1 65% [n=42/60] versus Era 2 69% [n=92/131] versus Era 3 72% [n=135/187], p=0.3) and mortality (Era 1 11% [n=7/65] versus Era 2 9% [n=12/131] versus Era 3 10% [n=19/187], p=0.9) did not change significantly over the three defined eras. Treatment over time evolved such that primary repair was more frequently utilized (43% in Era 1 to 51% in Era 3) while diversion was less often performed (13% in Era 1 to 7% in Era 3) (p=0.009).
Conclusions
Esophageal perforation management in recent years uses diversion less often but remains associated with significant morbidity and mortality.
Access options
Buy single article
Instant access to the full article PDF.
USD 39.95
Price excludes VAT (USA)
Tax calculation will be finalised during checkout.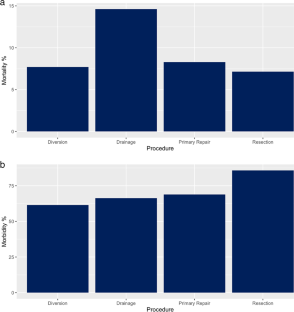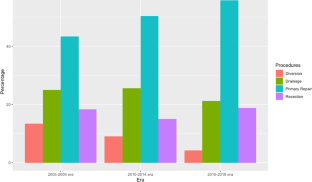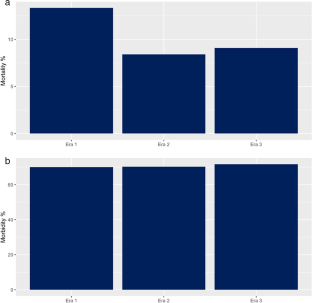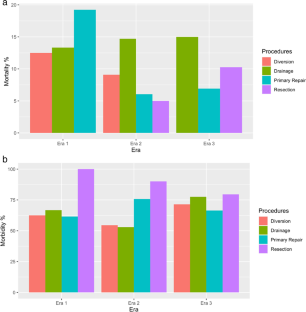 References
Brinster CJ, Singhal S, Lee L, Marshall MB, Kaiser LR, Kucharczuk JC. Evolving options in the management of esophageal perforation. Ann Thorac Surg. 2004 77(4):1475-83. https://doi.org/10.1016/j.athoracsur.2003.08.037.

Lampridis S, Mitsos S, Hayward M, Lawrence D, Panagiotopoulos N. The insidious presentation and challenging management of esophageal perforation following diagnostic and therapeutic interventions. J Thorac Dis. 2020 12(5):2724-2734. https://doi.org/10.21037/jtd-19-4096.

Nesbitt JC, Sawyers JL. Surgical management of esophageal perforation . Am Surg. 1987;53:183-191.

Cameron JL, Kieffer RF, Hendrix TR, Mehigan DG, Baker RR. Selective nonoperative management of contained intratho-racic esophageal disruptions. Ann Thorac Surg 1979;27:404-8.

Sohda M, Kuwano H, Sakai M, Miyazaki T, Kakeji Y, Toh Y, Matsubara H. A national survey on esophageal perforation: study of cases at accredited institutions by the Japanese Esophagus Society. Esophagus. 2020 17(3):230-238. https://doi.org/10.1007/s10388-020-00744-7. Epub 2020 May 15.

Skinner DB, Little AG, DeMeester TR. Management of esophageal perforation . Am J Surg. 1980;139:760-764.

Freeman RK, Ascioti AJ, Giannini T, Mahidhara RJ. Analysis of unsuccessful esophageal stent placements for esophageal perforation, fistula, or anastomotic leak. Ann Thorac Surg. 2012; 94(3):959-64; https://doi.org/10.1016/j.athoracsur.2012.05.047.

Raff LA, Schinnerer EA, Maine RG, Jansen J, Noorbakhsh MR, Spigel Z, Campion E, Coleman J, Saquib S, Carroll JT, Jacobson LE, Williams J, Young AJ, Pascual J, Burruss S, Gordon D, Robinson BRH, Nahmias J, Kutcher ME, Bugaev N, Jeyamurugan K, Bosarge P. Contemporary management of traumatic cervical and thoracic esophageal perforation: The results of an Eastern Association for the Surgery of Trauma multi-institutional study. J Trauma Acute Care Surg. 2020 89(4):691-697. https://doi.org/10.1097/TA.0000000000002841.

Sdralis EIK, Petousis S, Rashid F, Lorenzi B, Charalabopoulos A. Epidemiology, diagnosis, and management of esophageal perforations: systematic review. Dis Esophagus. 2017;30(8):1-6. https://doi.org/10.1093/dote/dox013.

Herrera A, Freeman RK. The Evolution and Current Utility of Esophageal Stent Placement for the Treatment of Acute Esophageal Perforation. Thorac Surg Clin. 2016 26(3):305-14

Thornblade LW, Cheng AM, Wood DE, et al. A Nationwide Rise in the Use of Stents for Benign Esophageal Perforation. Ann Thorac Surg. 2017;104(1):227-233.

David EA, Kim MP, Blackmon SH.Esophageal salvage with removable covered self-expanding metal stents in the setting of intrathoracic esophageal leakage. Am J Surg. 2011 202(6):796-801

Dickinson KJ, Buttar N, Wong Kee Song LM, Gostout CJ, Cassivi SD, Allen MS, Nichols FC, Shen KR, Wigle DA, Blackmon SH.Utility of endoscopic therapy in the management of Boerhaave syndrome. Endosc Int Open. 2016 4(11):E1146-E1150

Eroglu A, Turkyilmaz A, Aydin Y, Yekeler E, Karaoglanoglu N. Current management of esophageal perforation: 20 years experience. Dis Esophagus. 2009;22(4):374-380.

Ceppa DP, Rosati CM, Chabtini L, et al. Development of a Multidisciplinary Program to Expedite Care of Esophageal Emergencies. Ann Thorac Surg. 2017;104(3):1054-1061.

Connelly CL, Lamb PJ, Paterson-Brown S. Outcomes following Boerhaave's syndrome. Ann R Coll Surg Engl. 2013;95(8):557-560.

Axtell AL, Gaissert HA, Morse CR, Premkumar A, Schumacher L, Muniappan A, Ott H, Allan JS, Lanuti M, Mathisen DJ, Wright CD. Management and outcomes of esophageal perforation. Dis Esophagus. 2022. https://doi.org/10.1093/dote/doab039.

Amir AI, van Dullemen H, Plukker JT. Selective approach in the treatment of esophageal perforations. Scand J Gastroenterol. 2004;39(5):418-422.

Huu Vinh V, Viet Dang Quang N, Van Khoi N. Surgical management of esophageal perforation: role of primary closure. Asian Cardiovasc Thorac Ann. 2019;27(3):192-198. https://doi.org/10.1177/0218492319827439. Epub 2019 Jan 21.

Muir AD, White J, McGuigan JA, McManus KG, Graham AN. Treatment and outcomes of oesophageal perforation in a tertiary referral centre. Eur J Cardiothorac Surg. 2003;23(5):799-804; discussion 804.

Markar SR, Mackenzie H, Wiggins T, et al. Management and Outcomes of Esophageal Perforation: A National Study of 2,564 Patients in England. Am J Gastroenterol. 2015;110(11):1559-1566.

Horwitz B, Krevsky B, Buckman RF, Fisher RS, Dabezies MA. Endoscopic evaluation of penetrating esophageal injuries. Am J Gastroenterol. 1993;88(8):1249-1253.

Sudarshan M, Elharram M, Spicer J, Mulder D, Ferri LE. Management of esophageal perforation in the endoscopic era: Is operative repair still relevant? Surgery. 2016;160(4):1104-1110.
Acknowledgments
American College of Surgeons National Surgical Quality Improvement Program and the hospitals participating in the ACS NSQIP are the source of the data used herein; they have not verified and are not responsible for the statistical validity of the data analysis or the conclusions derived by the authors.
Ethics declarations
Conflicts of Interest
The authors have no conflicts of interest or funding sources related to this manuscript. All listed authors contributed substantially to the design, drafting, approval, and accountability of this work. Word count: 4,737
Additional information
Publisher's Note
Springer Nature remains neutral with regard to jurisdictional claims in published maps and institutional affiliations.
This project has been presented as a poster at the General Thoracic Surgical Club's 34th Annual Meeting, Bonita Springs, FL, March 10-13, 2022
Supplementary information
Rights and permissions
Springer Nature or its licensor (e.g. a society or other partner) holds exclusive rights to this article under a publishing agreement with the author(s) or other rightsholder(s); author self-archiving of the accepted manuscript version of this article is solely governed by the terms of such publishing agreement and applicable law.
About this article
Cite this article
Wong, LY., Leipzig, M., Liou, D.Z. et al. Surgical Management of Esophageal Perforation: Examining Trends in a Multi-Institutional Cohort. J Gastrointest Surg 27, 1757–1765 (2023). https://doi.org/10.1007/s11605-023-05700-1
Received:

Accepted:

Published:

Issue Date:

DOI: https://doi.org/10.1007/s11605-023-05700-1
Keywords