Abstract
Background
Postoperative pancreatic fistula (POPF) is the most common complication of pancreaticoduodenectomy (PD). Sometimes POPF is associated with biliary fistula (BF) or "mixed" fistula. The purpose of this study is to assess whether the severity of the fistulae, when present, is decreased with an external biliary stent in place.
Methods
In this single-center study, we assessed patients who underwent elective PD from January 2014 to December 2017. Patients were divided into two groups: standard PD (ST-PD) vs. PD with external biliary stent (PD-BS). Demographic, preoperative, intraoperative, and postoperative variables were analyzed, including complications according to the Clavien-Dindo classification, and those specific to pancreatic surgeries, and mortality rates within 90 days of operation.
Results
A total of 128 patients were included (65 in ST-PD group and 63 in PD-BS group). Postoperative complications occurred in 61.7% of patients (32.8%, Clavien-Dindo ≥ III) and were more common among patients in the PD-BS group (44.4% vs. 23.1%; p = 0.03). POPF was also more common among patients in the PD-BS group (39.7% vs. 18.5%; p = 0.008). No statistically significant differences were found for any other complications.
Conclusion
Based on the results of our study, placement of a transanastomotic external biliary stent does not reduce the rate of pancreatic or biliary fistulae, or their severity; in fact, POPF is more likely when biliary exteriorization is present.
Trial Registration
NCT04654299
Access options
Buy single article
Instant access to the full article PDF.
US$ 39.95
Tax calculation will be finalised during checkout.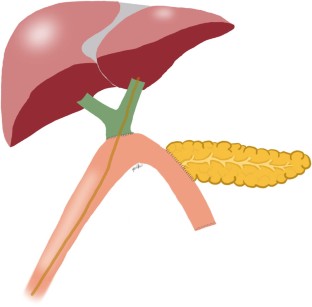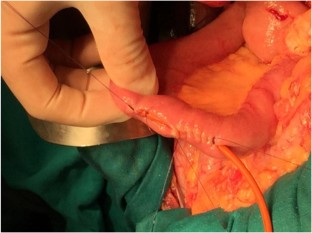 Data Availability
All data generated or analyzed during this study are included in this published article. I confirmed that the data are real and you can get them by consulting the corresponding author.
References
1.

Büchler MW, Wagner M, Schmied BM, Uhl W, Friess H, Z'graggen K (2003) Changes in morbidity after pancreatic resection: toward the end of completion pancreatectomy. Arch Surg 138:1310–4; discussion 1315

2.

Kleespies A, Albertsmeier M, Obeidat F, Seeliger H, Jauch K-W, Bruns CJ (2008) The challenge of pancreatic anastomosis. Langenbeck's Arch Surg 393:459–471

3.

Ratnayake CBBB, Wells CI, Kamarajah SK, Loveday B, Sen G, French JJ, White S, Pandanaboyana S (2020) Critical appraisal of the techniques of pancreatic anastomosis following pancreaticoduodenectomy: A network meta-analysis. Int J Surg 73:72–77

4.

Sun X, Zhang Q, Zhang J, Lou Y, Fu Q, Zhang X, Liang T, Bai X (2016) Meta-analysis of invagination and duct-to-mucosa pancreaticojejunostomy after pancreaticoduodenectomy: An update. Int J Surg 36:240–247

5.

Schorn S, Demir IE, Vogel T, Schirren R, Reim D, Wilhelm D, Friess H, Ceyhan GO (2019) Mortality and postoperative complications after different types of surgical reconstruction following pancreaticoduodenectomy-a systematic review with meta-analysis. Langenbeck's Arch Surg 404:141–157

6.

Deng LH, Xiong JJ, Xia Q (2017) Isolated Roux-en-Y pancreaticojejunostomy versus conventional pancreaticojejunostomy after pancreaticoduodenectomy: a systematic review and meta-analysis. J Evid Based Med 10:37–45

7.

Whipple AO, Parsons WB, Mullins CR (1935) Treatment of carcinoma of the ampulla of Vater. Ann Surg 102:763–79

8.

Child CG (1944) Pancreaticojejunostomy and Other Problems Associated With the Surgical Management of Carcinoma Involving the Head of the Pancreas Report of Five Additional Cases of Radical. Pancreaticoduodenectomy. Ann Surg 119:845–855

9.

Dindo D, Demartines N, Clavien PA (2004) Classification of surgical complications: A new proposal with evaluation in a cohort of 6336 patients and results of a survey. Ann Surg 240:205–213

10.

Wente MN, Bassi C, Dervenis C, et al (2007) Delayed gastric emptying (DGE) after pancreatic surgery: a suggested definition by the International Study Group of Pancreatic Surgery (ISGPS). Surgery 142:761–768

11.

Wente MN, Veit JA, Bassi C, et al (2007) Postpancreatectomy hemorrhage (PPH): an International Study Group of Pancreatic Surgery (ISGPS) definition. Surgery 142:20–25

12.

Bassi C, Marchegiani G, Dervenis C, et al (2017) The 2016 update of the International Study Group (ISGPS) definition and grading of postoperative pancreatic fistula: 11 Years After. Surg (United States) 161:584–591

13.

Koch M, Garden OJ, Padbury R, et al (2011) Bile leakage after hepatobiliary and pancreatic surgery: a definition and grading of severity by the International Study Group of Liver Surgery. Surgery 149:680–688

14.

Agha R, Abdall-Razak A, Crossley E, Dowlut N, Iosifidis C, Mathew G (2019) STROCSS 2019 Guideline: Strengthening the reporting of cohort studies in surgery. Int J Surg 72:156–165

15.

Reid-Lombardo KM, Farnell MB, Crippa S, Barnett M, Maupin G, Bassi C, Traverso LW (2007) Pancreatic anastomotic leakage after pancreaticoduodenectomy in 1,507 patients: a report from the Pancreatic Anastomotic Leak Study Group. J Gastrointest Surg 11:1451–8; discussion 1459

16.

Keck T, Wellner UF, Bahra M, et al (2016) Pancreatogastrostomy Versus Pancreatojejunostomy for RECOnstruction After PANCreatoduodenectomy (RECOPANC, DRKS 00000767): Perioperative and Long-term Results of a Multicenter Randomized Controlled Trial. Ann Surg 263:440–9

17.

McMillan MT, Soi S, Asbun HJ, et al (2016) Risk-adjusted Outcomes of Clinically Relevant Pancreatic Fistula Following Pancreatoduodenectomy: A Model for Performance Evaluation. Ann Surg 264:344–352

18.

Horvath P, Beckert S, Nadalin S, Königsrainer A, Königsrainer I (2016) Pancreas-preserving surgical management of grade-C pancreatic fistulas after pancreatic head resection by external wirsungostomy. Langenbeck's Arch Surg 401:457–462

19.

Berger AC, Howard TJ, Kennedy EP, et al (2009) Does type of pancreaticojejunostomy after pancreaticoduodenectomy decrease rate of pancreatic fistula? A randomized, prospective, dual-institution trial. J Am Coll Surg 208:738–739

20.

Menahem B, Guittet L, Mulliri A, Alves A, Lubrano J (2015) Pancreaticogastrostomy is superior to pancreaticojejunostomy for prevention of pancreatic fistula after pancreaticoduodenectomy: an updated meta-analysis of randomized controlled trials. Ann Surg 261:882–887

21.

Figueras J, Sabater L, Planellas P, Muñoz-Forner E, Lopez-Ben S, Falgueras L, Sala-Palau C, Albiol M, Ortega-Serrano J, Castro-Gutierrez E (2013) Randomized clinical trial of pancreaticogastrostomy versus pancreaticojejunostomy on the rate and severity of pancreatic fistula after pancreaticoduodenectomy. Br J Surg 100:1597–1605

22.

Duconseil P, Turrini O, Ewald J, Berdah S V, Moutardier V, Delpero J-R (2014) Biliary complications after pancreaticoduodenectomy: skinny bile ducts are surgeons' enemies. World J Surg 38:2946–2951

23.

Antolovic D, Koch M, Galindo L, et al (2007) Hepaticojejunostomy--analysis of risk factors for postoperative bile leaks and surgical complications. J Gastrointest Surg 11:555–561

24.

Standop J, Glowka T, Schmitz V, Schäfer N, Overhaus M, Hirner A, Kalff JC (2009) Operative re-intervention following pancreatic head resection: indications and outcome. J Gastrointest Surg 13:1503–1509

25.

Wang W-G, Fu L, Babu SR, Wang L, Liang C-P, Tian B-L (2018) Incidence of and Risk Factors and Reinterventions for Post-Pancreatoduodenectomy Hemorrhage: Retrospective Analysis. Dig Surg 35:19–27

26.

Yeo CJ, Cameron JL, Sohn TA, et al (1997) Six hundred fifty consecutive pancreaticoduodenectomies in the 1990s: pathology, complications, and outcomes. Ann Surg 226:248–260

27.

Hall BR, Sleightholm R, Smith L, Sayles H, Are C (2019) Factors Predictive of Reoperation After Pancreaticoduodenectomy for Pancreatic Cancer. Indian J Surg Oncol 10:237–244

28.

Lessing Y, Pencovich N, Nevo N, Lubezky N, Goykhman Y, Nakache R, Lahat G, Klausner JM, Nachmany I (2019) Early reoperation following pancreaticoduodenectomy: impact on morbidity, mortality, and long-term survival. World J Surg Oncol 17:26

29.

Schmidt CM, Turrini O, Parikh P, House MG, Zyromski NJ, Nakeeb A, Howard TJ, Pitt HA, Lillemoe KD (2010) Effect of hospital volume, surgeon experience, and surgeon volume on patient outcomes after pancreaticoduodenectomy: a single-institution experience. Arch Surg 145:634–640

30.

Kimura W, Miyata H, Gotoh M, et al (2014) A pancreaticoduodenectomy risk model derived from 8575 cases from a national single-race population (Japanese) using a web-based data entry system: the 30-day and in-hospital mortality rates for pancreaticoduodenectomy. Ann Surg 259:773–780

31.

El Nakeeb A, Hamdy E, Sultan AM, Salah T, Askr W, Ezzat H, Said M, Zeied MA, Abdallah T (2014) Isolated Roux loop pancreaticojejunostomy versus pancreaticogastrostomy after pancreaticoduodenectomy: a prospective randomized study. HPB (Oxford) 16:713–722

32.

Nimptsch U, Krautz C, Weber GF, Mansky T, Grutzmann R (2016) Nationwide in-hospital mortality following pancreatic surgery in Germany is higher than anticipated. Ann Surg 264:1082–1090
Acknowledgements
We thank Verónica Blanco-Martín for the design and realization of the figures.
Ethics declarations
Ethics Approval
All procedures performed in studies involving human participants were in accordance with the ethical standards of the institutional and/or national research committee and with the 1964 Helsinki declaration and its later amendments or comparable ethical standards. The study was approved by the Ethical Committee of our institution.
Consent to Participate
Informed consent was obtained from all individual participants included in the study.
Consent for Publication
All authors of the study have consented for the publication of this work.
Conflict of Interest
The authors declare no competing interests.
Additional information
Publisher's Note
Springer Nature remains neutral with regard to jurisdictional claims in published maps and institutional affiliations.
About this article
Cite this article
Blanco-Fernández, G., Jaén-Torrejimeno, I., De-Armas-Conde, N. et al. Prospective Study Correlating External Biliary Stenting and Pancreatic Fistula Following Pancreaticoduodenectomy. J Gastrointest Surg (2021). https://doi.org/10.1007/s11605-021-04983-6
Received:

Accepted:

Published:
KEY WORDS
Postoperative pancreatic fistula

Pancreaticoduodenectomy

Morbidity

Biliary stent