Abstract
Background
Recent studies have shown an association in non-metastatic colorectal cancer between patient survival and immunoprofiling (expression of CD3, CD4, CD8, CD45, and FOXP3 T cells at the invasive margin (IM) and the tumor center (TC)) regardless of stage. Patients with peritoneal carcinomatosis have a dismal prognosis, but survival can be significantly improved in selected patients who undergo cytoreductive surgery and hyperthermic intraperitoneal chemotherapy (CRS/HIPEC). However, current patient selection for CRS/HIPEC is suboptimal. The purpose of this study is to evaluate immune profiles of patients with peritoneal carcinomatosis and their correlation with overall survival (OS).
Methods
The study cohort included patients from a prospectively maintained database of adults with colorectal peritoneal carcinomatosis who underwent CRS/HIPEC. Immunohistochemistry (IHC) using antibodies to CD3, CD4, CD8, CD45RO, and FOXP3 T cells was performed. IHC image density was calculated using ImageJ software, and an immunoscore was determined.
Results
Eighty tumors were evaluated from 66 patients. These included 14 primary sites and 66 metastatic sites. R0/R1 resection was achieved in 44 (66.7%) patients. Known prognostic factors including resection status (HR 1.99, p = 0.004) and lymph node status (HR 3.49, p = 0.002) were associated with overall survival. On multivariate analysis, increased CD3/CD4 IM (HR 0.54, p = 0.03) ratio positively was associated with improved OS.
Discussion
This is the first study to assess the utility of subtypes of T cells as prognostic markers in patients with colorectal peritoneal carcinomatosis, which may play a role in patients with low-volume disease. Further studies into immune mechanisms may improve patient selection for cytoreductive surgery and HIPEC as well as provide novel pathways for effective immunotherapy.
Access options
Buy single article
Instant access to the full article PDF.
US$ 39.95
Tax calculation will be finalised during checkout.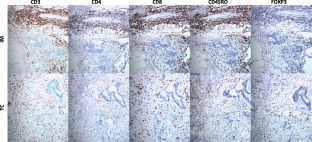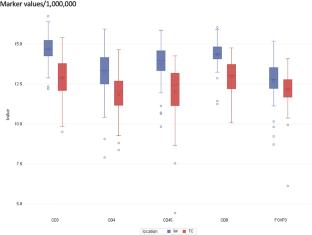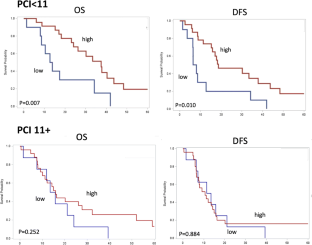 Abbreviations
AJCC:

American Joint Committee on Cancer

BMI:

body mass index

CRC:

colorectal cancer

CRS:

cytoreductive surgery

DFS:

disease-free survival

FFPE:

formalin-fixed paraffin-embedded

HIPEC:

heated intraperitoneal chemotherapy

IM:

invasive margin

IRB:

institutional review board

mFOLFOX:

modified folinic acid, fluorouracil, and oxaliplatin treatment

MSI:

microsatellite instability

MSS:

microsatellite stability

OS:

overall survival

PCI:

Peritoneal Cancer Index

R:

residual tumor status

R0:

cure/complete remission

R1:

microscopic residual tumor

R2:

macroscopic residual tumor

TC:

tumor center

TILs:

tumor-infiltrating lymphocytes
References
1.

Lavotshkin S, Jalas JR, Torisu-Itakura H, et al. Immunoprofiling for Prognostic Assessment of Colon Cancer: a Novel Complement to Ultrastaging. J Gastrointest Surg. 2015;19(6):999-1006. https://doi.org/10.1007/s11605-015-2759-6

2.

Flaherty DC, Lavotshkin S, Jalas JR, et al. Prognostic Utility of Immunoprofiling in Colon Cancer: Results from a Prospective, Multicenter Nodal Ultrastaging Trial. J Am Coll Surg. 2016;223(1):134-140. https://doi.org/10.1016/j.jamcollsurg.2016.03.003

3.

Mlecnik B, Bindea G, Kirilovsky A, et al. The tumor microenvironment and Immunoscore are critical determinants of dissemination to distant metastasis. Sci Transl Med. 2016;8(327):327ra26. https://doi.org/10.1126/scitranslmed.aad6352

4.

Galon J, Angell HK, Bedognetti D, Marincola FM. The Continuum of Cancer Immunosurveillance: Prognostic, Predictive, and Mechanistic Signatures. Immunity. 2013;39(1):11-26. https://doi.org/10.1016/J.IMMUNI.2013.07.008

5.

Galon J, Costes A, Sanchez-Cabo F, et al. Type, density, and location of immune cells within human colorectal tumors predict clinical outcome. Science. 2006;313(5795):1960-1964. https://doi.org/10.1126/science.1129139

6.

Pagès F, Mlecnik B, Marliot F, et al. International validation of the consensus Immunoscore for the classification of colon cancer: a prognostic and accuracy study. Lancet. 2018;391(10135):2128-2139. https://doi.org/10.1016/S0140-6736(18)30789-X

7.

Pages F, Andre T, Taieb J, et al. Progostic and predictive value of the Immunoscore in stage III colon cancer patients treated with mFOLFOX6 (3 vs 6 months) in the prospective IDEA France cohort study. Gastrointest Cancers Symp. 2020;Jan 23-25(San Francisco, CA):Abstract.

8.

Levine EA, Votanopoulos KI, Qasem SA, et al. Prognostic Molecular Subtypes of Low-Grade Cancer of the Appendix. J Am Coll Surg. 2016;222(4):493-503. https://doi.org/10.1016/j.jamcollsurg.2015.12.012

9.

Verwaal VJ, van Ruth S, de Bree E, et al. Randomized trial of cytoreduction and hyperthermic intraperitoneal chemotherapy versus systemic chemotherapy and palliative surgery in patients with peritoneal carcinomatosis of colorectal cancer. J Clin Oncol. 2003;21(20):3737-3743. https://doi.org/10.1200/JCO.2003.04.187

10.

Jafari MD, Halabi WJ, Stamos MJ, et al. Surgical outcomes of hyperthermic intraperitoneal chemotherapy: analysis of the american college of surgeons national surgical quality improvement program. JAMA Surg. 2014;149(2):170-175. https://doi.org/10.1001/jamasurg.2013.3640

11.

Ahmed S, Stewart JH, Shen P, Votanopoulos KI, Levine EA. Outcomes with cytoreductive surgery and HIPEC for peritoneal metastasis. J Surg Oncol. 2014;110(5):575-584. https://doi.org/10.1002/jso.23749

12.

Elias D, Lefevre JH, Chevalier J, et al. Complete cytoreductive surgery plus intraperitoneal chemohyperthermia with oxaliplatin for peritoneal carcinomatosis of colorectal origin. J Clin Oncol. 2009;27(5):681-685. https://doi.org/10.1200/JCO.2008.19.7160

13.

Levine EA, Stewart JH, Shen P, Russell GB, Loggie BL, Votanopoulos KI. Intraperitoneal Chemotherapy for Peritoneal Surface Malignancy: Experience with 1,000 Patients. J Am Coll Surg. 2014;218(4):573-585. https://doi.org/10.1016/j.jamcollsurg.2013.12.013

14.

Berthet B, Sugarbaker TA, Chang D, Sugarbaker PH. Quantitative methodologies for selection of patients with recurrent abdominopelvic sarcoma for treatment. Eur J Cancer. 1999;35(3):413-419. https://doi.org/10.1016/s0959-8049(98)00375-x

15.

Quenet F, Elias D, Roca L, et al. A UNICANCER phase III trial of hyperthermic intra-peritoneal chemotherapy (HIPEC) for colorectal peritoneal carcinomatosis (PC): PRODIGE 7. J Clin Oncol. 2018;36(18_suppl):LBA3503. https://doi.org/10.1200/JCO.2018.36.18_suppl.LBA3503

16.

Uppal A, Stern S, Thompson JF, et al. Regional Node Basin Recurrence in Melanoma Patients: More Common After Node Dissection for Macroscopic Rather than Clinically Occult Nodal Disease. Ann Surg Oncol. 2019:1-8. https://doi.org/10.1245/s10434-019-08086-0

17.

Mlecnik B, Van den Eynde M, Bindea G, et al. Comprehensive Intrametastatic Immune Quantification and Major Impact of Immunoscore on Survival. JNCI J Natl Cancer Inst. 2018;110(1):97-108. https://doi.org/10.1093/jnci/djx123

18.

Ostroumov D, Fekete-Drimusz N, Saborowski M, Kühnel F, Woller N. CD4 and CD8 T lymphocyte interplay in controlling tumor growth. Cell Mol Life Sci. 2018;75(4):689-713. https://doi.org/10.1007/s00018-017-2686-7

19.

Salama P, Phillips M, Grieu F, et al. Tumor-infiltrating FOXP3+ T regulatory cells show strong prognostic significance in colorectal cancer. J Clin Oncol. 2009;27(2):186-192. https://doi.org/10.1200/JCO.2008.18.7229

20.

Badoual C, Hans S, Rodriguez J, et al. Prognostic value of tumor-infiltrating CD4+ T-cell subpopulations in head and neck cancers. Clin Cancer Res. 2006;12(2):465-472. https://doi.org/10.1158/1078-0432.CCR-05-1886

21.

Pagès F, Kirilovsky A, Mlecnik B, et al. In Situ Cytotoxic and Memory T Cells Predict Outcome in Patients With Early-Stage Colorectal Cancer. J Clin Oncol. 2009;27(35):5944-5951. https://doi.org/10.1200/JCO.2008.19.6147

22.

Pagès F, Berger A, Camus M, et al. Effector Memory T Cells, Early Metastasis, and Survival in Colorectal Cancer. N Engl J Med. 2005;353(25):2654-2666. https://doi.org/10.1056/NEJMoa051424

23.

Berghoff AS, Fuchs E, Ricken G, et al. Density of tumor-infiltrating lymphocytes correlates with extent of brain edema and overall survival time in patients with brain metastases. Oncoimmunology. 2016;5(1):e1057388. https://doi.org/10.1080/2162402X.2015.1057388

24.

Wang C, Jette N, Moussienko D, Bebb DG, Lees-Miller SP. ATM-Deficient Colorectal Cancer Cells Are Sensitive to the PARP Inhibitor Olaparib. Transl Oncol. 2017;10(2):190-196. https://doi.org/10.1016/J.TRANON.2017.01.007

25.

Wirta E-V, Seppälä T, Friman M, et al. Immunoscore in mismatch repair-proficient and -deficient colon cancer. J Pathol Clin Res. 2017;3(3):203-213. https://doi.org/10.1002/cjp2.71

26.

Uryvaev A, Passhak M, Hershkovits D, Sabo E, Bar-Sela G. The role of tumor-infiltrating lymphocytes (TILs) as a predictive biomarker of response to anti-PD1 therapy in patients with metastatic non-small cell lung cancer or metastatic melanoma. Med Oncol. 2018;35(3):25. https://doi.org/10.1007/s12032-018-1080-0

27.

Drescher KM, Sharma P, Lynch HT. Current Hypotheses on How Microsatellite Instability Leads to Enhanced Survival of Lynch Syndrome Patients. Clin Dev Immunol. 2010;2010:1-13. https://doi.org/10.1155/2010/170432
Funding
This study was supported, in part, by the Smith Family Fund and the Comprehensive Cancer Center of Wake Forest University, and the tumor tissue pathology shared resource supported by NCI CCSG P30CA012197.
Ethics declarations
Conflict of Interest
The authors declare that they have no conflict of interest.
Additional information
Publisher's Note
Springer Nature remains neutral with regard to jurisdictional claims in published maps and institutional affiliations.
About this article
Cite this article
Garland-Kledzik, M., Uppal, A., Naeini, Y.B. et al. Prognostic Impact and Utility of Immunoprofiling in the Selection of Patients with Colorectal Peritoneal Carcinomatosis for Cytoreductive Surgery (CRS) and Heated Intraperitoneal Chemotherapy (HIPEC). J Gastrointest Surg (2020). https://doi.org/10.1007/s11605-020-04886-y
Received:

Accepted:

Published:
Keywords
Peritoneal carcinomatosis

Immune profiling

HIPEC