Abstract
Objective
To evaluate health care fragmentation in patients with stage II and III rectal cancers.
Background
Fragmentation of care among multiple hospitals may worsen outcomes for cancer patients.
Methods
National Cancer Database was queried for adult patients who underwent radiation and surgery for locally advanced (stage II–III) rectal adenocarcinoma from 2006 to 2015. Fragmented care was defined as receiving radiation at a different hospital from surgery. Descriptive statistics characterized patients, and survival probability was plotted using the Kaplan-Meier method and a Cox proportional hazards model.
Results
A total of 37,081 patients underwent surgery and radiation for stage II–III rectal cancer from 2006 to 2015 (24,102 integrated care vs. 12,979 fragmented care). Patients who received fragmented care (hazard ratio [HR] 1.105; 95% CI 1.045–1.169) had a higher risk of mortality. Patients who received at least surgery (HR 0.84; 95% CI 0.77–0.92) at academic hospitals had a lower risk of mortality. Academic hospitals had a higher proportion of patients with fragmented care (38.0 vs. comprehensive community 32.8% vs. community 33.8%, p < 0.001). Within academic hospitals, fragmented care portended worse survival (integrated academic 80.0% vs. fragmented academic 76.7%, p = 0.0002). Fragmented care at academic hospitals had increased survival over integrated care at community hospitals (fragmented academic 76.7 vs. integrated community 72.2%, p = 0.00039).
Conclusions
In patients with stage II–III rectal cancer, patients who have integrated care at academic hospitals or at least surgery at academic centers had better survival. All efforts should be made to reduce care fragmentation and surgery at academic centers should be prioritized.
Access options
Buy single article
Instant access to the full article PDF.
USD 39.95
Price includes VAT (USA)
Tax calculation will be finalised during checkout.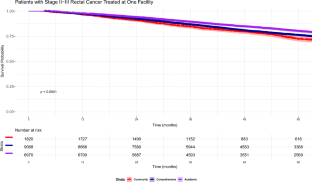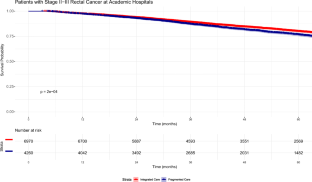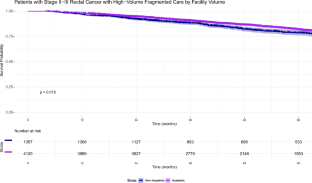 References
1.

Stitzenberg, K.B. and N.J. Meropol, Trends in centralization of cancer surgery. Ann Surg Oncol, 2010. 17(11): p. 2824-31.

2.

American Society of Clinical, O., The State of Cancer Care in America, 2017: A Report by the American Society of Clinical Oncology. J Oncol Pract, 2017. 13(4): p. e353-e394.

3.

Birkmeyer, J.D., et al., Hospital volume and surgical mortality in the United States. N Engl J Med, 2002. 346(15): p. 1128-37.

4.

Begg, C.B., et al., Impact of hospital volume on operative mortality for major cancer surgery. JAMA, 1998. 280(20): p. 1747-51.

5.

Bulow, S., et al., Improved survival after rectal cancer in Denmark. Colorectal Dis, 2010. 12(7 Online): p. e37-42.

6.

Khani, M.H. and K. Smedh, Centralization of rectal cancer surgery improves long-term survival. Colorectal Dis, 2010. 12(9): p. 874-9.

7.

Howlader N, N.A., Krapcho M, Miller D, Brest A, Yu M, Ruhl J, Tatalovich Z, Mariotto A, Lewis DR, Chen HS, Feuer EJ, Cronin KA. SEER Cancer Statistics Review, 1975-2016. 2019; Available from: https://seer.cancer.gov/csr/1975_2016/.

8.

Douglass, H.O., Jr., et al., Survival after postoperative combination treatment of rectal cancer. N Engl J Med, 1986. 315(20): p. 1294-5.

9.

Gastrointestinal Tumor Study Group, Prolongation of the disease-free interval in surgically treated rectal carcinoma. N Engl J Med, 1985. 312(23): p. 1465-72.

10.

Chhabra, K.R. and J.B. Dimick, Hospital Networks and Value-Based Payment: Fertile Ground for Regionalizing High-Risk Surgery. JAMA, 2015. 314(13): p. 1335-6.

11.

Aquina, C.T., et al., High volume improves outcomes: The argument for centralization of rectal cancer surgery. Surgery, 2016. 159(3): p. 736-48.

12.

Hussain, T., et al., Fragmentation in specialist care and stage III colon cancer. Cancer, 2015. 121(18): p. 3316-24.

13.

Freischlag, K., et al., Association Between Incomplete Neoadjuvant Radiotherapy and Survival for Patients With Locally Advanced Rectal Cancer. JAMA Surg, 2017. 152(6): p. 558-564.

14.

American College of Surgeons. National Cancer Data Base. [cited 2016 March 19]; Available from: https://www.facs.org/quality%20programs/cancer/ncdb.

15.

(NCDB), N.C.D.B. Hospital Type or Health Care System. 2016; Available from: http://oliver.facs.org/BMPub/help/hcr_09_hosp_typesys.cfm.

16.

Deyo, R.A., D.C. Cherkin, and M.A. Ciol, Adapting a clinical comorbidity index for use with ICD-9-CM administrative databases. J Clin Epidemiol, 1992. 45(6): p. 613-9.

17.

Freischlag, K., et al., With widespread adoption of MIS colectomy for colon cancer, does hospital type matter? Surg Endosc, 2019. 33(1): p. 159-168.

18.

Holm, T., et al., Influence of hospital- and surgeon-related factors on outcome after treatment of rectal cancer with or without preoperative radiotherapy. Br J Surg, 1997. 84(5): p. 657-63.

19.

Burke, L.G., et al., Association Between Teaching Status and Mortality in US Hospitals. JAMA, 2017. 317(20): p. 2105-2113.

20.

Massarweh, N.N., et al., Association between travel distance and metastatic disease at diagnosis among patients with colon cancer. J Clin Oncol, 2014. 32(9): p. 942-8.

21.

Lin, C.C., et al., Association Between Geographic Access to Cancer Care, Insurance, and Receipt of Chemotherapy: Geographic Distribution of Oncologists and Travel Distance. J Clin Oncol, 2015. 33(28): p. 3177-85.

22.

Stitzenberg, K.B., et al., Centralization of cancer surgery: implications for patient access to optimal care. J Clin Oncol, 2009. 27(28): p. 4671-8.

23.

Schrag, D., et al., Surgeon volume compared to hospital volume as a predictor of outcome following primary colon cancer resection. J Surg Oncol, 2003. 83(2): p. 68-78; discussion 78-9.

24.

Massarotti, H., et al., Impact of surgeon laparoscopic training and case volume of laparoscopic surgery on conversion during elective laparoscopic colorectal surgery. Colorectal Dis, 2017. 19(1): p. 76-85.

25.

Buurma, M., et al., Influence of Individual Surgeon Volume on Oncological Outcome of Colorectal Cancer Surgery. Int J Surg Oncol, 2015. 2015: p. 464570.

26.

Liu, C.J., et al., Association of surgeon volume and hospital volume with the outcome of patients receiving definitive surgery for colorectal cancer: A nationwide population-based study. Cancer, 2015. 121(16): p. 2782-90.

27.

Karanicolas, P.J., et al., The more the better?: the impact of surgeon and hospital volume on in-hospital mortality following colorectal resection. Ann Surg, 2009. 249(6): p. 954-9.

28.

Borowski, D.W., et al., Impact of surgeon volume and specialization on short-term outcomes in colorectal cancer surgery. Br J Surg, 2007. 94(7): p. 880-9.

29.

Rogers, S.O., Jr., et al., Relation of surgeon and hospital volume to processes and outcomes of colorectal cancer surgery. Ann Surg, 2006. 244(6): p. 1003-11.

30.

McGrath, D.R., et al., Surgeon and hospital volume and the management of colorectal cancer patients in Australia. ANZ J Surg, 2005. 75(10): p. 901-10.

31.

Larson, D.W., et al., Surgeon volume does not predict outcomes in the setting of technical credentialing: results from a randomized trial in colon cancer. Ann Surg, 2008. 248(5): p. 746-50.

32.

Ko, C.Y., et al., Are high-volume surgeons and hospitals the most important predictors of in-hospital outcome for colon cancer resection? Surgery, 2002. 132(2): p. 268-73.

33.

Lowes, M., et al., The utilization of multidisciplinary tumor boards (MDT) in clinical routine: results of a health care research study focusing on patients with metastasized colorectal cancer. Int J Colorectal Dis, 2017.

34.

Munro, A., et al., Do Multidisciplinary Team (MDT) processes influence survival in patients with colorectal cancer? A population-based experience. BMC Cancer, 2015. 15: p. 686.

35.

Bonrath, E.M., et al., Comprehensive Surgical Coaching Enhances Surgical Skill in the Operating Room: A Randomized Controlled Trial. Ann Surg, 2015. 262(2): p. 205-12.

36.

Greenberg, C.C., et al., Surgical coaching for individual performance improvement. Ann Surg, 2015. 261(1): p. 32-4.

37.

Nagendran, M., et al., Virtual reality training for surgical trainees in laparoscopic surgery. Cochrane Database Syst Rev, 2013(8): p. CD006575.

38.

Parent, R.J., et al., Early, intermediate, and late effects of a surgical skills "boot camp" on an objective structured assessment of technical skills: a randomized controlled study. J Am Coll Surg, 2010. 210(6): p. 984-9.
Additional information
Publisher's Note
Springer Nature remains neutral with regard to jurisdictional claims in published maps and institutional affiliations.
About this article
Cite this article
Freischlag, K., Olivere, L., Turner, M. et al. Does Fragmentation of Care in Locally Advanced Rectal Cancer Increase Patient Mortality?. J Gastrointest Surg 25, 1287–1296 (2021). https://doi.org/10.1007/s11605-020-04760-x
Received:

Accepted:

Published:

Issue Date:
Keywords
Fragmentation

Rectal cancer

Malignancy

Outcomes