Abstract
Background
Treatment guidelines for stage I–III esophageal cancer indicate that management should include surgery in appropriate patients. Variations in utilization of surgery may contribute to racial differences observed in survival. We sought to identify factors associated with racial disparities in surgical resection of esophageal cancer and evaluate associated survival differences.
Methods
Patients diagnosed with stage I–III esophageal cancer from 2004 to 2015 were identified using the National Cancer Database. Matched patient cohorts were created to reduce confounding. Multivariate logistic regression was used to identify factors associated with receipt of surgery. Multi-level modeling was performed to control for random effects of individual hospitals on surgical utilization.
Results
A total of 60,041 patients were included (4402 black; 55,639 white). After 1:1 matching, there were 5858 patients evenly distributed across race. For all stages, significantly fewer black than white patients received surgery. Black race independently conferred lower likelihood of receiving surgery in single-level multivariable analysis (OR (95% CI); stage I, 0.67 (0.48–0.94); stage II, 0.76 (0.60–0.96); stage III, 0.62 (0.50–0.76)) and after controlling for hospital random effects. Hospital-level random effects accounted for one third of the unexplained variance in receipt of surgery. Risk-adjusted 1-, 3-, and 5-year mortality was higher for patients who did not undergo surgery.
Conclusion
Black patients with esophageal cancer are at higher risk of mortality compared to white patients. This increased risk may be influenced by decreased likelihood of receiving surgical intervention for resectable disease, in part because of between-hospital differences. Improving access to surgical care may improve disparities in esophageal cancer survival.
Access options
Buy single article
Instant access to the full article PDF.
US$ 39.95
Tax calculation will be finalised during checkout.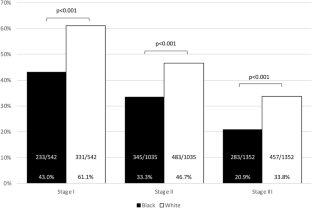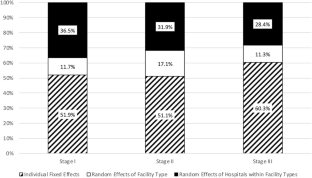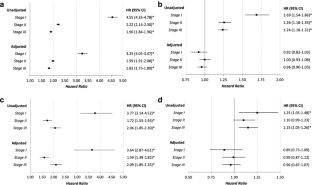 References
1.

Berry MF. Esophageal cancer: staging system and guidelines for staging and treatment. J Thorac Dis 2014;6(Suppl 3):S289-S297.

2.

Popescu I, Schrag D, Ang A, Wong M. Racial/ethnic and socioeconomic differences in colorectal and breast cancer treatment quality. Med Care 2016;54(8):780-788.

3.

Fang P, He W, Gomez D, Hoffman KE, Smith BD, Giordano SH, Jagsi R, Smith GL. Racial disparities in guideline-concordant cancer care and mortality in the United States. Adv Radiat Oncol 2018;3(3):221-229.

4.

Baquet CR, Commiskey P, Mack K, Meltzer S, Mishra SI. Esophageal cancer epidemiology in blacks and whites: racial and gender disparities in incidence, mortality, survival rates and histology. J Natl Med Assoc 2005;97(11):1471-1478.

5.

Revels SL, Morris AM, Reddy RM, Akateh C, Wong SL. Racial disparities in esophageal cancer outcomes. Ann Surg Oncol 2013;20(4):1136-1141.

6.

Taioli E, Wolf AS, Camacho-Rivera M, Kaufman A, Lee DS, Bhora F, Flores R. Racial disparities in esophageal cancer survival after surgery. J Surg Oncol 2016;113(6):659-664.

7.

Greenstein AJ, Litle VR, Swanson SJ, Divino CM, Packer S, McGinn TG, Wisnivesky, JP. Racial disparities in esophageal cancer treatment and outcomes. Ann Surg Oncol 2008;15(3):881-888.

8.

Tran PN, Taylor TH, Klempner SJ, Zell JA. The impact of gender, race, socioeconomic status, and treatment on outcomes in esophageal cancer: a population-based analysis. J Carcinog 2017;16(1):3.

9.

Chalasani N, Wo JM, Waring JP. Racial differences in the histology, location, and risk factors of esophageal cancer. J Clin Gastroenterol 1998;26(1):11-13.

10.

Little AG, Lerut AE, Harpole DH, Hofstetter WL, Mitchell JD, Altorki NK, Krasna MJ. The Society of Thoracic Surgeons practice guidelines on the role of multimodality treatment for cancer of the esophagus and gastroesophageal junction. Ann Thorac Surg 2014;98(5):1880-1885.

11.

Ajani JA, Barthel JS, Bentrem DJ, D'Amico TA, Das P, Denlinger CS, Fuchs CS, Gerdes H, Glasgow RE, Hayman JA, Hofstetter WL, Ilson DH, Keswani RN, Kleinberg LR, Korn WM, Lockhart AC, Mulcahy MF, Orringer MB, Osarogiagbon RU, Posey JA, Sasson AR, Scott WJ, Shibata S, Strong VEM, Varghese TK, Warren G, Washington MK, Willett C, Wright CD. Esophageal and esophagogastric junction cancers. J Natl Compr Canc Netw 2011;9(8):830-887.

12.

Portale G, Hagen JA, Peters JH, Chan LS, DeMeester SR, Gandamihardja TAK, DeMeester TR. Modern 5-year survival of resectable esophageal adenocarcinoma: single institution experience with 263 patients. J Am Coll Surg 2006;202(4):588-596.

13.

Steffen T, Dietrich D, Schnider A, Kettelhack, C, Huber O, Marti WR, Furrer M, Gloor B, Schiesser M, Thierstein S, Brauchli P, Ruhstaller T. Recurrence patterns and long-term results after induction chemotherapy, chemoradiotherapy, and curative surgery in patients with locally advanced esophageal cancer. Ann Surg 2019;269(1):83-87.

14.

Winchester DP, Stewart AK, Bura C, Jones RS. The National Cancer Data Base: a clinical surveillance and quality improvement tool. J Surg Oncol 2004;85(1):1-3.

15.

Grass GD, Cooper SL, Armeson K, Garrett-Mayer E, Sharma A. Cervical esophageal cancer: a population-based study. Head Neck 2015;37(6):808-814.

16.

Blackwell M, Iacus S, King G, Porro G. Cem: Coarsened exact matching in Stata. Stata J 2009;9(4):524-546.

17.

Paulson EC, Ra J, Armstrong K, Wirtalla C, Spitz F, Kelz RR. Underuse of esophagectomy as treatment for resectable esophageal cancer. Arch Surg 2008;143(12):1198-1203.

18.

Dubecz A, Gall I, Solymosi N, Schweigert M, Peters JH, Feith M, Stein HJ. Temporal trends in long-term survival and cure rates in esophageal cancer: a SEER database analysis. Journal of Thoracic Oncology 2012;7(2):443-447.

19.

Chen M, Chen P, Lu M, Lee C, Chen W. Survival benefit of surgery to patients with esophageal squamous cell carcinoma. Scientific Reports 2017;7:46139.

20.

Revels SL, Banerjee M, Yin H, Sonnenday CJ, Birkmeyer JD. Racial disparities in surgical resection and survival among elderly patients with poor prognosis cancer. J Am Coll Surg 2013;216(2):312-319.

21.

Steyerberg EW, Earle CC, Neville BA, Weeks JC. Racial differences in surgical evaluation, treatment, and outcome of locoregional esophageal cancer: a population-based analysis of elderly patients. J Clin Oncol 2005;23(3):510-517.

22.

Sloane D, Chen H, Howell C. Racial disparity in primary hepatocellular carcinoma: tumor stage at presentation, surgical treatment and survival. J Natl Med Assoc 2006;98(12):1934-1939.

23.

Schlottmann F, Gaber C, Strassle PD, Herbella FAM, Molena D, Patti MG. Disparities in esophageal cancer: less treatment, less surgical resection, and poorer survival in disadvantaged patients. Dis Esophagus 2019;doz045.

24.

Chang AC. Centralizing esophagectomy to improve outcomes and enhance clinical research: invited expert review. Ann Thorac Surg 2018;106(3):916-923.

25.

Clark JM, Boffa DJ, Meguid RA, Brown LM, Cooke DT. Regionalization of esophagectomy: where are we now? J Thorac Dis 2019;11(Suppl12):S1633-S1642.

26.

Lineback CM, Mervak CM, Revels SL, Kemp MT, Reddy RM. Barriers to accessing optimal esophageal cancer care for socioeconomically disadvantaged patients. Ann Thorac Surg 2017;103(2):416-421.

27.

Speicher P, Englum B, Ganapathi A, Wang X, Hartwig M, D'Amico T, Berry M. Traveling to a high-volume center is associated with improved survival for patients with esophageal cancer. Ann Surg 2017;265(4):743-749.

28.

Assari S. How anti-black bias in white men hurts black men's health. Available at: http://theconversation.com/how-anti-black-bias-in-white-men-hurts-black-mens-health-99005.

29.

Cheatham CT, Barksdale DJ, Rodgers SG. Barriers to health care and health-seeking behaviors faced by Black men. J Am Acad Nurse Pract 2008;20(11):555-562.

30.

Rawl SM, Dickinson S, Lee JL, Roberts JL, Teal E, Baker LB, Kianersi S, Haggstrom DA. Racial and socioeconomic disparities in cancer-related knowledge, beliefs, and behaviors in Indiana. Cancer Epidemiol Biomarkers Prev 2019;28(3):462-470.

31.

Fitzgerald TL, Bradley CJ, Dahman B, Zervos EE. Gastrointestinal malignancies: when does race matter? J Am Coll Surg 2009;209(5):645-652.

32.

Howlader N, Noone AM, Krapcho M, Miller D, Bishop K, Kosary CL, Yu M, Ruhl J, Tatalovich Z, Mariotto A, Lewis DR, Chen HS, Feuer DJ, Cronin KA. SEER cancer statistics review, 1975-2014. Available at: https://seer.cancer.gov/archive/csr/1975_2014/.
Ethics declarations
Conflict of Interest
The authors declare that they have no conflicts of interest.
Additional information
Publisher's Note
Springer Nature remains neutral with regard to jurisdictional claims in published maps and institutional affiliations.
Meeting presentation: Digestive Disease Week, May 2019, San Diego, CA
About this article
Cite this article
Savitch, S.L., Grenda, T.R., Scott, W. et al. Racial Disparities in Rates of Surgery for Esophageal Cancer: a Study from the National Cancer Database. J Gastrointest Surg 25, 581–592 (2021). https://doi.org/10.1007/s11605-020-04653-z
Received:

Accepted:

Published:

Issue Date:
Keywords
Esophageal cancer

NCDB

Racial disparities

Esophagectomy